LuminAID Lantern

The Lantern has been discontinued. It was replaced by the LuminAID Nova Solar Lantern.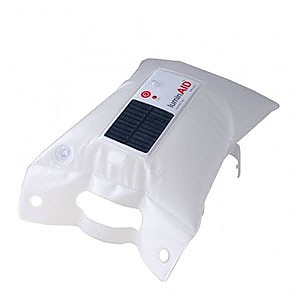 Specs
Price
MSRP: $19.95
Historic Range: $14.97

Weight
3 oz

Dimensions
8.25 x 12 in

Reviews
2

reviews

5-star:

1

4-star:

1

3-star:

0

2-star:

0

1-star:

0
A basic, functional solar-powered lantern at an affordable price-point. The simple design allows for a wide-range of uses and abuses. A prime selling point is LuminAID's humanitarian relief goals, which makes the addition of this device to your kit have a bit more meaning.
Pros
Battery-free, renewable energy operation
Compact, lightweight design
Functional 'moonlighting' lantern effect
Waterproof
Sales benefit humanitarian aid efforts
Cons
Does not substitute for a high intensity, focused beam
'Pillow' shape is better for hanging rather than sitting on flat surfaces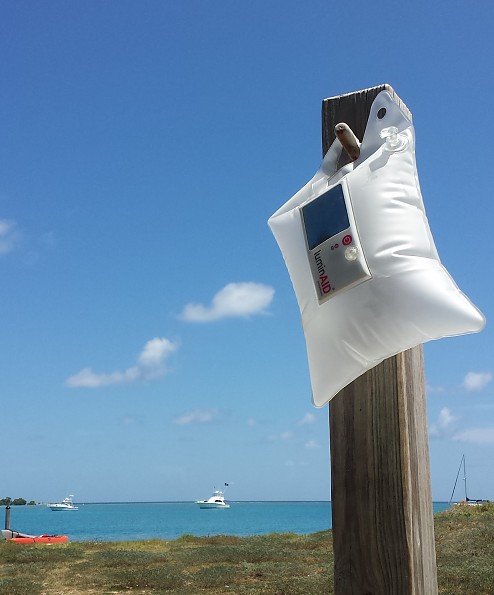 The LuminAID out on display and charging at Dry Tortugas National Park

Product Info:
Weight: 3 ounces / 85 grams
Dimensions: 12.5″ L x 8.5″ W (inflated); 5" L x 3" W x 0.5" deep (folded)

Beam, Brightness, & Range: Let's get straight to the point: the LuminAID is a lantern. As such, it's not designed to be used as a straight-beam, high intensity light source, such as a headlamp or flashlight. The inflatable design specifically diffuses the internal LED light, providing a soft, ambient glow suitable for reading and illuminating a small area.
It is most useful inside a tent, hammock, and as a soft light above a campsite. Range is limited to 10 feet at the most, but again, the idea is create a soft, moonlighting effect sufficient for carrying out some basic tasks.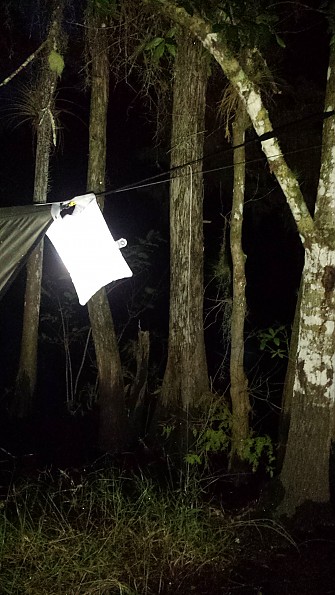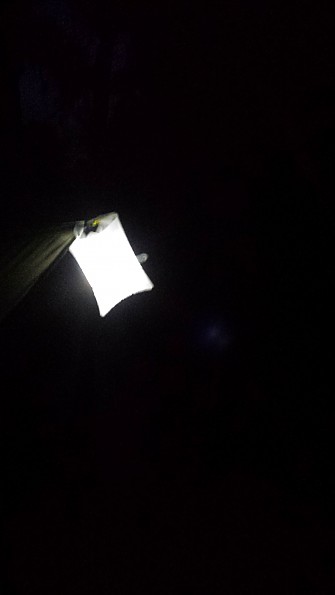 The LuminAID hung from my hammock, with and without the camera flash.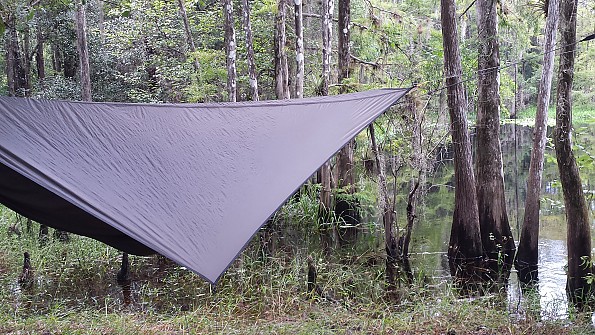 My hammock site during the day, for perspective.
Anyone who has ever spent time cooking dinner by headlamp around a common area with others also doing the same can attest that having multiple intense beams blasted around the space is annoying, at the least, perhaps even dangerous.
Red lights and adjustable intensities help in this regard, but an alternative would be to hang the LuminAID above the common area. This way, everyone benefits from a single, non-abusive light. Or better yet, multiple LuminAIDs could be hung at different angles and still create a pleasing atmosphere.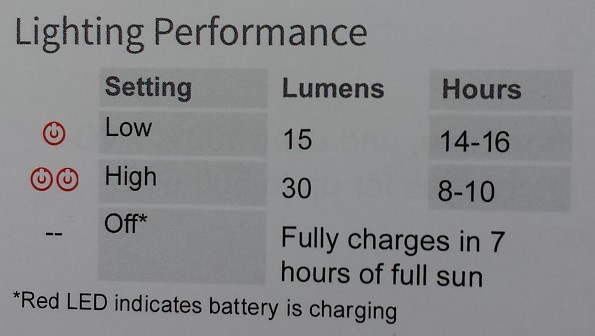 Burn Time and Power Source: I completed two burn tests, one at low and high intensity. The sample performed as advertised in both tests. With a range of 8 to 16 hours, the LuminAID will last longer than anyone will probably ever need in-between charges.
Essentially, you could leave the light on all night and rest assured that it can simply be recharged the next day. The exceptions to this are if it's exceptionally bad weather or dark most of the day, as may be the case in polar regions during winter.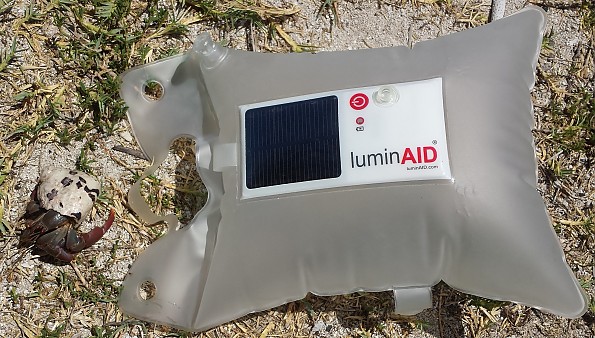 Recharging on the ground...a hermit crab has taken interest.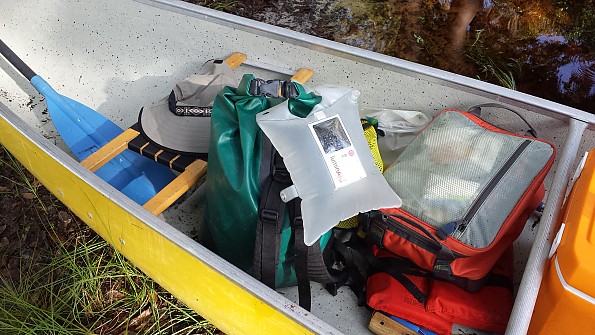 Recharging in the canoe
A full recharge interval is stated to take 7 hours in full sunlight. Since the device can be hung from your pack or otherwise strapped in a location where it will charge, little effort goes into this. I did NOT test how much longer it would take to charge in less than full sunlight. I did note that the charging indicator LED is lit even when the LuminAID is inside a room.
I was also pleased to see it charging inside my hammock when I awoke one morning…while I was hitting the snooze button, the LuminAID was already going to work. So it would seem that even in partly/mostly cloudy or obstructed sky conditions, the device can still charge. Unfortunately, there is no indicator to tell you when the battery is fully charged. This would be a nice addition.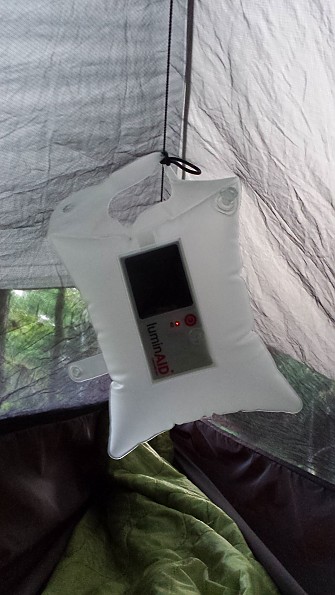 The LuminAID charging inside my hammock as I woke slowly from a restful night on the creek.
Ease of Use: The LuminAID couldn't be much simpler. Just inflate it and press the power button to your desired setting, either low or high. There are ample holes/loops by which to hang it, though its shape doesn't lend itself to being placed precisely on flat surfaces as easily.
I read another review that found the action of the soft-press button did not give a solid enough 'click.' Perhaps the company has adjusted this, because I found the button to give just enough feedback. It can be a little hard to depress given the suppleness of the shape when inflated, but most users will find this an easy work-around by firmly grabbing the frame of the panel.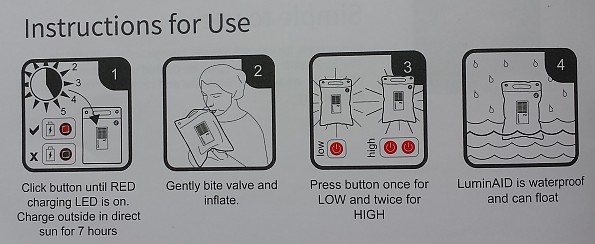 Weathering, Construction, & Durability: The waterproof and floating design of the LuminAID makes it very versatile. Because of this, I did not hesitate to take it on the water. In fact, during a creek-side campout, we found it served an additional purpose as a flashy disco toy.
I guess it may be inevitable when you mix kids and inflatable ball-like objects, some horsing around will ensue. So while the adults kicked it back by the fire, we were treated to a LuminAID light show over the water by our overly-energetic youth campers. I'm sure the local alligators in the creek were also thoroughly impressed and/or perplexed.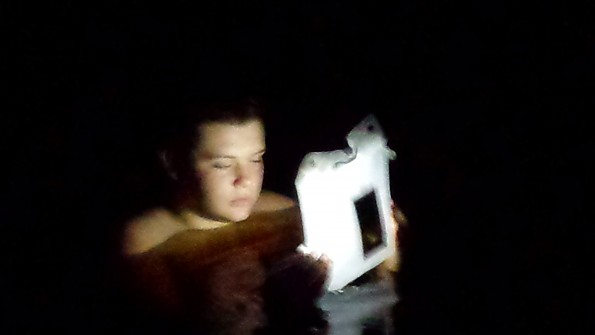 Kids are very intrigued by the LuminAID...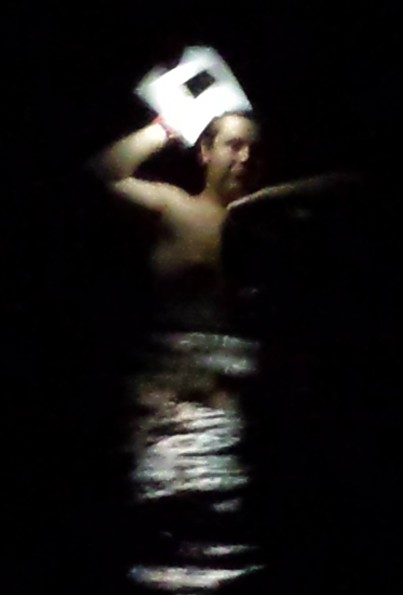 And left to their own devices, it inevitably becomes a light-show toy.


So far, the LuminAID has weathered such abuses. The material is similar to that of hydration bladders, and so seems pretty durable. But as with all inflatable devices, it is likely that at some point the LuminAID is going to get a puncture. However, if you can repair a bike tube, then this can also easily be overcome.
Since I have zero experience with the durability of solar panels, I cannot attest to how long I think this part will last. But at around $20 retail for one LuminAID, I am not all that worried about its longevity. At this price-point, even 2-3 years would be sufficient. Notably, the battery is stated to have a >3 month storage capacity and 500x discharge lifespan. So I guess like most electronic devices, longevity will depend on the battery and frequency of use.
Best For: The simple, compact design, renewable energy source, and low price-point of the LuminAID make it suitable for a wide variety of applications. The one caveat being that is intended to provide ambient light for a small area and NOT be used as a high intensity beam for route-finding or other similar applications. Though I suppose it would suffice as an emergency backup if need be.
In fact, I can think of one particular occasion when my headlamp unexpectedly died where the LuminAID would have been very useful. Not as a backup to the headlamp but as an emergency beacon. In this situation, I had hiked about a quarter mile up a trail from my campsite to partake of a lovely hotsprings, situated in the Rocky Mountains at 10,000 feet. Upon my solo return at midnight, my lamp was barely able to light the path and I couldn't find the turnoff to my site.
In such a situation (knowing that the LuminAID can be recharged the next day), you can leave the light on when you depart your campsite and it may just help you find your way back to safety…a wilderness version of a Motel Six. And yes, I did find my tent finally, but not until after thoroughly contemplating spending the night in the hostprings.
Another good use I found for the LuminAID is as a sternlight on a kayak. Now, its low intensity does not make it a suitable replacement for a solo sternlight but consider paddling as part of a group. The high intensity of multiple sternlights can be annoying, reflecting brightly off the surface of the water in front of you and ruining the night vision of the others in your group.
But if just one member of the group (the sweep) has a long-range stern light, the others can benefit from the soft glow of the LuminAID and still be seen by fellow paddlers or, at short-range, other boaters. The LuminAID is also far less-costly and lighter than battery powered stern lights. Glowsticks have traditionally been used in such circumstances, but their one-time use and smaller light output makes them inferior to the LuminAID.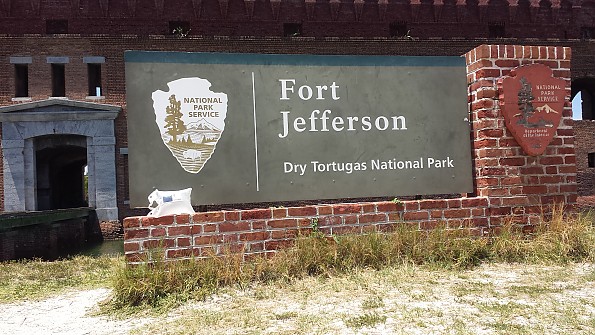 The LuminAID travels back in history to Fort Jefferson....
Final Thoughts: At first, the LuminAID seemed a bit superfluous and simple to my needs. But I found in regular use and inherent to its humble and low-cost design, there are a lot of hidden benefits. It's fun, practical, easy, and has a great background story. Given all these factors, it turned out to be one of those pieces of gear that makes people smile, and that is priceless.

Where a mid-1800s salvager tries to pirate my LuminAID! Arghhhh!

I encourage everyone to go to the company's website to read more about their humanitarian relief efforts. This added element of the product's background kind of makes it a no-brainer to go buy one and in turn support the giving of renewable light sources to those less fortunate.
Conditions: I used the LuminAID for several backcountry overnights and night paddles. Since these ventures all involved water, I found its waterproof design to be particularly apt. I did not test the product in cold conditions.
Improvements: I would like see the company come out with a white/red light combination. This would increase its versatility as a night-vision preservation lantern. It would also be nice if the device indicated when the battery is fully charged. Other than that, it is a pretty solid product just as it is.
Source: received for testing via the Trailspace Review Corps (Sample provided by LuminAID for testing and review)

Love this new lightweight option to my gear! Compact and bright. Being solar powered makes it perfect (charges even on a cloudy day) for the multi-day hikes and paddling trips we take. Being waterproof I can hang it from back of pack and it will charge all day. Lights up a good bit of space or an entire tent easily. No more cooking after dark by headlamp. Inflates with just a few breaths.
Pros
Lightweight
Long charge
Bright
I received this product to test in exchange for a review.
Luminaid get it right with their products. I have a few different items now and I love each one for different reasons. I love that the lights can be full power or dimmed. Some products have color options. The cubes can be snapped together as a chain. You can easily attach to the back of your pack for charging while you are hiking.
Waterproof! We take these on our kayak trips every time now. They charge on the bow during the day and provide perfect lighting during the evening. These lights inflate and deflate easily and are surprisingly durable. One light easily brightens an area 6-8 feet around and will last 6-8 hours per charge depending on level of brightness. Charges in just a couple hours.
We have used it backpacking, fishing, and kayaking in all weather but snow (I live in Florida).
Source: tested or reviewed it for the manufacturer (I kept the product after testing.)

Disclosure: The author of this review received a sample of the product from the brand or its representative in exchange for a review.
You May Like
Recently on Trailspace