Lundhags Forest II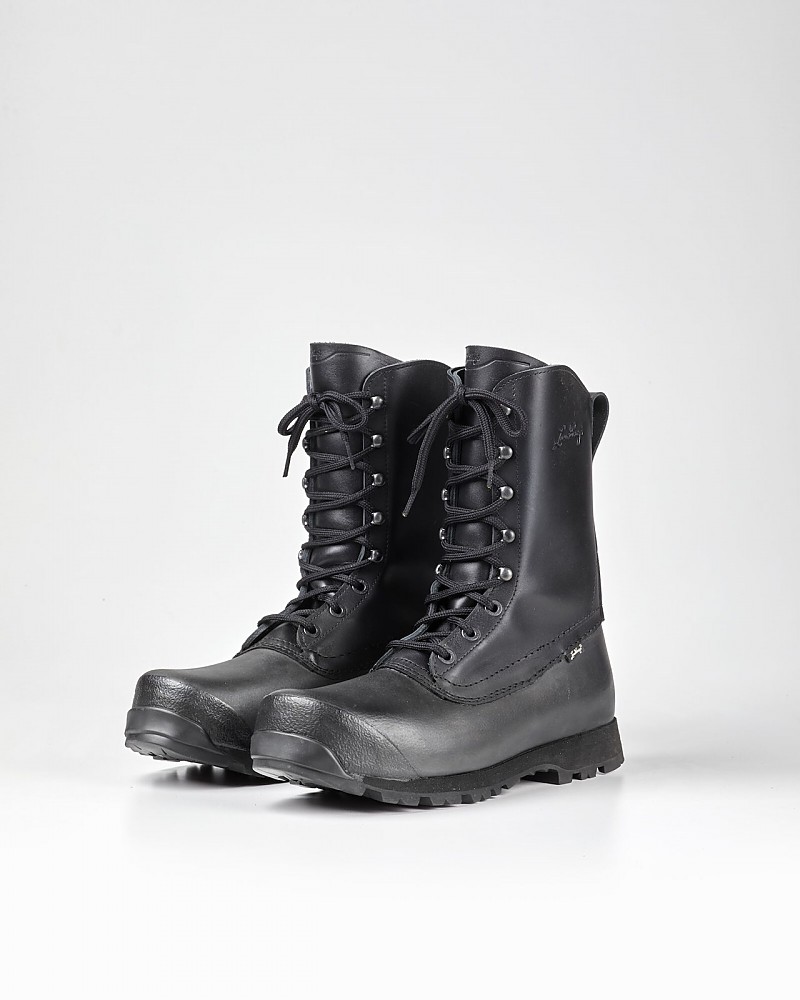 For real wilderness travel in tundra landscape.
Pros
Quality product throughout
Waterproof with right care
Dries fast
Durable
Comfort*
Cons
Not the best in steep terrain
Comfort*
Lundhags single layer boots have been the best for decades. That being said, they are not the best for every type of terrain and climate. They may very well be the best all rounder out there though!
Aesthetics is a personal preference so I won't go into that any further, see pictures.
Fit:
Lundhags are not your average boot. They will not have the "sock fit" of other more athletic boots. These are more "airy" around your foot and this is a good thing, if you are not aiming at mostly steep terrain that is. Sure these will do fine in hills, but if we are talking steeper mountains then go for something like the Scarpa Zodiac Plus GTX instead. The fit of the Lundhags is very versatile though aimed at use in tundra forest terrain which is the origin of these boots. Think northern Scandinavia arctic wilderness both above and below the tree line, much like Canada and Alaska.
Comfort:
These shoes do it all, but you should be aware that you will need to buy them in a size that will allow you to use a thin wool sock AND a thicker wool sock. This is the foundation to get these boots to work! If you only wear one sock (hot summer) they will fit a little loose around your foot. When temperature drops (spring, fall, and winter) you will always wear the two layers described and you will also have two pairs of the same socks as backup in your pack. This is THE KEY to using Lundhags! You will need to try them on to get a feel for the last and size. Lundhags has many different models though the more simple one-layer boots, like the Lundhags Forest, are the ones true to the original concept and the ones that work best in my opinion. 
Water Resistance:
If you take care and seal the seams with heated beeswax and then good wax/leather grease when the shoes are new, they will be waterproof for long periods of submersion. Certainly more so than any Gore-Tex  boots that have been broken in! If you are walking/standing in water or very wet terrain then moisture might spread out on the inside of the boot along the seam. This is no problem since you just pull out your extra pair of dry wool socks (and spare wool sole if you are really meticulous) and you are dry and comfy for the rest of the day. Your wet socks will dry overnight by the fire and your boots will too if you place a lukewarm rock inside them overnight.
Support:
These boots are very sturdy and stable. However, the ankle support does not allow you to walk diagonal over a steep slope without using your muscles. They are not at all like stiff alpine boots in that regard. 
Traction:
Very good, nowadays. In the past there were some soles that had a stiffer rubber that made them a little slippery on wet rocks on cold days. This is not the case anymore and the grip and traction is allover very good.
Temp Control:
As described above with using the sock system there is no other boot out there offering the same amount of temp control as these boots. Now, don't expect the same boots to work for you in high summer 95°F bug infested swamp and in -30°F blistering winter. If you need real tundra winter boots then Lundhags has specific models for that which are stellar, but if you choose your size and socks wisely then the Lundhags Forest will work in anything from mid summer heat and also keep you comfy in winter down to around 5°F.
Ease of Use:
I've touched on this above. It's not rocket science and I would say that the Lundhags are very easy to use and that's the whole point behind them. Just take note of how to use them and put some wax over the seam every now and then and you will be golden.
Construction and Durability:
In short, these are Top Notch! The Forest is hand made in Sweden using the best soles, lowers and full grain leather available.
Conclusion:
These are serious boots. If you are living in a city and need a pair of shoes for walking in the park after it has rained these will work but they are overkill. I would say that these are best for people travelling in varied terrain (though not mainly steep) in harsh conditions, staying out over one or many nights. I use mine when canoe tripping, hunting, picking mushrooms, fishing, boat fishing, camping...  They will of course be your go-to favorite for shoveling snow in the driveway and when going to help a friend get the pick-up truck that's stuck in the mud out and so on.
Experience
Where I live these are quite common. My dad has had his pair as long as I can remember and I've had four pairs in different models and sizes for the last three decades. I also have many friends that wear them. On the few occasion where someone has had a problem, Lundhags have always been very helpful and resolved the issue quickly and without charge. In the case of worn outsoles or other damage from years of abuse they will repair them at a decent price and the boots will be good for many more years after that.
Source: bought it new
Price Paid: 400

A quality pair of boots that will keep your feet warm and dry in the harshest of conditions. Made in Sweden, Forest II is a minimalist, classic 1-layer full grain leather boot.
Pros
Comfort
Durability
Single layer
High cut
Cons
High maintenance
Lacing takes more time
Cost
Very occasionally I come across an item of exceptional quality. They tend to be expensive but as Sir Henry Royce said "the quality is remembered long after the price is forgotten'. Lundhags Forest II are probably one of the best purchases I have ever made. Made in Sweden, they are a minimalist, classic 1-layer full grain leather boot using Heinen Terracare full grain leather. They come in black or pecan; I opted for pecan. Once again, my eye was drawn by Scandanavian design and production and they did not disappoint.
Do not be tempted to buy these secondhand. If you do you will probably not receive the especially important card found in the box explaining how to take care of the boots and there is no guarantee the previous owner followed them either. Like any quality item, the boots require some attention, especially after the first few wears. If you follow the instructions, you will end up with a pair of boots that are guaranteed to keep your feet warm, dry in the wettest of conditions and free of blisters. They need cleaning and generous amounts of leather treatment applied in order to ensure the leather and seams are fully waterproof. This needs to be repeated after use in wet conditions, especially if the conditions are prolonged.
At first, I was quite surprised when I opened the box and I confess even a little disappointed. They felt huge and they are exactly what Lundhags say—a shell and nothing more. You need to take great care when sizing the boots as the idea is that padding and insulation are created by the selection of socks worn. I wear mine with a thinner cotton base layer (Bridgedale Light hiker—see my review on these) and a thicker outer layer (Bridgedale Endurance). This combination makes the boots very comfortable and warm. With this in mind, they are very much my winter boots as two layers plus the thick full grain leather would make them too warm for hot summer conditions.
The boots feature a Rubbermac 'defender' outsole and integrated toe protection, though this is not steel so it cannot be classed as a safety work boot in my opinion. The outsole has proven to be reliable and provides good grip on a variety of terrain, in my case forest tracks, boggy fields, and very muddy forest floor.
With a leg height of 27 inches they are great for keeping water out. I wore them on my Lowland Leaders Award assessment and during the night navigation we unexpectedly encountered a road that had turned into a river. I was the only one who arrived back at the car park with dry feet—including the instructor. This was quite some achievement as it has rained incessantly all day. The extra height was the difference between a comfortable night walk and a truly miserable experience.
When walking, these boots are extremely comfortable but, thanks to the sock layers, they do not provide the greatest feel with what's underfoot. Therefore, I would not be so sure of wearing them on particularly rocky terrain where being able to feel what is under your feet is more important. Also, being the height they are, lacing them takes a little more time and effort, but it's worth it. The last drawback is they they are not crampon-compatible, which is a shame as they are essentially built for winter.
In summary, these are a memorable pair of boots that do everything I wanted the Danner Mountain Light Mojave Brawlers to do (see my review on these). Whilst these are OK and of a similar price point, I would go for the Lundhags Forest II every time. Like most things Scandanavian, they are of the highest quality and perform to the spec required. Look after them and they will last a great deal longer than a regular pair of boots. Get them resoled and potentially you've got a pair of boots for life. Sometimes, more money upfront pays off in the long run.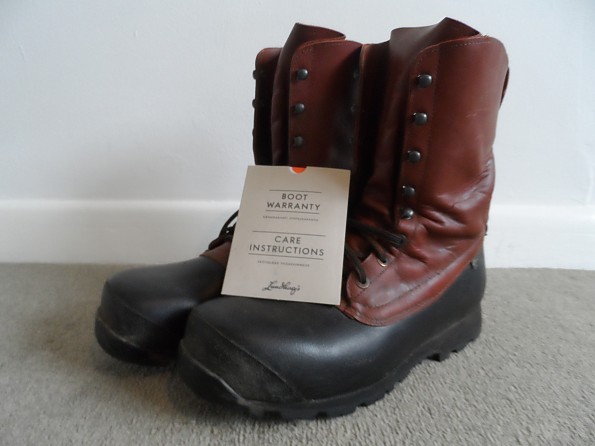 Experience
Wear for work at Forest School, walking the South Downs, and Leading groups. Worn mainly in winter in harsh conditions.
Source: bought it new
Price Paid: $337

Really wanted to like these, but...
Pros
Well made
Thick leather
Great concept
Supportive
Very durable
Cons
Long break in
Narrow last
Expensive
Cold
Very slippery
I really wanted to like these boots. I loved the idea behind them, a durable, re-solable boot that combined the best part of a welly with the best parts of a leather hiking boot. A boot that theoretically could last a lifetime. However they just didn't work for me.
They were incredibly hard to break in, just to get them to feel in any way comfortable and they were way, way too narrow for my wider than average feet. If you have narrow feet, these may be great for you...but us hobbits can't use them.
The defender outsole is also crazy slippery. Ice, snow, mud, wet rocks...I just found it way too slippery compared to my usual Vibram outsoles. 
I also found these boots to be very cold. I realize they aren't meant to be winter boots, but I just found them colder than my usual leather-lined hiking boots. You just feel the cold right through the rubber. 
They are also very expensive for a single layer hiking boot. I honestly think these should be 100 euros cheaper. 
Again, I wanted to like these and I can understand why they would be perfect for a lot of people...but not for me.
Experience
I used these boots for about 4 months before I gave up on them. I have mostly used Hanwag, Meindl, and Lowa for hiking, as well as wellies for hunting.
Source: bought it new
Price Paid: 200

Your Review
Where to Buy
Help support this site by making your next gear purchase through one of the links above. Click a link, buy what you need, and the seller will contribute a portion of the purchase price to support Trailspace's independent gear reviews.
You May Like
Specs
| | |
| --- | --- |
| Price | Reviewers Paid: $337.00 |
| Last | Medium |
| Fabric Content | Certech Cellular rubber base, Heinen Terracare full-grain leather, Rubbermac Defender outsole. |
| Size Range | 36-48 |
| Net weight | 1.5 kg |
| Country of Origin | Sweden |
| Shoelace Length | 150 cm |
| Care Instructions | Clean in- and outside with water and brush, Dry in 40°C max, Apply a suitable Grease, Wax or Impregnation on the leather |