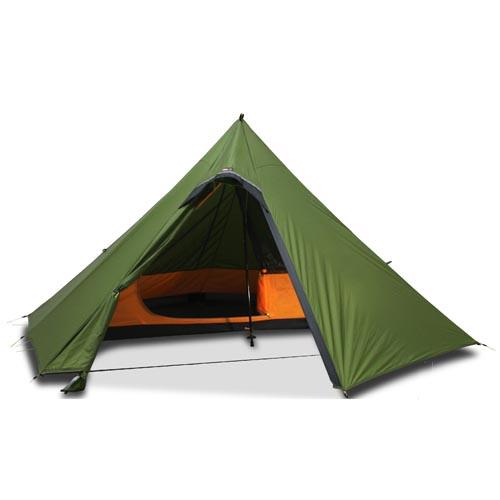 Specs
full weight
fly
nest
pack sack
Sleeps
1+

Weight
1446g
762g
645g
40g
Packed
12 x 12 x 40 cm

Mat.Fly
40D Ripstop Nylon Si/ PU seamsealant is supplied

Waterhead
min. 2000 mm

Mat.Nest
HD Mesh and Nylon fabric

Mat.Floor
Nylon Tafetta PU seamtaped

Waterhead Floor
min. 4000 mm

Poles
Trekkingpole, Tarppole or similar, not supplied

Vestibules
1

Entrance
1

Vents
1

Reviews
1

review

5-star:

0

4-star:

1

3-star:

0

2-star:

0

1-star:

0
Very sturdy, easy to erect, and spacious shelter that makes use of trekking poles or ridgeline. Much less faff than threading poles through sleeves and spills wind very efficiently. Various configurations for inside make this a very versatile lightweight shelter.
Pros
Quick and simple to erect
No need to carry extra poles
Lightweight
Very sturdy in bad weather
Plenty of floor space
Cons
The inner gets very close to the fly
Some poles are not quite long enough
Headroom
Pole in the middle of the tent may not suit all
I have really enjoyed using this tent over the last few weeks of summer. It comes in Forest Green or Desert Brown (I opted for green). There is also a four-season version with a snow skirt. The construction seems sturdy and well stitched using a stronger fabric than some ultralight tents ( 40D/230T Nylon ripstop) and it weighs in at 1.2kg. 
What has particularly impressed me about the pyramid single pole design is just how easy it is to erect, especially in poor weather. Simply stake out the four corners, slide underneath, place the pole in the centre and add some tension. That's about it! Once all the gear is in,  the other stake out points and guy lines (if needed) can be sorted.
This is definitely the quickest pitching tent I have ever owned (and that's been quite a few!). It also has a generous floor space which is great for comfort and stowing gear but can also be a drawback as a larger area is needed for pitching it, which may rule out some potential spots where space is tight.   
Inside there is a generous porch with room for gear and cook set if the weather is bad. The shelter can be used on its own with no inner to create a generous space and save weight, but I opted for the single person inner. There are a number of extra options for inside including a two-person inner and a selection of footprints for use as a single skin where the ground is wet. I am 5' 10" and there is enough room for me to lie down on a generous sleeping pad without my face touching the inner tent. If you're over 6' this may be an issue. 
The beauty of the design is that it makes use of trekking poles. That being said, if you are not  user of poles (why not I ask???) then a dedicated pole can be purchased for an additional cost. Annoyingly, some poles are not tall enough when fully extended and that includes my Leki Titanium trekking poles. Thankfully, the genius that is Bob Cartwright of backpackinglight.co.uk (designer of the Honeystove) has designed an extender section that can be used with most poles. It cleverly joins two poles together end to end to create one longer pole and is a much cheaper solution. 
For some, the central pole may be a deal breaker as it gets in the way of free movement. Furthermore, a pyramid will never have as much headroom as a dome. However, in strong winds it is a great deal more sturdy. If you are lucky enough to find a camping spot between two trees, tie a ridgeline between them and attach the tent using the dedicated loop at the top to that instead. Hey presto, no annoying pole to get in the way and a short length of paracord weighs hardly anything.
Without a pole the tent is reasonably lightweight but the material is not the lightest on the market (some weight has been sacrificed for a tougher material which will last longer and stand up to more abuse). The aluminum pegs supplied do a reasonable enough job but they could be swapped out for lighter versions. Ventilation is achieved through vents at the top of the pyramid peak and the door can be opened if the weather allows. The tent also has ladder lock peg points so its height can be adjusted to allow air flow. However, with the door closed condensation is inevitable and I had to be careful when sitting up not to brush the fly and shower myself as the inner is mostly mesh. This saves weight and improves airflow but can be a little bit chillier on colder nights. 
Bear in mind it is not a free-standing shelter, so it will not fare well on rocky stony or hard ground. Also, it's worth pointing out that the seams are not taped. That being said, I have found that in the long-term sealed seams eventually peel, so whilst it may be a faff, sealing your own seams with the sealant provided is worth it (though I imagine many will never bother and make do with dripping seams!) as it prolongs the life of the shelter. 
Over all, considering the number of shelters I own, despite the fact it is a little heavier than say my Six Moons Lunar Solo, this is one I will definitely keep using on a regular basis. There is even the option to convert it into a hot tent! Its clever and simple design, quality of construction, ease of pitching, and performance in poor weather outweigh having a pole in the middle of the interior and reduced headroom worth it. Take the trouble to use the sealant provided—you won't regret it. 
Experience
Used as a shelter for work (Duke of Edinburgh Award) and camping on the South Downs in England during the summer in varying weather conditions.
Source: bought it used
Price Paid: £120

You May Like
Recently on Trailspace