Magellan Triton 400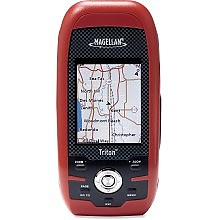 I bought my Triton 400 from Wal-Mart in March of 2010. The first one was defective. I took it back and exchanged it for the last one they had in stock, which had been opened by someone. (Probably returned and they just put it back on the shelf to be sold again.) It was defective also.
Both units functioned as far as to power up and acquire the satellites and give a position reading, but few of the other functions worked the way the instructions said they were supposed to. The native "map" included in the Triton was worthless. It had no detail except major highways. I tried connecting it to the Magellan website to update the software, and the software wouldn't ever work. I gave up and chucked it into a corner until today, 10/19/2011.
Magellan has updated their software several times so I thought I'd give it one more try. Well, after updating everything on the computer, I connected the Triton to the USB port and fired it up. I heard the beep-bop from the computer, but the Sync icons in VantagePoint remained greyed out and the screen on the Triton just sat there saying Waiting to Connect...and waiting...and waiting—forever. Still a POC.
Save yourself a huge headache and loss of precious funds and go buy another brand.
Price Paid: $99

I'm with everyone. The GPS and TOPO don't work!
Piss a guy off.
Price Paid: $150 + 50

There might be some good use for this, but it is difficult to find it.
The instructions included are brief and only cover a few functions. The rest you have to go to the FAQ at their website or trial and error to figure out.
Additionally, they rely on National Geographic TOPO Deluxe for maps, and after three weeks and emails and phone calls to tech support at both agencies I am still having trouble getting maps loaded.
Price Paid: $150

How do you change the time on the Triton 400?
Price Paid: $159

My disgruntled feelings about this product comes about the service. I originally had an eXplorist 400 that the joy stick broke on. I contacted Magellan to get it fixed and was told that they did not repair anything other than models currently for sale. In turn they would give me a new Triton product if I sent them my GPS and paid an additional $120.
I did so but weeks passed by. I had to contact them several times and they could not find my order or something was always wrong with processing it. Months passed by, before I received a refurbished model. Then there was some confusion over whether or not I should have been sent a new one. I could have overlooked this problem, but then realized that I had been charged three additional charged of $120 (total $360).
By now I was frustrated with having to deal with automated selections every time I called, to no one speaking English well. I requested all of my money back and the GPS I originally sent in. They told me they would return all my money as soon as they got all their GPS' back. They claimed they sent me one refurbished and one new unit. I never got a new unit, they claimed Fed Ex dropped at my back porch, with a no signature request. I live in a rural area and never had any packages come up missing, and have shipments all the time.
So now I have to wait for them to credit my account, and not until Fed Ex is done with their investigation into the missing package. To top it all off they threw away my GPS and refused to give me any credit for it. They claimed they only kept it two weeks, and I called them back because they were taking so long. I guess I should have requested a cancellation then. Sorry, my bad!
I have owned two Magellan and one Garmin GPS. I bought the second Magellan because of trouble with the first one and the second one broke too. I have had some form of problem with both Magellan products, but never any trouble with my Garmin. I got the short end of the stick. Now, I'm out a GPS, Magellan's out of nothing. Now that's customer service!
Sadly, I report to you that the marriage between National Geographic's Topo Explorer software and the Magellan Triton 400 is a marriage from Hades.
I purchased the Magellan Triton 400 and the National Geographic Topo Explorer package on Black Friday 2008 at a Wal-mart "special deal". Having owned 2 prior Magellan units, I could not wait to load the National Geo maps into this unit!....
It was the biggest GPS disappointment in my life. After some two weeks of messing with these two pieces of junk, and some 7 hours of work....Folks, it just does not work. Despite all updates of firmware and software....it just DOES NOT WORK.
The GPS unit itself is O.K..but very cheesy without the topo software. Buttons and controls even feel cheap...The base roadmap included in the unit is about the weakest map base I have ever seen. The National Geo software should have taken care of that, but the software is terribly buggy (crashes multiple times), the Magellan software that talks to its unit is terribly buggy (crashes at times as well), and trust me, it is a waste of time!
I tried the tech support route on both ends, and it is all farmed out to India.....so sorry folks, I would take no more of this crap. I carried it back to Wal-mart, got my money back and purchased instead, a Delorme PN-20 that does basically the same thing but uses Delorme's Topo 7.0 software. I have been VERY pleased with this almost flawless integration of software maps and hardware from Delorme.
I am very disappointed in Magellan and have since turned my attention to Garmin and Delorme for handheld units.....Clearly, Magellan has some problems in the company or they are focusing ALL their resources on CAR navigation.
Trust me and after reading other reviews on the internet, you had better steer clear of all the Triton series from Magellan. Garmin and Delorme leave them in the dust with their new "Triton" series.
Price Paid: $200

I am writing in response to the question about changing the time settings on the Triton 400 units. There is a series of steps, a bit confusing and not easily remembered, described in the owners' manual. Downloading the upgraded firmware is a good place to start, but some of this involves a steep learning curve.
My best advice is to call the Technical Support reps who are in the Philippines and speak excellent English, often are college students there, and are involved, frequently with Boy Scouts. They are patient and kind and walk you through each step of the process very carefully and in detail.
I have four of these Magellan Triton units and they have my registration information "on-screen" and have even told me, "go outside and turn on all of your Units, select "menu" click on . . . Now, what do you see on screen on each Unit? They have correlated my Units on the spot! I went to Magellan in 2008 because of the allure of the colorful National Geographic TOPO! maps and the wonderful State Series TOPO! maps I store on my computers and transfer onto my Triton Units for field use, often with my Scouts in two Councils.
The contact numbers for the Magellan Technical Support are: 1-800-707-9971 or for Customer Care: 1-866-427-9965. Follow the prompts and work on a personal basis with the well-informed young people who will help you. Install good lithium batteries in your Unit and you will get good service; be patient, and you will learn. Never transfer SD cards from one Unit to another, as they are encrypted unit-specific, and cannot be interchanged. Label each SD card and the Home Unit so they don't get mixed! Your Scouts will scramble things if you don't watch and teach them! Always have a map and compass as a backup for travel.
Price Paid: $150

Your Review
Where to Buy
Help support this site by making your next gear purchase through one of the links above. Click a link, buy what you need, and the seller will contribute a portion of the purchase price to support Trailspace's independent gear reviews.
You May Like
Specs
Price
Historic Range: $119.93-$199.99
Reviewers Paid: $99.00-$200.00

Recently on Trailspace