Marmot Gunnison

The Gunnison has been discontinued. If you're looking for something new, check out the best overnight packs for 2021.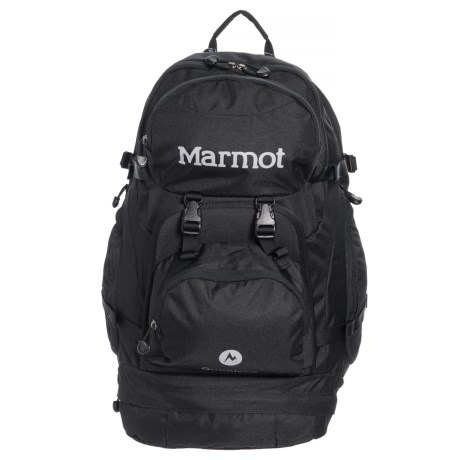 Specs
Price
Historic Range: $38.73-$90.00
Reviewers Paid: $59.99-$60.00

Reviews
7

reviews

5-star:

3

4-star:

4

3-star:

0

2-star:

0

1-star:

0
I bought my Marmot Gunnison from Dick's Sporting Goods in the winter of 2009. I have used it for many day hikes in addition to using it daily for school and work.
The bag itself has held up amazingly well over the years but many of the zipper pulls have broken off.
Price Paid: $59.99 USD + tax

This bag is a laptop / worktrip or everyday backpack JEWEL! The price to begin with in comparison to the other name brands.
I am a fiber optic project manager or works on the field and office. I travel for work alot so bringing my laptop, documents, some tools, outdoorgear is a must and this is how it's done. Checks into planes nicely or carried ok your back comfortably. For the price you can not beat it hands down.
Durability is still in the process but the outlook seems promising. Wish list if or any additions would be bigger laptop strap inside and thicker material or padding at the bottom but all in all for the price it's great.
Sincerely Bussiness man who travels by day and adventure seeker on the weekends
Price Paid: $59.99

This may not be what this pack is designed for, but it holds everything I need. I am an electronics technician. I am currently assigned to a contract position providing maintenance and installation support for electronic access control systems for the government in Washington DC.
I have been looking for a backpack that I could put all of my daily work-related items in and carry with me on service calls and other installation work. Our office is between 2 and 10 blocks from most of our sites, therefore I walk to and from most of the locations on a daily basis. I had all of my "stuff" in a backpack that I bought at a super retailer a few months ago. It has sufficed, but was far from ideal (it did not have much storage space) or very comfortable.
When I saw the storage locations and design of the Gunnison backpack I knew it was what I had been looking for. I got it home and transferred all of the things I had in the other backpack. The competitor's backpack was filled to its limits and uncomfortable to carry. About the only advantage it has over the Gunnison is a larger carry handle at the top, but that it not a big deal to me.
I transfered everything: my small tool bag and all the tools in it (screwdrivers, wire-cutters, needle-nose pliers, lineman's pliers, tweekers, cutters, small AA maglite flashlight, driver bits in a plastic case, tape, coaxial strippers, splice crimpers), a CAT-6 Termination tool, Fluke multimeter, two punch-down tools, a Fox & Hound inductive signal tracer set, tape measure, some spare parts, legal pad portfolio, small (12") umbrella, safety gloves, safety goggles, soldering iron, solder, 6" crescent wrench, pens, a pencil, four full sized Sharpies, basic day to day supplies, etc. Everything.
I still have a completely empty compartment! The large main one is completely empty, with an empty laptop sleeve. This thing is huge, but no larger than a standard size backpack, if you ask me.
Did I mention that this backpack is awesome?
I will definitely spread the word to the other technicians I work with and the tactical/protection personnel I come into contact with each day. I'm sure this pack could perform well for them, also.
Price Paid: $60

The Marmot Gunnison is a work/school backpack that can also be a daypack. It's pretty light and looks nice with lots of organizing pockets though most seem to be for work/school related items not camping/gear related items.
There is no hydration sleeve nor a port but that can be fixed as the laptop padded sleeve should work just fine as a hydration sleeve with the addition of a hook and loop strap sewn above the sleeve. There is what looks like a hydration sleeve in the middle large pocket but no bladder hanger and still no ports I can find.
It does have side pockets that unzip to open with netting to hold water bottles or other items and there is a zippered pocket at the bottom like a sleeping bag compartment but it's pretty small for that. Would have to be a summer bag. It does, however hold a pair of size 10 tennis shoes quite nicely.
The laptop sleeve and hook and loop strap to hold the laptop in the sleeve are both a little short. I have only a 15 inch IBM T60 and I cannot get the strap to hold the laptop in. I will have to work on extending this.
The back padding and shoulder straps are very comfortable. I am impressed with how comfy they are. I have not loaded it fully up yet but I can already see how this will be better than the current laptop bag I have.
What I really like about this day pack is its versatility. Most days it will be a work briefcase backpack. When hiking it will be a day pack. And while not perfect as a hiking day pack its faults will be easily addressed by taking the bag to my local luggage repair place to add a hook and loop strap for a hydration bladder, a port for the hydration tube and a longer strap to hold the laptop in the padded sleeve. All in all I am happy with the bag.
Design: day pack, laptop backpack, school
Size: 2000 ci
Number of Pockets: 6 with some pockets inside of pockets
Max. Load Carried: 10 lbs thus far
Height of Owner: 6' 1"
Price Paid: $59.99

Just got this pack and I love it. It's perfect for me because I need lots of room for my computer and books during the school year, and enough durability for hiking during the summer. The organizational pockets are fantastic and this pack is really sturdy. Plus, the padded computer pocket is in the back, so the padding is up against your back- very comfortable!
Design: daypack
Number of Pockets: 11
Max. Load Carried: 16 lbs
Height of Owner: 65 inches
Price Paid: $60

This is an excellent day pack. The quality is EXCEPTIONAL! I put it through far more than it was probably intended to do and it is still as strong as the day I bought it (about 8 months ago).
I have always bought cheap wal-mart bags in the past and they would never stand up to this abuse. Were it one of those cheap-o packs the seems would have burst months ago. The padding is very good and it is really expandable. The compression straps cinch it down to next to nothing, but if you push it, it can hold up to 2000 cu. in! It's really quite impressive.
My only complaints have to do with features. While the many compartments are great, I would like to see the laptop sleeve be replaced with a hydration reservoir area (this is not a school bag anyway. it's far too tough for that).
I would also like two mesh pockets for 32 oz Nalgene's. It has small side pockets with mesh and elastic that will hold 16 oz bottles, but they eat up interior space, and i find those small bottles to be a pain. The little plastic flap thing on the front is capable of holding a jacket or sandals, etc. but I think that a bungee system would work better (but hey, it is unique!).
Finally, probably my biggest complaint is that there is no designated place to clip/strap things on. A daisy chain and some sleeping pad straps would make this thing the ultimate. I know that I am not asking too much because Kelty puts all of those missing features on their packs of comparable size.
Price Paid: $60

I love this pack...I bought it just before my recent trip to the Olympic National Park. I had plenty of room for the rain gear, as well as the thermal wear. Do yourself a favor and get this pack.
Price Paid: $60

You May Like
Recently on Trailspace