Marmot Zion Jacket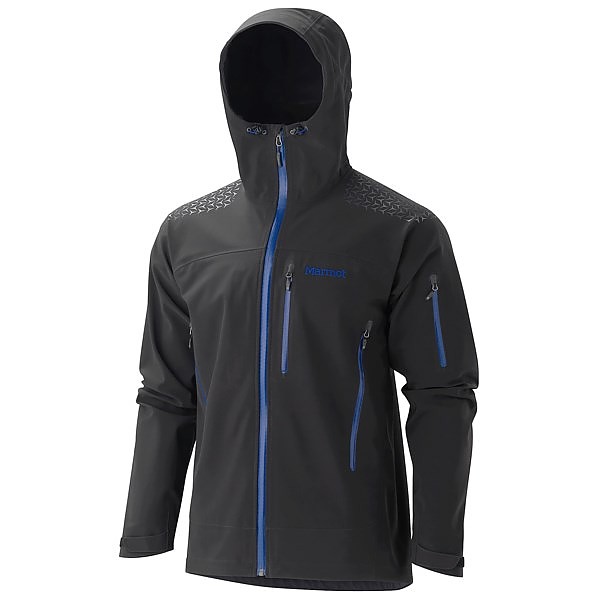 This is a great softshell for shoulder season skiing and for all winter climbing. Extremely breathable, durable, and waterproof.
Pros
Softshell quiet
Waterproof
Super breathable
Cons
Too many pockets
Not helmet compatible (getting fixed in Fall '13)
Hem rises with arms
Marmot Zion Jacket
Size: Large
Catalog weight:  18 oz (probably a medium, maybe a small)
Scale weight: 28 oz (large); Really, Marmot? Really? 10 oz difference? I guess maybe if they measured a small.

W.L. Gore and Associates patented their first WPB fabric circa 1976 and revolutionized the outdoor clothing industry. Many companies since then have worked to improve the waterproof-breathable category with some nominal improvements (mostly in the total weight of the membrane/treatment and the face fabric that they match it to), but you and I both know that waterproof AND breathable usually aren't on speaking terms when you're out huffing it up some canyon.
Sure some fabrics will lose that clammy feeling within a few minutes or they may have some pit zips that alleviate the symptoms but unless temps are really low and/or you are not sweating, feeling clammy comes with adding a shell.
Well. . . that's not exactly the case anymore. Polartec's new NeoShell membrane has come a long way from our old and beloved Gore-tex partners.
For disclosure purposes, I sweat. I sweat a lot! When hiking up to our usual ice cragging area with temps in the 20s and only wearing a t-shirt, I drip sweat from my brow, my back, my legs, and usually have some beading up on my forearms. I know that is gross. I understand; my wife tells me about it occasionally. However, you need to know that in order to understand how great NeoShell is.
This past winter I have used Marmot's Zion Jacket (featuring NeoShell) almost exclusively (I have dabbled in Dry.Q Elite). With the Zion Jacket I make that same approach wearing my usual silkweight long-sleeve tee, plus the Zion! The results? I still sweat a ton... But now it gets moved outside the jacket like I've been promised it would by so many other fabrics for so long! I dump my pack to get racked up and I'm already dry. Literally. 
But enough about the fabric (which is awesome), the jacket as a whole deserves some consideration.
I am 6'3" 185 lbs. and I have the Zion in a large. The medium fit well, ridiculously well in fact, but had one drawback: on the official harness/jacket untuck meter it was a 9 (totally un-tucked from the harness within 2 ice moves and moving over my gear loops). So I compromised by going with the large that bellows out a little above a harness or hipbelt because of the additional volume (not too much of a compromise in my opinion).
Dave Searle's un-tuck meter can be found on the coldthistle blog search: http://coldthistle.blogspot.com/2011/12/my-2-pence-on-midlayers-by-dave-searle.html
Marmot paired the NeoShell membrane with a super comfy liner fabric (think brushed suede or butter-jersey) and a burly shell fabric that will probably hurt the rock more than the rock will hurt it. It is a soft-shell format that most other companies aren't doing with NeoShell. At first I was a little disappointed with the heavy-handed construction, but have found solace in a few key facts: 
First and foremost, the Zion has impressive insulative properties. Good enough in fact to help eliminate a mid layer piece in your layering system. This helps compensate for the heavier nature of this shell without sacrificing too much versatility (more layers can usually handle a broader temperature range) because of how breathable it is — it acts like your midlayer, with the benefit of being stormproof.
For example, a normal layering system could be MHW's wicked lite long tee (5.6oz), Patagucci's R1 Hoody (12.8oz), and Arc'teryx's Alpha LT (super sick and 12.9oz); total weight 31.3oz.
A layering system with the Zion that will easily handle upper teens and low 20s while climbing is as follows: MHW's wicked lite long tee (5.6oz), and the Zion (28oz). That's it. Simple, and with a total weight of 33.6oz.
I figure for 2oz more I have a broader range of comfort without having to stop and remove or add layers. That's pretty sweet. The best part is, when the jacket is on, I really don't notice the extra weight; and this jacket rarely comes off.  If you are venturing into colder climes take the R1 and the Zion (40.8oz for an action suit that will take you to around 0°F).
Second, the face fabric has and will continue to stand up to my abuse. I have scuffed this jacket against Ogden quartzite and SLC granite without any sign of wear.
Lastly, the combination of fabrics is exceptionally stormproof and doesn't make that awful hardshell noise. 'Nuf said.
The Zion includes 5 pockets: 2 handwarmer pockets, 1 napoleon pocket, 1 sleeve pocket, and 1 internal pocket. All are fleece lined and very comfortable. The two handwarmers are spacious enough for keeping your lead gloves warm and dry and to stash your skins in, while the napoleon is big enough to hold a 12oz drink along with your lip balm and has a headphone portal.
I have found that the sleeve pocket works great to hold GU packets or chomps and the internal pocket never gets used. The Velcro adjustment at the cuff works very well for the wrap-around tab configuration they used.  The hood is helmet compatible, and has two adjustments: the usual hood aperture pulls and a rear circumference pull cord help you batten down the hatches and take out volume.
Harness/Hipbelt-compatible pockets with water-resistant zips
One internal zip pocket and soft brushed lining
Now for everyone's favorite part…the nitpicking!
The two handwarmer pockets that are purported to be hipbelt compatible have a problem I find happens a lot among climbing jackets. The upper portion of the pocket is visible and usable above a harness; still, the lower offending portion is cut off — effectively making the pocket opening smaller. Such is the case with the Zion's pockets. Though to be fair, the zipper pull is at the top in the closed position so the pockets really are usable with a harness on.
In my opinion, and for my head, the hood is a little low on volume. With the hood up over a helmet and fully zipped, my chin and lips abut the zipper area forcefully enough for me to usually keep the zipper slightly undone. If it were a perfect hood, it would fit over my helmet, fully zipped, with some room inside to make adjustments or at least offer some more stretch in the fabric.
The last thing is the fit. Like I said, the medium offered a much more trim fit which I usually look for, but the angel-wing technology failed a bit and it would come untucked. The large has extra volume in strange areas that l notice when I'm at home critiquing the jacket, but actually really don't notice when I'm out using it. However, the angel-wing mumbo-jumbo still fails compared to my standard — the Arcteryx Alpha. The Alpha's hem moves about 3" from arms down to arms up. In contrast the Zion moves at least 5". When pinned under a harness the stretch of the fabric helps in this area. In Marmot's defense (I really like their products), many of their other jackets that I own don't move nearly as much as the Zion. 
All in all this is a very nice jacket. As with all pieces of gear, it could be improved upon. Anyone can take their favorite piece of kit and say, "if this small problem was fixed, this would be perfect." This jacket falls under that category. Yet, even the way it is made right now, it does what I want all gear to do: go unnoticed. I don't ever have to think, "I'm starting to overheat I'd better fiddle with my pit zips/take off a layer," or "this is way more wet than I expected, I wish I had brought my hardshell." And that is well worth its few short comings. 
Overall I would give the jacket 4 stars out of 5.  I love everything about this jacket except the minor hood issue and that I had to get a large to keep it tucked into my harness.  It easily establishes itself among the best winter ice and alpine climbing jackets available.
Source: bought via a "pro deal"
Price Paid: $160

Lighter and better-fitting than I expected, I look forward to cold weather.

This started as a preliminary review about fit and features. I am updating after wearing the jacket on a number of occasions. I plan one more update after the winter.
Pros
Great fabric for a waterproof soft shell
Lighter weight than I anticipated
Good hood adjustment
well-sized for layers
Cons
Big hipbelt might interfere with pockets
Shoulder decorations of questionable utility
mildly sticky waterproof zippers
Saving gifts and a summer sale conspired to bring this jacket in. I have been eyeing softshells that absolutely keep water out after the one I am using now....didn't, and turned into a cold, soggy sponge last winter. 
These are my initial impressions of a new arrival best suited for cool/cold and potentially wet weather; it's way too hot in DC to wear this baby in the near future.  I chose black, but it comes in some very bright colors.  I like the blue zippers.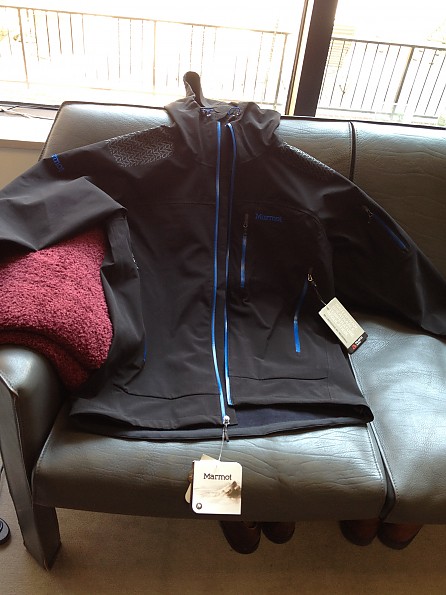 I tend to purchase on the large side to enable layering. This jacket fits me well in size XL with some leeway for a fleece or a couple of thinner layers underneath; I wear a 46 suit jacket. The hem falls about 3-4 inches below my hips; the sleeves are on the long side. Notably, though, the jacket barely rises when i raise my arms up, which has been an issue for me with some jackets. 
The fabric feels fairly lightweight and, like all soft-sided jackets, is 'quiet' — no crinkling like you get with a typical hard shell.  because this is waterproof and has a membrane, I expected it to be kind of stiff and on the heavy side.  Happily, it is significantly lighter-weight than my other softshell.  it has a decent amount of stretch, though not quite as much as some that I have tried.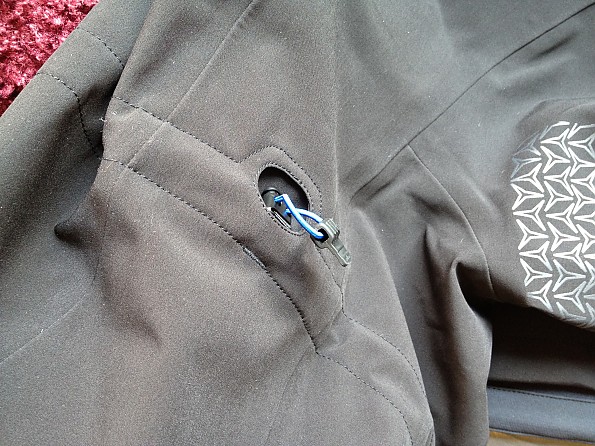 The hood adjusts from the back and via pulls on either side of your face.  they are all fairly easy to grab and adjust without looking, and I'm sure that will get easier as I wear it.  the hood has plenty of space to accommodate a hat.  I'm not so sure how it would do with a helmet, it might be a little confined for that. 
You can see from the photo the the shoulders have some pattern, a series of little triangle-stars.  feeling them with my hand, they appear to be stuck on there and almost indistinguishable from the rest of the shell.  i don't quite understand their purpose, but they look a little strange and don't appear to have much use.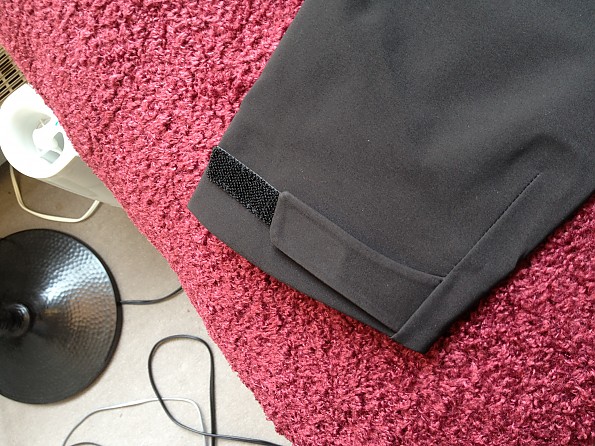 The cuffs close with a narrow hook/loop strip, and like many marmot jackets, the part that extends over the back of your hand is a little longer than the part inside your wrist. whether that is good or bad is probably personal preference.  it tends to keep your hands a little more dry if you are wearing glove liners in damp weather.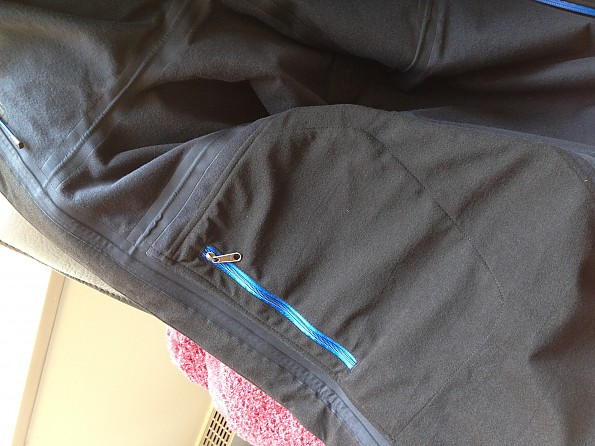 the inside has one small pocket.  to the extent you care, there is a small port between the inner and adjacent outer pocket if you tend to hike, climb, cycle or ski plugged into an ipod.  also, the interior of the jacket has a very thin fuzzy lining that i imagine would impart a little bit of warmth.  it also means you can probably wear this with a short-sleeved baselayer comfortably.  all the zippers are fairly easy to use; the outer ones are water-resistant and a little more "sticky," though in my experience that goes away for most jackets with wear.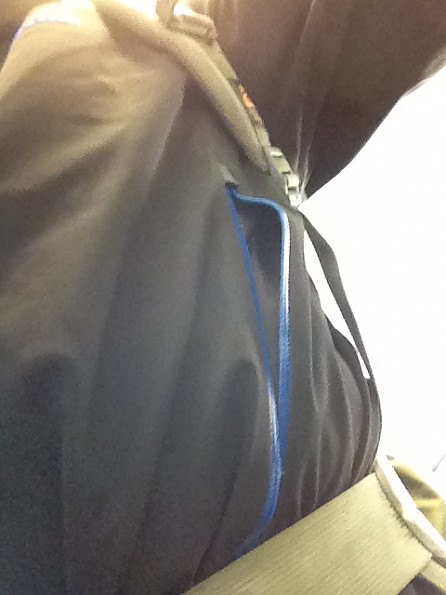 The front of the jacket has two relatively large pockets that are probably intended to be accessible if you are wearing a backpack or a harness.  As you can see, most of the pocket is accessible above a light hip belt.  the bottom inch or so of the pocket is covered by the hipbelt.  a thicker belt might cover 2-3 inches of the zipper.  fortunately, this zips from the top, so the pocket should still be partially accessible.  the hem is elastic and can pull tight via toggles on either side. 
I'm particularly excited to use this because it is made with polartec's new waterproof/breathable neoshell fabric.  this is not a hot weather option, so i am hoping for cool evenings when I'm in Maine this summer, or for unseasonably cold and rainy weather! i should have more opportunities to truly get a sense for the function of this jacket later in the year, though. 
Field observations
This jacket has now accompanied me on a number of rainy and cool morning hikes.  My main observations:
First, the waterproof/breathable aspect of the jacket is great. the membrane does a great job allowing moisture to escape, as well as any waterproof jacket I have tried. 
Second, rain absolutely does not get in. also, the DWR coating is great - rain rolls right off.
Third, this jacket has more warmth than any hard shell i have worn, and my other soft shell. I found myself only wearing a wool t-shirt underneath when I used it the past months. we'll see how that progresses into the winter. 
Fourth, the waterproof zippers keep the water out, but they are fairly stiff and sticky. This isn't much different from other waterproof zips, but it is noticeable.    
Fifth, it has been under pack straps a fair bit, and no discernable wear. also, nothing else about the fit and finish has emerged. so far, it looks to be well-manufactured. 
Finally, in the category of overall opinion, it's a comfortable jacket to wear. usually, wearing only a short-sleeved T under a hard shell isn't ideal. the softer inside of this is a plus in this respect, similar to the other soft shell jacket i have worn.  to have this kind of comfort in a jacket that can handle a hard, steady rain is fairly unusual.
Source: bought it new
Price Paid: $298

Excellent hooded parka made of breathable Neo shoftshell fabric which has modest strech relative to some softshells. Fit is full (not baggy) so it accommodates layering with bulky insulation, e.g. synthetic down sweater. Adds warmth as well as wind and waterproof protection. Possibly overkill for ultralight hikers but the jacket's broad operating range and broad set of capabilities means it should be on everyone's short list, though it might not be the perfect match for your application.
Pros
Waterproof
Breathable
Nice selection of pockets
Nice brushed lining
Seems very durable
Marmot warranty department
Excellent hooded parka made of breathable Neo shoftshell fabric. Adds warmth as well as wind and waterproof protection. Possibly overkill for ultralight hikers but the jacket's broad operating range and broad set of capabilities means it should be on everyone's short list, though it might not be the perfect match for your application.
Fit and comfort: Fit is full (not baggy) so it accommodates layering with bulky insulation, e.g. synthetic down sweater. Sleeves are somewhat long which is good for mobility. The velco cuffs keep the sleeves out of the way. The Neo shoftshell fabric has modest strech relative to some softshells. The soft brushed lining is very comfortable.
Adjustability: Good hood with good adjustments. Elastic drawstring waist. Nice velcro closures at the wrists.
Water resistance: The Neo softshell fabric is waterproof and the jacket is fully seam sealed.
Breathability: Good breathability, better than my lightweight Gore-tex XCR parka.
Moisture: The breathability and brushed lining do an excellent job wicking moisture away. There aren't vents such as pitzips but the breathability of the fabric doesn't require them.
Warmth: As a shell this jacket is warm. It might not be ideal for high levels of activity when it is only slightly cool but you can probably find another article of clothing in your pack, like a lightweight fleece pullover, for those conditions. On its own the jacket is warmer than just a Gortex shell, perhaps comparable to a Gortex shell with light insulation underneath.
Layering: The jacket is cut full. Though not a bulky fit, the fabric is not as stretchy as some softshells of the same size which give me a trim fit. With room for layering with bulky insulation this jacket plus insulation can be downright toasty in quite cold conditions.
Abrasion: I have not had the jacket long enough to really judge but the fabric seems quite abrasion resistant.
Function: A very technical and funtional jacket with two large pack pockets, an inside and an outside chest pocket and a small upper arm left sleeve pocket. Good hood adjustments. The velcro cuff closures work very well.
Ease of use: This jacket functions very well. See comment above.
Features: The main feature is that this is a breathable yet waterproof softshell. Otherwise, this is a technical jacket with all the necessary features (adjustable hood, multiple pockets) but none of the bells and whistles that might not add much other than unnecessary weight, e.g. zip-in lining capability, removable hood.
Construction and durability: The jacket is well made. I have not used it long enough to comment on durability but it seems very durable. Time will tell.
Conditions: I've had this jacket about three months and used it for fall and winter hikes and backpacking. I'm looking forward to determining its breathability and operating range in warmer weather. For really warm rain conditions I expect to used my large poncho. I hope and expect the Zion Jacket to become a full year piece in my pack worth the slightly greater weight for warmth and waterproof rain protection on cold, wet and windy summits.
Source: bought it new
Price Paid: $310 (Retail - 20%)

Waterproof and HIGHLY breathable softshell jacket.
Pros
Highly breathable
Warm
Helmet compatible hood
Cons
Tight cut along the forearms
semi-awkward fit along the hood
Purchased this coat as my go-to winter sports jacket. Typically, that involves skiing, trail running, climbing and commuting.
Overall, I do like the jacket, but it has a super narrow cut in the arms. (I am 5'9" and weight 200 lb.). That being said, anytime the temperature drops to below 20 degrees, I have to switch to my old coat because I cannot layer very well underneath the Zion. Additionally, it has a kind of awkward cut around the hood/neck where it is too tight if fully zipped up but when partially unzipped, the hood can be kind of heavy.
That being said, I do really enjoy this jacket in active endeavors when the weather is cold. It breathes really well and it stretches and repels water quite nicely.
This is my first coat without pit zips, and I am still undecided on whether or not I like it. Part of me appreciates there not being any zippers to chafe underneath my arms, but in the times when I really need to just dump some heat, I have missed having them as an option.  
Source: bought via a "pro deal"
Price Paid: $140

A go-to jacket for light to moderate winter activity in bad weather. Fits great, with a pack or harness on. Wish it had pit-zips and helmet-compatible hood.
Pros
Waterproofness
Fit
Comfort
Weight
Cons
Breathability could be better, or add pit zips
Hood is too small for a helmet
I got the Zion Jacket because I love the versatility of a softshell jacket, but wanted to try the Polartec Neo Shell waterproof capabilities.
Overall I am pretty happy with the performance, totally waterproof just like a Gore-Tex shell, it isn't as 'soft' or pliable as other softshells but less noisy than a Pro Shell or Active shell from Gore-Tex. I expected the breathability to be better, without pit zips I do get a little hot during moderate activity like trail hiking. I haven't tried the hood with a helmet yet, but it looks small and incompatible.
Source: bought via a "pro deal"
Price Paid: $100

Your Review
Where to Buy
Help support this site by making your next gear purchase through one of the links above. Click a link, buy what you need, and the seller will contribute a portion of the purchase price to support Trailspace's independent gear reviews.
You May Like
Specs
Men's
Price
MSRP: $375.00
Historic Range: $95.73-$399.95
Reviewers Paid: $100.00-$310.00

Weight
1 lb 2 oz / 510.3 g

Main Material
Polartec® Neo Shell® 79% Polyester,14% Polyurethane, 7% Elastane 8.0 oz / yd

Women's
Price
MSRP: $375.00
Historic Range: $129.00-$399.95

Weight
1 lb / 453.6 g

Main Material
Polartec® Neo Shell® 79% Polyester,14% Polyurethane, 7% Elastane 8.0 oz / yd

Recently on Trailspace