MEC Tarn 3

The Tarn 3 has been discontinued. If you're looking for something new, check out the best three-season tents for 2023.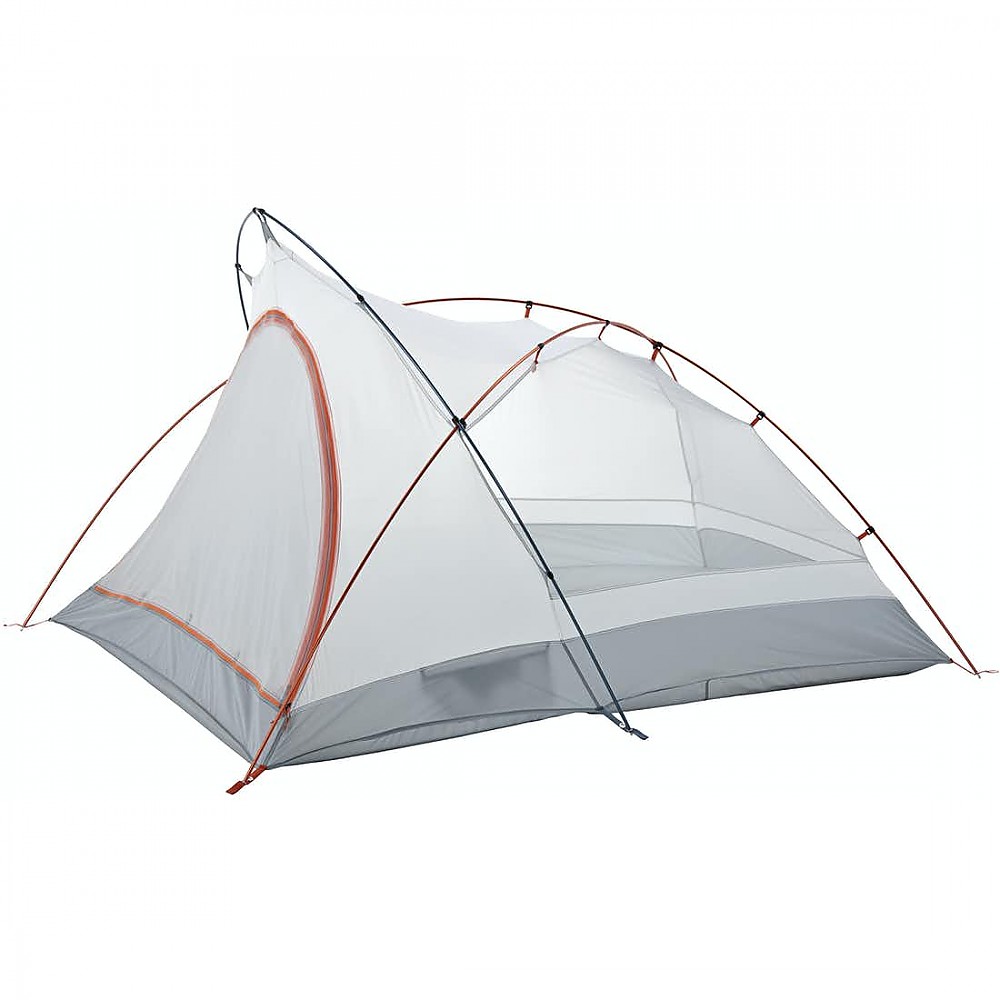 Great tent with lots of space and fairly compact in the stuff sac. Super for car camping, motorcycle camping, canoe camping, and even backpacking (if the distance is not too great).
Pros
Spacious for 2 adults, but will fit 3 in a pinch.
Easy setup
Very rainproof and dry
Pretty good ventilation
Bug proof
Cons
Small plastic windows in the fly keep falling out.
Bit heavy for backpacking
We bought this tent many years ago and have used it for car camping, canoe tripping, motorcycle camping, and even a trip to Cape Scott, B.C. It's a bit heavy for backpacking, but if you're staying for a while (we camped on the beach at Cape Scott for 4 days) it's a roomy comfy haven worth the weight. 
Easy setting up you can get away without pegs, but if you want to use the vestibule space, you need at least 2 pegs. It's a bit sensitive to wind so when it's windy (we had 40km/hr winds last week at a secret lake up the Fraser Canyon) it's best to put out all the guys for stability.
So many upsides to this tent but we have a recurring issue that kind of takes the shine off. The plastic windows in the fly tend to fall out, especially if it's warm and windy. We lost a window mid-motorcycle trip a few years ago and good old duct tape saved the day. MEC was very good about replacing the fly (I'm betting this has happened to more than just us) and we were off again. Now, a couple of years later, another window has fallen out of the  new fly, mid-trip of course. No rain, so we didn't bother with the tape this time.
This time, we're trying to glue it up with "shoe-goo" to see if that works. If it holds, we'll reinforce the other window as well. If not, we'll be going back to MEC customer service to see what they can do. Great idea, but the windows are the weakest point.
Experience
Owned the tent for about 8 years. Use it for a week or two every year, so maybe 80 nights under its canopy.
Source: bought it new

It would be a great tent at the price point if the windows on the fly did not delaminate and fall off.
Cons
The windows on the fly fall off. The product is no longer available so MEC won't replace or repair.
If you own one and the windows come off of the fly you can use Aquaseal Flexible Durable Repair Adhesive or Shoe Goo to glue back on after removing the old adhesive with isopropyl alcohol. I used Gorilla Clear Repair tape over the seams after cleaning and glueing.
Experience
Occasional summer and fall camping and paddling expeditions.
Source: bought it new
Price Paid: $250

We took our brand new Tarn 3 out camping a few weekends ago, right in the middle of a rain and wind storm (just to give you an idea I'm estimating 60 mm of rain and 60 km/hr winds the one night). While our friend's tent ripped and leaked, we stayed comfortably dry.
The tent was easy to set up (even in the middle of downpour) and take down. We also purchased the footprint to go with the tent, which I highly recommend. I found the ventilation was good (even with the vestibule closed)and there was plenty of space for two people plus gear. We were hugely impressed with this tent and would definitely recommend it!
I owened a Tarn 3 for several years. I'm in the middle of selling it because it goes through poles like you would never believe. I've had a pole snap on three different trips. It could be me, but I'm starting to believe it's the tent. I think tents should be able to take a little bit of guff, like being picked up and moved (while empty) without snapping a pole.
I pitched a friend's Tarn 3, and I found it went up considerably easier than mine, without the "oh god, I hope I don't rip or snap something with this clip" feeling. Thus I think that MEC probably has, or had, a quality control problem with their tents with inconsistent stitching and placement of their clip bases.
All that aside, the tent itself is a great tent to travel with and live in. I bought mine for car camping, with the hope that I might take it motorcycle camping. The motorcycle camping never happened, but it would be a good tent for that kind of adventure. Mine has been to Killarney park in Ontario, Italy, the Caribbean for a beautiful beach camp, and to Nova Scotia. It sleeps two easily and three if you're friendly. The vestibule is enormous. There're two pockets in either side of the front door for stuff, and the slight diamond shape gives room to dump clothes, lamps, and whatnot.
Pitching it is a fairly straightforward process. Raise two cross poles, clip up the tent, put on the arch pole, finish clipping it. Easy enough for one person. You really don't even need to bother staking it except to build the vestibule.
With the fly, you're very warm and awake as soon as the sun hits the tent, because it turns into a sauna. Without the fly, the screen provides a great view of the stars, and you can probably drag your morning out a couple of hours. The front window has a screen for privacy that zips out for ventilation.
All taken together, I've had some good times with (and in) this tent, and am sad to see it go. I don't trust its construction, though, and don't enjoy the notion that I'll continue chewing through tent pole segments. If you are looking at this tent, pick one out, pitch it in the store, and if you have any doubts about it, grab another one, and give it a try. I suspect I happened to get a lemon, and am willing to give MEC the benefit of the doubt.
Design: three-season, three-pole, 1 door, 1 vestibule
Sleeps: 2
Ease of Setup: easy
Price Paid: $230

* Oh My God! * I love this tent! Mine's now nine years old.
Read below for the big AHA!!
I have an earlier model with the door that is attached on the bottom, and if you investigate, the door or screen or both velcro into the leading edge of the floor. Cool! I don't like the new doors, but the new Tarn 3 windows, wow!
This tent is huge! Sleeps 2+ easily, 3 with some footroom too. Inside, the high point, 4' makes it feel like a dream. We sleep with heads at the back and gaze up to the apex at the front, about 8' away, no fabric in your face claustrofobes here.
The colour is super, yellow/gold. Cheery on the darkest of days. I wake up smiling from the colour, even in unplanned hail/slush storms (at least 3). Watch out, Tarn 2 was green, too, but is now orange.
Usually just use 2 pegs for the vestibule. Great gear pockets/gear lopps.
I'm intending to do more backpacking, and with a todller too, this tent may be a bit heavy. Am looking into tarptent.com or adventure racer hennessy hammocks. But...
** A-HA ** On one of my monthly set up the tent for 2year old play-time, while weighing other gear for the summer excursions. I had a moment, rather an hour. I cried I was so happy: This tent will pitch with just the fly. I hadn't every conceived of this before. It cuts out nearly 3 pounds. (note the poles fit directly into my half pound siltarp1 for a floor, loop the siltarp pull-outs through the tarp pull then around the pole before attaching pole into grommet.)
So this tarn3 is going to stay and come with me on 2-3 day backpacking trips. Keep in mind I have 1 pack for family of 3. If it ends up being too heavy, we'll check out the tarptent or hammocks mentioned above.
The quibbles:
Zipper on fly hard to reach as you have to stretch out in the dirt/grass to reach it on the ground. Attach a 12" pull or two looped zipties.
Sometimes could use more ventilation, but unzipping the door from the top down augments the vent. Occasionally pull out the 3 fly pulls at back and sides for ventilation. And a window somewhere?--hard to see out, except peering through the screen/vent. Ther is a window in the new tarn3.
It could be lighter, lighter fabric, poles, smaller zippers, less webbing, fewer seams...
Waterproof floor?
(actually, replacing the inner tent with my siltarp eliminates all quibles above!! I'm still elated)
There is horizontal flat part, almost, in the middle, upper fly. I got about 5 drops in an absolute downpour one night.
Pitch Tips: 2 straight poles make an x. Clip in the pole that goes with the clip at the centre of the x first. Put two poles into back gromets, stand on front gromets/webbing loops and push both poles erecting tent. Fully piece together long arch pole and flex it under X-poles. (Manual says to put arch pole on outside of X-poles, but I never do this, not sure why) 2 pegs for vestibule.
Cleaning: Pick up, door over your head, and shake. It won't fall apart.
There are now lighter tents, as described above, tarptent.com variety. Since I have this, I'll keep it. I made the switch to lightweight everything, so I wouldn't buy it again due to weight. At $226 CAD, you can't go wrong. Enjoy!
Design: three-season
Sleeps: 3
Ease of Setup: Fast and simple. Yay clips!
Weight: ~7lbs, but less if we ditch the inner tent!
Price Paid: 240 CAD

The best tent I've ever owned. It isn't particularily stable in wind but it's roomy, easy to erect, and fairly waterproof. I lived in it for three months and never felt cramped. Ventilation is very good and the fixtures (zippers, velcro attachment systems, poles) seem to be quite durable.
I'm sorry but MEC sells amazing products...they do not get enough credit for their merchandise because they don't pay off people to get good reviews. MEC is by far one of the best outdoor companies out there hands down. Arc'Teryx...Marmot etc = $$$$$$$$$$$$$$ why spend $600 on an Arc'Teryx jacket that barely makes it past the check out counter without falling apart. How bout spend $250 on a MEC jacket that will last you years and through the harshest weather. There's no comparison. MEC Tarn 3 is an aboslute amazing tent. Very roomy, large vestibule, light, and an all around amazing 3-season tent. You will not be dissappointed.
Sleeps: 3
Ease of Setup: 3 pole construction not the absolute easiest but not that difficult
Weight: 3.6 kilos
Price Paid: $200 cdn

The tent is very light, compact when packed, and roomy when set up. A previous reviewer says that the fly is tight and problematic, perhaps they have corrected it because I did not have that problem at all. The fly fit well and connected easily. I am very happy with my Tarn 3.
Design: 3-season
Sleeps: 3
Ease of Setup: Very easy
Weight: 3.17
Price Paid: $260 Cdn

Your Review
You May Like
Specs
| | |
| --- | --- |
| Price | Reviewers Paid: $230.00-$250.00 |
| Price | $249.00 CAD |
| Minimum weight | 3.1kg |
| Packed weight | 3.4kg |
Recently on Trailspace