Merrell Chameleon Wrap Gore-Tex XCR

The Chameleon Wrap Gore-Tex XCR has been discontinued. If you're looking for something new, check out the best trail shoes for 2023.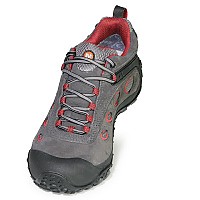 Wanted something light for spring-autumn day hikes on maintained to moderately difficult trails. Ended up using them sometimes in far tougher conditions where you might prefer boots.
The good side:
-really comfy out of the box, no break in required
-breathable yet waterproof, just as the company says
The bad side:
-downhill my big toes (especially the right one, that being my stronger foot) are pressed against the hard rubber at the front. with poles it is ok, but on the last 2 days of a 4-day hike I would take off the right shoe (or sometimes both) when we stopped for a short rest, to alleviate the slight pain. You can never tighten shoes so much that your feet won't slip forward downhill - these are no exception.
you might wonder whether I should have bought a bigger size. the fact is that with a pair of Bridgedale light hiker socks on, I could barely fasten the laces strongly enough to hold my feet in the store. I wear size 42 or 42.5 normally (roughly US 9) so when I saw that the Merrell was sized 43 (also called US 9), I was told that Merrell undersize their shoes, so I should get at least a half size bigger than normally - so I did.
Maybe my feet have changed a bit since I bought them, but now I don't need to strain so much to fasten the laces, and the toebox doesn't feel so spacious either.

-the other thing to consider is the weight: with all this top technology built into them, they are not exactly light. I don't mind at all, I'm glad all that heel-support and what-not is helping me on the trail. but if you are looking for really light shoes, you'll have to look elsewhere.
-some people are afraid of hiking shoes because they lack ankle support. I have been using them for nearly 6 months and I haven't had a sprained ankle yet. I tend to agree with those who say that the way to avoid ankle injury is to strengthen your ankles through regular exercise. with weak ankles you might get an injury in the best boots, too.
-the soles are ok except on mossy wet rocks or very steep slopes with small stones. I guess traction could be better, but I don't really have terms of reference as until recently I rarely hiked and did not have proper boots. on difficult rocky terrain, especially downhill, your feet might feel a slight bit of strain after a while - here boots with stiffer soles are preferable. but again, this is not the shoes' fault - you should know their limitations and use them within those limits.
Bottom line: perfect for light outdoor activities, light to medium hikes in good weather. a little shower is ok, but a 2-hour downpour would soak them from above (the ankle line is too low to use gaiters effectively).
Make sure there is enough room in the toebox, use poles downhill if you like, and these shoes will provide an excellent mixture of support, flexibility, protection and breathability on those day-hikes. If you go on a longer trip, take some boots if you expect a lot of rain.
Materials: gtx xcr
Use: dayhikes
Break-in Period: none
Price Paid: $110

i bought this shoe primarily for urban workouts and light hiking, but it has become one of my favorite weekend shoes for hikes, soccer games, yard work, and just getting around in cool or wet weather. i have worn them for over two years.
last weekend, i wore them on a very rainy afternoon and had dry, comfortable feet, then walked a few hours the following morning with 45 pounds on my back - in a single pair of Darn Tough socks, without any blisters or hot spots. that's a good shoe.
likes: the uppers are durable and waterproof. no leaks, tears, or loose stitching. the gore tex really does work. the fit is very nice, i have wide feet. the lacing system keeps feet very secure, no toe bang even on steep downhills. support is excellent, though i wear them (and every other shoe) with a pair of doctor-made orthotics, which make all the difference in the world. i love the light weight and low cut ankles as an alternative to my regular, heavier, ankle-high boots.
things that could be improved: the sole is is less durable and less secure than a typical vibram lug sole. after two years, the heels are almost worn through, and during this weekend's hike, on wet, rocky trails, i had a few slips that i probably would not have encountered in my Limmers. At the same time, i don't expect a heavy lug sole on a shoe this lightweight, and getting over two years of wear on a disposable shoe (forget about resoling these) is pretty good. the soles appear to have little or no shank, which means your feet are a little more exposed to bruising from rocks.
also, i wouldn't use them on very rough trails, and i wouldn't carry a really heavy pack in them by choice. they also are not my choice for very cold weather because the fit is snug; i have tried to wear them with a heavy wool sock or with a wicking liner, and they feel too tight, which means cold feet.
Materials: nylon mesh, leather, gore tex lining
Use: day hikes, easier trails, light to moderate load
Break-in Period: a few hours of walking
Weight: 212 pounds
Price Paid: $90

Bought this shoe three times. First model had something with sole. Probably an air bubble in the rubber, on the heel of left foot. Got my money back after one month wearing cheap boots.
I really liked the design so I purchased another pair. After two weeks the sole at heel started to make weird sounds, was big trouble. Got my money back again, after one month. I was foolish enough to purchase the third pair, this time with gore-tex.
After two months I broke the sole in the middle. I weigh 64kg, backpacking with 20 for three days. It was raining and I felt like I was on skates. Next month 2 of those small guys fell of the sole, water came inside the boot. Also the rubber was significantly scarfed, so the boot was slippery even more. This airbag or what it is under your heel lost its function by the time.
Fourth month the protection in front part of the boot started to detach. After five moths the boot was a wreck, one step into water and my feet were wet since the sole had holes in it, and there were two big cracks.
Maybe I was really unlucky but my friend got quite the same issues. I got my money back eventually:) I cannot recommend this boot to anybody. The intensity was a bit higher, everyday use, biking, hiking, long walks, however with my 60kg weight I d expect much more of it.
I destroyed Garmont Nebraska during this winter and now I wear my 5.10 camp4, hoping that it will last more than those two together.
Price Paid: 100euros

I've had these shoes for two months now and have put them through two overnighters with a 30-pound backpack (everything but the kitchen sink!), a few day hikes, a rock climbing adventure, multiple stream crossings, and daily wear.
The tread is super sticky and mega grippy. The heavy reinforced soles eat up the rough uneven terrain I encounter on the AT here in PA, where the trail tends to be more of a sharp stoned minefield than a foot path. The leather has been scratched and the toe rands have been scraped, and while the shoes have been abused by these pointy shoe killers, my feet never have.
The Merrells are comfy right out of the box, and only get more so as the miles go by and the uppers wear in.
The XCR works as advertised though it tends (as any Gore-Tex shoe I've ever worn does) to get hot.
If you were to wear the Merrells for backpacking, as I have, I have no doubt they would work great in the right environment. The soles are stiff enough and supportive enough to take any weight pack you happen to be toting. They also give fantastic feedback as to what you're planting your foot on. But because they are low tops you have to be extra aware of ankle rolls, and in the places I go hiking this is a constant danger. I can only imagine that the mid top versions of these shoes are the perfect light hikers.
I can also imagine that these shoes would work very well as trail runners IF you ran on the kind of terrain I just described. If, however, the terrain were flat and even the soles would more than likely be too stiff. But of course these shoes were never meant to be trail runners.
The only problem I've really had with them was when the insole of my right shoe wandered almost out of the shoe once while I was backpacking. Again, the combination of terrain and extra weight may have been too much. A small piece of emergency duct tape slid under it kept it in place for the duration of my hike.
Overall I am extremely happy with my Merrells. They work great, they look like they're going to last forever, and my girl claims they look cool.
Materials: leather, gore-tex, XCR
Use: day hikes, rough trail w/ no pack, rough trail w/ heavy pack, climbing, daily wear
Break-in Period: 10-20 miles
Weight: 2lbs. 2oz.
Price Paid: $90

Pros
Comfortable in the dry
Good when not carrying a pack and new
Cons
Failed in a 5-day tramp over NZ Routeburn track
Not waterproof
Footbed support did not hold up
Foot support became soft.
I am 60 kg and was carrying a 10kg pack on a 5-day guided walk, walking 6-8 hours per day. The terrain is reasonably rugged and stoney. The boots were wet through only twice. I'd worn them on light walks prior to ensure comfort. I had bought them specially for this trek as I prefer low ankle boots.  
They did not last the distance and on the last two days on very rocky ground they became uncomfortable and water from the wet grass made my feet wet. Cleaning and drying them on returning home has not resurrected them and they are now only useful for gardening.   
Most disappointing as my previous Salomon lasted years and many many tramps before being retired.
Source: bought it new
Price Paid: $340 NZ

These shoes may be the ideal shoes for Bear Grylls, but they're not for me. Let me start off by saying, I mainly bought these shoes to help thru-hike the A.T. in next year. I bought them about 2 months ago and started wearing them right away to break them in. I wear them about 3-4 days a week.
Since I've started wearing them, I've discovered 3 problems that I have with them.

1. They make me feel like I'm wearing cleats. I like to have a more flexible sole in my shoes. These just don't give me that and they make the "clack, clack, clack" sound when walking on hard flat surfaces.
2. They are still very stiff after I've worn them quite a bit! Some of the edges dig into my ankles at times.
3. For some reason (even though I've got the right size), my heel just seems to slide up and down a lot. it kinda rubs the heels a little. I have to tie the laces really, really tight to prevent this.
Like I said, the shoes aren't bad, just not ones I'd prefer to hike in. I've replaced the Merrells with a pair of Salomons that were cheaper than these and way more comfortable.
Materials: Gore-tex
Use: dayhikes
Break-in Period: 2 months (3-4 days a week)
Price Paid: $119

I really like this pair of boots. After a day or two of wearing them around to break them in I went with my family and did the long day trip from Curry Village to the top of Half Dome. And with me I carried a well supplied day's worth of food.
The hike up went well and the only downside towards the boot was it felt a little heavy. After hiking all the way down the mountain my toes were in a good amount of pain, but so were others so I won't blame this on the boot.
On another trip in Yosemite I used my boots for some good ole rock jumping in the river and tree climbing. They worked great when your foot would slip into the water the Gore-tex would not allow the water in. However if you were to sink your whole foot the water would be locked in and you would need to empty them out.
Overall it is a great shoe and despite a little bit of pain, which i think is from a poor break in period they are a good shoe.
I love this shoe. When I first put it on, it felt like a glove on my foot. It sticks to the ground in dry and wet conditions.
My favorite part is how well they climb trees. The tread on the inside arch really grabs on and makes climbing easy. I was able to run on ice surfaces with little slip. They performed great in rocky areas and were better than expected for lite trail bouldering.
I am a very abusive person to shoes, don't know why. Anyway most shoes last 4-6 months before they are completely trashed. After 9 months there is wear but nothing to seriously alter its performance. I wore these things for everything.
My little puppy decided to test the waters one day and chewed on my shoe. Even such they still performed well until I bought some Radius (5 stars).
I have one compliant only. Where the tongue meets by the toe end, water can get in slightly in the corners.
Use: trail, day hikes, liesure, disc golf
Break-in Period: 1-2 weeks

They let water in.
I have owned two pairs of this shoes. After light but regular use over 4-6 months, both pairs have let water in.
Water seems to enter through the venting area, runs down between the liner and shoes; the liner in toe area and along the lower outer edge, appears to be compromised and water comes in. Looks like a design fault, exposing the liner to a fairy pronounced hard ridge and therefore damage.
Total waste of money in both cases.
Source: bought it new
Price Paid: £80

I have owned the shoes for 4 months and used them regularly for hiking and biking in Colorado.
The lower shoe material (synthetic rubber) is of poor quality and has deteriorated considerably. Lugs are separating from the sole. The sole has cracked and separated from the shoe on one shoe. The thinner rubber "wrap" sections above the sole are cracking.
The upper padding around the achilles heel area has worn thru.
In contrast, the leather uppers and remaining liner have held up very well.
I am very disappointed in the product, other Merrell shoes I previously used held up well for over a year and are still serviceable.
Materials: leather, synthetic, and gore-tex
Use: day hiking and biking
Break-in Period: minimal
Weight: 190 lbs

These are overall ok hikers. I have put around trail hiking 100 miles on them so far and there is still nearly no wear showing.
I found the only real drawback to them was the very hard foot bed. It wasn't bad but parts of it seem to mismatch the ball of your foot. This isn't bad on ups and downs but can drive you crazy on the (though few) flat parts of your path.
Other than that they will keep you dry but may make your feet sweat quite a bit.
I would recommend this to people who like a harder shoe.
Just bought these on clearance two weeks ago - last pair in my size. Seemed meant to be.
I've only had them out once, on a rather light hike. I decided to see just how waterproof they are, and stood in the river up to the very top of the shoe. Feet stayed completely dry, and no traction was lost on the rocks.
I firmly endorse this product!
Materials: Gore-tex
Use: short dayhikes, daily wear
Break-in Period: none
Price Paid: $80

Very good shoe overall. I have worn it through the Moab in Utah, and high up in New Mexico. I have also taken it through a few local hikes here in Oklahoma. The only thing I noticed is when my pack gets around 40-50 lbs the arches of my feet would become sore, definitely not as much support as a boot. As for the water protection though... excellent.
Use: rough trail backcountry 6 days
Break-in Period: 2 weeks break in
Price Paid: $115

The Merrell that I wanted wasn't in stock so I paid a little more and got this one instead. It fitted loose when trying it on and walking the first couple of days. After a week or so it broke in. It is now a super comfortable shoe. This is the second set of Merrells that I have purchased and I couldn't be happier.
Break-in Period: 1-1-1/2wks
Price Paid: $120

OK, waterproof. But very slippery on wet rock and trails. Really dangerous, and if I hadn't had poles, I'd be at the bottom of some of the gorges here in Central New York.
Stiff lasts that never softened, and sore feet that insoles never eliminated. UGH. No more Merrells for me.
Use: Aggresive day hikes with day pack and poles
Break-in Period: 3 months
Weight: 180 lb
Price Paid: $130

I wore these shoes in 2 inches of snow for well over 4 hours and my feet didn't get wet once. These shoes are amazing. They kept my feet toasty warm even tho all of my friends where complaining of wet feet.
Materials: Gore-tex
Use: everyday
Break-in Period: month
Price Paid: $110

Look great, really comfortable...what a shame that the sole is hopeless. Don't try going down steps in the wet or you'll end up on your backside. Gore-tex that you can't wear in the wet...Great!
Materials: gore-tex
Use: not any more

Extremely comfortable, durable, grippy, and light! A little pricey, but worth every penny. The boot forms to your feet in about 2 hours. Great for everyday use as well.
Materials: Gore-tex
Use: All Conditions
Break-in Period: 1 Day
Weight: Light Weight
Price Paid: $120

- Unbelievable protection from moisture
- Great grip for most terrains
- Every cent worth it!
Materials: Gore-Tex
Use: Short dayhikes
Weight: 73Kgs
Price Paid: US $100

I'm a big guy with big feet. I'm about 250 lbs. I teach school during the day, coach in the afternoons and hike on the weekend. These shoes are stronger, tougher than any shoe I've owned, and they don't look bad either!
These last me for two years or more! That is three times what ANY other shoe has lasted. I always have two different color pairs ready to go. I've hiked in Vermont in the toughest of mountain terrains, and I've plodded across the Mojave in summer with my hiking friends in search of buried treasure. I use the well-worn pairs as water shoes!
Can't cook em, can't drown em, can't ruin them by freezing.
If you're the kind of guy who generally eats shoes for lunch, try a pair of these Chameleon Wrap, Gore-Tex, XCR's from Merrell, and prepare to be pleasantly surprised.
S.T.
Materials: gore-tex
Use: All around-every day, hiking, sports, work.
Break-in Period: one week
Weight: 4 lbs.
Price Paid: $130

Your Review
You May Like
Specs
Men's
Price
Historic Range: $71.95-$120.00
Reviewers Paid: $90.00-$130.00

Women's
Price
Historic Range: $50.00-$120.00
Reviewers Paid: $80.00

Recently on Trailspace