MindShift UltraLight Dual 36L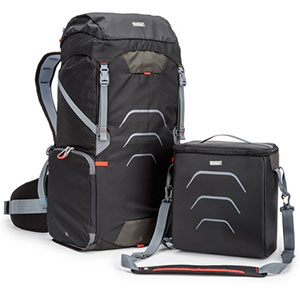 Specs
| | |
| --- | --- |
| Price | MSRP: $199.99 |
| Weight | 3.3 lb / 1.5 kg |
| Exterior Dimensions | 11" W x 21" H x 8.7" D / 28 x 53.5 x 22 cm |
| Camera Compartment | 9.8" W x 9.8" H x 6.5" D /25 x 25 x 16.5 cm |
| Laptop/hydration compartment | 10.4" W x 19.3" H / 26.5 x 49 cm |
| Volume | 36 L |
Reviews
1

review

5-star:

0

4-star:

1

3-star:

0

2-star:

0

1-star:

0
The Mindshift Gear Ultralight Dual 36L is a well built, cleverly designed backpack targeting the cross-section of ultralight/lightweight backpackers who are serious about their photography. The backpack is filled with clever features which make on-the-move photography very convenient, while still maintaining the look, feel, and performance of sleek outdoor backpack.
Pros
Well designed with many clever features such as hidden tripod attachment and side access camera compartment
Excellent construction and surprising durability for a lightweight product
Very comfortable ride with great weight distribution for heavier loads
Cons
Some unnecessary features for an outdoors pack (removable camera compartment)
Lacks second hipbelt pocket which would be a nice extra bit of storage
Introduction:
The MindShift Ultralight Dual 36L photo daypack is a very interesting product, and one that addresses several interests near and dear to my heart, photography and ultralight/lightweight outdoor adventure. These two things are invariably at odds with each other, as serious photography often necessitates a certain level of equipment which brings a substantial weight, yet ultralight backpacking/adventuring preaches a minimalist approach.
I believe MindShift Gear has taken on a difficult task, trying to straddle two very different, and often opinionated segments of the marketplace. Although not perfect, I believe this product is unquestionably good, and perhaps a few modifications away from being very good. I explain my reasons below.
First off, some important stats:
External Dimensions: 11" W x 21" H x 8.7" D (28 x 53.5 x 22 cm)
Camera Compartment: 9.8" W x 9.8" H x 6.5" D (25 x 25 x 16.5 cm)
Total volume: 36L
Weight: 3.3 lbs (1.5 kg) including rain cover and shoulder strap.
Design and Features:
Initial impressions are that this is a very clean, simple looking outdoors backpack. Unlike most photography oriented bags which look more like a large book bag or urban backpack, the MindShift Gear Ultralight 36L is very clearly designed for the outdoor crowd with a narrower elongated profile which we have become accustomed to in modern outdoor bags.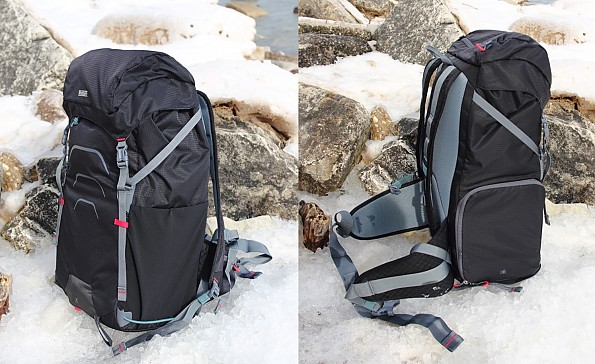 As can be seen in the picture above, one side features a stretchy pocket which is ample in size, big enough to fit a 2L water reservoir, or tarp, or foam sit pad... etc. The other side features a zippered entry into the camera compartment; a sizable, well padded, and even removable storage unit for your photography gear. A more detailed photo of this compartment is below. The removable compartment itself will be discussed in more detail later in the review.
What is particularly ingenious about the design and placement of this compartment is that you can easily access it by simply swinging the backpack around. You never have to take off your backpack, set it down, and open up large main compartments to get to your camera gear. This, in my opinion, is worth the price of admission alone. Well done, MindShift Gear!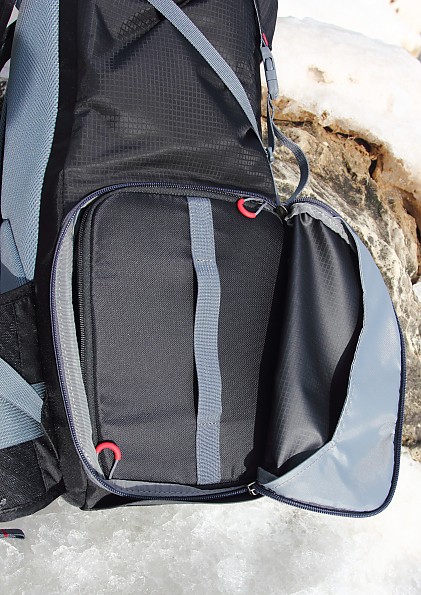 While the camera compartment is well padded, the remainder of the backpack is built to reasonable lightweight/ultralight standards. There are no stays or any form of rigid padding for the back, and no type of suspension system to keep air circulating, just a lightly padded foam backing.
However, as the rigid camera compartment takes up a good portion of the backpack, it provides enough rigidity for stability to not be an issue. The straps are only lightly padded, but are surprisingly comfortable even with a loaded pack. The plastic buckles are robust and inspire confidence.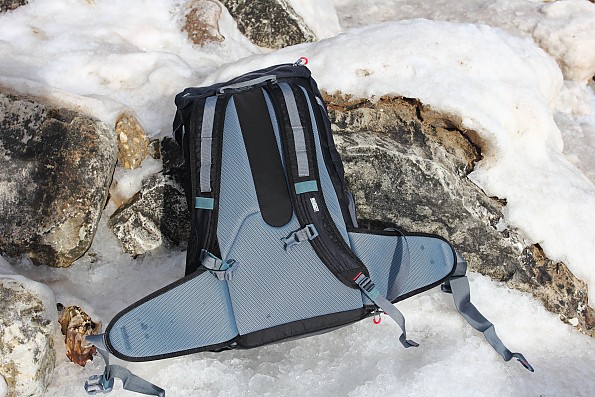 The hipbelt is generously sized, but not reinforced. Nonetheless it does help stabilize the pack and take a little bit of the weight off the shoulders. As pictured below, one side features a zippered pocket, sized well enough to accommodate a hat, or a pair of gloves, or 3+ Clif bars. The other side features nothing, which frankly is a bit of an oversight. Two zippered pockets would be better in my opinion. I realize that's not really going with the ultralight ethos, but then again, conceptually neither is the existence of this product, so another pocket would be convenient!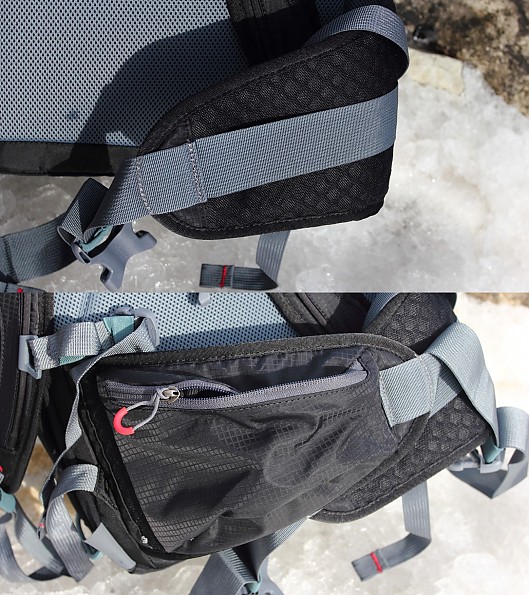 The top lid (non removable) features a generously sized zippered pocket. Flipping back the lid reveals a standard cinch closure to the main (non-camera) compartment. Inside you will also find some well designed compression straps, handy for when you are overfilling with items that may be high volume, such as a down jacket.
There is also a laptop/3L hydration pack sleeve. The sleeve is well suited for either a 3L bladder or even a large laptop. The slit which feeds the hydration tube is recessed well enough that a quick rain shower should not result in a soggy laptop! There is also an internal zippered mesh pocket for further organizing.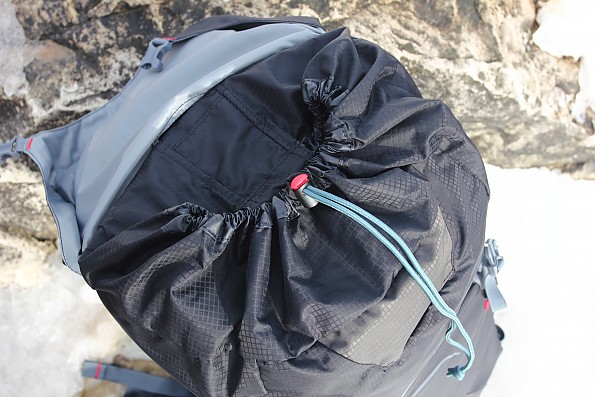 Another ingenious feature that is quite stealthily hidden is the tripod attachment. There are two velcro sealed compartments which reveal a small strap and buckle. There is one at the top, and one at the bottom of the bag. These are perfect for securing any reasonably sized tripod with confidence to the backpack.
This is pictured in action below. The tripod is a Manfrotto BeFree tripod.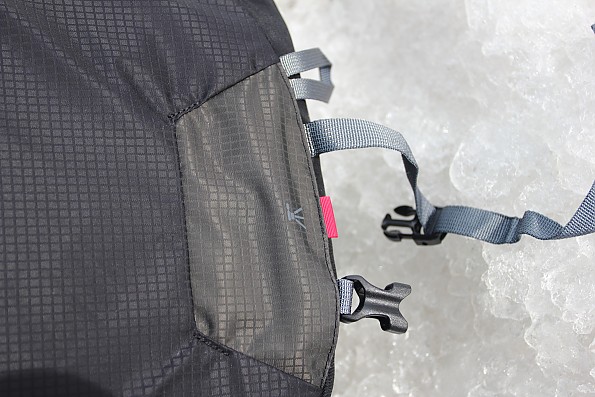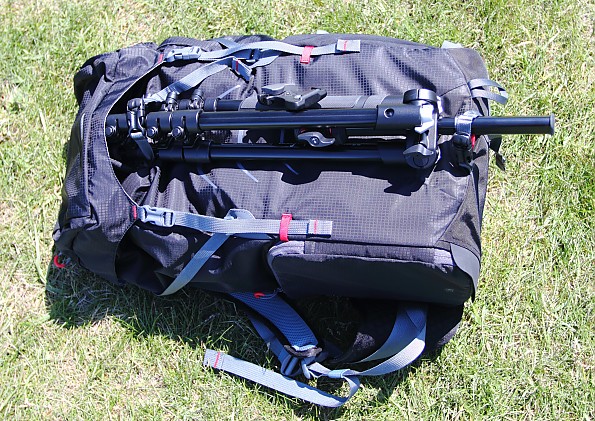 There is also a loop for attaching trekking poles, however the way to secure them at the top is using the same strap as for the tripod. You can put both a tripod and poles on, but it becomes a bit inconvenient. This could have been easily rectified by including a small elastic cinch/clasp for the poles, like most outdoor bags have. 
Below is a photo summarizing some of the as-discussed features.
This brings me to the camera compartment—a feature which I both love and hate. First off, the camera compartment itself is brilliant. It is well padded and gives one the confidence to place their camera equipment in a neat organized fashion, knowing it will be well protected (provided careful use, of course). The inner compartments are set by the user via removable, padded spacers secured by velcro (a standard for pretty much all camera cases).
As can be seen below, it can easily house a 1.6x (APSC) DSLR, a 17-40mm lens for landscapes, 100 mm macro lens for close ups, a removable flash unit, a 70-200 mm telephoto, lens hoods, a charger, a blower, and other small extras. This, at least to me is an all-encompassing setup that can cover a broad range of applications for a great day out taking pictures.



So, what's to hate about this? Well, for me at least, it is one of the touted features of this system, and that is the fact that this compartment is removable (pictured below). Yes, this entire compartment comes out, and is essentially its own complete camera bag. It even comes with a very nice padded strap.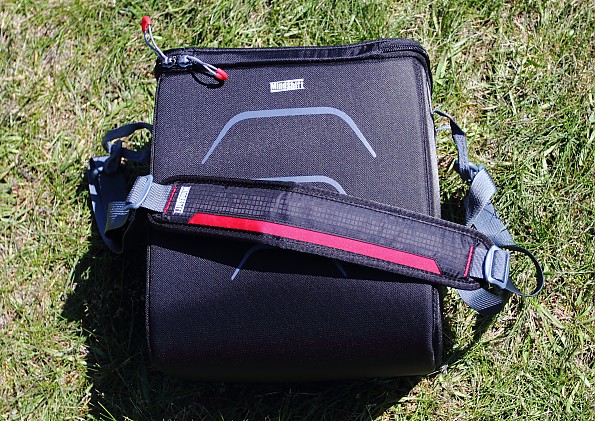 While this might sound great to some, I think this is an example of the manufacturer simply missing the point. Is this a bag designed for outdoor enthusiasts, or is it trying to be too many things?
First off, the compartment is not easy to remove from the bag when loaded with gear, and it's certainly much harder to try to fit back in! Second, most serious photographers already have some smaller photo bag, making this unnecessary. Third, if I am taking a very much outdoor-centric bag out for the day, which is already ultralight, why do I need to inconveniently remove the camera compartment and use it separately? More on this later on.
MindShift Gear also provides rain covers both for the backpack, and for the removable camera compartment (cute, but not necessary). The main rain cover is particularly well designed, featuring a velcro slit which can accommodate oversized tripods, again another well thought out feature.
Build Quality: Overall, I have been very impressed with the build quality of this backpack. I was a bit reluctant given that it is fairly lightweight, and camera equipment does add on the weight quite easily, but so far not a single issue after three months of regular use. 
Ride: Given that this is an ultralight backpack, it has no stays, no stiff foam backpacking, I was surprised how well it rode. The main reason is the rigid and substantially sized camera compartment which forms the bottom 2/3rds of the bag. This sits squarely against the small of your back and acts as a great spot for weight transfer. Add to that the wide hipbelts which add a good amount of stability, and the heavy load suddenly becomes very light and easy to manage. Well done, MindShift.
However, it should be noted that fit for backpacks is personal, and experiences will likely vary. There is only standard adjustability via the hipbelt and chest harness.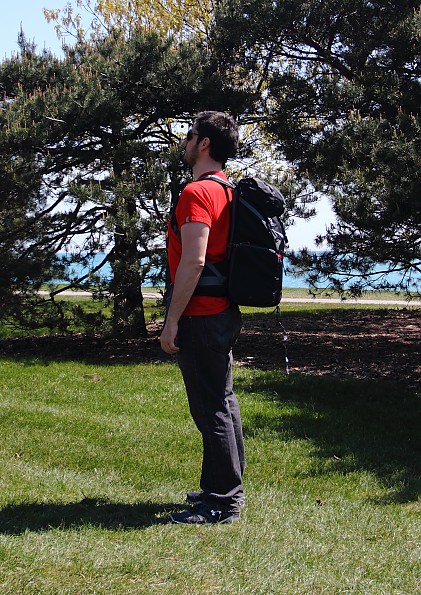 Conditions Tested: I have used this backpack for every scenario I could over the past three months. Winter day hikes, exploring the city, 4 day (3 night) roadtrip with full camera equipment as my only luggage, as a carry-on flying, daily commute to work, and spring day hiking. It has performed flawlessly in every scenario without sustaining any damage. This is partly because I generally take care of my gear, but also a testament to a good standard of quality construction.
In terms of capacity beyond the camera compartment, the bag is more than adequate for winter day hikes where I packed a Jetboil Personal Cooking System to make coffee, a down microbaffle jacket, extra gloves, hat, snacks, a sandwich, emergency kit, and rain coat, and had plenty of room to spare. I used the side pocket for a 2L Platypus soft-sided bladder as my water. During the spring, I used a padded/insulated Source 3L bladder inside the hydration sleeve, in addition to an appropriate load of necessities. 
Because the weather has not been appropriate for this yet, I believe this backpack may just be suitable for a true ultralight overnight trip with just a light sleeping bag and ultralight bivvy. I plan to try this once the weather is sufficiently warmer, and will update this review accordingly. Capacity wise, this will not be an issue, but the comfort for carrying that weight for an extended time period will remain to be seen.
Conclusion:
The good: This is a (mostly) cleverly designed, well built backpack. It hits a niche part of the market for the weight-conscious photographer where there is otherwise little choice. It has some great features, such as the side access camera compartment, and hidden tripod attachments which make it immensely convenient to use.
The bad: The removable component of the camera compartment just isn't that usable, and frankly unnecessary for an ultralight hiking backpack. It simply looks like the manufacturer is trying to pander to too-wide of a demographic, when in reality what makes this product good, and in my opinion better than most of the photography bags out there is the fact that it finally caters to the modern, weight conscious outdoors-person.
Recommendations for manufacturer: (1) add another pocket on the hipbelt, seems there is no reason not to have another (2) ditch the removable compartment, it is not necessary if this is truly an outdoors oriented bag. Not having it removable would also shave a few ounces off the total weight as well, making the actual gram-counters all the more happy. (3) add a small cinch/strap attachment for hiking poles so it is more convenient to carry both poles, and a tripod.
Final verdict: In spite of my negative comments, this is a good product, which I think (with my recommendations) could really be very good, to near perfect. It is a product I very much like, and perhaps that is why I am annoyed by its imperfections as I want to like it even more. Even so, the good far outweighs the bad, and I have no problem recommending this item to those out there at the cross section of photography, and ultralight-outdoor enthusiast.
Source: received for testing via the Trailspace Review Corps (Sample provided by MindShift for testing and review)

You May Like
Recently on Trailspace