Mion Current Sandal

Mion is no longer in business, and the Current Sandal has been discontinued. If you're looking for something new, check out the best sport sandals for 2023.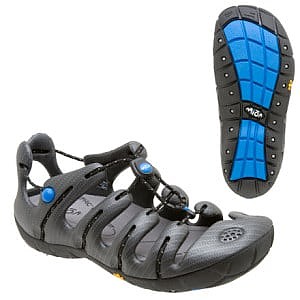 Agree with everyone else, the very best shoes!!! Mine are 10 years old. I wear them very often and wish, wish, wish I could get another pair (or more)! Why did you go out of business??? I wish you would make more. I'm gonna figure it out and make 'em...... C'mon, please??

Pros
Durable
Non slip
Waterproof
Comfortable
Lightweight
Cons
Look funny; but I like that so it's not really a Con
Shoe fits perfectly! It's very durable and very non slip. The shoe is unbelievable lightweight and I just want to buy more!!!!!
Source: bought it new
Price Paid: $110

This is such a great sandal! I am a commuter and I use these running to and from buses and trains, I also use them walking the dog in mountains, and at the beach. I really needed a sandal which would provide some toe protection and traction in the mountains and something that would be comfortable walking stairs at work (rather than leave my heels on) and at the beach.
They are comfortable when you first put them on and they only get more comfortable as they mold to your feet. The cable is not elastic as I somehow had thought but surprisingly it really works well and once you figure out the adjustment and get them adjusted, you don't have to think about it at all.
They were also much lighter than I expected for which I was totally grateful! They do run big so get a size smaller than what you would normally buy.
Materials: I don't know....something that doesn't absorb water
Use: beach, running to bus, dog walking in mountains
Break-in Period: less than 1 day
Weight: don't know...but they are extremely light
Price Paid: $35

This sandal is absolutely great! Its ergomorphic sole works as good if not better than the orthopedic sole my podiatrist made for me!
The only con I have about this waterproof, comfortable, and really awesome looking sandal is your feet get rather hot and stuffy, resulting in an iffy smelling pair of feet... but besides that, no complaints! That may just be my problem though, I tend to sweat more than most.
Also, when you can buy the sandal for 30 dollars of eBay, the sandal is not only easy on your feet, but easy on your money too!
P.S.
If you're not exactly used to sandals, be prepared to experience pretty bad blistering for about the first two weeks of wearing these shoes. My advice would be to wear socks with them for at least a week and a half before flying solo with JUST the sandal.
Materials: EVA Foam
Use: Everything!
Break-in Period: About 1-3 Days
Price Paid: $30

Christmas 2007 'til now. I have a frayed posterior ibial tendon. With regular shoes and boots, I have to wear a new brace from Aircast. With these sandals, I do not need the brace. I've worn them every day, for up to ten hours a day.
I work in an open field, with remarketed cars. Before, my ankle and foot would swell double or more. Now, just the normal knowledge that the thing is not right, inside. Sandal is superior.
This winter, just put on wool socks and continued on. Footbed does not take on water; acts as a wet suit for the sole. Feet stayed warm in winter. Now, in 90+ F. heat and high humidity, no overheating, either. Insulation works both seasons.
I do wonder about desert wear; will check it out as soon as possible. Anyway, other than an occasional overrotation, without pain, these are the BEST!!!
Materials: Foam & sticky rubber
Use: All day, working in open field
Break-in Period: Nil
Weight: Me or the shoes? I weigh 230#; sandals are about 1#.
Price Paid: $49.50

This sandal is incredibly comfortable, stable, and even nice to jog in. It works like a dream in water and the way that it molds to your foot is ingenious. One caution though, I found the arch support to be almost totally non-existent. I can see a small curvature of the arch under the in-sole, but it's not enough to stop my foot from rolling inwards and ultimately becoming incredibly uncomfortable after long periods of wear at a time. I tried to replace the molding in-sole with my super feet, and though it fixed arch support problem, it was too uncomfortable (and squeeky) to keep wearing. Overall these are incredible, and could possibly replace my Chacos if it weren't for the arch support problem.
Use: Hiking, kayaking, everyday wear
Break-in Period: Zero
Weight: 165 pounds
Price Paid: $95

I have owned my Mions for 3 or 4 years. I have received many compliments on them.
Today I spent some time trying to buy another pair to find out they are no longer being produced. I am so disappointed since I love these shoes. I wear them to the dog park because they clean up easily and so are comfortable. 
It is late October and I wear them for walks with a pair of thin socks. I don't think I have ever owned a pair of shoes so comfortable.
If I had know they were no longer available I would have ordered a few more pairs.  I paid around $45 for mine
Price Paid: $45

Comfort, ease of use, coolness: this sandal has all that and then some.
I have two pairs, one is wearing down, the other isn't far behind. I'm heartbroken. These are simply the BEST sandals I have ever owned. Coming from a 65 yo that spent summers at lakes, pools, beaches wearing sandals of every make and model, I think that is saying something!
I need, not want, need another pair, maybe two!
Source: bought it new

Simply the best! Wear them year round in VA. Have every style and multiple pair. It's ALL I wear and have for the last 10 years. You CAN still find these on Ebay.
Pros
Light
Smart looking
Comfortable
Great sole for any activity
Simply the best sandal EVER made.
Source: bought it new

As a nurse, these are my favorite shoes/clogs. Still wearing them, just changing the insoles when I can find them. They are truly non-slip, non-skid. My back does not hurt, even after a twelve-hour shift! Love them!!!
Pros
Ergonomic, recycled material, comfortable!
Cons
Not being made any longer. Please, somebody start making these again!!!
Please make Mion Clogs again!
Experience
Almost ten years of wearing Mion clogs.
They don't compare to Dansko, Nursemates, Allegria, or other clogs I've tried.
Source: bought it new
Price Paid: $75

Had mine for more than 10 years. They are amazing. I use them in the beach, snow, mud etc.... Best sandals I've ever owned. Keen, Merrell, and others should look into this design.
Source: bought it new
Price Paid: $60

Greatest pair of footwear I have ever owned going on 10 years now. I need a new pair. Bring them back please!!!!
Pros
Comfort—can wear them all day and not have sore feet
Cons
There is none in my opinion
Like walking on a cloud. Fit is great and no break-in need. I would buy 2 or 3 more pairs if they were available.
Source: bought it new
Price Paid: $100

I LOVE my sandals, they are the perfect shoe for all occasions!!!!!! They work great as kayaking shoe, some people call them "interesting footwear" I think they are just jealous. If you people want a pair just let me know, I will make it happen.
I THRIVE IN MY MION CURRENT SANDALS.
Use: everything
Break-in Period: 12 hours
Price Paid: $40

I want some more Mions!!! I did not know they were discontinued...I am so sad. I have fibromyalgia and these were my favorite shoes.
I bought two pair, but have almost worn them out and NEED more!!!! Anyone know of any other shoe that comes close to this one?
Price Paid: $60

They are so ugly that they have to be real functional and comfortable; and they are! Martin Keen has done it again. It's a great watersport shoe; completely hydrophobic and 4-way non-marking traction. MION is also a green company.
Materials: Ergomorphic™ footbed, EVA and Rubber
Use: Water-Sports or Chillin'
Break-in Period: 12 hours
Weight: 1lb

Very unique and very comfortable! Great water sandal. Totally hydro-phobic so it doesn't absorb any water. Footbed contorts to foot nicely after short wearing. Great protection and grip. Very functional product.
Materials: synthetic and rubber
Use: sailing, hiking
Break-in Period: none
Weight: about 11oz
Price Paid: $100

Your Review
You May Like
Specs
Men's
Price
Historic Range: $28.52-$100.00
Reviewers Paid: $30.00-$100.00

Women's
Price
Historic Range: $34.83-$100.00
Reviewers Paid: $35.00-$110.00

Kids'
Price
Historic Range: $19.97-$40.00

Recently on Trailspace