Mont Helium 300 -1ºC

Top 50 in unisex 3-Season Down Sleeping Bags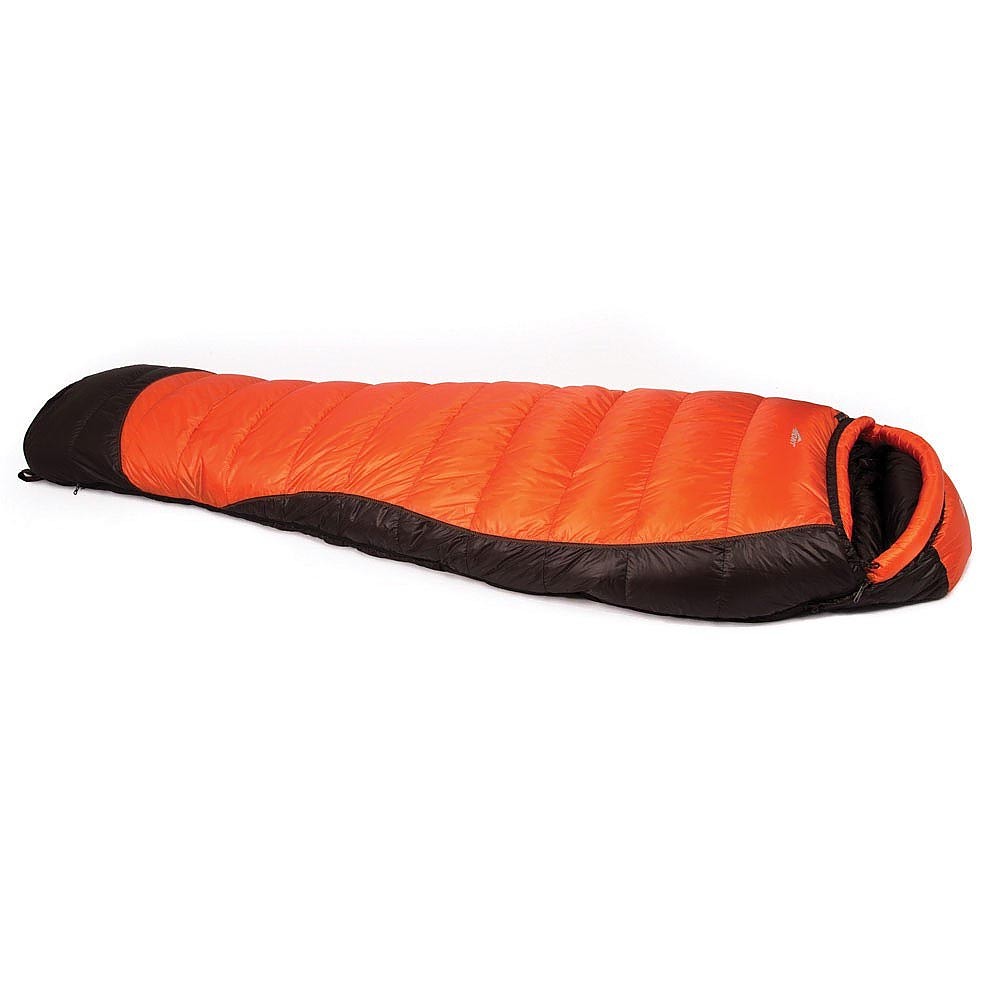 Specs
| | |
| --- | --- |
| Weight | 640g |
| Down Fill Weight | 300g |
| Down | 800+ loft white down |
| EN Temperature Rating | Women's Comfort 4ºC, Men's Limit -1ºC, Extreme -17ºC |
| Maximum User Height | 185cm |
| Maximum Shoulder Circumference | 160cm |
Reviews
2

reviews

5-star:

0

4-star:

2

3-star:

0

2-star:

0

1-star:

0
The Mont Helium 300 is a fantastic, lightweight, three-season bag. It's very compressible and light for such a warm bag. This bag has a full hood and with good layering you can take this into a mild winter's night, and contains 300g of 800+ loft white down.
Pros
Lightweight (658g w/ stuff sack)
DWR down
Foot vent
Full-length zipper
Cons
Not the lightest in class, but close
Zipper snags
The Mont Helium 300 is my three-season bag for wilderness guiding in Tasmania. I am typically a warm sleeper, but with the temperature swings we are prone to here on the island, it is good to have a versatile sleeping bag.
Construction:
I own a number of Mont products (which will be reviewed as time passes) and I have noticed a great attention to detail in regards to the target use of the item. I have used this bag for a season consisting of almost 100-nights in the bag. It has lasted well, and has no signs of wear except that it kinda smells like I've been sleeping in it too long :)
The website lists the construction as: "Durable 10 by 10 denier, 520 thread count Nylon weighing only 26g/m2 with a hot-rolled-cire treatment to prevent down leakage and increase durability." I have not noticed any down leakage at this point and the materials are holding up well to my use.
This bag has 300g of 800+loft down filling.
Features:
Mont has a few features that they use in most of their sleeping bags:
Radial Arc Baffle System
Differential Cut
Foot-box Vent
Hydrophobic Thread
All these are nice touches that go towards making this bag more versatile than others at its weight.
Warmth:
This is a reasonably warm bag. The women's comfort rating is 4°C and the men's is -1°C. I have been comfortable in the single digits with a silk liner, but that is as far as I would want to take it without full sleeping thermals. Having the full hood allows you to get a lot more warmth out of the bag by cinching it tight.
On the other hand, during the summer I leave the foot-box zip open to regulate my temperature.
Fit and Comfort:
I am 175cm tall and 70kg and this bag fits well and has enough length for a pair of clothes in the foot-box. It is not too tight nor too roomy. The hood has room for a small pillow or stuff sack full of clothes. The Mont sleeping bags have a nice roomy foot-box that fits my size 11 feet easily. This is a light and lofty bag that has a nice soft texture.
Entry and Exit:
This is my first left-hand zip bag, and that took a little while to adapt to. The main zipper runs the length of the bag and there is a secondary zipper just for the foot-fox. It is easy to get in and out of the bag, or to just use is as a top blanket. The only gripe I have is that the zipper snags easily, but this is probably due to the lighter fabric and reduced zip-tape stiffness.
Moisture:
The down is DWR treated, and the threads used for stitching are hydrophobic. I have had no issues with moisture as it all seems to pass out of the bag.
Packability:
I originally bought this bag due to its packability. When compressed into the supplied silnylon sack, it is hardly bigger than a Nalgene bottle. The compressed size of the bag is around 16cm x 20cm
Loft:
The advertised loft is "800+ white down" with each down batch being individually tested. My bag was tested as 835-loft. The down is very lofty and puffs up quickly when unpacked. There is a much larger amount of down in the top of the bag than bottom.
Ease of Use:
All features are simple and easy to use. Nothing crazy here.
Conditions:
This bag has been used in lodges and camp scenarios ranging from a cold, wet, 3-degrees Celsius to the mid-20s and dry. It has had about 100 nights of use over a guiding season (approx. 6 months), including personal camping trips.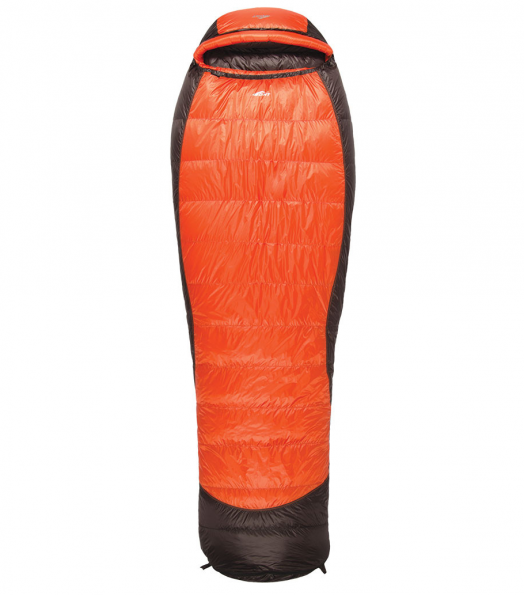 Experience
I have used this product through a season of wilderness guiding in Tasmania. I have owned it for about nine months and used it for just over six months before switching to a winter sleeping bag. It has covered almost 1000km and 100 nights of three-season use. The climate has been mostly coastal, with some mountain use.
Source: bought via a "pro deal"
Price Paid: approx. $350 (40% discount)

Quality lightweight sleeping bag. Best for warm sleepers and can be used below its -1°C rating sleeping in thermals and using a bag liner. Perfect three-season bag in Australia.
Pros
Small
Light
Well made
Good size
Warm for its weight
I bought this to replace an old Paddy Pallin bag and have used it three times. The main reason for the purchase was the small size, light weight, and claimed warmth—the Mont is about 1/3 the  size and weight of my old bag. The bag is used for bush camping with most of my walking done in winter within three to four hours drive from Sydney, with occasional trips to Tasmania, usually in early to mid autumn.
We often sleep in rock overhangs so can be exposed to wind as no tent is needed and the -1°C rating seemed to be about as cold as it usually gets when I'm out, so thought it would be just warm enough for my needs as I'm a reasonably warm sleeper. I always use a silk liner so that gives a degree or two of extra warmth as well.
The first use was in such an overhang and the bag performed perfectly with the temperature dropping to about 3 to 5 degrees C on a still night. Slept warm and comfortably.
The second use was in conditions forecast to be somewhat less than the -1°C lower limit so I brought a Thermolite bag liner on this trip. Well, it did get very cold (for non-alpine Australia) that night as my water carrier with about 2 litres in it was nearly frozen solid by morning. I estimated the temps to be below -5°C.  With the liner and sleeping in thermals, the bag was on the limit at this temperature and I slept curled up to keep warm. Wasn't cold enough to keep me awake, but it would not have wanted to be much colder.  So, with a bit of help from the liner, the bag can go down to well below the -1°C rating.
The third use was in much warmer conditions, not dropping below 10°C. Here, the flexibility of the zip worked well, as I unzipped the side zipper, but left the footbox zipper closed and used the bag as a quilt and was, if anything, a little warm, so had to get out of my silk liner.
The size is large enough for me—I'm 185cm and fit in comfortably. The full length zipper makes it easy to get in and out of and the drawstrings for the hood and neck are easy to use when inside the bag  I haven't yet used it in wet conditions so can't comment on how it handles condensation in a tent.
Experience
I have owned the bag for less than six months and have used it on three trips so far. I expect the bag to last for many years due to the quality of construction and the good design. This is my first Mont sleeping bag and I am very impressed with it overall.
Source: bought it new
Price Paid: $495

You May Like
Recently on Trailspace