Montane Featherlite Down Pro Pull-On
Reviews
The Montane Featherlite Down Pro Pull-On provides…
Rating:


Source: received for testing via the Trailspace Review Corps (Sample provided by Montane for testing and review)

Summary
The Montane Featherlite Down Pro Pull-On provides oven-like temperatures even when the thermometer shows readings below zero. The minimalist design features help keep in the warmth while also providing essential features like helmet compatibility and waist belt clearing pockets. A great option for ski touring transitions, time on summits, or hikes during cold days.
Pros
Pullover design
Kangaroo style pocket
Cons
Storage pocket does not compact the jacket as much as it could
Testing Conditions:
I was able to test the Montane Featherlite Down Pro Pull-On during the winter of 2016-2017. I reserved this jacket for only those times when the temperatures dropped below 15 degrees Fahrenheit because of how well it insulated. Luckily, this winter provided a number of cold days that dropped below this mark.
This jacket accompanied me on hikes and alpine tours as well as fat bike rides. While I did not always wear the jacket when I brought it, it provided a level of insurance during winter activities.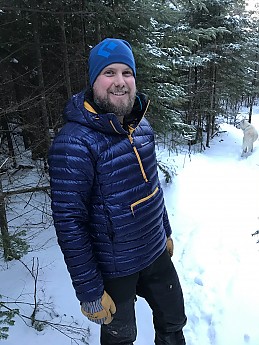 Fit, Comfort, and Adjustability:
The Montane Featherlite Down Pro Pull-On had a relaxed fit and was comfortable to wear. The Pertex outer layer has a crinkly effect but it is not uncomfortable or impact fit in any way. The adjustment options on this jacket are limited to drawcords around the face opening of the hood, a single drawcord at the back of the hood, and a drawcord at the bottom. These allow one to tighten the jacket close to the body to prevent any open air gaps.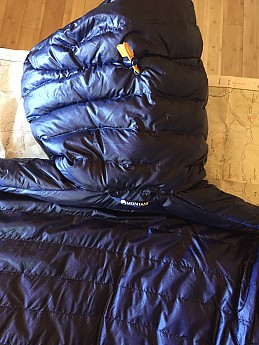 Breathability, Moisture, and Water Resistance:
By design, insulated down jackets do not vent well to keep you warm when the temperature really drops. When temperatures stayed at or below 5 degrees Fahrenheit there was no issue with excess moisture building up inside the jacket. However, if I was active and the temperatures started to climb it was possible to quickly overheat or build up enough sweat to feel uncomfortable. This has the potential to impact performance of the jacket because the moisture will have a negative impact on the loft of the down.
To help with moisture impact on loft, Montane incorporates HyperDRY goose down as well as the Pertex CS-10 outer layer. The down is treated to be hydrophobic to help maintain loft when damp and the Pertex coating provides mild level of water repellence. I found that the outer layer shed water and snow as well as a down jacket should be expected and the down maintained loft until fully saturated by sweat or snow.
It is my opinion that those who decide to wear down need to understand the limitations when it comes to moisture and avoid situations that would cause problems. I have always preferred down insulation to synthetic and have never had any issues as long as I am thoughtful about what I wear and when I wear it.
Warmth:
The Montane Featherlite Down Pro Pull-On incorporates 150 grams of 90/10 800 fill goose down which performed very well and kept me warm when the temperature hovered around and dropped below zero degrees Fahrenheit. This seemed to be the sweet spot for its performance. I was able to wear the jacket while hiking or biking at these temperatures without getting overheated.
If temperatures started to really drop I was able to put on a few more layers underneath to boost the warmth.
I typically used this jacket during transition periods on ski trips or while enjoying summit views. Times when I was not moving much and needed a lot of insulation to keep warm. I always found that I was nice and toasty.
Layering:
This jacket works well with other layers and can be integrated nicely into a layering system. I tend to run hot and at most I would wear a long sleeve baselayer with a midlayer over that along with the Featherlite Pro. Anything more and I would become too warm but I did find that there was enough room for additional or thicker layers for those that run a cooler.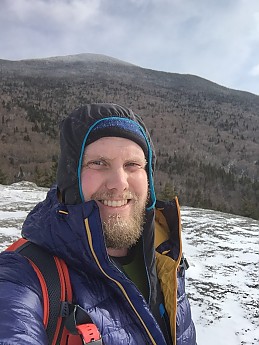 The Featherlite Down Pro Pull-On does not fit well under any of my hard shell jackets which highlights the fact that this puffy should not be used when conditions call for rain.
Abrasion and Construction and Durability:
This puffy has held up well against challenging winter conditions as well as being stuffed into and pulled out of a pack that is also carrying sharp winter equipment. The Pertex outer layer allows for sticks and branches to slide off while also being thick enough to prevent punctures. I believe that this puffy will hold up well to continued use for seasons to come.
Function and Features:
The Montane Featherlite Down Pro Pull-On has a minimalist design with few added features. However, it does include a helmet compatible hood which fits well over a climbing, bike, or ski helmet and adjusts down to fit snug against a beanie or bare head.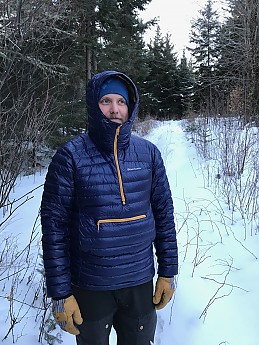 A noteworthy feature that is a product of the minimalist design is the front pocket. Because this is a pullover style jacket it does not incorporate a full length front zipper. This allows for a kangaroo style pocket as well as a single front pocket that is accessible from either side.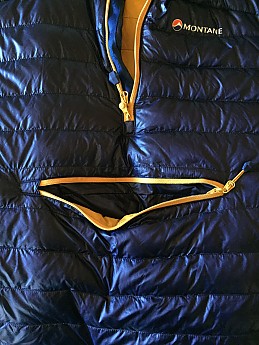 The kangaroo pocket proved to be cavernous in size and could hold more than expected. I would often stuff my winter gloves, hat, map, sunglasses, wallet, keys, and other miscellaneous junk in there and it still seem to have room for more. The zipper sits well above a waist belt on a pack so it is easy to load and unload at any time.
The other benefit of the zipper being on top of the pocket is that there was never a concern that anything would fall out. The only way this would happen would be if the zipper was open and the wearer was upside-down. At which point there may be more important things to be worried about.
The kangaroo pocket also acts as a stuff sack and the entire jacket can fit inside and be sealed. Due to the spacious capacity of the pocket the jacket does not compress down very small when stuffed this way. If you are looking for more compression it would be best to use a smaller stuff sack. I was never too concerned about this during my testing.
While I noted this compression issue as a con it should be done so with an asterisk. During a discussion about this feature it was pointed out that some companies incorporating larger storage pockets so that the jackets can be used as a pillow. Montane does not make any mention of this on their website but I can see this as either a happy accident or an unadvertised feature. Thanks to TS Review Corp member pillowthread for drawing my attention to this.
The front pocket is accessible from either side which is convenient when you need to grab something out of that area with either hand. It also allows for your hands to warm each other if needed. This pocket does not have any closure so you need to be careful with what you place in there. I typically used it for my gloves.
The pullover design of this jacket has the added benefit of making the jacket slightly warmer by removing the front zipper. By doing this, a potential heat loss area is removed from the jacket.
Wrap-Up:
I enjoyed testing the Montane Featherlite Down Pro Pull-On on during the winter of 2016-17. It performed best when temperatures were between -15 and 15 degrees Fahrenheit. The lightweight design allowed me to carry it with me on most of my winter outings without a second thought. I recommend this jacket for anyone looking for a warm insulating layer with minimal features.
Where to Buy
sponsored links
Help support this site by making your next gear purchase through one of the links above. Click a link, buy what you need, and the seller will contribute a portion of the purchase price to support Trailspace's independent gear reviews.
currently retails for:
$164.95

Recently on Trailspace