Montane VIA Dragon 20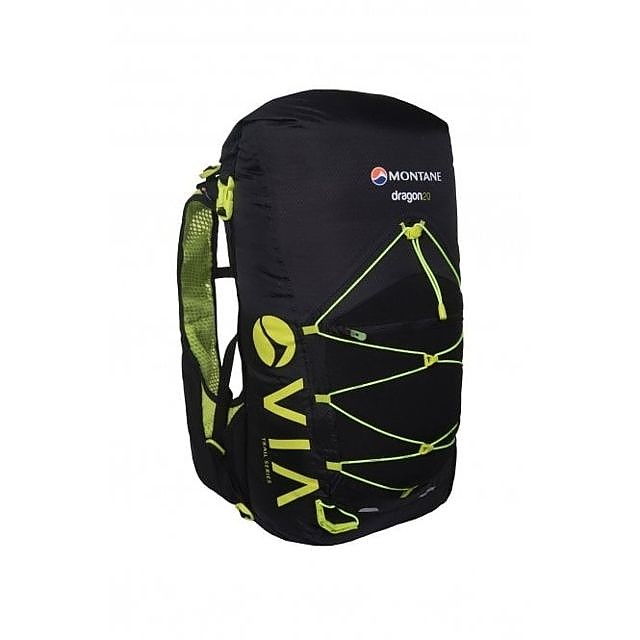 Finally a small pack that fits like a race vest. Super comfortable, carries the weight really well. Probably warm in height of summer, bladder compartment too small.
Pros
Very, very comfortable
Very functional easy to reach vest pockets
Good bottles
Easiest on-the-go trekking pole stowage
Cons
Bladder compartment opening too small
Bit warm
Proprietary bottles
Minimal compression
This is a great small pack with an even greater fitting race vest fit. It carries so well you hardly notice the weight — until you take the pack off and realise that you have 5-6Kg in there. 
Fit/Comfort:
This is where this packs shines. There is a big elastic velcro strap and a higher 'sternum' strap that keep the pack glued to your body, without creating spots that are too tight, and without limiting your breathing. With other packs like this I often find myself having to tighten it up to eliminate overall looseness/bounce, inevitably creating discomfort in one or more spots. This pack/vest is not like that.
I think the best way to sum it up is that the Dragon 20 feels like a cloud hugging your back. This is the first time I really felt like I was wearing almost nothing — while carrying my normal full gear and plenty of water in there.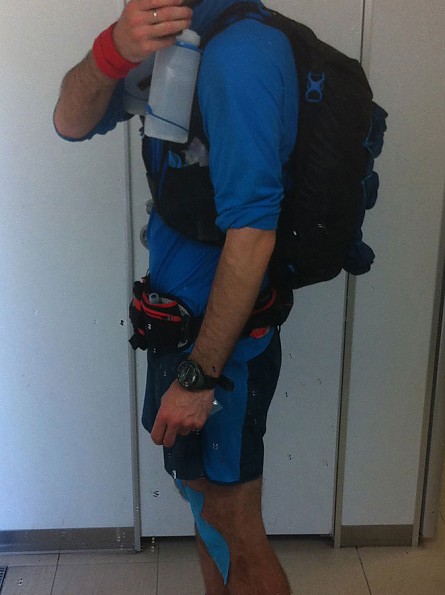 back hugging cloud
Capacity/Compression:
The pack is 20 litres and has minimal compression. For me this is where the pack could be improved. I like minimising the depth of the main compartment when I'm carrying less, instead of having everything bunch up on the bottom of the pack. There is a compression / shock cord on the front panel, but it doesn't do as much as putting shock cord over the full length on the sides would do. 
I think the best way to pack this vest is by 'cloud packing' it. Not having everything compressed to its absolute minimum in separate stuff sacks. Instead put a trash bag in there, and pack everything loosely (with puffy towards backside) so that it fills out the total volume, compressing it more when more gear is needed.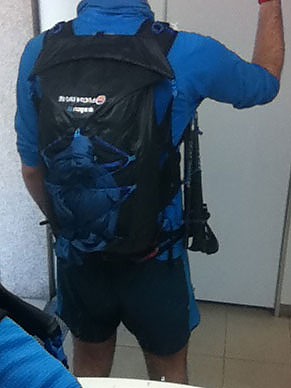 front side, with wet shirt under outside shock cord
Perhaps due to this pack becoming 'one' with you, it can be a bit warm. This could be an issue during hot humid summers, definitely something to keep in mind when considering this pack. 
Water:
The Dragon 20 has two 600ml water bottles up front. They are very secure, yet I find them very easy to access and put away when I'm done drinking. I prefer front bottles over a bladder because bottles are easier to refill. The bottles are flat on the side that faces your body which is very comfortable. I like them, and they look very solid. Nevertheless this bottle set up doesn't work with other bottles. A possible minus point. 
The great thing about a vest is that you combine both bottles and bladder if you need to. I often do. This pack has a separate compartment for this, but as a kind of cruel joke the opening is so narrow that you can hardly fit a 1L Platypus in there, let alone a bladder with a rigid top. Very unfortunate oversight here.
Edit: Reading the other two excellent reviews again, I stand corrected. A bladder does fit in, which is great. Wouldn't want to refill it during a race though. 
Organisation / Accessibility:
This is where the vest side of the pack shines for me. I often run/trek/climb without ever wanting to take off my pack to access anything in my main pack compartment. You never have enough side pockets for all the small stuff you might need during the day though. Water, gels, proper food, map, compass, tiny towel, etc. with the Dragon 20 the water has moved to the front, and there is good enough storage on the front vest pockets.
I do have to say that when I desire more easy access storage, I couple this pack with a Salomon S-Lab Advanced Skin M Belt. This allows me to carry an extra litre of water, a wind shirt, maltodextrin powder, suntan cream, etc. 
There is a zippered elastic mesh like pocket on the front of the pack, under the compression/shock cord. I use it for small items that you are not likely to use every day, but that are good to have quick access to (like First Aid kit, wet tissues for toilet breaks and the like). 
There is a lot of technical trail here, where you suddenly have to scramble quite a bit, then normal uphill climbing again. Hence one of my favourite features of the Dragon 20 is it has the best stow-on-the-go system for trekking poles that I have come across. I like mine on my Osprey Kestrel pack, but I love them on this one. Easier to insert and take out, and more out of the way when you don't need them.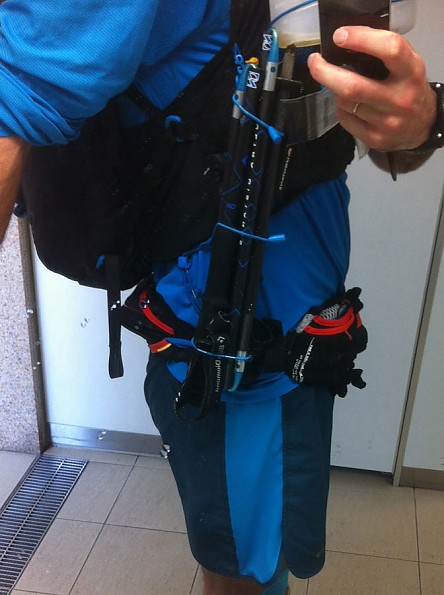 very well done trekking pole stow on the go
Overall:
Though it has some issues, Montane's Dragon 20 is simply one of the most comfortable vest/packs I have ever fitted on. It surprises me how much weight you can put in this thing and not feel it. Ideal for long days of unsupported mountain running or fast packing.
Source: bought it new

A well-built and lightweight pack for ultrarunning and fast packing, big enough to carry layers, emergency gear, and food for long mountain runs in mixed weather, or for a UL weekender. Recommended for those kinds of activities, but not as a general purpose day pack.
Pros
No-bounce fit
Waterproof
Light weight
Cons
Water bottle retainers a bit awkward
Hot/sweaty (true of any body hugging pack)
Price
I received the Montane Dragon 20 from Trailspace a little too late to try it out in the 60 km Birkebeiner Ultra, but have put it to the test on some of my longer training runs and on a few day hikes. It is very well-designed and -built, but it also has a few quirks that I am not that fond of. 
The main body of the pack is a simple 20 liter roll-top sack with all seams and stitching taped. The fabric is an in-house brand of coated ripstop that is heavier and tougher than silnylon but still light enough to keep the total pack weight to just under 400g / 14 oz. without the water bottles. I haven't yet tested it in a downpour or all-day rain, but it looks to be totally waterproof. There is single, zippered, mesh outside pocket, with an elastic compression system that I find a little awkward because it compresses the pocket and so needs to be loosened to get at any (otherwise) quick access items in there.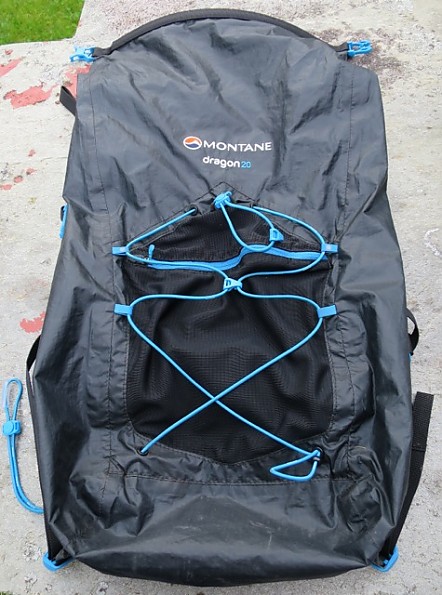 The harness is essentially a mesh vest stitched to the pack bag; the black side panels are stretchy, while the blue parts are a non-stretch mesh that promises some breathability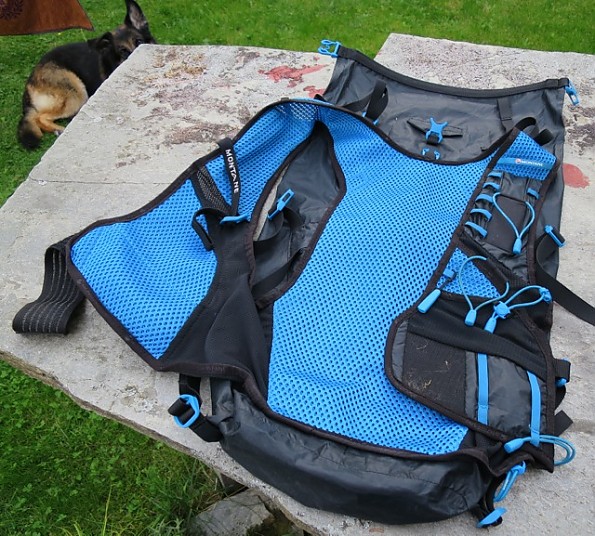 It closes in the front with a broad elastic strap with a hook-and-loop closure that passes a little below the sternum, and an elastic chest strap with a simple plastic hook that clips at various heights into a loop ladder; the strap height adjusts by sliding up and down on a track. (It took some tugging to get the slider moved down onto the lower part of the track but it has a solid grip; a similar arrangement on another pack I have can pull loose.)
The vest fits snugly and has enough room and adjustment capacity to fit over an extra layer or two. A pair of z-straps on the sides of the pack can be used for extra compression and stabilization once the pack is on your back. Overall this gives a snug, bounce-free fit for running.
The tradeoff for the snug fit is that, despite the mesh lining, the pack traps heat and sweat against the back and to some extent even in the front, so that any extended exertion quickly becomes a soggy affair; this is also true of a smaller runner's vest that I have, but the Montane covers a bigger area of the back.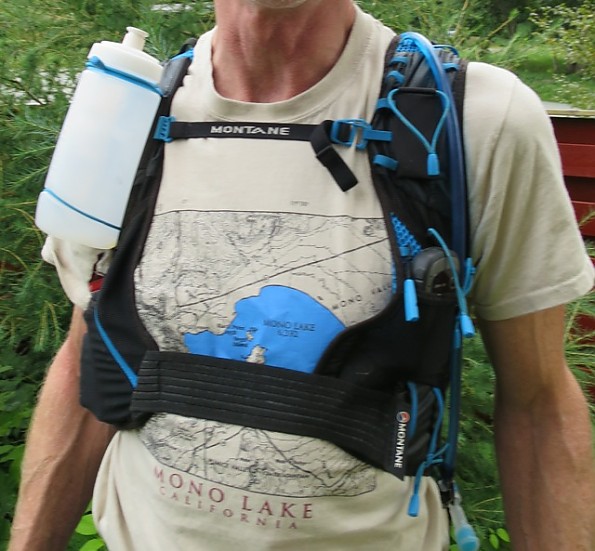 The pack comes with twin, chest-mounted, 500 ml water bottles that weigh about 85 g / 3 oz. each, bringing the total weight up to about 570 g /20 oz. These are flattened on one side to limit rolling and attach to the shoulder straps via clips that fit into a slot, backed up by a pair of elastics, with the lower one snapping into a slot in the water bottle.
You can use just the bottom elastic to hold the bottle in place, and while it's possible to learn a one-hand method of stretching the elastic over the bottle, this is a little awkward to do while running on terrain. While holsters also have their problems, I'm not sure this clip and elastic approach is much better, and since you can't use a standard water bottle you want to take care not to lose the ones that come with the pack.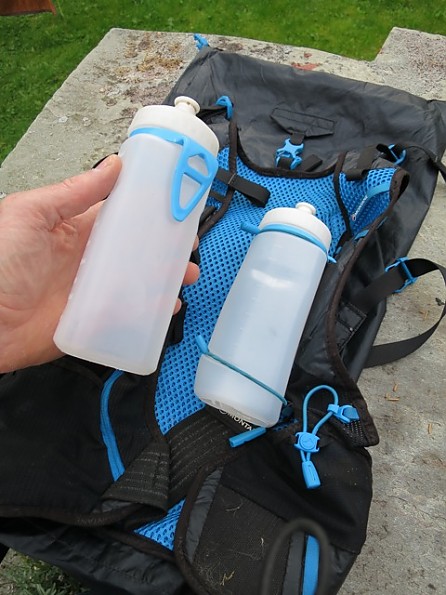 There is also a hydration reservoir pocket between the vest and the pack body. The entry to it is too narrow to just slide a reservoir in, but I was just able to squeeze my 2 liter Platypus in. While in general I prefer a reservoir and hose to the chest-mounted bottles, I did find that the water in the reservoir gets rather warm from body heat, another trade-off. the combination of reservoir and bottle allows for carrying both water and an energy/electrolyte drink.
The front of the vest has a secure zippered pocket that is just big enough for my iPhone, but more generous for smaller iPods or other players (I like to catch up on podcasts or listen to music while training) and/or keys and credit cards. Additional, open stretch pockets and accommodate a few hours worth of bars or gels. My Garmin eTrex30 fits nicely in one of them as well. There is also a trekking pole attachment loop that I have not fully tested, and a little tiny emergency whistle that doesn't give much of a blast.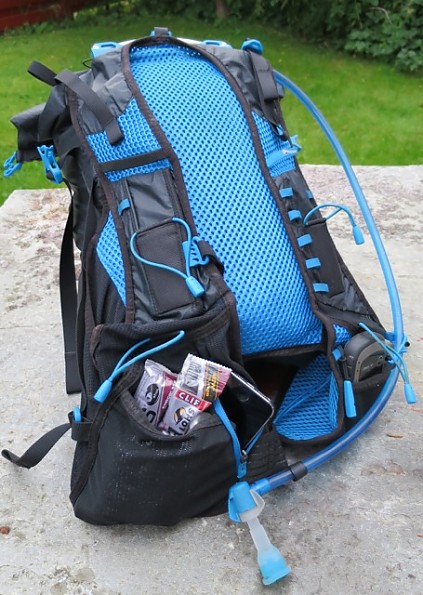 I loaded the pack up with most of the gear I might want on an all-day run in the Norwegian mountains: lightweight rain gear top and bottom, hat and gloves, down sweater, emergency bivy, small first aid kit, map and compass, sunglasses, 2 liter reservoir, and a handful of snacks (I would probably need more food).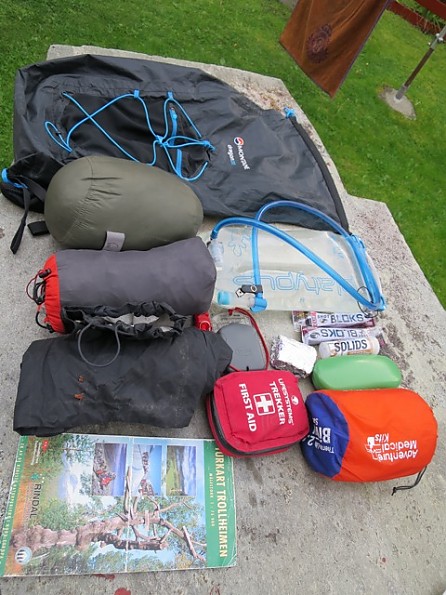 All this weighed in at about 4 kilos /9 pounds, and only filled about half the pack bag. I ran 35+ km, mostly on trails, with this load, and found the pack hung well with no bounce at all, so that I could pretty much forget I was wearing it (well, except for the sweat problem noted above).
I wouldn't want to carry too much more weight than that for running. With minimalist camping gear it should be possible to carry enough for a summer weekender. I think the pack should hold up under and be reasonably comfortable with loads of up to 10 kilos/22 lb. Here in Norway it could also serve well as a light and fast hut-to-hut pack.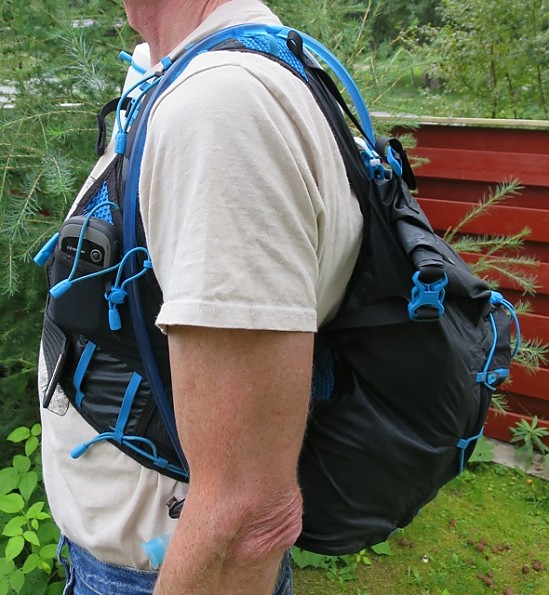 (half empty or half full?)
I carried the Montane Dragon 20 as a summit pack on the first two legs of the John Muir Trail this summer, and used it on a couple of off-trail side trips. That was enough for the rough granite to nip two small (say 2 mm) holes in the bottom of the pack. While these can be repaired with ripstop tape and I'm sure I could keep the pack going for several years, I wouldn't expect it to hold up well under rough or abrasive conditions.
It is probably best suited for running where it will spend most of the time on your back, only hitting the ground occasionally for getting out snacks or layers. Repeated use for UL hiking trips might result in more wear and tear.
If /when I get around to doing the 60 km Trollheimen Triangle again, or if I decide to try a multi day hut-to-hut run, this will be a very good pack for the job.
Source: received for testing via the Trailspace Review Corps (Sample provided by Montane for testing and review)

Finally a nice pack that allows for multi-day runs. It's not perfect, but in the most important aspect — carry while running — it's great.
Pros
One of just a small handful of packs for multi-day runs
Carries very nicely while running
Construction is solid
Cons
The bladder holder opening is too small
I'd add another 5 liters
No haul strap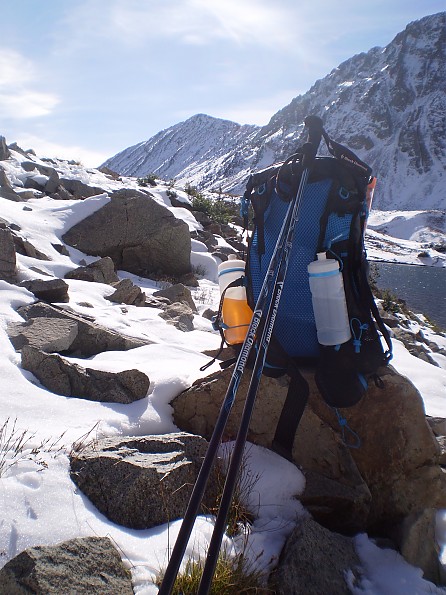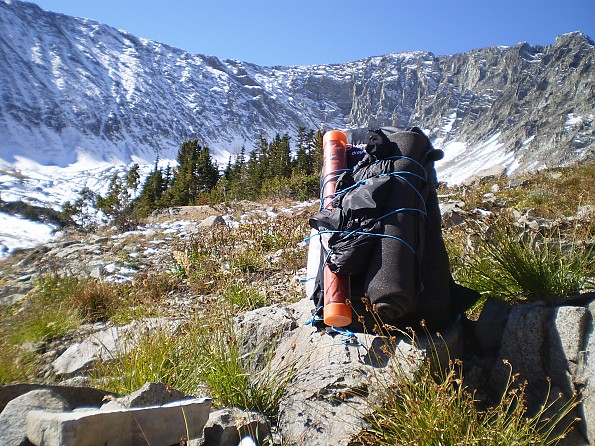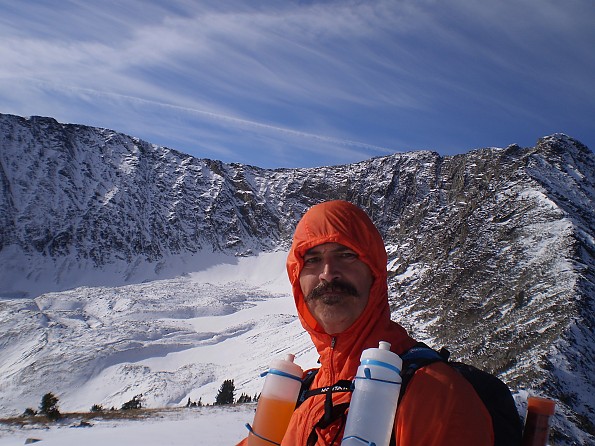 I was able to get this pack out for a two day trip into the Crazy Mtns. I had to load a little more kit as we received a big dump of snow and cooler temps. Kit consisted of a 30°F down quilt, inflatable pad (had to add a thin ccf pad due to temps), eVENT bivy, small pot/esbit stove, Steripen, down jacket, hooded midlayer, tights, spare socks and the usual small bits map/compass, fire kit, first aid kit, etc and of course two days worth of food.  
Oh and because all of the alpine lakes I'd be traveling by had trout in them, I had to strap on my pack rod :) With food and water, the pack weight was in the 12-13 lb ish range
The first 5 miles or so was steep uphill and the pack carried very well. I knew the next ten miles (mostly downhill) would be the real test. I started out slowly, all good. Started picking up the pace, still good. It was time to open it up and was very impressed. Occasionally I'd have to jump over a blown down or large rock and the pack would lift ever so slightly, but not enough to be any concern. This pack carries really nice, this to me is the biggie for a running pack.
You have a wide adjustable stretch "waist" belt, adjustable stretch sternum strap (that can move up or down), load lifter straps that help pull the pack closer into your back. Also adjustable straps at the bottom of the harness. The harness straps are wide and spreads the load very nicely. The right side has a zippered compartment that I kept my map, compass and Steripen in. It also has a largish stretch pocket that I kept some food and my small camera in. The left side has a small stretch pocket that I stashed additional food, this pocket could be larger imo.
The trekking pole carrier was very nice. It's not intuitive and took me awhile to get the hang of it. Once in, you won't even know you have trekking poles. They are completely out of the way for your arm swing.
I found the bottles to be very handy (although I think they could probably lighten them a little), it takes a few reps to get it down, but once you get it — they are easy to access one-handed. Pull the top cord, pull the bottom cord and lift the bottle out of its slot, putting it back is the reverse. Bottles are nice as they are easy to fill in streams, Steripen friendly, easy to fill w/ snow and you can put calories in one bottle and water in the other if you so choose.
The pack qualifies as waterproof, but if you look at the numbers, I'd consider it highly water resistant. I put my down quilt and jacket in cuben sacks to insure they stay dry.
Things I'd change: I'd add ~ 5 liters of volume, would increase the size of the pack much and would make loading a multi-day kit easier. The bladder opening is too small—easy fix. No haul loop—easy fix. Bigger stretch pocket on the left side harness. The pack has a nice shock cord setup, but it covers the zipped pocket. If they run the zipper vertically (instead of horizontally) you'd be able to access the pocket w/o having to remove whatever gear you have secured.
Overall I'm very happy to finally have a pack that I can get out and spend a few days out running in the mountains.
Source: bought it new
Price Paid: $127

Your Review
Where to Buy
Help support this site by making your next gear purchase through one of the links above. Click a link, buy what you need, and the seller will contribute a portion of the purchase price to support Trailspace's independent gear reviews.
You May Like
Specs
Price
Historic Range: $98.99-$178.95
Reviewers Paid: $127.00

Recently on Trailspace