Osprey Kestrel 48

Light pack that is one with your back and allows for great organization.

Pros
Great fit and support
Lightweight
Nice organization
Great side compartments
Cons
Top pocket non detachable
Hipbelt too big
Fit and Ride:
This pack has a really great fit. It stays close to your back and rides with you like no other pack I know. This is why I have had these in several volumes for different purposes. The shoulder harness length is adjustable to fine tune your fit and it really adds to the comfort level in the end. 
The only thing that is only just OK for me is the hip belt size. If I tighten it to the max, it is only just tight enough (I am 184cm tall and 72Kg). So for me in the summer it just works. 
The pack has the standard straps to compress the volume down. Just like with other packs are wish there were some on the bottom as well. Then, if you really want to go low volume, you can make sure there is not a huge bump in the bottom that swallows a lot of your gear. The good thing is the Kestrel 48 has a bottom (sleeping bag) compartment, and if you wish you can leave that empty. 
Organization:
This pack is great to live out of, and especially great for example in the winter, where you might want quick access to different gear. Apart from the main compartment there is a top lid with two zippered access points from the outside. There is a bottom access zipper that you can make into a separate compartment or consolidate with the main compartment (there is an piece of fabric on the inside that you can use to make the area separate). And there are two zippered side compartments.
What I like about these side compartments is they don't really bulge outward. Rather if you load them up the volume pushes inward into the main compartment. As such it is not so much about adding volume, as about adding organisation and accessibility. This keeps the packs overall shape slim, while allowing for quicker access and better organisation, with less unpacking and repacking gear. Especially when you need to take off your main gloves it is great if you can minimise time spend retrieving and repacking gear. I will definitely look for this feature in other packs.
As an example of organization on last winter's season — I put my hard shell in one side pocket, different layers of gloves (thin liners, 2 pairs of thick fleece gloves, waterproof shell mitts) in the other side compartment. I had a fleece and emergency bothy in the bottom compartment, and maps and compass in the top lid. The main compartment had become a bit smaller because of the gear in the side pockets, but very easily swallowed the rest of my gear (fak, ditty bag, down hoody, food, water bottles in cozy, and my (rather large) crampons). I had strapped wakan (Japanese snow shoes) to the front of my pack with some cordage. 
Miscellaneous: 
The size is good, it allows you to pack bulky gear in there loosely, or go on multi day treks with lighter gear. Any more volume and I don't know if I wouldn't want a more solid hip belt. Right now the support is perfectly fine as it is. Again for me the hip belt length can only just go short enough - I think it would be good to be able to cinch down more. If you do a lot of endurance sports or climbing (have low body fat) you might find yourself at the edge as well. 
I wish you could detach the top lid for when you don't need the volume. A simple top cinch strap would be ok a lot of the times. The mesh front pocket is a bit on the small side. Though it does swallow up most that I want to put in there (wet shirts, wet hats, trash), it doesn't really get the chance to dry out.  
Overall I think this is a really great pack, that is perfect where it counts most for me - fit/comfort and ride. It really stays glued to your pack, with minimal swaying of the load when it is fully packed. Best thing I can say is I hardly notice it during long hard treks. Highly recommended. 
Source: bought it new

The Osprey line of backpacks is one of the most highly praised in the oversaturated industry of outdoor recreation equipment, and with good reason. The Kestrel series is no exception. Intended for both amateur and serious hikers, the Kestrel delivers on multiple levels.
Pros
Extremely high quality construction
Multiple ways to cinch and tighten the pack
"Air Scape" backpanel keeps you dry and comfortable
One of the most comfortable packs around
Cons
Hydration port is not very accommodating
Top lid is fixed and not removable
Color choices could be better
The Kestrel 48 is a versatile and lightweight pack that can be used for a day hike or a multiple overnighter. When I strapped this thing on for the first time, I was amazed how comfortable it was. Despite weighing three pounds alone without any gear, it felt as light as a feather. Even with the pack full of 30+ pounds of gear, it still felt light and airy and the straps were comfortable.
The pack can surprisingly hold a lot of gear, which can also make it deceptively easy to overpack. I've had a tendency to put way too much into the pack for short overnight trips, because I have the space and feel like I can keep going.  The ability to really compress it down keeps it very well-balanced and weight-distributed, too.
The Kestrel has many amenity features, including lots of convenient pockets and extra little things to hold gear. The trekking pole bungees are extremely useful, and I've actually used them while on the trail. I have also used the built-in rain cover, which was an absolute lifesaver when hiking in a steady rain for over three hours. The hip belt pockets are great for a digital camera, and I found myself using them a lot for quick and easy access when it was time to take a shot.
There are about a million and one ways to adjust the pack and dial it in to your liking. I found tightening the sternum strap, making the hip belt as tight as possible, and using the load lifters really helps get the pack the way I want. Still, all these straps come with a price--if you're one of those people who don't like a lot of dangling straps, you might not like this pack.  Taking care of that is just a matter of cutting them, though.
I have taken this pack backpacking in the Charles Deam Wilderness in Indiana, the Big South Fork in Tennessee, and even the Rockies. It has served me well everywhere I've taken it, and isn't even so much as shedding a thread.  It almost looks as good as the day I bought it.
All in all, the Kestrel 48 is a pack that really can't be beat. The quality construction will last for years, and it will quickly become your "favorite pack" for all its cool features and custom adjustability. A world-class product.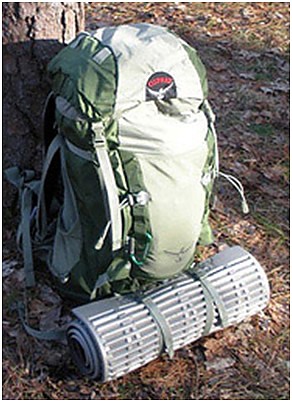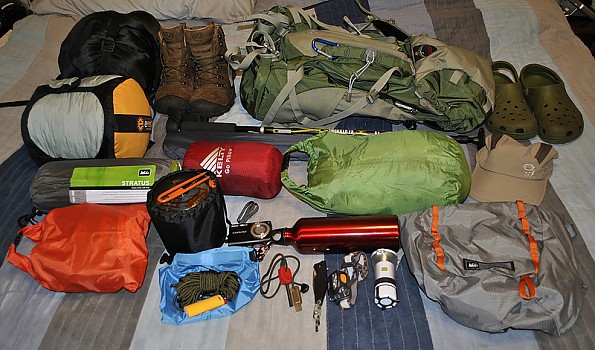 Source: bought it new
Price Paid: $150

Great pack for lightweight overnight backpacking and airline travel.
Pros
Lightweight
Full of features
Small enough for all airplane overheads
This pack is fantastic. I purchased it for airline travel because the frame height is just within the maximum overhead bin length limits. I was hoping that someday my backpacking gear would be light/small enough to use this for overnight backpacking. I have been traveling on planes for over a year with this pack and it fits in even commuter jets overhead bins. It is Osprey, so the build quality is top notch.  Love this pack for travel.
My gear has gotten light and small for backpacking. I now take this pack for overnight backpacking trips.  My other main pack is an Osprey Aether 60.  This pack has a much thinner (less padding) strap setup. I expected some "hot spots" or soreness due to thin straps.  I was wrong.  
This pack wildly exceeded my expectations in the comfort department. Mind you- my pack weight was 30 lbs. in and 26 lbs. out. This pack is not designed to carry over 30 lbs. My only complaints are the amount of pack sway and the need for constant re-tightening of my hip belt straps. The pack sway is mostly due to my insistence of keeping the pack off of my shoulders and on my hips.  Kudos to the hip belt for being able to comfortably handle the weight!  This made the hip belt constantly need tightening. It may have been a hassle, but I was comfortable for ten miles in and ten miles out.
This pack has so many features. Hip belt pockets, shove it pocket, trekking pole stash loops, side water bottle pockets, camelback pocket, straps to hold anything anywhere on the outside. You name it, it's got it.  No other pack that I looked at in this size range had all the features and could comfortably carry 30 lbs.  
I would buy this pack again in a heartbeat. I look forward to many wonderful overnight backpacking trips and many trips in airplanes all over the world.
Source: bought it new
Price Paid: $169

Finally I think I have found 'my' pack. The Kestrel comes in two torso sizes and is lightweight for a multiday pack. It has several pockets and a place to lash on your poles. One nice feature is the zipper on bottom allowing you to access gear at the bottom of the pack easily.
Pros
Well constructed
Fairly lightweight for a multiday pack
Access from the bottom of the pack
Rain fly in its own storage pocket
Nice waist belt
Large pockets on each side of waist belt
As mentioned above, this pack comes in two torso sizes with several straps for adjusting to your own personal fit. The waist belt has 2 large zippered pockets for extra snacks or small gear you want quick access to.
There are 2 zippered pockets on the top; a mesh zippered pocket on underside of top of pack; 2 mesh pockets on the side and a large exterior pocket. There are several places to lash gear to the pack including a designated place to lash on your hiking poles. A rain fly is included in its own special pocket. Several straps help to compress your gear.
There is an exterior pocket for your hydration system.
I found the pack to be easily adjustable and extremely comfortable in both summer and winter hiking. I expect to get many years of hiking from this pack. Good job, Osprey!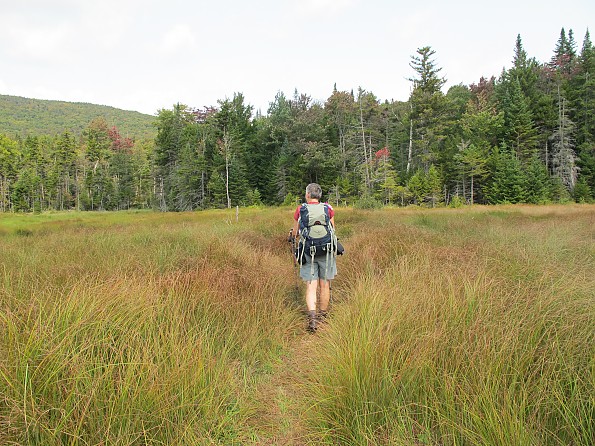 Source: bought it new

In general, I am satisfied with the product. I usually use it during the summer months, on 3-day or 2-day trips (for single-day hikes I bought a Talon 33) without ever carrying more than 10 kilos. 
It fits well on my back but I am not very satisfied with the straps. They cause pain on my shoulders and as I describe below eventually they wore off.
Its capacity is satisfying. I can get 2-3 days of hiking stuff inside without being full.
The backpack is stable while hiking and one can distribute evenly the weight so as to avoid problems.
However, last year, I faced some problems ( I have had it for almost 6 years but I used it mainly during the last 2,5).
First of all, at the two lower corners of the backpack, the outer material wore off and the metal skeleton holding the backpack was coming out, pushing my lower back and causing bruising and pain in the hips.
I repaired it but still, the skeleton is pushing, creating new holes as well as discomfort to my lower back. Two weeks ago, as I pulled the strap on the lower side of the backpack to fix a bottle in the outer case, it broke.
Moreover, last weekend I used the backpack for a 3-day, 60-km hike. From day one, after 2 to 3 hours of hiking, the straps that hold the backpack on my shoulders were almost torn so I had to walk for 2+ days with intense neck pain as I could not properly adjust the backpack to my body due to the defective straps.
I emailed Osprey claiming a guarantee and I am waiting for their answer.
Source: bought it new
Price Paid: $150

The backpack is perfect for weekend trips, workout sessions, or minimalist week trips. I carry it every day when I do my 7 mile walk in the evenings with 30lbs of weight in it. I have carried it on weekend trips and I have carried it on week long trips of the AT.
I pack very light weight so it does a phenomenal job. I don't go anywhere without it and would suggest it to anyone. It carries the weight evenly and has plenty of pockets and storage. I liked the fact that I did not have to buy a rain cover because it comes with it.
Max. Load Carried: 35lbs
Height of Owner: 5'8"

Large in features and space, small in footprint.
Pros
Very adjustable
Lots of features
Relatively lightweight
Cons
Cumbersome hydration bladder pocket
As a larger guy, this pack does very well in the "fit" category. Much more flexibility than its sibling "Talon 22" (another Osprey I own).  I'm also not the thinnest and the waist strap has plenty of room for girth adjustments.
Once on and adjusted properly, the pack is very comfortable. Users should be familiar with all the modern adjustment straps as this pack has them all.  
The pack has a wide array of pockets and straps for storing gear, top, bottom, and sides. This allows for items of frequent use while on the go are available, and of course there is plenty of room for the rest of your gear in the main compartment.
The pack rides very well and feels very stable. Because of the packs ability to be compressed down to adjust for smaller loads, everything stays in its place as you make your way.
The trekking pole system works very well and is a great "on the go" feature. And take a close look at the sternum strap, you just might find a built in whistle
As with all the Osprey products, the construction is top notch. I've been using the pack for about three months now and have not noticed any unusual wear points.
Source: bought it new
Price Paid: $168

This pack is great for shorter weekend trips if you're backpacking, but I also use it now as my main luggage for traveling as well. Great organization with different compartments, good size, and comfortable.
Cons
Size is limiting for longer trips
The pack fits me very well, and the only issue I had was when I wore a sleeveless shirt—I got a rug burn-like chafe on my shoulders where the straps are. 
It fits a reasonable amount of gear if you're doing a weekend trip, but I was pretty maxed out for a three-day trip. I would have liked a little more room. 
The compartments make organization super easy, though the only complaint is that the side-zip pockets are hard to access with the compression straps all activated. 
Overall comfortable pack that performs well, but doesn't have enough volume for a longer trip. 
Source: bought it new
Price Paid: $150

Great pack. Perfect three season, 3-4 day hiking trips. I'm 6'6" tall and was worried about the adjustability of this pack, but it makes carrying up to 40 pounds much more bearable than my old pack.
Pros
Lightweight
Storage pouches
Suspension
Built in rain cover
Great range of adjustment built into straps
Cons
Rain cover is built in, but it's red
Main compartment is top opening only
Great pack. Very lightweight, durable and large range of adjustments in the straps. I struggled back and forth between this pack and the Volt, but for a three-season pack this is plenty big enough.
Very comfortable on up to 40 pounds, but haven't packed more than that yet either.  
Overall a a really good pack-considering it's the first new pack I've bought in nearly 35 years.  
Source: bought it new
Price Paid: $167

Highly recommended.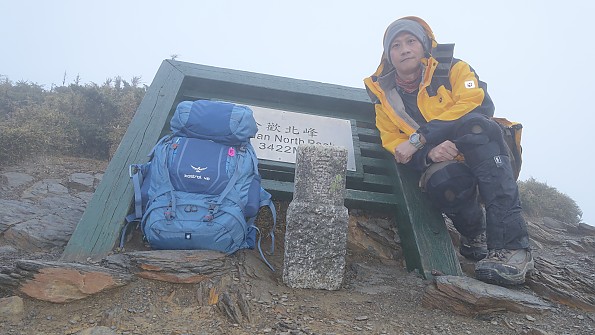 I am 5'10" tall, about 145 pounds. My torso length is about 20 inches. 
I bought a M-L size.
I had a one-day hike (13 hours) with this pack. I carried about 22 pound in this pack.
This pack just like hugging on my back, move with my body when I climbed, it also leaves enough space for ventilation.
After the 13-hour hike, magically, my shoulder felt nothing.
The only minor thing I wish this pack could improve is adding some small internal pockets for some small items like batteries, lighter, sewing pack...etc. 
Source: bought it new
Price Paid: US$180

Having had several external frame packs I wanted to try a medium size internal frame backpack,and selected the Osprey Kestrel 48. It appears to be very well made and fits well.
I am 5' 9" and about 170 pounds. The literature said it has an internal divider between the lower zippered sleeping bag access and the main bag. As it turns out, it was a misprint according to Osprey. No big deal as I prefer a light weight stuff bag anyhow.
I started backpacking in 1965 in California, then to Wyoming, and currently am in Arizona. I am updating my gear this year in anticipation of retirement and putting in some trail miles.
Update: Summer 2012  have taken it on overnighters mainly, and basically love how it fits me. Easy to distribute gear and "becomes part of you" when hiking. So far, so good!  
Design: internal frame
Size: 2800 cu.in.
Max. Load Carried: 25
Height of Owner: 5' 9"
Price Paid: $159

This is a pack that you can use day in and day out and not worry about it tearing up. Great support and can be used as a day pack comfortably.
Pros
Back support
Lifetime warranty
This pack is the most comfortable pack I own. The back support that contours to your back is fantastic. It has plenty of room, and can even be used as a day pack comfortably. The lifetime warranty that Osprey offers should be considered when purchasing a pack.
Source: bought it new

Perfect winter pack.
Cons
I'm not fond of the Trekking Pole strap location.
This is my mountaineering and winter pack. My snowshoes can be strapped to the back and all my winter gear fits inside. The waist belt has easy adjust straps. It is super comfortable and roomy and the durability is a plus. It has fantastic pocket space and just the right amount of loops for gear.
Osprey products are fantastic and I would buy from them again.
Source: received it as a personal gift

I just used it for the first time on a long but short trip and climb, two days 28 miles. I couldn't ask for more in terms of a 1-3 night pack. I had room to spare and the comfort and fit for a 30-35 lbs load was incredible. The sto-and go for you hiking pole was the envy of the group. They work well.
Height of Owner: 6'0 240
Price Paid: $150

Multiple pockets to stow equipment. Lightweight. Outside water compartment.
Pros
Lightweight
Multiple pockets
Excellent design. Lightweight.
This is the best day / overnight backpack I have used and I highly recommend it!
Pros
Fit and comfort
External hydration sleeve
Durability
The National Park Service employees in Grand Canyon use it!
Cons
Only access to inner part of pack is from the top
Sleeping bag compartment is on the small side.
I am a backpacking guide in Grand Canyon and have used this pack for all day hikes since I bought it 2+ years ago. It is a fantastic day / overnight backpack!  I have been so happy with this backpack I am looking into buying a Zenith 88 for the multi-day trips I lead.
Source: bought it new
Price Paid: ~ $125

Your Review
Where to Buy
Help support this site by making your next gear purchase through one of the links above. Click a link, buy what you need, and the seller will contribute a portion of the purchase price to support Trailspace's independent gear reviews.
You May Like
Specs
s/m
m/l
Price
MSRP: $159.00
Current Retail: $149.73-$220.00
Historic Range: $53.97-$220.00
Reviewers Paid: $125.00-$180.00

Weight
3 lb 7 oz / 1.56 kg
3 lb 10 oz / 1.64 kg
Capacity
2800 cu in / 46 L
2900 cu in / 48 L
Recently on Trailspace