Osprey Volt 60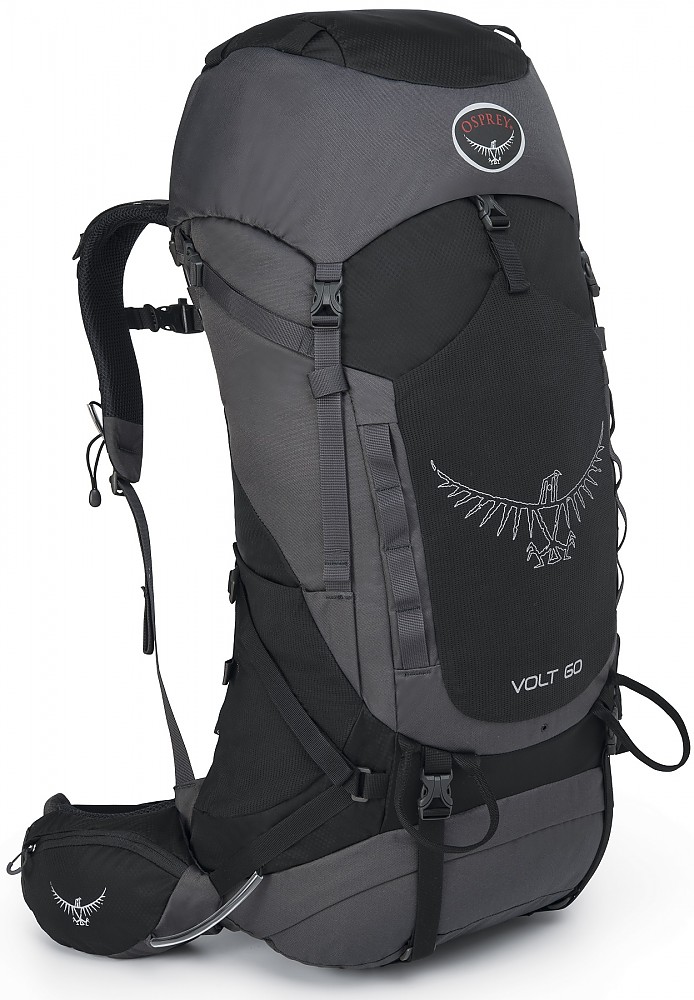 The Osprey Volt is a high value, well-built, extended weekend pack with flexible fit and configuration. It may be considered a lighter weight 60 liter pack, but the Volt's efficient frame can handle rather heavy loads with ease. The novel waist belt adjustability is highly effective at finding your comfort zone for long treks through the mountains, or hours in the airport security line.

The Volt strikes an excellent balance between its weight and useable features. The Volt 60 doesn't have the most breathable back panel, making it a better cold-weather pack, but it is supremely comfortable, and moves with your body motions to maintain impressive stability.

If you don't mind sacrificing some very minor features in the interest of efficiency and a lower pack weight, at a good price, then this is your pack. I highly recommend it.
Pros
Back panel design, wicking surface, adjustability, and suspension
Simple "Fit-on-the-Fly" hip belt adjustability and features (zippered belt pockets)
Excellent on-the-trail ergonomics and features
"AddOns" attachment feature works well, even without an Osprey branded day pack
Thoughtful features, like a color-coded rope strap just inside the collar
Dual access stretch side pockets
Stow-n-Go feature for trekking poles
Separate hydration reservoir pocket keeps leaks out of the main compartment
Cons
Back panel doesn't ventilate as well as some other designs
No included lashing for handles of climbing tools or mountain axes
No side or front-access zippers into the main body
Removable lid doesn't double as a waist pack like other Osprey models
Stow-n-Go attachment is at times awkward in use
Water bottles sometimes fall out of the forward-facing openings in the pack's side pockets
Harness is not removable and lacks tool loops, which may be a deal breaker for the hard-core mountaineer
INITIAL REVIEW after three months, seven trips, both outdoor (4) and urban (3):
Fit:
With its Torso Adjustment System (using a hook and loop fastener for simple size adjustment) this men's pack adjusts to fit 17-22" torsos, and for my 20.5" frame, fits very well, but will soon allow my growing son to use it (16.0" torso).
The "Fit-on-the-Fly" hip belt's 6" of pad adjustments, plus a highly adjustable belt strap, ensure that this pack will fit both my waist (35") and my ''5" son's 29". It will be a fantastic week-long pack for his growing frame.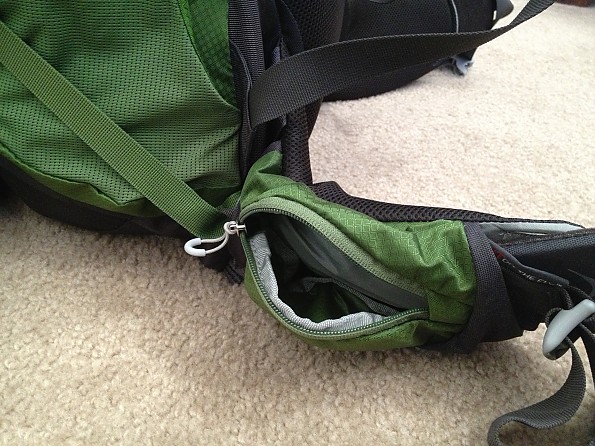 Hip Belt Pocket/Fit-on-the-Fly adjustment
As one would expect, load lifters and adjustable sternum strap rails make finding the sweet spot a breeze, and all straps are in the common locations for making "on the trail" adjustments to suit varied conditions. An HDPE frame sheet, with a silicon-tube protected "Lightwire" aluminum peripheral frame transfers load to the hip-belt and makes for a solid pack, even when loaded to the hilt (about 55-60 — weekend trip tested comfortable so far to 45 pounds).
Comfort & Ride:
With all of the adjustments in fit (more than I would've expected for what Osprey defines as a "basic" pack), the Volt 60 is supremely comfortable. I had no hot spots on my waist or shoulders during my hiking trips AND, more importantly, after standing static for two hours in airport security (wearing the entire time).
The adjustable waist belt padding is so simple yet effective. The best compliment I can pay this feature is that I don't find myself aware of how the belt feels while I'm laboring away. This creates a comfortable, stable ride when tackling more technical trail sections (those that include some scrambling).
While I have not tested it climbing or mountaineering, the Volt 60 does have a narrow profile that I imagine could lend itself well to such endeavors.
High quality, supportive and dense foam on the pre-curved shoulder straps is very comfortable as long as pack weight is under 60 pounds, which is a lot. The only time I've had it packed with higher weight (40 pounds) was on a business trip to the Northwest (48 pounds).
Loads of 35 pounds or less are so well-distributed with this pack. I only had minimal soreness after each of my two multi-day backpacking trips with this pack. Both times, the pack was 30-35 pounds, excluding a full 3 liter water bladder.
The ventilation channels in the back panel work okay given their simple design, due in part to the good mesh on the surface. But if you sweat a lot and are going to use this in warmer/humid climates, then you will have to loosen the shoulder straps and sternum strap to let your back cool and dry off. This is one concession made as a result of the lower costs of this pack compared to my Lowe Alpine packs that feature specific ventilation channels in their back panel design.
Capacity:
This will swallow a lot of gear for its size — more than advertised 60 liters. With its stretch back pocket and attachment points, you can stretch this overnight pack to a week-long pack in the spring and summer. With its extension collar, I can stuff about 8 liters of extra gear over the published 60 liter capacity.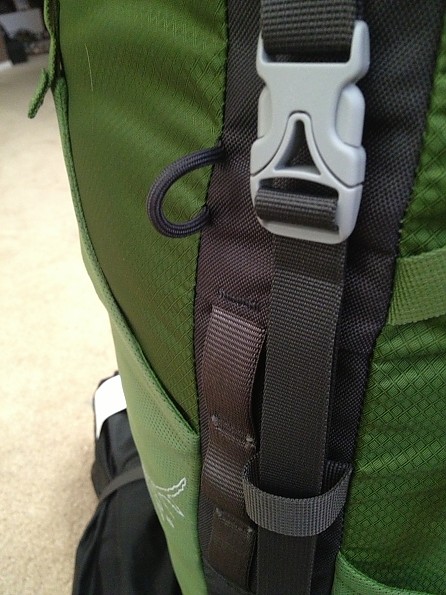 Add-ons (cord loop) and other daisy-chain attachment points
A standard top-panel access is augmented by an excellent, inverted U-shaped zipper on the mid-to lower panel, which has a removable shelf to create an isolated lower compartment for your sleeping bag (or other item of choice). It has easy to grab, four-season zipper pulls.
Accessing items in the lower section of the pack is much easier than my other packs of similar size that lack this feature. The mesh gear pouch can swallow a helmet, jacket and snowclaw shovel, and the items stay put no matter the activity.
The side pockets are very deep and have a flexible design, allowing me to stuff things inside through their front openings while on the trail.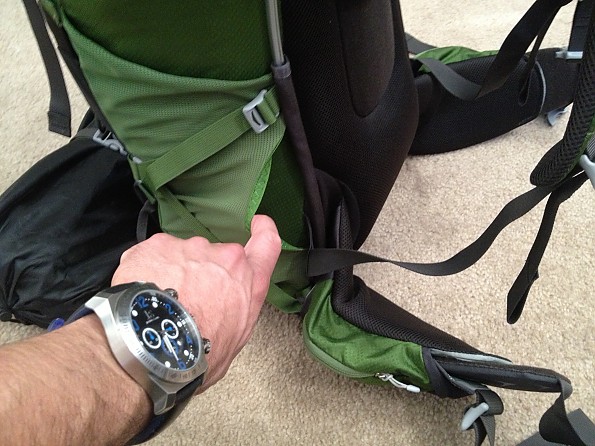 Side pocket openings
Items dry quickly in that pouch because of the generous amounts of mesh. The top panel is cavernous. Dual compression straps and draw cord collars allow me to shrink this down to a small day pack.
Organization & Accessibility:
There are external straps for a sleeping pad or bag, with adjustable attachment loops on the bottom for rigging another one. There is a zipper pocket with a keying on the underside of the top pouch, and there are great pockets on the waist belt. I will say that there is a learning curve for opening and closing the generously sized hip belt pockets with one hand. You must open or close in an arched motion.
I do like the Stow-n-Go feature, which after a short learning curve proved very useful, and not just for trekking poles.
I also use the daisy chains on the back (pictured above) to attach different items. 
Two minor organization gripes: The climbing tool loops are not on the outside edges of the pack, staying out of the way of the lower bag compartment, as compared to my Lowe Alpine packs (a great feature).
Also, this pack does not include lashings for the handles of the climbing tools when they're stored in the tool-loops. But there are daisy chain loops for using separate accessory straps or cord to secure axes/tools.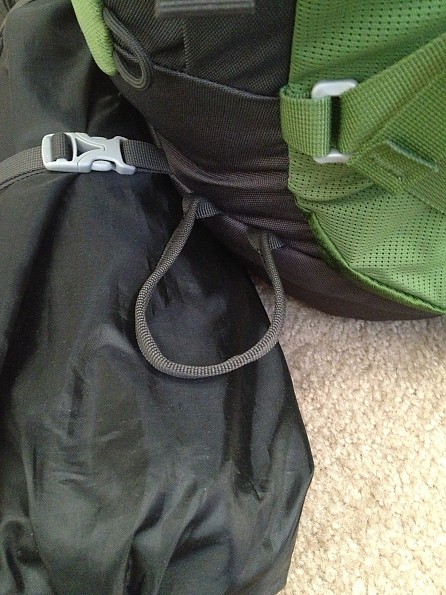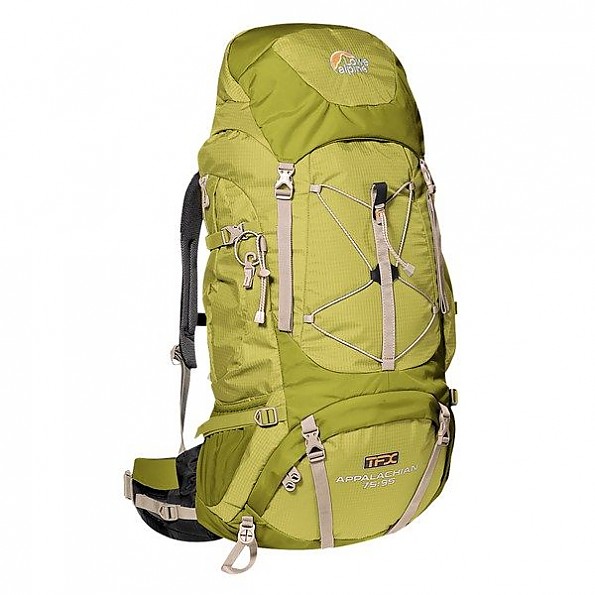 Comparison of both packs. notice the loop location on the Osprey Volt (first picture), which blocks access to the bottom compartment, versus the Lowe Alpine Appalachian pack's loop location, leaving the lower compartment fully accessible. The Osprey's loop is larger, however, which is better suited to hold climbing tools/axes of varying head sizes. 
The separate, external sleeve for a hydration bladder is of excellent size, and has perfectly executed/adjustable lashing straps.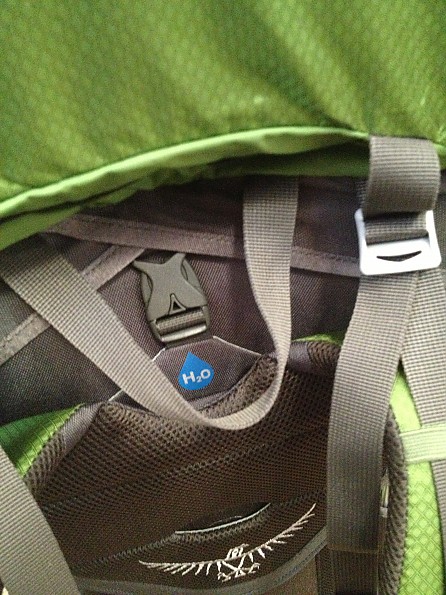 Hydration harness
All of my dromedary bags are 3 liter and still fit well despite their height. All of the requisite drink tube routing loops and ports are included, and I found that the shoulder-strap loop of the Stow-on-the-Go system functioned very well as a holder for the bite valve, allowing me to place it right by my mouth for easy, on the go hydration.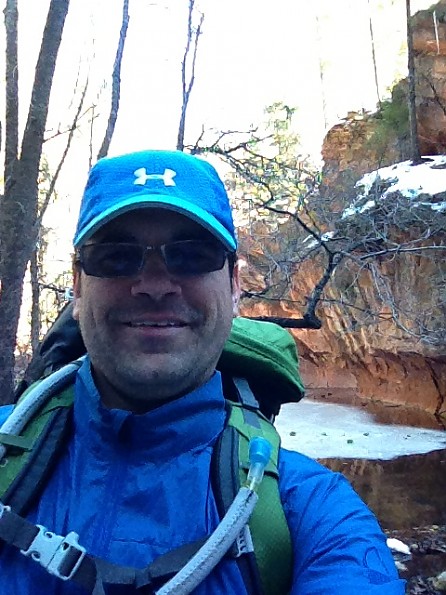 Bite Valve Stow
The side mesh pockets hold 1 liter Nalgenes and then some, with an easy front-access point that makes it easier to get to items without stopping the trip. But Nalgenes may slide out the front opening if inserted through them. Vertical placement of water bottles in the side pockets holds them securely. The compression straps function well and are adjustable enough to take tent pole bags and back-country tables in stride but hold them firm.
Features are listed below:
Top access to main compartment via a draw-cord secured top.
Hydration system compatible with external sleeve
Mesh gear pouch on front with compression strap
Adjustable, removable lid with interior and exterior body facing zip pocket and key holder
Lower sleeping bag compartment with fold-away shelf
Add-Ons attachment system for external mounting of a small daypack, Osprey or other brand.
Side mesh water bottle holsters with dual access system
Secure ice axe AND trekking pole (Stow-N-Go) attachment system -
Fit-On-The Fly hip-belt padding adjustment design
Torso-Adjust system fits to almost any adult male's back
Attachment Loops on the detachable lid
Daisy chains on both sides of the pack
Red colored compression strap on top of main compartment
Exterior lashing straps for sleeping pad or tent body.
Dual Side compression straps can double as ski/snowshoe/crampon straps or carriers
Sternum strap with safety whistle
Large hip belt pockets
Weight: 3 lb. 11.4 oz. (verified - mftr listed at 3-09)
Ease of Use:
All buckles and straps have held up and operated exactly as expected, with no slippage of belt or torso adjustments either (secured by hook and loop systems). The zipper pulls are all glove-friendly, the cord-lock cinch on the top loader opening is "a cinch" to use (the best on the market that I've tried) and the strap design for tightening the hip-belt is super easy to use.
The only minor difficulty in adjustment is occasionally on the bottom silicon tube-covered bungee on the Stow-on-the-Go system. It can be tough to pull and put the poles with baskets into it, and taking them out can also be difficult. A couple of times I found myself taking off the pack to get the poles back out for use, which defeats the design's intended purpose.
Construction & Durability: 
I have not had any wear problems with this pack to date. It is very well made for its price, with consistently straight stitching and alignment of materials. 
Made of 210 Denier Nylon rip-stop and 600D poly, the Volt seems well suited to the rigors of the trail. I've not had any wear spots yet, but a long term evaluation will tell the tale. I did through the pack around during some airplane travels, and found that this pack can fit in the standardized carry-on spacing (meaning someone won't make you check your pack for a plan trip).
Conclusion:
What a great pack in the value-priced segment. Building this much quality and utility into a pack for less than $200 retail is a testament to Osprey's design and engineering prowess. The Volt is a highly versatile pack, loaded with adjustments, and that can mean its use by more than one member of a family. The Volt is superbly comfortable under load, has some unique convenience features, and is well-suited to all but expedition and alpine mountaineering-style endeavors in the outdoors. This pack can even function for backcountry skiing and some light-duty alpine skiing/snowboarding adventures as well.
If you are looking for a value leader in a great all-around weekend or 4-5 day pack, the Osprey Volt should not be overlooked. 
Source: received for testing via the Trailspace Review Corps (Sample provided by Osprey for testing and review)

A great design in so many ways, but not the best choice for anyone. It's hard to love a pack that seems designed to be less comfortable and less capable than the more expensive packs from Osprey.

Still, the bag is simple, the materials are durable, and comfort is perfectly adequate for lightweight loads. The Volt suffers mostly in comparison to the competition.
Pros
Adjustable torso and hipbelt
Lightweight
Simple, straightforward design
Great warranty
Cons
No back ventilation
Not well padded
Mediocre suspension
Fit:
We'll start with the good stuff about this pack. The Volt is wonderful for people like me who fall in between torso sizes with most packs. The shoulder yoke is fully adjustable for most torso sizes, and the straps are long enough to be used by people with large or small chests.
The hipbelt adjusts with the fit-on-the-fly system that is also found on the Atmos line of packs from Osprey. It's not perfect. I would certainly prefer a hipbelt that is actually designed for my waist size. The extra padding that extends out and is secured with velcro is minimal, but it is definitely better than the one-size-fits-all hipbelts that are sewn into packs like the Deuter ACT series.
Comfort:
I think the padding is inadequate for loads over thirty pounds. This is personal preference—plenty of people will be fine with significantly heavier loads. Like I said in my introduction, the Volt really suffers in comparison to Osprey's more expensive packs.
The padding on the shoulder straps of my wife's older Osprey Aura 65 is more comfortable, but the padding seems very similar on the hipbelt. The Aura and Atmos packs are far superior in terms of ventilation. The Volt has no venting. Your back will get sweaty.
Capacity:
The pack seems like 60 liters to me. I think this will work for many people for a week-long trip, but it would be important not to overpack in terms of both volume and weight. For most backpackers, this pack is going to be the perfect size for any trip from an overnighter to several days.
Organization & Accessibility:
I like the layout of this bag, but I'm thinking a lot of people won't. People who like organization and pockets and compartments will wish the Volt had more. People who are minimalists would prefer something even simpler. There is a sleeping bag compartment and a top lid. There is a stretchy pocket and side stretchy water bottle pockets that I wish you could run the compression straps inside of instead of over.
Now that I list them off, it seems like a lot of pockets. Like I said, some folks will think it's too many. But if you're going to be organized, you will have to put effort into it. The pack won't do it for you.
Ride:
The frame is light and simple on this pack. It seems floppy with heavy loads—anything in the range of thirty to forty pounds. It is great with lightweight loads, however. The pack is easy to compress, but it will not seem stable with too much weight because of the flexible frame. Packing well can make up for a lot of the flexibility.
Overall, I haven't been thrilled with this pack. It helped me figure out what I was looking for in a backpacking pack, however. Turns out that I really wanted a ventilated back panel and a stiff frame. Even if I wanted the a lighter frame, I would look at something like the slightly more expensive Osprey Atmos (I like Osprey products more for their warranty than for anything else) or something lighter and simpler like a ULA pack.
I do like the adjustability of the suspension, which is why I bought the pack and used it for so long. Once I found a pack that fit me as well that had more padding and a better suspension, I stopped using my Volt 60.
Source: bought it new
Price Paid: $180

This pack provides superior comfort and will not break the bank if you are looking for a well made product from a reputable company. This pack is so comfortable, I would recommend it to my grandmother if she was going to embark on a multi-day backpacking trip.
Pros
Extremely comfortable
Can fit to many different backs
Cons
Zippers are somewhat hard to use
Lots of straps
Breathablilty
The pack fits me perfectly. Although I went into an Osprey authorized retailer, you could honestly fit this pack yourself and figure out all the bells and whistles. With Osprey's patented Fit-on-the-Fly hip belt and torso adjustment, a 12-year-old could fit this pack.
Like I said earlier, Osprey's Fit-on-the-Fly hip belt and torso adjusters allow for a seamless fit, no matter what shaped back and all straps supply adequate room to adjust and readjust all load-lifters, sternum straps, hip belt straps, and side straps. The ventilation on your back could be better, but I do tend to sweat a lot.
The advertised volume of 60L seems very accurate, although I haven't actually got around to testing to see how accurate that is. After my sleeping pad, bag, tent, clothes, fuel, miscellanious items, and food are packed in (for a 5-7 day trip), there is still a bit of room left at the top. You can even separate off the bottom part of the pack, say if you wanted to store just your food in the bottom or your entire cooking gear plus food to have things organized a bit better.
The gear is easily accessible although one problem I have with the pack is the zippers; they are hard to use!! Fortunately the only zippers on the pack that give me problems are the one on the lower compartment and on the hip belt. Overall, the pack is designed so an idiot could safely and effectively stow gear inside (although he might get so mad that he rips the zippers off).
The load is distributed PERFECTLY onto the hips; that is, if you have properly adjusted the pack. I could not ask for a better ride. It remains comfortable no matter if you have the pack completely loaded down or with equipment for a day hike. The load lifter make the pack seem like it's literally growing out of your back!
Because the pack uses mostly plastic clips and zippers, there's not really a lot that can go wrong (at least I haven't had any problems yet). Only problem I can see if the small 1/2'' clips used for attaching a sleeping pad to the pack could snap if put under too much stress, but that's with any plastic pieces.
Other than that, I have yet to see any problems with the pack since I bought it in June. The upcoming winter will give me a nice time to test some of the other features more extensively.
Source: bought it new
Price Paid: $179.99 USD

A great pack for people that don't like the feel of the Antigravity line.
Pros
Lightweight
Simple design
Spacious compartments
No "Antigravity"
I bought this pack because I really disliked the way the Aether and Atmos have the Antigravity feature. I found that those packs sit way too far off of my back and made me feel like I was going to fall over backwards.
This pack is a simple, more affordable and traditional alternative to the newer, more expensive designs. It easily holds a two-man tent, sleeping bag, mattress pad and other camping equipment for weekend or overnight camping trips.
Thanks to Osprey for making such an awesome backpack! 
Source: bought it new
Price Paid: $180

This is my choice of backpack for all-season camping. Winter, fall, summer, or spring, this bag will do it all. Also having Osprey's amazing warranty with the bag truly gives it its awesome rating. I couldn't think of any cons, so I got really picky.
Pros
Versatile
Mesh pocket for wet/dirty clothes
Lots of pockets to keep you organized
Looks
Price
Cons
Straps are a little short
The frame rubs and creaks (on mine)
This backpack is very very good. The size is very accurate, the fit is amazing, and it is adjustable to fit any body type.
Lots of pockets including: hip pockets, internal sleeping bag compartment, mesh pocket for small goods, and it also has a large external mesh pocket to carry dirty/wet clothes.
The quality is perfect. I couldn't ask for more, and, if anything did happen, your fault or theirs, they will replace it free of cost. 
Source: bought it new

Great entry level pack that offers the same quality as the more pricier models. Not as many pockets as other packs.
Pros
External hydration pouch
Ease of adjusting fit
Cons
Slim, hard to pack
Volume
It's an Osprey pack, with a lower price tag.  Same great warranty, durability, and quality design and construction.
Torso length adjustment was easiest of any pack I've seen, and this is truly a one size fits all that will adjust in seconds. It's the adult pack my 12-year old gets to borrow for camp because of this.
Biggest problem was fitting gear in, as it is a bit narrow. Volume seemed low compared to my Atmos 65, more than the 5L difference would account for.  Definitely check the fit if you need to fit a bear canister.
Great for shorter trips.  For longer trips, a long and slender food sack may help packing a lot.
Consider the 75 if you have a lot of stuff. This pack is better if you've dialed in your gear for lightweight hiking already.
Longest trip this was on was 7 days (6 nights). My partner used this, I had an Atmos 65. I had more stuff including the tent, cooking gear, and a bigger food bag, and still had an easier time packing.
Fairly comfortable suspension, was holding 35+lbs with ease.
Source: bought it new
Price Paid: C$180

Very versatile pack, excellent adjustable fit, nice mix of useful features, and light.
Pros
Cost
Accoutrements
Very adjustable and comfortable fit
Lightweight
Cons
Back doesn't vent as fully as the Aether
I got this pack as a replacement for an Osprey Aether 60 that after many years of reliable use, finally succumbed during a night where busy large rodents sought salt and something to do at a camp up high last fall. Nary a strap was untouched, some severely, but I was able to complete the trip with shoulder straps hanging by threads, literally.
The Volt is less expensive, notably lighter, and even more adjustable than the old Aether was. A litmus test for me was that it had to be able to accommodate a BearVault, with some room to spare, and be well under 4 lbs in weight. The Volt 60 meets those criteria easily.
I like the adjustability of the Volt (waist, back), useful pockets on the waistband, ice ax loops, removable lid, with zipper mesh compartment underneath, and the light weight and well placed side compression straps. Easy to use in compressed fashion, or fully loaded.
I haven't put it through a full season or more, so can't attest to durability yet. Fabrics seem to be lighter than the Aether. As usual for Osprey it is well made.
Source: bought it new
Price Paid: $150 on sale

This pack holds what you need for a weekend. It could use a few extra pockets. I would recommend it to an experienced backpacker who knows what he needs to pack for a weekend.
Pros
It fits well and has great support.
It has a big pocket for a sleeping bag.
Cons
Not enough pockets
If you have a large chest it tends to be tight.
It fit me well but a bit tight. Some of the straps are difficult to grab, but i managed. It is very comfortable and has good weight distribution. I would not recommend it for a woman or child.
I was able to pack it with enough gear for a four-day hike around the Lake George, N.Y. area. I had it packed with four days worth of food and a tent (Nemo Galaxi 2) for two people, extra shoes, and Primus stove.
I have only had it for a year and it has worn well.
Source: bought it new
Price Paid: $129

This pack is an absolutely excellent option for the lightweight backpacker. In fact, of all the packs I tried (and I tried a lot in various stores before settling for this one), the Volt represents, in my opinion, the best compromise between minimal weight, carrying comfort, and features.
First, the weight. The Volt 60 is in the same weight class as lightweight framed packs such as the Atmos, Flash 62, or Gregory Savant, to name just a few. But whereas those packs struggle to carry 30 pounds (which is about my typical total pack weight for a weeklong trip), the Volt handles that kind of load like a champ. That's because, instead of cutting back on the suspension like most lightweight packs do, Osprey kept an excellent suspension and cut out weight elsewhere (like useless compression straps, extra compartments, extra zippers, etc.). So you end up with a fairly minimalist packbag, with all of the usefull features, and none of the heavy frills. Very nicely done!
The carrying comfort and adjustability are also best-in-class, in my opinion. I was initially skeptical of the adjustable-torso feature and was prepared to pay much more for a size-specific pack, but I was won over after trying it out. You can really dial in the fit on this pack, without any of the sway or unstability you typically get on adjustable-torso packs. The suspension is simply rock-solid! In fact, I don't think I've ever had a pack that fits me this well and carries this comfortably.
Finally, as I mentioned above, Osprey really thought about the features most lightweight backpackers need and want — and cut out all the extraneous stuff. So you still get really nice features like hipbelt pockets, large stretchy side pockets, a huge front shove-it pocket, and a sleeping-bag compartment. You also get two (removeable) sleeping-pad straps, an external water-bladder reservoir, two short strips of dasy chain, and ice-ax loops. What you don't get is all the extra webbing, fixed pockets, multiple access zippers, included rain covers, etc that drives most lightweight backpackers crazy, and that many of us end up cutting off anyway. You can really tell that the Volt was designed by actual backpackers, as opposed to designers sitting in an office somewhere.
That being said, this pack probably isn't for everyone. It's probably best for backpackers who have already pared their gear list down a bit and are willing to do with a few less features in exchange for light weight. But for those folks looking for a lightweight and comfortable multi-day or weeklong pack, the Volt really deserves a look.
Source: bought it new
Price Paid: $180

For overnight or two-night backpacking trips it would be hard to find a pack better than this. With easy to access compartments on sides of the pack, top of the pack, and at the hips you are never more than a zip away from what you need. Sturdy and rugged this pack is definitely one of the better ones I've been able to use.
Pros
Tons of space
Straps on comfortably
Easy access
Cons
A little on heavy side
Side compartments deep (water bottles hard to get out)
When looking for a backpack I began by looking mainly at pack size and accessibility to the compartments around the pack. For me the Volt 60 was the best fit.  After trying it on at the store I was surprised with the comfort that the hip belts and chest straps provided. I've tried some other packs before and the straps dug into my side, but the Volt has pads that help prevent that from happening.  
Due to most of my trips being one-nighters I wasn't concerned with pack weight too much. I wanted to keep my total pack weight under 20 lbs for 1-2 night hikes and have been able to do so fairly easily.
It's easy to get my gear into and out of, as long as I pack correctly, and keeps the gear close to my back so it doesn't mess with my center of gravity too much.
I've had it for about 10 months and have gone on about 8 overnight trips and 2 two night trips and haven't seen much if any wear yet. Overall I've been extremely happy with my purchase and even a little surprised at the comfort of the straps. Awesome Backpack!
Source: bought it new
Price Paid: $179

Light base weight, fully adjustable, surprisingly comfortable pack at a great price.
Pros
Adjustable torso and fit on the fly waist belt.
Cons
Lacks the bells and whistles of some of the more expensive packs
After searching for a new pack, I realized that my wife's experience with Osprey packs would be my directional leader in my quest. Several of the Osprey packs get rave reviews, but one that flew under the review radar sparked my interest.
I was looking for a pack that would carry enough gear for up to 5 days of winter hiking. Knowing up front I would be carrying a good bit of gear weight I wanted something comfortable, adjustable, and with a low base weight. Now there are lighter packs out there but the Osprey Volt gave me the best of all three worlds combined into one. I opted for the 60 liter volt with the thought that I could easily add the Daylite pack, which would give me an extra 13 liters of storage, plus an extra day pack.
The pack starts off at 3 lbs 13 oz and is designed to carry approximately 45 lbs. I can say that I hope to never reach the 45 pounds, but in preliminary tests with 30 lbs gross weight I was very surprised at how comfortable the pack was. I feel the key reasons for the surprising comfort is the pack's adjustability with a wide torso adjustment and fit on the fly waist belt you can simply make this pack fit with a thin t-shirt all the way to a heavy layered up parka. 
While it may not have some of the bells and whistles the other packs have I find it to have just the right storage compartments for me and my gear.
The bottom line is I would recommend this pack to any of my friends, and as a matter of a fact we are ordering the women's version for my wife next week.
Source: bought it new
Price Paid: $179.99

Your Review
Where to Buy
Help support this site by making your next gear purchase through one of the links above. Click a link, buy what you need, and the seller will contribute a portion of the purchase price to support Trailspace's independent gear reviews.
You May Like
Specs
Price
Historic Range: $72.73-$200.00
Reviewers Paid: $129.00-$180.00