MontBell Alpine Cruiser 2000

The Alpine Cruiser 2000 has been discontinued. If you're looking for something new, check out the best mountaineering boots for 2023.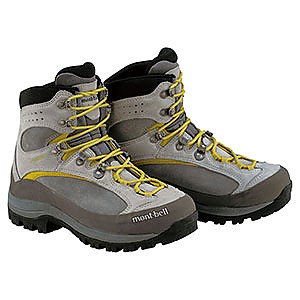 Exceptionally light and fast alpine boots. The Japanese know a lot about snow, and it shows in these boots. These are technical mixed-climbing boots. You could wear them almost anywhere.
Pros
Lightweight
2mm thick leather
Comfortable
Gore-Tex fabric box
Re-sole service available (Japan)
Cons
None I can think of
Lack of product information in English
These are beautiful boots resulting from a complete chance purchase. We had a family holiday booked and paid to the snow — but there was almost no snow. Anticipating a week of snow / slush / bush-walking in lieu I made a last minute decision to invest in a good pair of boots.
I walked into the Mont-bell Australian partner (Larry Adler Ski & Outdoor) at Jindabyne and they had quite a selection of boots but these caught my eye. The RRP of $299.99 AUD was discounted to $239.99 which helped.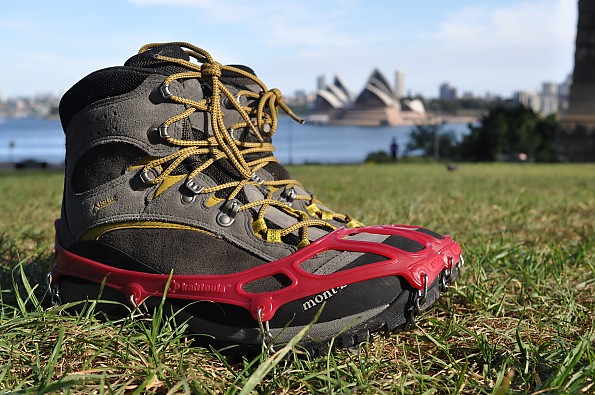 I had never given Montbell much thought but discovered that they have been around for over 40 years (since 1975). They focus on creating high quality / lightweight outdoor clothing and equipment. Their brochures describe the "Light & Fast™" philosophy. They aim to do so without compromising quality, durability or function. I can see all that in these boots. Reading the blurb I was entertained to see that the Japanese Astronaut, Naoko Yamazaki wore Montbell clothing in the Space Shuttle.

Japan has a really rainy / cold / snowy climate so I guessed / took it on trust / that they know something about snow. Any country that gets up to 20m of snow should know a bit about snow boots.
What won me was the comfort. They were the most comfortable pair of boots that I have ever worn (new) so I bought them on the spot with zero research. Not usually my style. I have only walked 20km in them so far.
I am not quite sure what the distinction is between alpine and mountaineering boots in the Mont-bell world. Their website does not say much, they make 12 types of mountaineering boot and two types of alpine boot. These fall into the alpine category but I really think that there is something lost in translation. From what I can work out from the limited material in English on their website and Google the key specifications are as follows. 
Main material: artificial leather

Weight: 863g each (for US size 10) using my kitchen scales

Sole Material: "Trail gripper"

Heel height: 4 centimeters

Colour: Gunmetal

The thickness of the sole: 1cm (from manufacturer)
I don't think they are insulated but it is impossible to tell without pulling them to pieces. There could be a thin layer of something in there. You don't need insulation in Australia, it doesn't get cold enough. They do feature a nicely padded construction around the ankle.
As luck would have it, it snowed overnight and I ended up doing very little walking in them. The lodge is about 1km from the village and I did that everyday for a couple of weeks so I have not really given them a good test yet. Perhaps next year. 
They don't sell a lot of boots like this in Australia, but for comparison purposes, the closest boot I can find online is the The North Face Verto S4K Glacier GTX. The Outdoor Gear Lab scored them 10/10 for weight and 10/10 for hiking and I think these deserve the same score. Other very similar lightweight technical boots are the:
In the few words on their website, Montbell say that these are suitable for mountain climbing, trekking to huts, and also for nimble hiking. These are mixed-climbing boots. They would not work with step-in crampons but they would certainly work with most crampons.
The design means that there is a reasonable degree of ankle flex so they have many of the waterproof benefits of mountaineering boots but the comfort of hiking boots. They are a premium boot with supreme comfort. I speculate that there must be some type of waterproof membrane but I cannot read Japanese. On mountains the toe-zone will certainly kick steps without any problems and they are stiff enough for almost any traverse.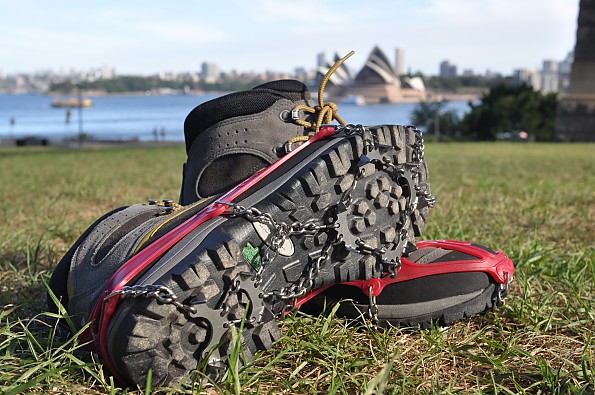 They are pictured here with my new Kahtoola MICROspikes (there is not much snow in Australia at this time of year if any). So I took a photo across the harbour from the Sydney Opera House. I won the MICROspikes on Trailspace last month. Huge thank you to Kahtoola.
I think that the MICROspikes are a perfect match for this type of boot. Only time will tell. Will update this review when the snow starts falling which is in June in this part of the world.
When I was younger I used to trek the 10km to Blue Lake with all my ice climbing gear, huge leather mountain boots, often on X/C skiis. Half the time there was no ice when we got there. Bottom line is that for our climate in Oz these are a much better proposition!
To convert that to the U.S., I suspect that these would be a pretty good boot for anyone needing mixed hiking-climbing boots up to about 14,000 feet or so. Above that and you would need better insulation. If you are really technical you need a full-shank or plastic boots.
Source: bought it new
Price Paid: $240 AUD

Your Review
You May Like