MontBell U.L. Alpine Down Hugger Thermal Sheets

The U.L. Alpine Down Hugger Thermal Sheets has been discontinued. If you're looking for something new, check out the best warm weather down sleeping bags for 2023.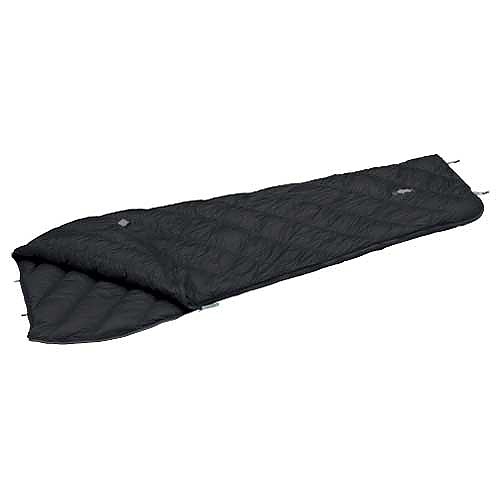 About a year and a half ago I decided to seriously lighten up my summer pack weight by trading in my 3-pound, 20-degree sleeping bag for an ultralight summer sleep system. After considering several bags and quilts by Big Agnes, Feathered Friends, Nunatak Gear, and Western Mountaineering, I settled on the MontBell U.L. Alpine Down Hugger Thermal Sheets, a hoodless version of MontBell's 50-degree down sleeping bag.
(A note on naming: the U.L. Alpine Down Hugger Thermal Sheets is not a set of sheets in the traditional sense. It's a tiny little ultralight sleeping bag that can also be used as a quilt and happens to have an inaccurate and extremely cumbersome name. The name notwithstanding, I'll refer to the sleeping bag in the singular. MontBell has recently rechristened this product, with some minor changes, the "U.L.A.P. Thermal Sheet.")

For ultralight summer backpacking in consistently warm climates, this sub 1-pound bag is a great choice. For higher elevations where low overnight temperatures are common I would probably consider something with a bit more loft. But if you're comfortable going light, know your limits, and are prepared to be a bit uncomfortable when the temperature turns cooler than expected, the MontBell Thermal Sheets can be a good choice.
My first test of the Thermal Sheets was an August trip to Utah's High Uinta Wilderness. Not being sure quite what to expect from the bag's scanty 4.6 ounces of down, I packed an extra insulating layer, which I ended up using when the overnight low on our third night dipped into the 30s – well below the intended range for this bag. While I wasn't entirely comfortable during those coldest early-morning hours, I managed to bundle up and sleep reasonably well. (I should note that I'm a warm sleeper. If your internal thermostat runs on the cool side, this is probably not the bag for you.)
Anywhere below about 50 degrees the MontBell Thermal Sheets definitely require some supplemental insulation. Long underwear, a light hat or balaclava, and light fleece gloves have served me well on many occasions, but with so little insulation in the bag, how low you can go will really depend on your personal metabolism, clothing, and sleeping habits.
MontBell has wisely chosen not to specify a comfort rating. How and when you use this bag will be largely dependant on your individual needs and experience.
The MontBell Thermal Sheet packs down into a laughably small stuff-sack, just a bit smaller than a 1-liter Nalgene bottle. Upon being pulled out of that stuff-sack, it takes a bit of coaxing to get much loft into the bag. A fair amount of shaking and manual shifting of the down is required to fully loft the bag. Even fully lofted, it appears basically flat, which has earned me a number of skeptical comments from tentmates unfurling their lofty 20-degree bags.
The bag's continuous baffles allow you to redistribute the down depending on whether you're using it as a bag (zipped) or a quilt (open). In warmer weather I use it as a quilt, spread loosely over me and my pad with the down distributed evenly. This is a very comfortable way to sleep in the heat of summer, as I can easily control my temperature just by spreading out or curling up a little bit. The bag provides enough coverage on the sides and feet to prevent most drafts, although it's obviously impossible to get a good seal around the neck in cooler weather this way. The 50-degree mark is about where I start zipping it up, redistributing the down to the top half of the bag, and taking advantage of the cinch cord at the neck.
The lack of a hood hasn't bothered me. I tend to sleep most comfortably on my side and stomach, and mummy bag hoods have a tendency to just get in my way. With the MontBell Thermal Sheet I've been able to twist and turn all night without trouble.
The zipper is a weak point. With no draft tube (to save weight), the zipper is noticeably cold. When sleeping with the bag zipped up, I try to keep the zipper underneath me, which seems to take care of the draft. The other problem with the zipper is that it very easily works loose and opens up during the night, despite a Velcro tab meant to hold the bag together. (MontBell has acknowledged this problem and revised the zipper design in its newer sleeping bags.)
The small size and light weight can encourage use as a safety backup on day trips. On several long winter day hikes in New Hampshire's Presidentials, I've stuck the sleeping bag in my day pack as a bit of extra insurance and insulation should somebody get hurt and need to hunker down. It's barely noticeable in my pack. The MontBell Thermal Sheet could also make a decent liner or over-quilt to add a few degrees of warmth to another bag, although I haven't experimented with either setup.
Design: hoodless mummy / quilt
Fill: 725 fill down
Temperature Rating: unrated -- the hooded version of this bag is rated at 50° F
Weight: 12 oz. (manufacturer's claim), 14.7 oz. (measured weight)
Price Paid: $170

Your Review
You May Like
Specs
Price
Historic Range: $170.00-$199.00
Reviewers Paid: $170.00

Recently on Trailspace