MontBell U.L. Super Stretch Down Hugger #2

Top 25 in unisex 3-Season Down Sleeping Bags
The U.L. Super Stretch Down Hugger #2 has been discontinued. If you're looking for something new, check out the best 3-season down sleeping bags for 2023.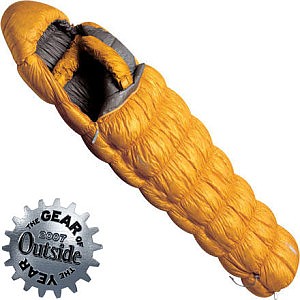 I'm no skinny guy and add that to the fact that I toss and turn in my sleep so this is the bag for me. I've had mine a couple of years and it's nothing but comfortable and warm.
It gives me the room I need and has kept me warm down into the low teens, with no extra clothing on. It might be OK to even lower temperatures but I haven't tried it.
All of that plus it seems to be really well made. I've used it a bunch of times from 2 day to 2 week backpacking trips and it's holding up just fine.
Design: mummy
Fill: 800 fill down
Temperature Rating: 25 farenheight
Weight: 1 pound 12 ounces
Price Paid: I don't remember

I have been an avid backpacker for 12 years and all this time I have used the same North Face down bag I purchased in the begining. This original restricting device is warm, but it is also heavy and much bulkier than the Montbell bag.
The design of the Montbell bag is genius. It stretches a considerable amount to allow you to move around in your sleep without feeling like you're in a mummy bag. I used the bag for the first time last weekend on top of Rabun Bald sleeping under an ultralight tarp. The temperature dropped to around 30 degrees and it was windy as all get out. The bag performed great! I even had enough room to allow my dog to snuggle with me out of the cold (English pointer).
So to break it down for ya, there was enough room for me and my 50 lb dog to sleep together in below freezing weather without either of us getting the slightest chill! And it's under 2 lbs!!! I will be a customer for life!
Price Paid: $320

Awesome bag! It's so hard for me to sleep in anything else. This bag is very comfortable. I can freely move my feet, knees, legs, and arms around during the night. I have never slept so well outdoors. I had it in -5 degrees this January and I slept in until 6:30! One small complaint (Fall 2006 model) the velcro that holds the side zipper in the totally closed position comes open very easily. This causes the bag to be half-way unzipped some mornings when I wake up.
Design: mummy
Fill: 800 fill down
Temperature Rating: 25 ferenheit
Weight: < 2 Lbs
Price Paid: $320

I've had this bag for about six months now. I've had it in temperatures ranging from approximately 60F - 28F. At the lower extreme, I was plenty warm wearing a T-shirt and mid-weight Marmot long underwear pants. The only exception was that my feet got cold (had on one pair of wool socks) at various points through the night.
It is by far the most comfortable bag I've ever owned and definitely the warmest. Judging by how well it performed at 28F, my guess is that it would definitely hold up into the high teens wearing minimal clothing and probably close to the high single digits wearing a down jacket and fleece pants.
If you sleep in this bag for one night, you will never go back to a "normal" sleeping bag -- the super stretch system is unbelievably comfortable. I can sit indian-style in my bag when I wake up without the bag coming off or constricting my legs or head. This is an absolutely amazing bag!
I would also like to add that I have had water get on my bag and have not seen any damage due to that happening. It must have leaked out of my CamelBak in my pack and it did get the hood pretty wet. I have seen no bunching or clumping of down since that point. When I saw it had gotten wet, I simply massaged the down in and around the hood area to make sure there were no clumps -- that probably prevented the damage.
The shell itself is semi-water repellent but I have seen better. That would be a suggestion of mine to the manufacturer -- to improve the water repellency of the shell. The shell itself is very light and is almost transparent. I have no rips and tears in mine but I baby it. Just thought I'd add that.
Design: Mummy
Fill: 725 Fill
Temperature Rating: 24F - 5F
Weight: 1lb 13oz
Price Paid: $300

This bag is unreal. It is by far the most comfortable bag I have ever used due to the elastic stretch in the baffles. Super light and really packs down small. Buy one and you'l love it too.
Design: mummy "long"
Fill: 725
Temperature Rating: 5 F
Weight: 1lb 15oz
Price Paid: $320

Your Review
You May Like
Specs
Price
Historic Range: $164.07-$320.00
Reviewers Paid: $300.00-$320.00

Recently on Trailspace