Montrail Hurricane Ridge XCR

The Hurricane Ridge XCR has been discontinued. If you're looking for something new, check out the best trail running shoes for 2023.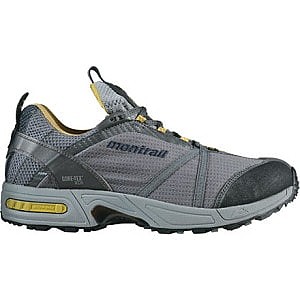 I wore the Montrail Hurricane Ridge XCRs on the Appalachian Trail, GA-VA, for two backpacking trips. One was just under 300 miles, the second was just under 200 miles. Both hikes were April and May. My pack weight was 35#-45#. I started out on the AT with a pair of Vasque boots. I felt every single rock in those boots! So, my husband sent me the Montrails. They were a godsend!
When I went out onto the trail the second time I was fighting a bad case of plantar fasciitis. These shoes gave me enough support, biomechanically, that after the trip I no longer had plantar fasciitis. That's more than I can say for my "everyday life" shoes.
The shoes kept my feet comfortable, warm, and dry. I misstepped into a mid-shin deep creek, and submersed my shoes, but the socks and my feet remained dry. My feet tend to get hot, but while putting in those miles they didn't in the Hurricane Ridge XCRs.
The only issue I had was that one of the plastic shoe lace loops, p at the ankle, broke off while on the AT. Other than that the shoes were excellent!
I like the Montrail Hurricane Ridge XCRs enough that I am contemplating using several pairs for everyday shoes. Thanks to Montrail for these excellent shoes!
Materials: Gore-tex
Use: Backpacking/long hike with heavy pack.
Break-in Period: None
Price Paid: approx. $125

I've owned dozens of models of road and trail shoes over the years and I've never been more pleased with one pair of shoes than I am with these! I've worn these shoes way way out and I'm buying a new pair today.
I've used these for summer mountaineering and multi week treks in the Rockies, up ridges and down snowfields in AK and Canada, in several mountain races, easily over a thousand miles of trail running (not smart with one pair of shoes, even these). I've had my lightweight crampons strapped on these shoes while exploring the outskirts of the Juneau Ice Field, walked right through rivers and continued in wet shoes for hours without any discomfort, through deep slot canyons in the San Rafiel Swell and Robbers Roost, and currently I use them while guiding mountain and glacier hikes on Spitsbergen at 78 degrees north.
Bottom Line is this, a pair of shoes usually doesn't last me 6 months and I've had these for two years working in the outdoor guiding industry year round. I would have gotten rid of them before now but it's honestly hard to part with them after everywhere they've taken me. Those who just want to look the part can never appreciate all that these shoes can do-
There's not much to say. I bought a pair of Hurricane Ridge shoes new from an eBay seller, and they arrived in the Montrail box. They looked good. They were my correct shoe size. But then I tried to put them on my feet.
Although I was successful in cramming my feet into my pair of shoes, they were waayyy too pinchy-toed to walk far in. I took the insoles out and tried again. Still much too narrow, and the box said they were "medium" in width. Ha! No way I'm hiking in these.
I have had similar problems with other shoes in Montrail's "velocity" line, but never to this extent. I was able to make my Hardrocks good-wearing shoes by giving them the "freezer treatment" to widen them a fraction of a size. Now they're OK, but they were a little too narrow before. However, there is just no way the Hurricane Ridge shoes can be widened enough to be usable. Not by me, anyway.
This isn't a problem with Montrail's Fusion series. My first really GREAT pair of shoes was a Montrail TRS Comp, which I still have. Why couldn't Montrail just keep a decent width on the Hurricane Ridge? It's a pretty shoe: but it's just too narrow.
Materials: Synthetic leather and nylon
Use: Chinese woman's foot shrinking machine?
Break-in Period: I'd break my feet first.
Weight: 14 ounces
Price Paid: $76

The sole started coming off on my first pair after just a few days. I had them replaced and immediately ran into the same problem. After returning the shoes, I bought another pair on sale at another vendor. The sole lasted a bit longer but still started to come off at the edges after a few weeks.
More worrisome is the fact that after a few month, the upper mesh started to break at the areas where the material gets bent while walking. This is reinforced by the stiff plastic elements built around the upper and lower end of the upper material. This happened on the right and left shoes and on both, inside and outside part in a very symmetrical pattern. It suggests bad design.
After a 1/2 year they look like they are three years old and are far from being waterproof even with Gore-Tex. I would not buy these shoes again. However, I must note that they were always very comforable and that there was virtually no break-in period. That's what caused me to try them again at the beginning. Not anymore!
Materials: gore-tex and others
Use: everyday use for walking, cycling and short hikes
Break-in Period: few days
Price Paid: $90

This shoe was comfortable out of the box and worn on an Appalachian Trail section hike of 80 miles the first week I owned them. I liked the sturdy sole which is stiffer than other trail runners. I was carrying 7 days of food and my start weight for the pack was 38#. This shoe was perfect for the load and the varying terrain.
They did NOT keep my feet dry on this hike with Hurricane Ivan's torrential rains. I am not sure that any shoe could have kept my feet dry that day for 12 miles. They did dry very fast. The black pair bled red onto my socks (from around the top collar) but that collar also keeps rocks and other debris out of the shoes.
I would highly recommend these shoes for long distance hikers who are looking to shed some boot weight. I was not sure that I could hike a distance in these but the guy at the store convinced me that trail runners were what other thru hikers were doing.
Materials: Goretex
Use: long distance hiking, day hiking and walking
Break-in Period: none
Weight: 14.7 oz. each shoe (manufacturer says 12 oz)
Price Paid: $115

I have been running trails with Montrail's Hurricane Ridge for over two years. I have tried other shoes (other Montrails, Nike trail runners) but keep coming back to my Hurricane Ridge shoes. The previous reviewer was correct, that beyond a certain point, your feet will get wet. However, I am always impressed at the streams and puddles I can skim over and stay relatively dry.
They are incredibly stable and, like the previous reviewer, I'm taking them on an extended through trip. For the protection they give, they are relatively light. The only drawback I've experienced is they can get hot on long runs on warm, dry days (when you don't really need a shpoe like this, but it just goes to show you how much I prefer these over anything else!). If you are a serious overpronator, look at the Montrail Hardrock.
Materials: gore-tex
Use: rugged trails, no pack, avg. 6-10 miles
Break-in Period: none
Weight: about 14oz plus dirt
Price Paid: $115

Good for ultra endurance races ... Errrr .... No !
Montrail Hurricane Ridge XCR is the cheaper to produce version that replaced the Yellow and Mango coloured Montrail Hurricane XCR - Goretex (which by the way was rated as "don't leave home without them".
Thinking Montrail had continued there product excellence I raced a part of the Atacama 2006 250km self sustained race by Racing the Planet with them ... How bad were these shoes ... let's say this: I ran the last 100km in my Crocs (plastic camp site slippers).
I shall wait till Montrail either reintroduces their old Hurricane XCR model or run with another brand. Montrail you had a good product and you know the old saying ... or perhaps you don't "If it ain't broke, don't try fix it"!
Materials: Cheap
Use: to the tip then chuck them in
Break-in Period: yes ...
Weight: lots
Price Paid: 130US$

I wanted so much to like these. I got a pair from REI (thank God) and wore them to class. My feet FROZE--I realized it was because they sweated, and then flash-chilled. My feet were never the right temp. They do have great traction, though. But I wore them on a rainy walk--not hike--and my feet got soaked fast. The Gore-Tex just didn't work at all. I returned them for another pair--thought it just had to be a fluke. Wore the second pair for a couple weeks, still my feet were first hot, then frigid. It just didn't work out. I hated returning two pairs, but I was not at all happy.
Materials: mesh, plastic reinforcement
Use: walkin around
Break-in Period: none
Weight: heck i dont know
Price Paid: $90

My favorite pair of Montrails. Used primarily for trail running but also great mountain hiking shoes. My first pair has almost 800 miles on them but are still in decent shape. Even with the gore tex lining the shoes are lightweight and not very hot in the summer.
My only complaint is the red liner that "bleeds" on all your socks after heavy sweating and will not wash out. I'm on my second pair now and fortunately it came with a blue liner. I've reluctantly relegated my first pair to lawn mowing use after serving me well for 800 miles.
Materials: gore tex
Use: trail running and hiking
Break-in Period: 25-50 miles
Price Paid: $74.95

I have worn a pair of Montrail Hurricane Ridge shoes for a year, running through the Colorado Rockies, and they are the best shoes I've ever owned. Their traction is superb on any surface, my feet are never too hot or cold, they were immediately comfortable on my feet without any breaking in period, and they completely prevent my tendency toward pronation. I've finally worn my first pair out, and I will definitely replace them with another pair of Hurricane Ridges.
Use: Train running, dayhikes.
Break-in Period: None
Price Paid: $120

I'm currently on my 3rd pair and I love them. I wear the soles down! They're comfortable, waterproof and attention-grabbing. I've tried the Montrail Continental Divide and Vitesse, but came back to Hurricane Ridge because of better comfort and traction. Some people recommend ordering half a size larger, but I find that my normal size is just right. The only drawback I would say about this shoe is its lack of breathability due to Gore-tex.
Materials: Gore-tex
Use: long day hikes, peak bagging, short trail runs
Break-in Period: 2 days
Weight: 115 lbs
Price Paid: $110

I have heard a lot about these shoes, good and bad, but I have to tell all, these shoes are the greatest I have ever had in terms of the trail. They break in quick, they are light, agile, and they wick moisture like water doesn't exist. I would never leave home without these, even if I were to climb Mt. Everest, I still would put these in my pack as back up!!!
Materials: gore-tex
Use: dayhike and long trail
Break-in Period: 1 week
Weight: 14oz
Price Paid: $115

I think my problem with this shoe actually stems from an anatomical issue. My mid arch is just way too high to work with this shoe. I just bought them today, did a quick run in them, and my mid arch just ACHES on both feet. I'd like to give them more of a shot, but I don't think my feet can take it.
Materials: Gore-tex
Use: trail runner, winter runner
Break-in Period: less than 1 day
Weight: 150 pounds
Price Paid: $125

I bought these shoes after much trial and error with other other brands of trail runners. I did my first 20k trail run last week, in some very sloppy, slippery, and rugged trail. I have to say that they performed flawlessly. No problems with traction, the sole was very rigid I felt almost nothing, the Gore-tex worked liked expected, my feet were dry; as the rest of my lower body was not. I had no knee, ankle or foot soreness afterwards.
Though I did buy these about a month before the run and they broke in very nice. I must say that the only thing I would change about this shoe is the bedliner it comes with, after about a week in the original my feet were constantly sore in the arches, I changed them out and it's now all good.
Great performing shoe!!!!!!
Materials: Gore-tex
Use: trail running, dayhikes
Break-in Period: one month
Price Paid: $125

Your Review
You May Like
Specs
Men's
Price
Historic Range: $30.61-$125.00
Reviewers Paid: $74.95-$130.00

Women's
Price
Historic Range: $16.26-$125.00
Reviewers Paid: $100.00-$125.00

Recently on Trailspace