Montrail Moraine AT

The Moraine AT has been discontinued. If you're looking for something new, check out the best backpacking boots for 2023.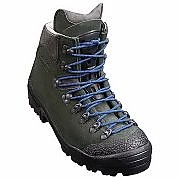 Bought these boots a little over a year ago and I really love them. These were a replacement for a 15 year old pair of Asolo Ridge boots (actually had a pair of Merrell Superlight Hikers for about a month in between...what a mistake..they are a terrible boot). I tried on quite a few boots before settling on the ATs (Asolo 520s, Vasque Sundowners, etc.) I chose the ATs because they had the best fit for me.
So far I have about 200+ miles on the boots and not a single blister. I did replace the standard insoles with Superfeet. I live in W. PA which is a great testing ground for equipment as we are faced with all kinds of weather and trail conditions. I have hiked in deep snow and single digit temps, spring mud, through streams, in summer heat and the boots were great in all conditions. They are very waterproof (I use Nik-Wax and Seam Grip on all exposed seams) and they are also "rock proof" (PA has some of the rockest trails... ask any AT thru-hiker).
First serious backpacking test in the boots was the Dolly Sods Wilderness in Monongahela National Forest. I was very impressed. I carried a 50lb pack up and down some very steep wet and rocky trails with no bruised toes and no blisters (and boots were not really broken in yet).
If you are looking for a serious backpacking boot, I would definitely give these a try.
Materials: Leather
Use: Heavy backpacking and off-trail
Break-in Period: 50-100 miles
Weight: 4 lbs/pr.
Price Paid: $225

These boots are super tough! Just returned from a 23-day Colorado Outward Bound expedition in southern Utah, and these boots still look fairly new (after a long cleaning session, of course). The AT's were put through some of the most difficult mountaineering (La Sal) and canyoneering (Canyonlands) treks I had ever done with expedition loads, day after day for 23 days, and I emerged with just one tiny blister.
If only you could see what had happened to those feet of the rest of my patrol-mates!! In addition to massive blistering, a pair of Merrells fell apart completly (held together by duct-tape), the Asolo 535 II's looked like they were chewed by a bear, and the new Asolo Globolines were almost smooth across the sole and were leaking badly from the forefoot flexing points, just to name a few. The Vascque Alpines and Superhikers did reasonably well, but the two of us who wore the Moraine ATs had the most happy feet. If these boots fit you, I would recommend buying some extra cushion under the balls of you feet so you don't end up bruising them like I did (only after carrying massive packs for three weeks straight).
Materials: Rough-out leather
Use: rough trail w/ heavy pack
Break-in Period: 2 months walking to/from work (1 mile each way)
Weight: 50+ lbs
Price Paid: $225

As a ranger in a California wilderness area, I put these boots to the test with over 200 miles last season over the granite and rough trails of the Sierra.
Unlike their predecessors, the One Sport Moraine, these boots were very difficult to break in. On the other hand, I didn't have the separation problems I'd had with the One Sports. Leather shrinkage remained a problem with multiple stream crossings, even with the precaution of air drying the boots well away from any heat source, and stuffed with newspaper.
The boots have very good granite gripping ability, but I had to tape my heels regularly throughout the season to contend with heel hotspots. I was a diehard fan of the old One Sport Moraines (although I had to replace the boots yearly due to wear) because of their comfort and nonexistent break-in time. Montrail's attempt at upgrading those boots to be longer lasting, more supportive and tougher was successful, but at the expense of comfort.
Regrettably, I'll be changing brands for next season.
Materials: Leather
Use: Rough trail, heavy pack, extended backpacking
Break-in Period: three month solid hiking
Price Paid: $225

These boots are really great. I owned a pair of Montrail Vercors before the Moraine ATs. These are very similar boots except that the Moraines are even more comfy. The break-in period was really short compared to the Vercors (I am not sure why). The integra fit really works for me. I have a flat wide foot with an exceptionally narrow heel. The glove leather lining just molds to the foot and it is really comfortable. It only took about 10 miles before the boot started to feel more comfortable. The more I break them in, the better.
I would highly recommend this boot to anyone who fits the integra fit system. They are bomb proof. Traction is wonderful as is the lateral stability. I have tried Lowa Scout, Lowa Banff, Scarpa Delta, Merrell Ridge too. The Moraine is tops out of all of these.
Materials: 3.0 Perwanger leather
Use: day hikes, and rough trails
Price Paid: $150

The oohs and ahhs of this boot are short lived with me. Had this boot for over a year and still can't break these buggers in!! Actually I don't think they fit correctly either. Even with freshly cut nails my big toes always end up eatin' my socks. Heel slippage is a serious issue and the Integra Fit system isnt that effective. I have worn these boots with several combos of socks, for work, play, trail and around town and they are still not to the point of comfort I have with my Garmont K2's which are even stiffer and newer. I deeply considered compromising the leather with oils to soften them but i'm not that dumb.
If you want a goody this aint it. No wonder they were on close out. Do yourself a favor and get some Sundowners or Garmonts.
Materials: 3.0mm Leather
Use: Heavy Bapacking/ Light Mtnring
Break-in Period: Centuries beyond your lifespan
Weight: 4
Price Paid: $135 closeout

My first real pair of off trail boots and I must say thoroughly impressed. Originally Gore-Tex was a priority but I heard that the New buck if taken care of properly was pretty waterproof and it has proven to be. I think the only time I have gotten wet is when water has seeped under my gaiters, and over the top of the boot (Mtn Ventigators) or I was standing in the river too long like an idiot! Support is awesome, as is cushioning, and the Vibram soles are confident inspiring.
I think that 2 words sum up these boots -- Confidence Inspiring... -- plus the tag that is on the iside tongue of the boots (which I did not notice till about 9 months later after purchasing) .... I suggest you try the boots to see what it says - it's only the truth!
Materials: Rough Out Leather
Use: Moderate trails with moderate pack
Break-in Period: 7 days
Weight: 2 lbs
Price Paid: $260 Cnd

HaHa! So no one wants to buy the AT in the stuck British Rambling community. Thats why they were so cheap. Yeah I spent the best part of a day searching for 3/4 season boots with C1 crampon capability. These were the best fit and no price is not my only criteria.
Had one heel blister for the first try out (6 miles) then nothing since. Nikwax them and they are waterproof. Stand in a bog or stream and they are okay no soggy socks.
Tough you betcha, beats going up Snowdon in trainers eh?
Are they heavy? Probably but I thought they compare well enough with Scarpas, Meindls, Sportiva and all that.
Buy them, but for your sake check you buy the right size for your feet, and good socks don't go a miss, but that goes for most footwear.
Materials: Leather 3mm fullgrain
Use: Rough trail, scrambling, hi level walking
Break-in Period: <1month
Weight: 95kgs Mine or the boot?
Price Paid: £87.50

I love these boots. The integrafist system really clamps down on you heal and keep your foot in place. The toe is also quite roomy, but i have narrow feet. The best part is that the toe is protected with a thick rubber on tope which is always the first part to go on a boot for me. Totally water tight and the tounge offers a neat velco thing so you can move it about and adjust it seprate from the sewn in tight tounge. I am rarely on the trails and have put in about two months on jumping around on sharp rocks and have seen very little wear to the sturdy soles. They do take a while to break in but are supper once you take the time. Worth every dime.
Materials: Leather
Use: Long hikes very rouch bushwackers. Real Heavyweights
Break-in Period: 1 week of daily use.
Weight: 4 lbs.
Price Paid: $225

I bought these at REI prior to my first lengthy backpacking trip (14 days in the Colorado Rockies). I "broke them in" by wearing them when I walked my dogs for a few weeks beforehand, but that was it. They ended up working out amazingly well on the trip and I never had a single blister over two weeks while my friends (including someone wearing La Sportiva Makalus) were forced to use mole skin. I was very impressed.
I have used them a few times since (once for a week in Canyonlands, Utah, and for a week on Annapurna, Nepal) and they have still never let me down. Overall, these have proved to be tried and true favorites. I highly recommend them.
Use: mainly multiweek trips
Break-in Period: few weeks
Weight: not sure, but they are pretty heavy
Price Paid: about $200

I'm still working with these boots after a year, pleading with them to break in. I have moved into a sandal wearing culture across the Atlantic from my beloved southern US home, and my daily flip-flop wearing has made my heels go soft. Consequentially I get horrid blisters from these boots when I make the occasional trip into the Moroccan backcountry. I carry between 40 and 50 pounds in a damn fine Dana pack and while the boots are generally comfortable for the first few hours of wear, I usually come home with bloody heels--my last trip is costing me two toenails from a strenuous 4000 foot descent as well. I want to like these boots but am currently investigating others as their replacement.
Materials: Nubuck
Use: Rough trail
Break-in Period: Still figuring that out
Weight: 4
Price Paid: $225

I have had these for over two years. I backpack around 6 to 8 times a year. The boots bend in the wrong places (cut into the back of my toes). I took them back to the place of purchase (Blue Ridge Mountain Sports) but was told that Montrail doesn't replace or refund. They did try to work out the folds, but to no avail. I have been rubbing in saddle soap to soften the spots behind my toes, but it doesn't last very long on the trail. When I get the money, I will be buying a different brand (Limmer). All I can say is 'buyer beware.'
Materials: Leather
Use: rough trail with 45lb. pack
Break-in Period: Not there yet
Weight: 4 lbs
Price Paid: $225

The Montrail Moraine AT fit right out of the box. I put Superfeet inserts in them and wear them with a pair of liner socks (FOX river or polypro) and Smartfeet or Bridgedale socks. The boots fit my feet wonderfully and I've never had even one blister. I streached out hotspots after my first hike in them. I stop every two hours to change socks and let the boots and feet dry a bit. Been using them for two years and am about to get them resoled. I have several other boots, Vasque, Boreal, etc and these are the best I've ever worn.
Materials: leather
Use: rough trail
Break-in Period: 1 week
Weight: 4lb
Price Paid: $225

You know, I've never written a review before, but after seeing some of the comments written about the Montrail Moraine AT's I couldn't help myself. I am finally retiring my Moraines after 6 dutifull years of service. I was looking for another pair at the best price when I stumbled across these reviews. They are by far the most comfortable boots I have ever owned. They have seen me through Yosemite, Jackson Hole, Southern Illinios, Upper Michigan, Arizona, etc... With proper fitting when you buy them, and proper care when you use them, you can't buy a better boot for your money.
Materials: leather
Use: rough trail w/heavy pack
Break-in Period: 1 month (walking around town broke them in)
Weight: 2-1/2lbs.

I agree with other reviewers that it takes a long time to break in these boots. During the break in, I laced these boots while wearing strips of mole skin on my heels to prevent blisters. After a few years, and Superfeet I no longer wear moleskin.
These are tough, durable boots, and the long break in can be expected. I have used a powerwasher for years to clean these boots. With a heavy pack, these boots provide good support.
Break-in Period: 15-20 miles
Price Paid: $135

I have been using this boot for 4 months. I experienced a hot spot on the forefoot in the beginning. I still experience the sensation but not as bad. It seems that the Integra fit is not working. The boot is durable and traction is good. Support is also commendable. My only concern is the comfort of the boot. I hope after more usages, the hot spot will disappear.
I would not highly recommend this boot.
Materials: 3mm Full Grain Leather
Use: Easy to rough trail (light and heavy pack)
Break-in Period: 1 month
Price Paid: $225

It took a little while for the boot and my feet to get acquainted and friendly, but this seems like a very fine boot. Holds hybrid crampons solidly. Great downhill support. Stiff enough for light climbing and general glacier travel. Seems pretty impervious to water. Breathes well (although I've used mostly in winter).
Materials: Roughout Leather
Use: rough trail, light climbing
Break-in Period: 2 months
Weight: Not light
Price Paid: $225

Your Review
You May Like
Specs
(no Gender)
Price
Reviewers Paid: $135.00-$225.00

Men's
Price
Historic Range: $99.95-$209.95
Reviewers Paid: $135.00-$200.00

Women's
Price
Historic Range: $55.96-$209.95

Recently on Trailspace