Montrail Torre GTX

The Torre GTX has been discontinued. If you're looking for something new, check out the best backpacking boots for 2022.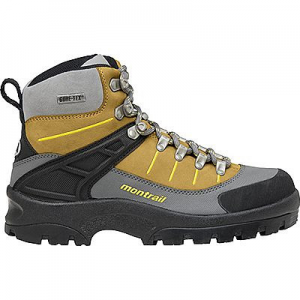 Specs
Men's
Price
Historic Range: $39.99-$175.00
Reviewers Paid: $25.00-$179.00

Women's
Price
Historic Range: $0.01-$175.00

Reviews
18

reviews

5-star:

7

4-star:

6

3-star:

1

2-star:

1

1-star:

3
Lightweight and breathable because of the Gore-tex materials, but extremely tough. I've taken these boots through every terrain and temperature. I've climbed up to volcanic glaciers, trekked through the rainforest, hiked through the outback and survived monsoons all in pretty easy comfort. They've only just started to show wear in four years after a construction project landed them sole-deep in concrete.

I'd say the Torre is a multitasked boot that can save packing space and weight. I use it as my rain boot, hiking boot, and snow boot too. I would recommend it for adventurers who plan on experiencing a lot of different activities or who aren't sure what they'll come across or do.
Pros
Lightweight
Versatile
Sturdy construction
Cons
Takes some adjusting
Kind of clunky
Inflexible around the ankles
The Torres fit pretty nicely although it took me some adjustment. The materials don't make for a very flexible fit, especially around the ankles, and the Gore-tex doesn't really adjust for your feet at all. I often work around this by leaving the collar untied so my ankle can move around better. I tie all the way up when I plan on some serious hiking though, as the support helps me with steep inclines.
High and thick socks are a definite must. Again, because of the material there isn't much grace for an out-of-line toe or misfitted heel. Getting the right size and trying some on before should minimize the trouble but, especially at the start, I couldn't wear the boots without some thermals.
I have never had a problem keeping the elements out of my boot, or keeping heat/temperature in. Unless I have the collar untied, no dirt, damp or snow can get in.
I really appreciate how consistent the Torres traction has been, be it sand, soil, rocks, snow, I've never felt like I had a problem with traction, except for maybe wet mossy rocks.
The construction and durability has been fantastic. I've had the boots for four years, taken them all through Ecuador's volcanoes and cliffs in the winter, the Amazon, backpacking though Europe, hiking through the Appalachian Trail and camping in the Adirondacks in the summer, walking the width of Ireland in the fall-winter, and trekking from Adelaide to Darwin in Australia in the winter.
Source: bought it new
Price Paid: Bought on sale under $100

Good trekking boot.
Pros
Easy lacing
Vibram sole
Waterproof to ankle high
Cons
Ankle not as well supported as some others
Bought these used in size 15; Normally I wear a 13 so they are a touch long in front and I tend to stub my toe. Otherwise they work pretty well for me. Good arch support and lacing system is excellent.
Vibram sole has a sole pattern I would characterize as mud shedding medium traction. Seems to work OK on desert scrubs and rock hiking.
Ankle support is not spectacular, but this is a mid-height trekking boot. Not a heavy hiker or mountaineering boot. Not sure this form factor could actually be that much better.
Looks—tan leather and black rubber toecap, sole and ankle strap. Not obnoxious, can wear it around town without people asking where you left your backpack.
Source: bought it used
Price Paid: $30

Comfortable at first if a bit narrow for my feet. Toe box blew out fast as a result. One of the eyes pulled through the leather. Found the boots to be more comfortable with two lowest sets of eyelets left unthreaded and unlaced.

Dangerously slippery on wet surfaces, and I mean seriously dangerous, just walking on wet metal grates in the street or wet wooden decking. I have literally fallen flat on my back like in cartoons by just casually hopping onto a deck wet with dew in the morning!
Pros
Comfortable right away
Most of boot is durable
Cons
Leather is thin and tears easily at seams. Compensated for by relatively thick backing, but that doesn't really help that much where it's sewn.
EXTREMELY slippery on wet surfaces!
Toe box seams appear to be a weak point as some other reviewers have noticed.
Got these boots and wore them quite a bit at first until things started to go wrong. Within the first year they started to split on the left boot. Normally when shoes are slightly too narrow on me they either stretch out or split the right one first because I'm "right footed," so my right is slightly larger.  
Not so here. When I took them in to be repaired the cobbler said the leather was thin and cut too close to the edge of the seam, and the backing was also even shorter than the leather panel, so nothing to sew to. He chalked it up to poor quality control in manufacture.
Then the wet season came. Just crossing the street where there was a manhole cover became a test in concentration and accurate route choice. So slippery I could do the Ice Skate on wet surfaces where Converse would grip like velcro.  
Then it happened: the dreaded fall. I hopped up onto a short deck and my feet literally swept out from under me in one fell swoop and I landed flat on my back, like I had stepped on an ice sheet or something! This was not a really soggy deck or one in constant shade with mildew. It was your average deck that was wet with dew in the morning.  
After that, I shelved them for a while, only to break them out in the summer. Still have to watch it. I fell on my butt washing the car when I slipped on a wet hose, too.
Source: bought it new

THIS REVIEW IS FOR THE NEW STYLE TORRE GTX, NOT THE OLD STYLE!!! TE OLD ONES WERE ONE OF THE BEST PAIR OF BOOTS I HAVE EVER HAD.
I owned 4 pairs of the originals, best boots i have ever owned. Unfortunately i couldn't find a pair of the originals, so i bought a pair of the new ones. second worse pair of boots i have ever bought. the shank pulled loose on the right boot and the left one began to leak. not what i expected. i still had another 8 months in Afghanistan to go. i had my old pair sent over, (these were 2 years old at that point) they did everything i expected.
so for a summary, the 2-year-old pair of the originals were better than a new pair of the new design.
my advice, DO NOT BUY THESE BOOTS. montrail should have left them alone, sometimes you shouldn't try to fix things that aren't broken.
Cons
weak shank
bad waterproofing
heel bed too loose
foot bed not secure
achilles tendon arch on back too weak.
the fit was not the same as the originals, it was a smaller fit. until they started to fall apart and loosen up, then they were too big.
break-in period was short, too short. a good pair of heavy hiking/back packing boots should have a break in period. not supposed to fit like tennis shoes.
they were fine until they started to fall apart, took about 5 weeks for the shank to pull loose and the other boot to start leaking.
support was terrible, achilles tendon still sore from them.
traction wasn't bad, I'm guessing the afghany that picked them up off the road loves them.
CONSTRUCTION AND DURABILITY, bad, bad, bad. the 2-year-old ones that i had sent over lasted me the next 8 months. if you can find a pair of the old style, BUY THEM you will not regret it, they were some of the best boots around.
Source: bought it new

I've owned a size 11.5 pair of these boots for 18 months now. With over 500 miles on the ridges and fishing in the valleys of the Appalachian Mountains, they have proved to be a tough and inexpensive boot. 
I like these boots. I recommend immediately putting a pair of (green) Superfeet in these if you are doing any backpacking.
WaterTIGHT. I've dunked these boots in water multiple times, at times for longer than 30 mins, and I have 100% confidence that they are waterproof.  I intend to continue to use them as my fishing boots.
They have, on one instance, given me blisters. But that was likely not the boot as much as the choice of sock I was using.
I have encountered one serious issue with these boots.  If the (green) Superfeet are not used, expect these boots to hurt your ankles after ~150 miles.  I will not describe the pain these boots caused me with the original inserts.
The leather upper does seem to be separating from the Vibram outer sole but has yet to compromise the water-tightness.
Price Paid: $70

These boots were being closed out at around $90, which was somewhere north of a 50% discount.  Since they had been given generally very positive reviews, I decided to buy a pair of 11.5 wides. 
Now, here's how stupid I am; I wore these, fresh from the box, on a 7 day off-trail trip to the Buffalo Plateau in the Bridger-Teton Wilderness.  I think it is relevant to note that this particular trip involved incredibly muddy horse packing trails, plenty of stream crossings, rocky and bone-dry terrain, snowfields, you name it.  A real obstacle course for boots! 
The Montrails handled everything with absolute poise. This was also the first pair of boots to complete one of my trips without giving me a single blister.  Right out of the box.
While one could say that these boots just happened (luckily) to fit my feet well, there is no denying the support and performance they delivered.  Grip was excellent at all times, I very rarely had to re-tie the laces (which is something all my previous boots have required - obviously these have a good, supportive fit around the ankle area), and I always felt like the support and sturdiness of these boots made them game for anything I wanted to throw at them - from steep angle side-hilling on a game trail to kicking toe-holds into steep glaciers.  They were comfortable, very water resistant, and not too hot for such a sturdy boot.  In other words, the Gore-tex lining worked quite well.
I was so happy with these boots, I bought another pair for $90 as soon as I got back.  I knew the design had changed on these (so this review might be kind of pointless) and I really wanted to go with the exact same pair that had served me so well. 
If you can find a pair of these still, snap them up!  Be sure to get the wides, unless you have narrow feet, because the regular fit is quite narrow (a trait apparently shared by a lot of Montrail's boots).
Price Paid: $90

Fantastic fit for my slightly wider than average size 13 feet. I got the wide version as Montrail's seem narrow most of the time. I had 45 pounds on a 12 mile hike and the boots were supportive and comfortable right out of the box. My narrower heels slipped a little at first until I adjusted the lacing (different techniques included with the boots!) No blisters at all. I do have a tender shin area (from some injuries) that got a little sore the first time out, but lace adjustments again took the pressure point pain away.
Performance wise these are spot on. Great traction for scampering up boulders. Protection is awesome as well. Dry here is Temecula but the recent rains finally allowed me to test the water proofness. Feet were dry and comfortable walking around the neighborhood trails during 40 minutes of driving rain (with gaiters of course). Impressive. Well done. If they fit you, then buy them. You won't be disappointed.
Materials: Leather, Synthetic, Goretex
Use: hiking, back-packing, light mountaineering w/ crampons
Break-in Period: 30 minutes
Weight: moderate for the type
Price Paid: $25 @ Ross

I purchased a pair of these boots on sale at a local outfitter. I had tried on several different boots from other manufacturers, but these were by far the most comfortable. There was essentially no break in period. As soon as I started hiking these felt great.
First, I took these boots on a week long backpacking trip in the Wind River Range. They performed well, though the Gore-tex seemed to do more to hold water in than it did to keep it out. Overall, though, I was pretty happy with these boots at that point. They were definitely the most comfortable boots that I had ever worn for any length of time.
After their maiden backpacking trip, I took these boots on a NOLS semester course. For the first month we were back in the Wind River Range. This time, however, these boots were not up to the task. Within two weeks the leather upper was separating along a seam near the inner side of the toe box on both the left and the right boot. As the semester wore on, the separation grew worse and worse, as the seam continued to unravel. There were large holes in both of my boots allowing you to see all the way to the gore tex liners and beyond. Sand crept into my boots and started to painfully scour my feet.
As far as I'm concerned, these boots are now essentially trash. I might be able to send them back to Montrail to get them fixed, but I'll never trust them again for anything more than a day hike. I'm never buying anything for serious hiking other than single-piece, full grain leather ever again.
Materials: split grain leather, gore tex
Use: heavy duty backpacking
Break-in Period: none
Weight: relatively heavy
Price Paid: $140

When you first pick up these boots, you notice the weight and wonder to yourself do I need boots this heavy? They also feel a little bulky at first, but I was surprised how quickly they broke in for me.
The footing feels solid and lacing feels just right compared to other boots where one has to adjust the laces several times during a hike. The tongue stays put and is trouble free, except for occasional cheat-grass sticker which like to burl itself in the tongue and you have to dig these out, depending on where you hike.
Here is a tip if you decide to buy these boots. Take a very sharp knife or fine tooth saw and cut additional grooves on the sides of the thick soles. Also make the original grooves a little deeper but not too deep where you are compromising the structure of the sole itself. The material that you have cut out, will reduce the weight of the boot by an ounce or three, depending how aggressive you are with your knife. A lighter boot means a lighter step on your long hikes.
Also by deepening the original lugs, you give yourself extra traction. The only drawback to cutting material out of the sole is that mud will stick in the deeper crevices, so do some experimenting by cutting little by little. Also use extreme care when cutting so the knife does not slip and injury occurs.
Overall I had my boots for three years, and put many miles on them. The end came to them when my toe box came apart and my toes came out the top. But this was my fault, since I let dirt and grime accumulate on the boot which weakened the stitching on the toe box. Regular maintenance would of increase the lifespan of these boots.
I am very happy with these, and I went out and bought another pair. These are my main hiking boots, and I do wear them to the office since they are comfortable, (also this is a way of breaking in a new pair of boots).
Richard in Boise Idaho
Break-in Period: 1 to 2 months
Price Paid: $179

I bought these following an exhaustive fitting session at REI to find something, anything, that fit properly after owning a rock-hard pair of Italian snooty-boots that never broke in and hurt like the devil. The Montrail Torre GTX Wide fit the bill perfectly.
They have been awesome in snow and ice and the waterproofing has yet to be penetrated. They are comfortable (like a heavy high-top sneaker, if you're a bit old-school and remember those) but they might be trouble in summer because they don't have breathable areas. That doesn't worry me as I would consider the sweat a great trade-off for having a boot that fits my flat feet.
Materials: GoreTex
Use: Dayhikes, short backpacking trips
Break-in Period: One week of indoor wear
Price Paid: can't remember

I bought these boots for fastpacking, hiking and general backpacking and so far the have yet to disappoint. Although I only have about 250 miles on these boots i feel as though they will continue to serve me well.
Boot provides a solid "mid level" support. They are not hiking shoes and they are not steel shanked mountaineering boots. They have enough support to carry a pack upwards of 40-50lbs I would say. Anything over that and you probably want to look into a taller possibly full leather boot.
They provide great protection to toes, side of your foot and ankles. Also the sole is very stiff and durable, you won't get sore feet from walking across rocks all day long as you will with some other boots.
I backpack a lot in the high sierras and sometimes spend days scrambling over rocks and I have yet to get stone bruising with these boots. I've inadvertently placed my feet in sharp "rock pinches" and both my feet and the boots were fine afterwords. Vibram sole is nice and grippy on rocks and in loose shale, however vibram is designed to be soft and grippy so it has a tendency to wear quickly (so dont drag your feet!).
Boots are gore-tex which means they don't breath that well so they can be warm and your feet will sweat in them. If I am backpacking I change my socks at lunch when i wear these boots and my feet stay dry enough to avoid problems. That said these boots are very water tight. I spent last weekend stomping around in the mud for two days and my feet stayed very dry. I was very impressed by the waterproofing of a boot that is not full leather.
They are very comfortable, however the toe box is slightly too short on the baby toe sides of the boots and when spending any considerable amount of time going downhill with a heavy pack they press on the nail of my baby toe.
My father has the same boots and has the same problem with them. This could possibly be fixed by getting them stretched, but I'm not entirely sure. Overall the I would highly recommend these to anyone who is a casual hiker to an 3-5 day trip backpacker. They are comfortable, durable, and have good support.
I have used Vasques and Salomons and although I liked the Salomons I prefer the Montrails. As for the Vasques, the Montrails beat them hands down, no questions asked.
Materials: suede gore-tex rubber and vibram
Use: Hiking, fastpacking, backpacking
Break-in Period: 10 miles
Weight: 50 Lbs and under
Price Paid: $140

Not the most comfortable boot I have ever owned, but that's the price you pay for durability. The uppers are really tough and held up to 2 years of everyday hiking in the Great Basin. Finally retired them when the soles wore through. They lived a good life and went 1000+ miles before calling it quits.
Price Paid: $150

I bought these boots about 2 years ago and have been thoroughly impressed. I wore these boots everywhere, in town, backpacking, hiking, and they're still going. They broke in fairly quickly and were comfortable right out of the box. The padding on the top was good for about 1 1/2 years and then the laces started to cut into my feet. The sizing was accurate and they were crazy waterproof. My only complaint was that the soles wore down quicker than I expected but was probably due to me wearing them so much.
Materials: Nubuck and Gore-Tex
Use: Rough Trails w/ packs
Break-in Period: A few hikes
Weight: 2.5 pounds
Price Paid: 150

Actually, I have two pairs of these boots, one that was purchased new at REI, and another used pair purchased at REI's return sale. These boots are strong enough to handle very rocky trails, but are also fairly light. I have hiked mostly in Nevada, Utah, and New Mexico with these boots, so don't know much about the Gore-tex feature. They fit me well enough right out of the box that I hiked a 3 mile trail a couple days after the indoor break in. I really don't like the fabric boot liner out of general principles, but it hasn't given me problems yet.
Materials: Leather/Gore-Tex
Use: Long dayhikes on rocky trails and forest trails in the mountains.
Break-in Period: One week of wear indoors, then off I went.
Weight: 3.5 Lbs. per pair.
Price Paid: $150

A very comfortable boot needing almost no break-in time. They held up great hiking Mt. Washington this summer. Last spring in upstate New York they kept my feet nice and dry even though there was six inches of snow on the trail. The only things I would change are the insoles but I usually do that to all of my boots/sneakers/etc.
Materials: Leather
Use: light to heavy packs, extended hikes
Break-in Period: almost none
Weight: Not sure
Price Paid: $110

Very comfortable boot right out of the box. However, within a year of purchase the interior liner started to separate in the area of the toe box. It was like wearing a sock with wrinkles you couldn't get out. Rendered the boot worthless.
In light of this, I wouldn't buy another pair of Montrails.
Materials: leather and gore-tex
Use: day hikes
Break-in Period: very short
Weight: don't make me guess

An excellent boot. Very comfortable. For 18 months I was very happy with this boot. Then it got a little wet and the sole started to separate. Now I've retired the boot, but nothing else is wrong with it. Doesn't make sense this boot would fall apart after getting a little wet. Otherwise, it was an excellent boot and served me well on many trails. But I'm not sure I'd buy another Montrail boot considering the problem I encountered with the boot's sole.
Use: trails and light backpacking
Break-in Period: none necessary
Price Paid: $140

These boots held up very well through strenuous training, then a 10-day backpaking trek in the mountains of New Mexico. They demanded minimal maintenance while carrying me +55lbs 55+ miles. With extra waterproofing, they also prevented my feet from feeling the least bit of moisture.
Materials: water-proof leather
Use: rough backpacking, trail hiking
Break-in Period: 1 1/2 mo.s
Weight: 2.875 lb.s
Price Paid: $140

You May Like
Recently on Trailspace