Montrail Wasabi

The Wasabi has been discontinued. If you're looking for something new, check out the best climbing shoes for 2022.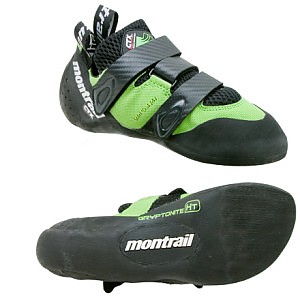 Specs
(no Gender)
Price
Historic Range: $45.00
Reviewers Paid: $45.00

Unisex
Price
Historic Range: $28.49-$95.00
Reviewers Paid: $80.00-$99.00

Reviews
8

reviews

5-star:

1

4-star:

4

3-star:

0

2-star:

1

1-star:

2
I actually don't know if they would have turned out to be a good shoe. I ordered the shoe in a size 41 (euro) expecting them to fit perfectly seeing as I wear a woman's US 8-8.5. I couldn't even get my foot all the way into the shoe.
My mother then tried them on just to test. She wears an 8 US and a 40 euro, and she was nowhere near getting her foot into the shoe either.
My advice, DO NOT BUY CLIMBING SHOES ONLINE. If you can, go to a store where you can try them on. I returned my pair and plan on buying a new pair in person.
The Wasabi is a great shoe -- very comfortable and the rubber is pretty sticky. I've been climbing for 5 or 6 years and have worn Boreal, Montrail, and some FiveTens. These are by far the most comfortable pair I've worn while still managing to fit fairly tight.
The durability of the rubber isn't too great. These definitely aren't gym shoes. I use a pair of old Zealots for that. But on difficult outdoor routes, especially ones that I'm trying to work, these shoes are great.
Buy them a bit small, they tend to stretch, especially after you bake them in the oven.
Use: sport climbing
Break-in Period: 1 week
Weight: 175 lbs
Price Paid: $45

Extremely comfortable - I went down a full size from my Mad Rock Locos and though they were a snugger fit, the thermo-molded spots in the shoe made them very comfortable to wear for hours on end. The three velcro straps work well: the middle strap is reversed so you can really cinch down the straps for a tight, lace-like fit.
At first, they were the best shoes I had ever owned. They are still great, however after two months of climbing twice a week, the sole has started peeling away from the shoe at the toes, probably from edging, and as a result, have lost their mirco-edging ability.
I would buy these shoes again if the edge lasted longer.
Use: Indoor gym bouldering, occasional outdoor climbing.
Break-in Period: None
Price Paid: $95

A good shoe for a while. The velcro fails. This shoe is not for the usual climber. Someone who doesn't climb that much will get more use out of it. Good at micro edging for the beginning of the shoe, once rubber wears some, they suck. About the same time, the velcro will go out and it's time to have a viking funeral for them.
Price Paid: $99

Climbed in them for two months. The rubber has degraded horribly so they are now useless for edgeing. Worse yet, the velcro has completely failed. This is a common problem with everyone I have met who owns these shoes. Wish I knew that before buying them. First and last pair of Montrails for me.
Price Paid: full retail

Top, s'adapte parfaitement au pied! super pour le bloc et grimpe dynamique (très souple).
Weight: 320g
Price Paid: 79,5€

Since starting climbing I've owned a pair of Montrail Zealots followed by a pair of Methods and now most recently a pair of Wasabis. The Wasabis combine the superior rubber with the better fit of the Zealot. If anything, they improve on the fit and comfort. Given that I was previously shoving my foot into a slipper, I'm really happy to move on to the Wasabi. At the very least, if you were as disappointed with the rubber Montrail started off using, try out something with their newer stuff, it's far better.
Price Paid: $80

The shoe is comfortable and are good for smearing technique. On certain foot types (like narrow feet) the shoes do not have a tight fit.
Materials: gore-tex
Use: compotition
Break-in Period: 2 hours
Weight: 107lbs
Price Paid: no

You May Like
Recently on Trailspace