Mountain Hardwear Alchemy Hooded Jacket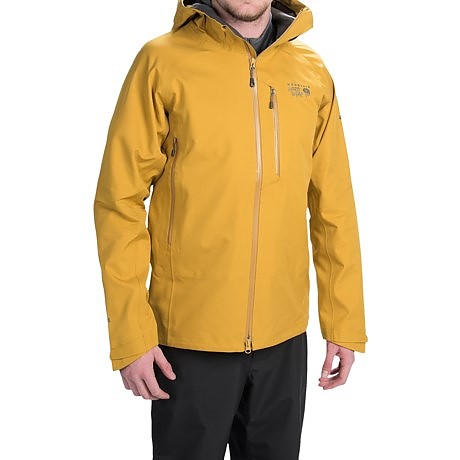 After giving up on soft shells I am back to being a fan.
Pros
A softshell that's actually waterproof
Fits over helmet
Generously cut for movement
Pockets act like pit-zips
Waterproof zippers
Fits under harness nicely
Cons
The zipper can be stiff = hard to use with gloves
Elastic adjusting pulls are hard to use with gloves
After the last soft shell jacket I was wearing became soaked during an all-day sleet I said never again. People told me, "soft shells are only for light rain or dry snow."  I thought, So now I need to be able to predict the weather? 
Comparing the new Alchemy to those old jackets is like comparing my '02 Focus to a new Audi S5.
If you remember such things, the MH Alchemy jacket used to be a hoodless soft shell made with Windstopper (aka:Rainsopper) fabric (see previous non-hooded MH Alchemy Jacket). While soccer moms may be upset that this old jacket is gone the rest of us can cheer because the new Alchemy has been born again hard as a hooded, technical shell ready for alpine work.  
Features
The new Alchemy has a hood that is adjustable to fit over a helmet or without one, whichever you need.  The visor has a wire inside and is stiff enough to keep the shape you left it in as you cinch down the hood. The main zipper runs up to about eye level making a headpiece that is reminiscent of a knight's jousting helmet, with about as much protection. Remember; it's no good with no hood.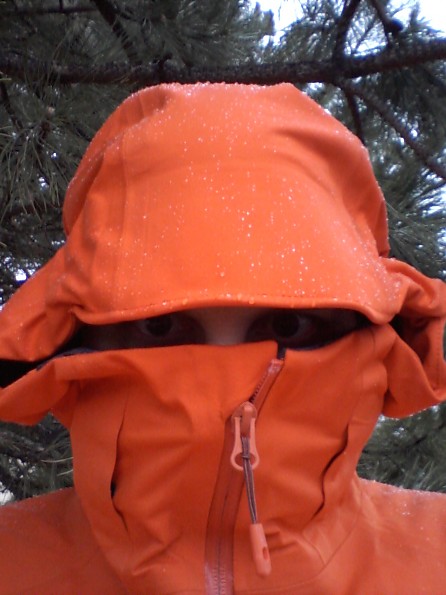 Creepy hood pic. It's so adjustable you can make it into whatever configuration you need to keep the wind/rain/snow out.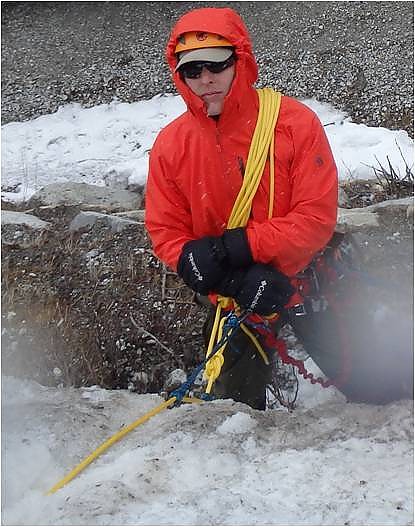 Fits really well over a helmet as well.  

 
The chest pocket is on the outside where it belongs and has a waterproof zipper, like all the zippers on the Alchemy. The inside pockets are huge and thoughtful so you can have a place to stash your wallet, car keys, etc. while you are out.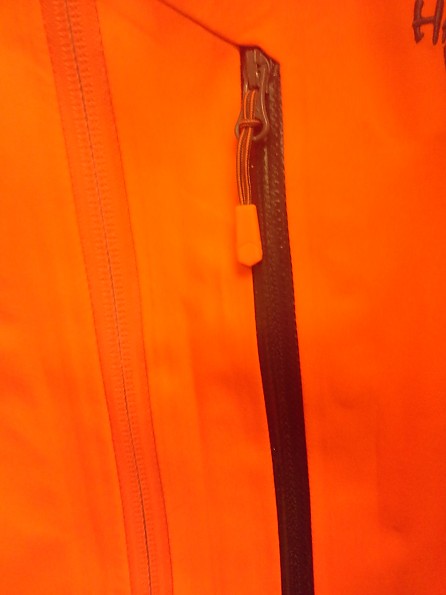 The zippers are all on the stiff side.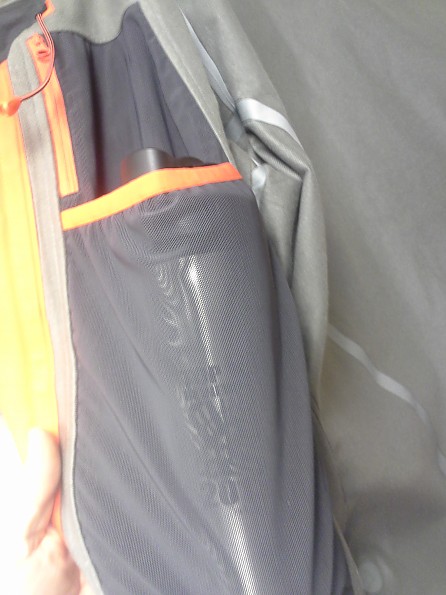 Nice, big pockets, also fits a standard Nalgene 1 liter bottle.

Many of the seams are stitched and glued/taped and are inherently waterproof.  "Hand Warmer" pockets are set higher than we are used to but this is to make them more accessible while wearing a backpack or climbing harness, well done!
"No pit zips" you say? Well actually the mesh lining in the hand warmer pockets allows them to perform this function without the extra weight of two more zippers.  The way the Dry-Q elite fabric performs, I never found myself wishing for more ventilation.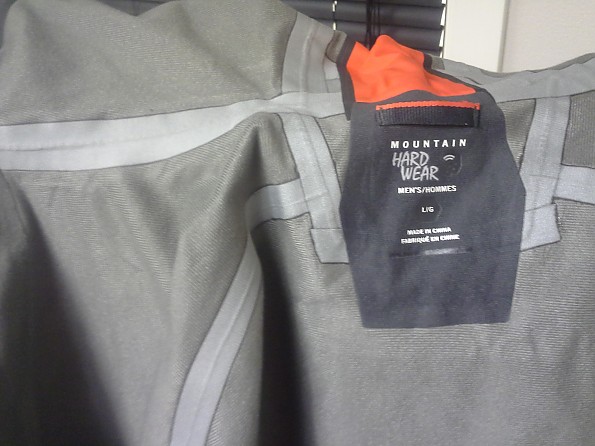 Sewn and glued seams, nothing gets in.

The cuffs are asymmetrical to protect the tops of your hands more and close with Velcro to let you wear them over or under your gloves.  

Warmth
The Alchemy has a thin layer of fleece backing on the inside that keeps it comfy to about freezing, much colder if you are moving and layering.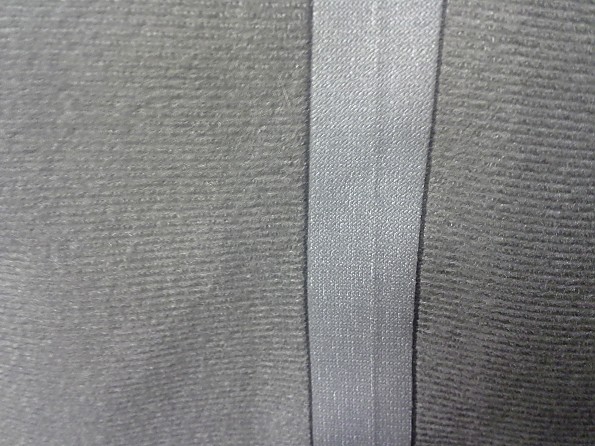 I wore it in freezing weather and snow with a wind shirt under it during a crevasse rescue class and found it adequate.

Waterproof/Breathable
The Dry-Q Elite fabric claims water-proofness and breathability which doesn't require the jacket to get soggy inside before it begins to "breathe" like most other fabrics do. This is a big deal.  Most WPB coats make you get clammy inside before they breathe, not the case here.  After wearing this in a downpour and hiking for a half hour and gaining around 700 feet I can attest to this personally. 
Remember the first time you wore that new soft shell jacket in a "real" rainstorm and found out that it worked great until something rubbed against the jacket and it began absorbing water? This jacket has cured that problem.  The DWR finish is fantastic on this jacket and, try as I might, I could not get water to soak in, even when the fabric got muddy. Having come near to hypothermia at 11,000 feet in a soaked traditional soft shell jacket I cannot put the Alchemy into the same category as those old soft shells.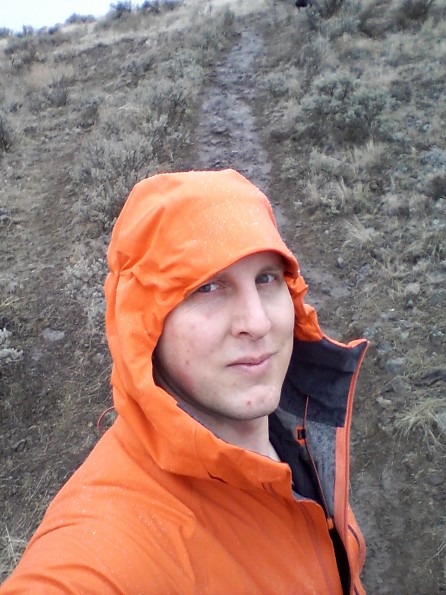 Letting a little extra heat out while hiking up hill.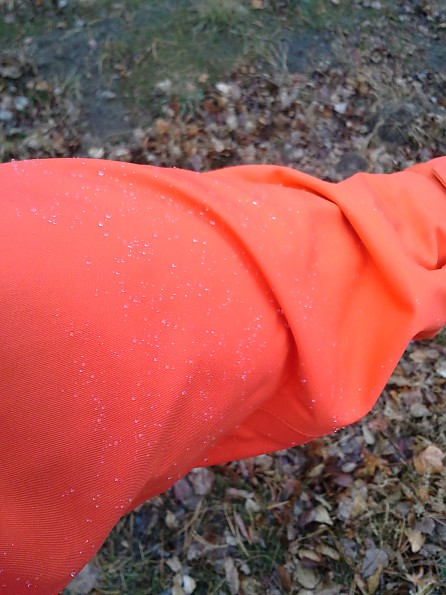 I tried rubbing dirt into the fabric.  It just kept beading the water up and never quit.

I compared the amount of sweat I produced while hiking during the rain on a 40 degree day with the jacket on to what I produced the next day on the same hill without the jacket or any rain. The sweat was equal on both days and was confined to my head.  I could have opened the hood up for more ventilation but I kept it cinched down because I liked the protection.
So really I must say that the Alchemy breathes like soft shells are famous for without leaking like they are famous for. In these tests I deliberately wore a cotton t-shirt so I'd know for sure how much I had sweat.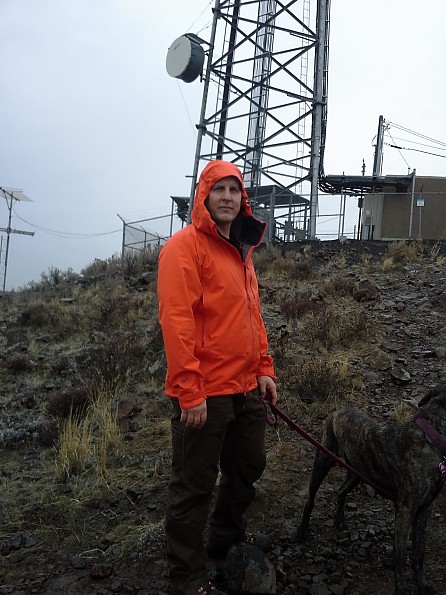 On a rare torrential downpour day in the desert. The dog was soaked but I was dry. A 5 minute stop allowed my sweat to evaporate through the jacket, leaving me dry.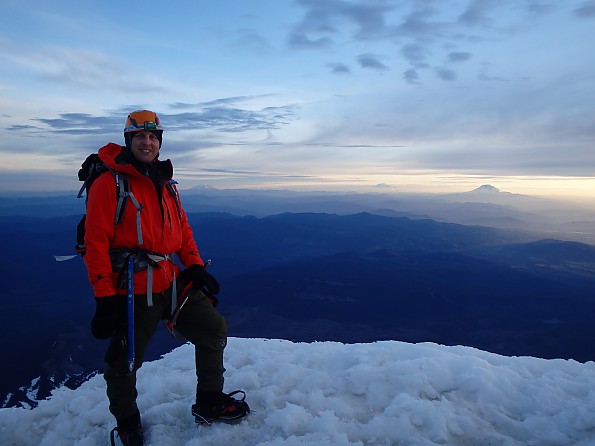 On the Summit of Mt Hood, pockets stuffed with snacks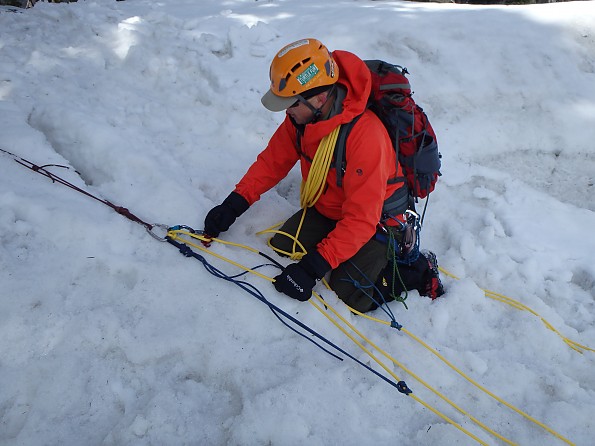 On this day, practicing crevasse rescue, I experienced all four seasons within a few hours; I was rained on, snowed on, sun-baked and wind blown. I laid down and rolled in the snow, hauled on the rescue line and sat still at times as well. I never had to add or remove anything but the hood while my guide kept donning and removing his hard shell all day long. 

Wind resistance
Obviously what lets heat and water vapor out lets cool wind in as well. If you want the most breathable jacket around it won't be the warmest one as well. Though warmer than old soft shells I wasn't looking for warmth from the Alchemy, I wanted to be dry. To warm up, either be active or wear insulating layers under the shell.  Not as windproof as a hard shell but its just as waterproof and WAY more breathable.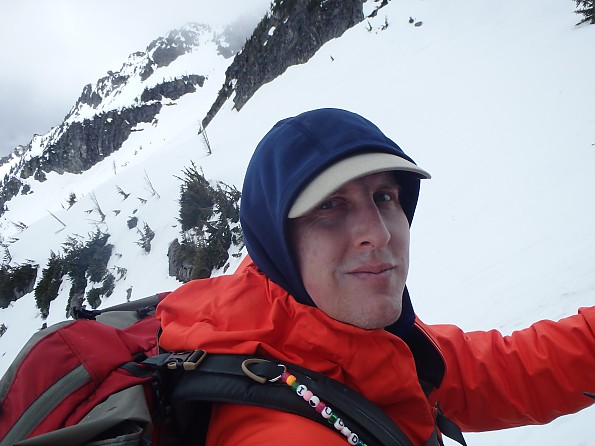 A stormy day on Grindstone Mtn.
Fit
I am about 215 lbs (195 at the time of posting thank you very much!) and 5' 10".  I have long-ish arms (+2 ape-ratio).  My chest measures 45 inches and my torso is about 20 inches and the Large fits me perfectly, with ample room underneath for a couple of insulating layers. I can wear a light down jacket under it just fine.
Style
I often prefer earth-tone garments, however I like the fact that I can be seen in this jacket from a low orbit, just in case SAR is ever out looking for me. Truly though, studies show that this color shows up better in a whiteout than just about any other. Officially the color is called State Orange but Nuclear Detonation Orange would be a better name.  It also comes in Black and Azul (ole').

Weight
1lb, 7oz (stated by the manufacturer)
You will appreciate this jacket if:
You are sick of water resistant jackets
You need to move around during bad weather
You understand that the #1 key to staying warm is to stay dry
You need a hood to fit over your helmet
You can afford to carry a 1.5 pound jacket

Price
All of the innovation that went into this jacket isn't exactly free, I saw the predicted MSRP. Still though there are a ton of other jackets in this price range, and many higher priced ones as well by manufacturers you know.  The Alchemy stands out because it doesn't use the traditional WPB technology that makes you get soaked inside before they start to work; a huge bonus.  

What I disliked:
If I had to be picky I'd say that the zippers were a tad stiff and that the hidden tension release locks for the adjustment strings were hard to find at first and hard to operate with gloves on.  I found these vices forgivable though.  
 
New Version Available Fall 2014
Update 07/07/15: On the summit of Mt Rainier:

Source: received for testing via the Trailspace Review Corps (Sample provided by Mountain Hardwear for testing and review)

Your Review
Where to Buy
Help support this site by making your next gear purchase through one of the links above. Click a link, buy what you need, and the seller will contribute a portion of the purchase price to support Trailspace's independent gear reviews.
You May Like
Specs
Men's
Price
MSRP: $395.00
Historic Range: $99.95-$295.90

Weight
1 lb 7 oz / 656 g

Women's
Price
Historic Range: $148.13-$199.98

Recently on Trailspace