Mountain Hardwear Compressor PL Jacket

The Compressor PL Jacket has been discontinued. If you're looking for something new, check out the best synthetic insulated jackets for 2023.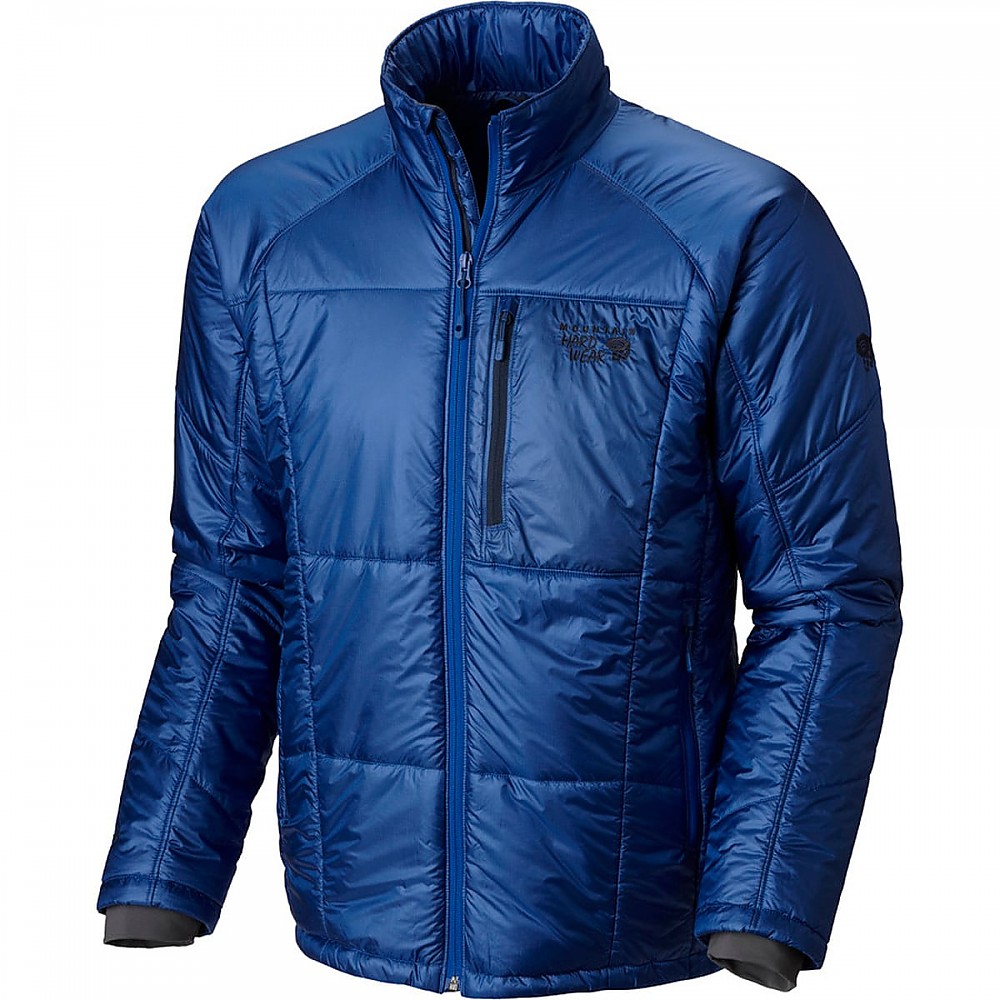 I'm 6'2" 175 lbs, with long-ish arms. The fit on the medium is pretty "spot-on" for my stature. It actually fits so well that sometimes I feel more like I'm wearing a sweater, rather than a jacket. The Compressor has proven to be exactly what I needed in an insulation layer. A snug fitting, exceptionally warm, virtually windproof, packable jacket.
As mentioned in other reviews, the use of a baselayer in conjunction with a non-breathable insulated jacket is a winning combination. My Swobo (shameless product plug) longsleeve wool jersey has been the perfect compliment to the Compressor's insulating properties.
I checked out, and tried on just about every other lightweight synthetic insulated jacket in it's class... Needless to say, I ended up with the Compressor. This is my first piece of Mountain Hardwear. I'm very happy with the quality of stitching and the general construction of this jacket. I'm confident, that with proper care, this jacket will be my cold weather companion for many years to come.
Fill: Primaloft 1
Price Paid: $170

DON'T BUY THIS JACKET!!! I have owned a lot of Mountain Hardware clothing in the past and I love what I have, but the new stuff is getting really cheap. Had the Compressor PL Jacket 2 days of easy wearing around town (no activities) and a seem just broke free in the front. Then 2 days after that another seem broke free on the side....and I'm just walking around!! I really couldn't believe it.
I have a lot of outdoor enthusiast friends and most of them don't like it either due to quality issues. Nothing like the old Chugach 3D Jacket used to be. I still have that one and it's going strong after 5 years.
Since day one I have been having zipper problems too... I hate zipper problems, they're a huge signal no real care has gone into the product. I remember when this same pattern happened with North Face. SAVE YOURSELF SOME WARMTH and get another major brand who backs their product.
Price Paid: $170

Well, I tried this jacket on in the store and it felt like exactly what I was looking for. A lightweight, highly compressible jacket to serve as my general backcountry and hanging out (not moving/exercising too much) warm jacket. My main problems with this jacket are the durability. The shell fabric is flimsy, and it keeps getting small holes in it from I don't know what.
It is a very attractive jacket. I think, however, I would have preferred the Micro Puff hooded by Patagonia or the Chugach Jacket by Mountain Hardwear. The Chugach seems to be highly regarded for its durability, and I think that I was looking for something a little sturdier, to stand up to being worn as an outer layer. It is very light, but I think I would have traded greater functionality for four or five ounces.
Fabric: Superlight
Fill: Good insulation
Price Paid: $85

I bought this jacket thinking and assured by EMS staff that it was high quality. Well, it's not. It is marketed as a rugged lightweight piece but it's not.
The jacket now has several small tears - I never even hiked in it. Also, the zipper used is about as cheap as it gets. It has no space on either side and continuously gets stuck risking further tearing.
I contacted Mountain Hardwear. They said "wow, you're really lucky you didn't buy the down filled version or you'd really be in trouble." Lastly, they offered to repair the torn panels for an additional $35 plus return shipping.
Thumbs down on the product and the service.
Price Paid: $150

This jacket is amazing!! Incredibly warm, in such a small footprint! I take this jacket everywhere. I wore it on a 20 degree windy night with a base and mid-layer underneath, and let me tell you I was as cozy as could be! This is a must buy, if you are looking lots of warmth in a little light weight size!
As everyone else says it is far from bombproof, it will snag and tear so you need to be careful and wear a shell over it if you are bushwhacking around.
Price Paid: $70 used on Ebay

This jacket is great if you like to travel light! It is very warm and even better when it's windy. I wanted it to be cold to put this jacket through a test and it passed with flying colors!!
Sadly my jacket was stolen a few days before Christmas. So don't be like me and keep a good eye on it wherever you go.
Price Paid: $130

Great jacket if weight and space is the primary concern. Materials not suited to take a lot of punishment, but that is to be expected for any lightweight garment. Great insulation for its weight. Tight fit with long sleeves and not too bulky - perfect as layer under shell or spare layer in case of cold weather.
Bit expensive at normal retail price.
Fabric: Superlight 15D
Fill: Primaloft One
Price Paid: $124

I just got this jacket to go under my soft shell windstopper, and I love it already. It is AMAZINGLY light, and way comfortable. Mountain Hardwear is awesome.
Price Paid: $85

Absolutely surprised at how warm this jacket can be for how light it is. This jacket is unbeatable for compressibility, weight, and warmth.
Fill: primaloft
Price Paid: $90

Your Review
You May Like
Specs
Men's
Price
Historic Range: $51.75-$224.95
Reviewers Paid: $70.00-$170.00

Women's
Price
Historic Range: $66.48-$170.00

Boys'
Price
Historic Range: $64.97