Mountain Hardwear Drifter 2

The Drifter 2 has been discontinued. If you're looking for something new, check out the best three-season tents for 2023.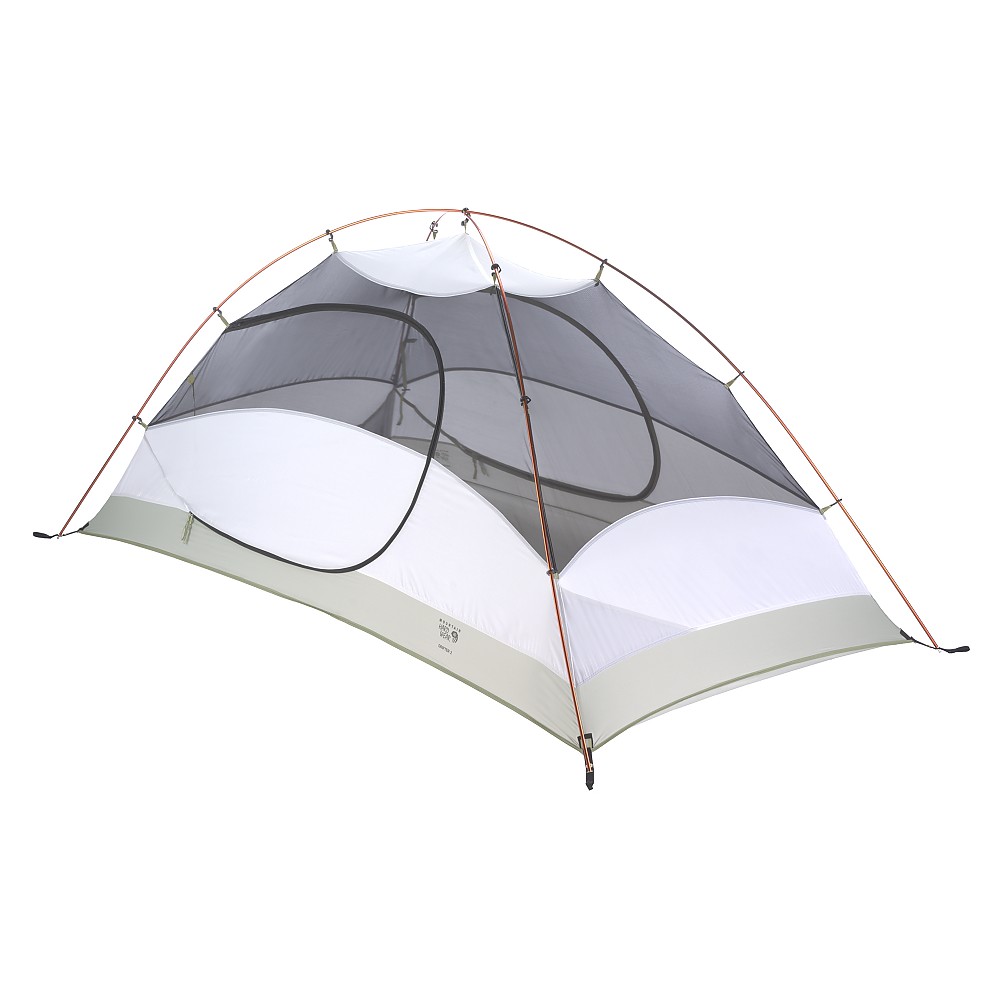 So on my list of tents in order that I'd get to suit my ultralight needs.
Mountain Hardwear - Skyledge 2.1 - $419
MSR - Hubba Hubba HP - $445
MSR - Hubba Hubba - $329
However my budget wasn't as big as i thought. I noticed the mountain hardware drifter 2 in a flyer for $199. Normally i don't look too deeply in the store that it was advertised in just due to the type of people they market to......that being said i started doing some research on the tent.
It was only 10oz off the Hubba Hubba, and only 3 oz off of it when used in its ultra ultralight configuration.
so i figured id give it a try out on my Mt Baker trip. The weather was shitty to start and the air was very moist being stuck in a rain cloud, but the tent held up well.
setting it up was a piece of cake (as it should be i hate when manufacturers make their tents some weird con-fig that is impossible to set up without instructions)
we did experience some wind so the tent needed to be secured. It held up very well. The plastic clip that helps cinch up the rope to keep it tight was a bit useless but with some persuasion it held tight.
My partner was just over 6 feet and he fit comfortably, and so did i (granted I'm only 5'8).
when it came time to pack up the tent packed up just as small as it was when i bought it (i also hate the factory fold, as i call it, where tents cant be folded up as small as they are when you buy them)
but the most noteworthy part was that we were dry, condensation didn't get us wet, neither did the moisture in the air.
and all i spent was $199+$49 footprint. In all seriousness at that price i could buy a new one each season, but i know i'm not going to because mountain hardware has GREAT warranties.
If you are a fair weather mountaineer, as in spring and summer, and you are on a budget or just feel like saving some money...this tent is for you.
-md
Design: 3 season, 2 pole
Sleeps: 2
Ease of Setup: easy
Weight: 5lb5oz packed or 3lb7oz pitch light weight
Price Paid: 249 cdn (including foot print)

Great tent that gets the job done in most conditions.
Pros
Easy to set up
2 big area vestibules
Great budget tent
Cons
No fly vent
No way to properly attach fly for anchoring
I've had this tent for 10 years and it's held up decent. It's seen a lot of use as I camp for weeks at a time from mid spring through to early December. I don't mind the extra size of a two-person tent because I'm not climbing Everest or crossing any Arctic landscapes where every ounce per calorie intake has to be worked out.
It doesn't matter if I'm heading out for a weekend with buddies at a lake or fishing a river or spending weeks during hunting season, this tent has been through everthing and done a decent job. That being said, in high winds this tent has laid flat because no matter how you anchor the fly it only has four anchors on the bottom plus one for each vestibule and four loose fitting side clips to attach it to the tent poles.
There is no attachment above the halfway point of the tent, which means with the two-pole x structure it can and has laid down on me. This slight problem comes with another side effect; because the pole and tent can move independently of the fly it creates wear on the top seams of the fly and will also cause the fly seams to not be lined up with the poles so it can create pooling on the seams and leak if not addressed.
Other than the wind and worn/misaligned seam issues caused by wind as well as lack of venting I don't really have any complaints. A bit of seam seal will fix the leaking and it's not too often we set up in exposed camps. All in all, it's a good tent at a good price and I still don't regret the purchase.
Experience
I've spent 3-16 weeks a year for the past 21 years sleeping in tents all over bc for work and recreation and have led and been part of many hunting, fishing, hiking, canoeing, kayaking, and pleasure trips ranging from overnighters to three-week-long excursions for persons of all experience levels.
Source: bought it new
Price Paid: $250-ish cdn

Packs well easily fits back in stuff sack. Double vestibule. Two doors, waterproof, easy setup.
Pros
Decent value
Easy setup
Double vestibule
Cons
Wish it had a vent in top of rain fly
I have used my Drifter 2 for two years now and I really like it. I have been on solo camps in sub freezing, windy, rainy and snowy weather in this tent, never leaks and is always comfortable. I have also been in mild to hot weather with my wife, still plenty of room.
I have never used more than the aluminum stakes it came with to stake it down and it has never budged from where I have set it. Setup is super easy and quick always tight and looking good and it packs down just as simple and quick. I have put this tent through a pretty full test have definitely been in all three seasons + with no real issues.
The only thing I would like to have had different is vents in the rain fly in cold wet weather especially with two wet breaths I do get a condensation build up. However not nearly as bad as the cheaper tents I have owned in the past and I do not have to carry a tarp to cover this tent.
If you are skeptical as I used to be on is a $200-ish tent really a $150 better than a $50 tent I urge you to break down and try it. This is the product purchase that brought me out of the dark ages with my pack and camp gear and I will never revert back on this.
Good product, fair price. At 44 years I only wish I wouldn't have waited so long to wake up and smell the coffee with my gear.  
Source: bought it new
Price Paid: $200 +- a few bucks

Purchased for hiking on AT w/ son.
Pros
Easy setup
Rainproof
Ample room inside/outside
Setting up tent was extremely easy. After first couple times, able to pitch in a few minutes. Two of five nights were spent in all night rains and stayed completely dry.  Might have been a little condensation as end of bags had collected moisture, but nothing compared to a leaking tent.  
Storage was awesome -- kept my son's backpack at our feet and mine was able to be inside the vestibule w/out any real inconveniences and we had sufficient room for sleeping. Double-door design worked great as well as I could get up in the AM and not interrupt his sleeping.  
Only minor drawback is weight, but we split the components after 2nd day and not bad after sharing. Might be a little heavy if using on solo trip.  
Overall, we were very pleased with our first experience using the tent and looking forward to more.
Source: bought it new
Price Paid: $130

Your Review
You May Like
Specs
Price
MSRP: $165.00
Historic Range: $114.95-$234.95
Reviewers Paid: $130.00-$200.00

Capacity
2

Minimum Weight
4 lb 12 oz / 2.15 kg

Packed Weight
5 lb 5 oz / 2.40 kg

Floor Area
32 sq ft / 3.0 sq m

Number of Doors
2

Number of Poles
2

Number of Vestibules
2

Vestibule Area
10 sq ft 0.9 sq m / 10 sq ft 0.9 sq m

Interior Height
45 in / 114 cm

Packed Diameter
7 in / 18 cm

Packed Length
26 in / 66 cm

Pitch Light Weight
3 lb 7 oz / 1.57 kg

Recently on Trailspace