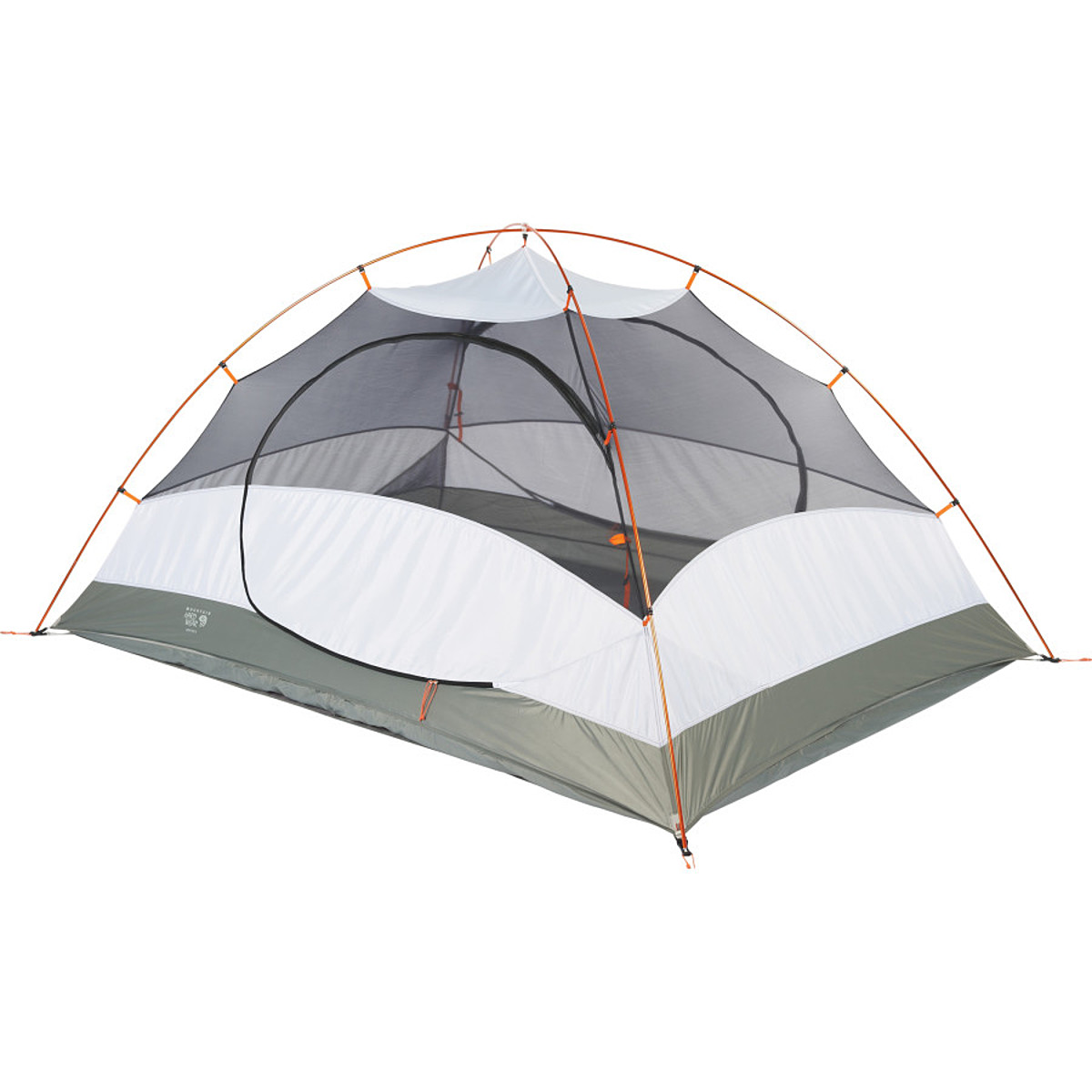 Specs
Price
MSRP: $195.00
Historic Range: $128.94-$285.00
Reviewers Paid: $175.00-$300.00

Capacity
3

Minimum Weight
5 lb 4 oz / 2.38 kg

Packed Weight
5 lb 16 oz / 2.70 kg

Floor Area
43 sq ft / 4.0 sq m

Number of Doors
2

Number of Poles
2

Number of Vestibules
2

Vestibule Area
10 sq ft 0.9 sq m / 10 sq ft 0.9 sq m

Interior Height
47 in / 119 cm

Packed Diameter
7 in / 18 cm

Packed Length
26 in / 66 cm

Pitch Light Weight
3 lb 14 oz / 1.76 kg

Reviews
I am writing this to help other buyers. I was looking…
Rating:


Price Paid: $230

I am writing this to help other buyers. I was looking for a backcountry tent for me and my wife, and was willing to spend around $500 (CAN) for the long run. But in doing so, the saleslady at the outdoors store, told us how all the workers have the cheap priced Drifter.
At $230 Canadian the last thing I wanted to do is make a mistake on a tent. We liked the easy setup, the weight compared to pricey competators, but you get what you pay for right?
Our first backcountry trip with this tent was in the Canadian Rockies in BC. We got caught hiking in a serious downpour in the mountains to return to the Drifter on a pool of water. Our spot was concave (stupid me) so we felt like we were swooshing on a waterbed. We did not get a drop of water all night and woke up completely dry in this tent.
Just buy and go with no sealing. This tent was fantastic and worth every penny. It was dryer then our front country tent that cost almost double. Love the Drifter 3, thanks Mountain Hardwear! 
We just bought this tent today; as such this will…
Rating:


Design: Summer free standing dome (but light enough to be a backpacker tent)
Sleeps: 3
Ease of Setup: Extremely easy - no time at all.
Weight: 5.3 lbs
Price Paid: See Above

We just bought this tent today; as such this will be a 2 part review. The reason I am writing two reviews instead of 1 is that the terrible lack of reviews for this product! But, being a Mountain Hardware fan and avid camper, I decided to go on a limb and be the first to review it. I've got a trip planned on the May Long Weekend (one week from today) so I'll enter the follow up then.
Basically, our decision came down to either the Drifter 3 of the Marmot Limelight 3 for me, my dear lady, and my dog. So, I'll draw on some observations of the Marmot several times through this review--the price, features, and general construction is very similar hence the decision.
The tent took my girlfriend and I about 2 minutes to set up the first time in our backyard, with no instructions (they were included, we just wanted to see how long it would take). Some key features that we really liked were the fact that it's 2 pole construction makes it foolproof. The poles seem sturdy with some solid elastic cable in them that sort of snaps them together on it's own. However, they are just basic aluminum--So, if you take a tumble with these unpadded in your pack, they may bend (but then, so would virtually any aluminum pole from any manufacturer!). I don't foresee that happening but that is honestly the only weak spot that I can imagine.
A major advantage in this tent is it's use of hooks rather then plastic clips to connect the body to the poles. Clips, which rely on tension in the plastic to grip the pole, have a tendency to snap in colder weather (in my experience). This is what the Marmot Limelight 3 has; while I cannot comment on the durability of those clips, the Drifter 3 eliminates the problem entirely by putting the tension in the fabric of the tent and using open S-type hooks. At first glance this may seem bad, as that may be unnecessary wear and tear on the fabric, but that brings me to my next point: Construction.
The fabric, stitching, and overall build quality of the tent is incredible. While the materials were comparable to the Marmot, there is a slightly heavier "d" rating in the mesh of the Drifter. Further, the Drifter has a completely mesh upper, while the Marmot does not--it has mesh windows instead, but not the entire upper. That may be an benefit in colder camping (spring and fall; this is in no way a winter tent), but in a hot, humid summer I welcome the extra ventilation.
There was plenty of sitting room inside--3 people comfortable with a dog--and all of us could sit up nicely.
The twin vestibules are roomy for gear, though I tend to like to keep my gear inside the tent (Especially my boots...I hate bugs in my boots!). That is a major weakness in both the Marmot and the Drifter--I don't see how they are a full 3 person tent. 2 person most certainly; I think it'd be more accurate to call this a 2.5 person tent. If you have a group of 3, you may want to look at a larger tent.
As far as general features, this tent can be pitched on a non-porous surface (ie you don't NEED to use the stakes), which is nice depending on the nature of where you are camping. Further, it includes a gear loft (despite what the salesperson said!). Other then that, creature comforts inside the tent are minimal. To me, that is a good thing--less weight, less set up, less junk--this is an extremely functional tent in that regard. It has everything you need (including mesh pockets for some gear inside) and nothing you don't.
A major strength of this tent (and in my opinion this brand in general) is the attention to the details in the stuff you don't see--the stitching, the quality of materials, etc. While other brands (not necessarily the Marmot, but the cheaper brands I've used) feature things like cell phone pockets and the like, the MHW Drifter pays attention to what really matters--good design, simple setup, and solid materials.
Overall the tent is lightweight, easy to pack, with sturdy construction and a lot of features. I strongly recommend this tent at this point; after this coming weekend when I give it a full field test, I'll chime in with my thoughts.
Update: May 24, 2010
Well, we're back from our MHW Drifter 3's first voyage to the backcountry. The tent performed very well, despite having Mother Nature throw some pretty interesting weather. We had cold, snow, wind, and rain. And maybe a few seconds of sunshine when I wasn't looking! This tent shed it all no problems.
We made an additional purchase of the purpose build groundsheet. It rained virtually all weekend, but the tent vented condensation very well. Due to the weather, our sleeping bag that we were using as a mattress was a bit damp, but this condition was "user error", not the fault of the tent.
Easy set up, it shed the rain with not a drop in on top of us. And at the end of the trip, it was an easy take down. I'd definitely buy this tent again, and am very happy with the purchase.
I recommend a compression stuff sack as well, though, as the tent in its own stuff sack takes up a fair bit of pack space.
Sturdy and well made, the Drifter is a reliable backpacking…
Rating:


Source: bought it new
Price Paid: $180

Summary
Sturdy and well made, the Drifter is a reliable backpacking tent for two looking for a little extra room.
Pros
Sturdy in wind
Easy pitch
Ample vestibules
Packs small
I have a few Mountain Hardwear products and have been impressed by their offerings, so it was easy for me to pull the trigger on the Drifter 3. I've had it out about 15 times in varying weather so I think I've used it enough to form an opinion.
The freestanding tent is clearly well made, the two pole clip design pitches easily and it packs down much better than I thought it would. The real payoff for me is the size-to-weight ratio. It's about 5 lbs., which takes it out of the UL category, but it's 47" peak high and something like 42 sq. feet of space, those added ounces are more than made up for with the added space. Two campers can really stretch out.
I like the taut pitch and it's held up in 50 MPH gusts although I think it was reaching its limit. The two, 10 sq. foot vestibules offer more than enough space and give each camper their own entrance, exit and garage. The gear loft is an added bonus as are the reflective guy out points and zippers. It's also an awesome tent in the summer without the fly. Love it.
The verdict is still out for me when it comes to ventilation though. While in most cases the condensation has been minor it has taken place. During an extended, cold rain it became slightly problematic. Also, I find the vestibule zippers can fight with me once in a while.
But overall this has been an excellent purchase. I'm not sure you can find much more tent at this price.  Keep your eyes open for the sweet sales and you'll more than get your money's worth.
This is a great all-around tent. Useful for those…
Rating:


Source: bought it new
Price Paid: $279.99

Summary
This is a great all-around tent. Useful for those weekend getaways and a more challenging expedition into back country. Reliable, fast pitch and easy pack.
Pros
Extremely easy setup/take down
Light weight
Excellent pack size
Roomy
When searching for a tent we were looking for one that was going to be reliable, lightweight, easy to pitch, and most important keep us out of the elements when called upon. Knowing that we would have many portages, some of them over 15km and lots of gear to carry we made sure that the tent we chose was going to be the perfect match. The Mountain Hardwear Drifter 3 met all the required criteria.
The Drifter 3 has two side doors, allowing for easy access. Two large vestibules to stow gear and more than enough space to accommodate two adults and any additional gear.
Having to move daily this tent was simple to setup, take down and pack with only a two-pole construction. It didn't take up much space in our gear, weighing only 5lbs. With the adjustable fly we were able to keep the heat in on the cold nights and by loosening the fly could let the tent breathe. We did find that ventilation was a bit of a minor issue, which could be approved upon. This tent stood up in the rain, keeping us and our gear dry. Great ventilation with a mesh canopy.
Over all I would recommend this tent for somebody looking to go to their local or for the adventure seeker looking experience the interior. Mountain Hardwear, great job!
Easy to pack and use. We set up in a campground with…
Rating:


Source: bought it new
Price Paid: about $300

Summary
Easy to pack and use.
Pros
Setup takes 5 minutes or less
Lightweight
We set up in a campground with a ground sheet. Temps were summer like...condensation on the fly.
Early Sept. temps were a bit colder, but it is a 3-season tent. We set up again a campground with ground sheet..fly and bottom of tent were all wet again condensation..2 adults in tent.
Large tent that doesn't weight you down. Keeps you…
Rating:


Source: bought it new
Price Paid: $175

Summary
Large tent that doesn't weight you down. Keeps you dry. Has easy setup. Good two-person backpacking tent.
Pros
Large but packs small
Durable
Keeps you dry.
Cons
Snug for 3 people.
Does not come with compression sack which is needed to backpack this tent.
I picked this tent up for my backpacking kit.  I'm a big guy (300 lbs) and wanted something that would fit me and my plus sized gear. The tent is around 3-4 lbs with the rain fly and comfortably sleeps 2 or a snug 3.  I can compress this tent down to the size of a cantaloupe but decided to put it on the bed roll loops of my backpack instead.  
I've spent over 7 nights in this tent so far and have been very happy with its durability, ease of setup, vestibule space for gear, and it kept me dry in some pretty good rain. I also like that the rain fly has reflective bits to help you spot it in the dark. 
Out for Testing
The Mountain Hardwear Drifter 3 is out for testing and review!
Members of Trailspace's Review Corps product-testing program are currently testing the Mountain Hardwear Drifter 3. Stay tuned for reviews of this three-season tent from .
Do you have questions about the Mountain Hardwear Drifter 3?
Send them to reviewcorps@trailspace.com and we'll do our best to address them in our upcoming review.
Where to Buy
Help support this site by making your next gear purchase through one of the links above. Click a link, buy what you need, and the seller will contribute a portion of the purchase price to support Trailspace's independent gear reviews.