Mountain Hardwear Epic Jacket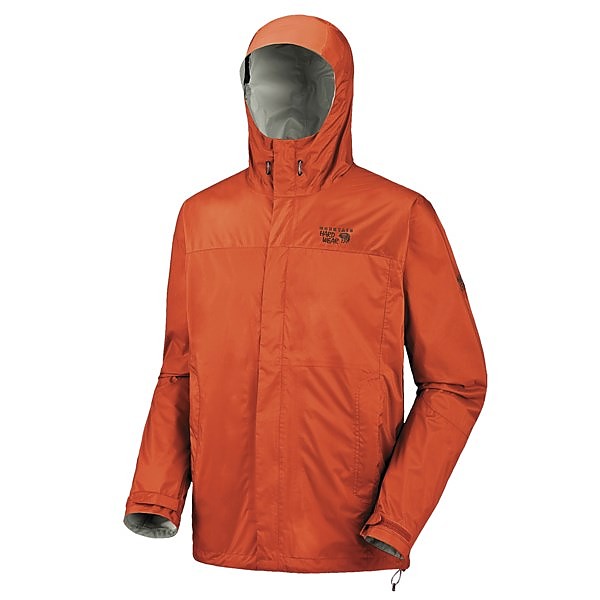 No repele nada el agua. Se me pasó el agua a la primera lluvia suave en los hombros y nuca. En una lluvia fuerte se moja completamente por dentro. Muy buena como corta viento, pero no es su función primaria según el fabricante.

[Google Translate: It does not repel the water. I passed the water at the first gentle rain on the shoulders and nape. In a heavy rain it gets completely wet inside. Very good as short wind, but it is not its primary function according to the manufacturer.]
Respecto a la talla super bien, creo que no me quedó ni chica ni grande y además tiene ciertos ajustes.
No resiste el agua, se pasa en los hombros a la primera lluvia ligera, con lluvia fuerte se moja por dentro completamente.
Tiene cierres bajo los brazos, lo que ayuda a que respire un poco pero en mi caso se moja por dentro al hacer ejercicio.
Cieres y bolsillos ningún problema.
No recomiendo comprarla si lo que deseas es mantenerte seco.
[Google Translate: Regarding the size super good, I think I did not stay either girl or big and also has certain adjustments. It does not withstand the water, it is passed on the shoulders to the first light rain, with heavy rain is wet inside completely. It has closures under the arms, which helps to breathe a little but in my case gets wet inside when exercising. Cieres and pockets no problem. I do not recommend buying it if you want to stay dry.]
Source: bought it new
Price Paid: 55 usd

I have tried reviewing this jacket with a fair approach and have tried to review the jacket on Mountainhardwear.com and campmor.com and they won't post my review because I give it two stars or less. 
I hope that readers searching to buy this jacket get to see these reviews before they buy from a company that only posts positive reviews. 
This is what I wrote on both sites; I wore the jacket for my first time on a backcountry hike during 2 hours of rain and my shoulders got wet and what I had sealed in my front chest pocket was wet too.
I have several Mountain Hardwear Jackets and pants that I love but this jacket has been miscategorized as a backcountry shell on Mountain Hardwear's site. I strongly believe that this jacket's sole purpose is to keep you dry as you walk in a parking lot from your Subaru Outback into Whole Foods Market. 
I think the technology of conduit silk is great for urban showers where you're not in them for very long periods of time.  If someone were to rely on this in the backcountry or in a survival situation it could turn into a bad situation. 
I am disappointed in this jacket and think that is was marketed to the wrong crowd.  It fits great and looks great but just doesn't perform like the manufacture describes it does.   
Fabric: Conduit Silk
Price Paid: $120

I was looking for a lightweight windproof/waterproof jacket and pant, and I went to my local outdoor store and they recommended these.
At first, I was a bit weary with the build quality because it is very thin and very light, but trust me, do not worry about this because I took the combination skiing with me as my outermost layer and it did excellent, even though I had a couple big tumbles (let's face it, who doesn't).
One of the things that I love about this product is that on the pant, at the bottom there is about 5 inches of zipper and velcro, so you can get it over ski boots or other bulky things. Another thing is that this fits very well over other clothing. When I go to school in the morning, I put this over my sweatshirt as another layer, and it keeps me nice and toasty warm. So I can wear my sweatshirt around campus and when I get ready to leave, I get it out of my locker.
About the waterproofness, I was stuck in a monumental downpour a couple of weeks ago, and I was dry as a bone. The breathability is great, it has pit zips. Everything about this jacket/pant combo is great, and they look very good together!
Fabric: Conduit Silk Laminate
Price Paid: $100

Waterproof!! And roomy! Yes, I would definitely recommend this MH jacket.
Pros
Completely waterproof
The XL is roomy enough for a layered fleece or soft shell underneath.
Conduit Silk traps some heat as well.
Cons
The XL is maybe a bit big. Large is where I should have been.
This was my first Mountain Hardwear rain/soft shell jacket purchase. It has been everything I expected and more.  I've worn it hiking in Oregon, SE Ohio ...in rain....the fall...spring....you name the conditions...it's survived. 
It's been worn over a Marmot softshell jacket during the winter and late fall....the Conduit Silk trapped the heat better then I expected along with allowing the rain to roll off with ease.  The pockets are aplenty...the hood is large enough to fit over a helmet or ski cap.  No issues with the drawstring/hemcords on the side as well. The sleeves can be adjusted to fit over a layer...velcro is strong.  
To summarize, if you're looking for a rain jacket that will keep you dry in driving rain while providing enough room/flexibility to give you comfort for a long hike...this is the jacket for you!
Source: bought it new
Price Paid: $85

I bought this jacket a few years ago from the store I work at, and have been seriously unhappy with it, I've owned various bits of MH gear and been happy with them (sleeping bags, fleeces and so on) but this jacket just hasn't been up to scratch.
The first few times I used it on day hikes and light hunting trips it was great, but as soon as I put a heavy load on my shoulders and did some real sweating I just got soaking wet, it kept the rain out fine, but kept my sweat in just as well, this led to a very dangerous situation for me out in the bush.
It is a real shame, because MH do make really good gear, but as other reviewers have said, this jacket just doesn't hold up, the aftermarket service when I tried to sort out other problems with the jacket (velcro tabs on the sleeves, zips etc.) also wasn't up to par. Personally I try to steer customers well clear of this jacket, after having had a terrible experience with owning it myself.
(Bear in mind I'm from New Zealand, so I don't know how good Mountain Hardwear's aftermarket service is in the States).
Price Paid: $250NZD

My jacket is about three years old and has been great. Another review has some of the technical features so I'll try not to repeat.
The overall construction a solid exterior rip-stop material with an inner layer almost welded to it. That inner layer is on the other side of the taped seams, so you get double the protection there. The inside is also soft. It's hard to describe a layer that thin as soft...; just trust me.
Even with all the features and fit, the Epic rolls up nicely and fits inside the hood. It has found a way into my pack many times and has a lot of wear underneath it.
Three years later: There's not much wear shown on the outside for the amount of use it has. The inside layer is mostly intact exept for a few small (head of a pencil eraser) spots and the neck. I think the neck is wearing out because of the tight bend it receives when the hood is dropped back. Either way, I spray it with waterproof spray and keep on going. I expect to get two more seasons out of this before I opt for a replacement.
Fabric: Conduit
Price Paid: $120

This is a very lightweight, fitted, and stylish basic jacket. But I can't give it a good review because it simply has not held up. The conduit silk waterproof layer is peeling apart at the shoulders, which means every time I am in the rain, I get soaking wet.
I have only owned the jacket for 2 years, and have taken it into the backcountry 3-4 times, and I wear it regularly to work as a rain layer. I've treated it well, so it's not like I left it crumpled in a pack or something. I feel that for a waterproof breathable rain jacket, which is a real investment, it should really last longer than 2 years.
It sounds like other users have had the same problem. Once your waterproof-breathable layer is split, there is really no fixing the jacket. So what I have now is a really expensive windbreaker.
I will not buy the Conduit fabric again, next time I'll stick to Gore-Tex. Save your money and get a better jacket, this one will not hold up.
Fabric: Conduit Silk

This was my first "high performance" type outerwear. I was just getting into backpacking and didn't really know why I was paying $100 for a rain coat. Now two years later, I know that I would have paid plenty more. It's kept me dry in all conditions and has lasted well. The rip-stop fabric is excelent. I had two rips because the jacket caught on a nail and then a car door, and I patched the two rips with kenyon adhesive tape.
It weighs 13 ounces (you ultralight hikers would love it) and packs tiny. Because it's so light, it does really well in the warmer weather. It has pitzips if you overheat. The hood has two adjustments on it and can fit perfectly.
I LOVE THIS JACKET and I know you will too.
Also the fabric has Mountain Hardwear's Conduit SL laminate. I see no reason to pay for Gore-Tex. This works just as well in my oppinion.
Fabric: Epic Ripstop Nylon (Conduit SL)
Price Paid: $100 (msrp 125)

This jacket is great for protection from the rain, and nothing else. It feels like you're not wearing anything more than what you've got under it, but keeps you dry. It's light and packable, so you can basically just wear whatever you'd normally wear if it wasn't going to rain, and keep this along with you. I spent about 36 hours in almost constant rain in this jacket and didn't have any problems with moisture getting under it, though I did have a problem with a tick getting under it.
Only negatives; does not seem to be the most durable fabric and does NOT protect against ticks.
Fabric: Ark Ripstop, Conduit Silk
Price Paid: $100

Not the same as the old Epic Jacket.
Cons
Flimsy recreation of the original
If you loved the old Epic Jacket do not purchase this one. I mourn the loss of a great jacket. New ownership has taken its toll.  
Here's a detail. The "attached rollaway hood" does not rollaway. The velcro strap is misplaced. It flops around in the wind and soaks up drizzle until you're tempted to cut it off. 
Source: bought it new

You hit it right, Jake! Had this jacket for two years and every time I wear it, I get soaking wet on the inside just as Jake mentioned. I have had the cuff velcro strips replaced after 6 months (delaminated, and MH replaced it with a completely different strap that didn't match!), now I just noticed that all the interior lamination (Conduit Silk) is peeling off! Just my 99 cents worth. Come to think of it, that's about what this jacket is worth! STAY AWAY!!!
Price Paid: $100 USD

I love this jacket. It is very light and packs down to nothing. I have had no problems with this jacket and is great for hiking or just rainy days around town. It also keeps the wind off of you very well. I used it with a MHW fleece on a multi-day hike with temps in the teens and was fine.
Price Paid: $120

As usual excellent product, very nice fabric tissue, sweet inside with the new coat, very light, excellent visor hood with toggle back to trim volume head, 2 cinch cord bottom, two very good ventilation: one underarm pitzip, one in meshpocket. Reliable jacket for multipurpose use for light backpacking. Only regret: 2 inches longer on each jacket would have been better.
Fabric: conduit silk
Price Paid: 119 € ($151.50)

Don't believe the hype! I guess websites only post positive reviews to get you to buy it. Fifteen minutes in light mist and I was wet on the inside. The 'conduit' fabric certainly conducted water onto my inner layers. A scam, stay away from this jacket.
Price Paid: $90

The jacket looks nice and first couple times in the rain worked well. After a while I started to get soaking wet and clammy. And the Conduit silk is starting to peel off after a year of so. I will try other jackets next time.

Price Paid: $99

Your Review
Where to Buy
Help support this site by making your next gear purchase through one of the links above. Click a link, buy what you need, and the seller will contribute a portion of the purchase price to support Trailspace's independent gear reviews.
You May Like
Specs
Men's
Price
MSRP: $100.00
Historic Range: $28.46-$125.00
Reviewers Paid: $55.00-$151.50

Weight
13 oz / 369 g

Center Back Length
28 in / 71 cm

Body Fabric
Ark™ Ripstop 2.5

Laminate Material
DRY.Q™ Core

Women's
Price
MSRP: $100.00
Historic Range: $29.69-$125.00

Weight
12.3 oz / 348 g

Center Back Length
26.5 in / 67 cm

Body Fabric
Ark™ Ripstop 2.5

Laminate Material
DRY.Q™ Core

Boys'
Price
MSRP: $65.00
Historic Range: $35.72-$65.00

Weight
12 oz / 341 g

Center Back Length
22.5 in / 57 cm

Body Fabric
Ark™ 2L

Lining Fabric
Polyester Mesh

Laminate Material
Dry.Q™ Core

Girls'
Price
MSRP: $65.00
Historic Range: $32.48-$65.00

Weight
12 oz / 341 g

Center Back Length
22.5 in / 57 cm

Body Fabric
Ark™ 2L

Lining Fabric
Polyester Mesh

Laminate Material
Dry.Q™ Core