Mountain Hardwear Light Wedge 3

The Light Wedge 3 has been discontinued. If you're looking for something new, check out the best three-season tents for 2022.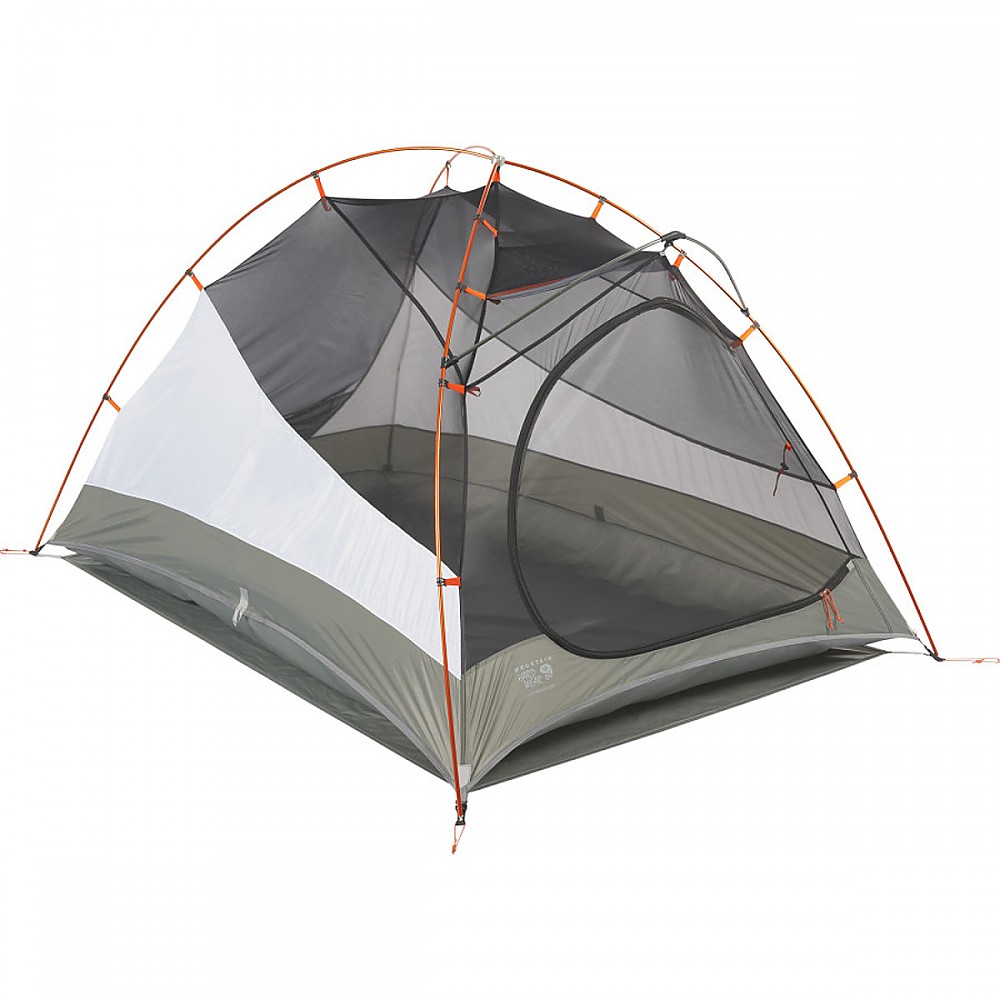 Specs
Price
MSRP: $250.00
Historic Range: $129.95-$330.00
Reviewers Paid: $160.00-$250.00

Capacity
3

Minimum Weight
5 lb 9 oz / 2.51 kg

Packed Weight
6 lb 3 oz / 2.81 kg

Floor Area
44 sq ft / 4.1 sq m

Number of Doors
1

Number of Poles
3

Number of Vestibules
1

Interior Height
47 in / 119 cm

Packed Diameter
7 in / 19 cm

Packed Length
21 in / 53 cm

Pitch Light Weight
4 lb 6 oz / 1.98 kg

Reviews
17

reviews

5-star:

5

4-star:

8

3-star:

1

2-star:

2

1-star:

1
Good backpacking tent, but poor pole design leads to breakage.
Pros
Lightweight
Roomy
Weatherproof
Not much to add that hasn't already been covered. I've had this tent for several years and it's been great.
I think there is a design flaw with the pole geometry that causes too much stress on the pieces just past the middle where the piles cross. This is where there is the most curvature and the most stress on the aluminum. I think the aluminum is work hardening from the repeated flexing and cracking. I've had two split a couple of years apart in the same spot.
Of course the warranty is great and there was no difficulty getting it repaired, but you're without use of your tent for several weeks. 
Experience
I have extensive experience backpacking and mountaineering.
Source: bought it new

This is a great 2-PERSON tent with sufficient room for your gear, but is clearly not a three-person tent, despite the marketing claims. Very easy to set up with some great internal storage options. If you can grab one on sale, I would highly recommend it for 3-season activities.
Pros
Easy setup
Roomy (sufficient length for taller people)
Nice internal storage options
Cons
Doesn't come with enough stakes
Main stuff sack could be smaller or come with cinch straps
A bit heavy for backpacking unless you share the load
I had originally ordered a Mountain Hardwear SkyLedge 3 which proved to be too short. I'm 6'-4" and my toes and forehead brushed against the fabric at the ends of the SkyLedge 3. My search for something longer brought me to the LightWedge 3 and I'm much happier. Not only do I fit, but the Light Wedge has some great features. The "shelves" over the door are great, as are the storage pockets by the feet.
It is very easy to set up, despite the crude instructions. I was able to get a very taut pitch that I'm sure would have held up just fine in wind and rain. Ventilation was adequate with a closed fly, but I did experience some minor condensation.    
Like the SkyLedge 3, I wouldn't consider the LightWedge 3 to be a three-person tent. Plenty of room for two though. It is heavier than expected. I knew there was a pitch light option that came in at 4lb 7oz (fly, poles and footprint) and I kept seeing reference to a packed weight of 6lbs 5oz. I was surprised when my tent arrived and weighed in at 7lbs 2oz. It turns out many of the specs I was reading were for the tent WITHOUT footprint.
So, if you plan on using the Mountain Hardwear footprint, plan for an extra 11.8 oz. Not a big deal if you can split up the load when hiking in a group. I'm just happy I found something relatively light that I fit in. 
Weight breakdown: Tent body-2lb 7.5oz, Fly and attached guylines-1lb 15.2oz, Footprint-11.8oz, Stuff sack for poles-.7oz, Poles-1lb 8.2oz, Stuff sack for stakes-.5oz, Stakes (9) 7" aluminum hook @ .5oz ea. - 4.5 oz, Main stuff sack-1.8 oz.  I've added (4) MSR Groundhog stakes to the stake bag for an additional 2 oz. 
Purchased 12/2013 from Sierra Trading Post - $195, including footprint
Source: bought it new
Price Paid: $195

It is very light even carrying the whole tent.
To sit in the doorway and take off your boots you have to lean far forward or far backward. I am only 6'2"  and my head hits the upper pocket right by the door.
Plus, the door could be a little wider. When we slept we put our feet by the door and our heads were hitting the pocket on the other end. There is no way three people can sleep in the tent with sleeping pads.
There should be more pockets in different areas. The footprint is sold separately, plus it does not extend to the end of the vestibule.
Source: Birthday, it's from REI

Great in storms, Easy to set up.
Pros
Great in storms
Easy to set up
Dry
This tent is very good through fierce storms. It is easy to set up and has good air flow. I use this tent for backpacking and it works great. It is around 7lb 4oz.
It holds around three people comfortably with pads and sleeping bags. It has a small overhang pocket and a big one. On the opposite side of the entryway it has two pockets on the side.
It is very stable in the wind and anchors down amazingly.
Source: bought it new

A decent car camping tent for mild weather.

Really roomy. As someone 6'4" one of the few tents I do not touch at both ends. Like the roominess. The tension shelf is awesome. Great place to store stuff.

The stability in wind is less than I would like. I have a TNF Tadpole that does not move, ratlle or flutter in 70mph winds. This one flaps and flutters a lot at 25mph winds. It just does not set up as tautly as the Tadpole.

It has never made me think it would break or not withstand a storm but it is a noisier tent in the wind that my Tadpole.

I like it for the room, but have yet to find an ideal long three season tent that has the stability I need.
Design: 3 man, 3 season
Sleeps: 3
Ease of Setup: straight forward

I used this tent on a 10,000 mile motorcycle trip to Alaska and this tent performed flawlessly. I camped 37 days in all types of weather ranging from severe rain, hail, high winds, and cold temps. Pitches quick and easy.
Design: Three season freestanding dome
Sleeps: 3
Ease of Setup: Sets up quickly and easily.
Price Paid: $220

I'm biking across America and I've broken the tent poles three times so far in seven weeks of camping. The poles are just too flimsy for long-term camping.
Well, I'm stuck in Hawaii on a work assignment for longer than I wanted and friends wanted to go camping. All of my gear was 6 time zones away, so I headed to Sports Authority to see how horrible the selections were. I was shocked to see the MH Light Wedge series there, and after checking here, I figured it was worth the shot. Somehow, they mistagged the tent and I snagged it for 160 when it should have been 240.
We used the tent for 2 people camping at the beach and it held up very very well to the strong Hawaiian winds. The construction seems very solid and I love having all the huge windows, allowed for great views at night looking up, and the ventilation was to die for.
The vestibule is a nice added feature - I can't say anything negative about it.... having all the pockets was very nice, and the "gear loft" (if you want to call it that) was useful.
The only negative: count your tent pegs! I was shorted 3 of them (probably why I got it so cheap), and make sure to put your tent together before you use it first and play around with everything.
Sleeps: 2
Ease of Setup: 2 person
Weight: UNK (car camped, sorta)
Price Paid: $160

I have used five other tents for motorcycle camping and this is my favorite. Basically, I wanted a good weather proof tent that was large enough for two people with their clothes and personal items but yet small enough to pack on a motorcycle.
This tent exceeded all my expectations. It is easy to set up, even for one person; it sheds rain and moderate wind (not yet used in high wind); it has plenty of room for two people and their gear (44 square feet); and it packs into a smaller space than other tents I have used in the past.
I especially like the single door and wedge shape. We sleep with our heads at the door end. If one person needs to get up at night, he or she can unzip the door and exit the tent without bothering the other person. We also place most of our gear near the door end where we can access it easily without having to enter the tent.
On one morning after a rainy night, I noticed a little condensation but not much. Otherwise, the tent seems perfect for my needs.
Design: three-season free standing dome
Sleeps: 2
Ease of Setup: This tent is very easy to set up, even in the dark.
Weight: 6 pounds, 5 ounces plus a 13 ounce footprint
Price Paid: $240

Stays dry in fierce storms with high winds. Never got even a drop in this tent! Used rustic backpacking and camping at a National Park 2 years in a row and it performed very well every night (12-15 nights spent in it overall). Quick and easy to setup though the fly is a little odd shaped to pack up.
Tent works well for two people when you split the load -- one person carries the tent and footprint, one person takes the fly and poles/stakes. In this situation components roll up well enough into separate stuff sacks that I purchased. Fits two people and packs snugly but reasonable. Three people in this tent would be nightmarishly tight.
On the downside this tent is a pain to get into and out of with the rainfly on. You have to get down so low, unzip the fly, unzip the door, duck in, turn around, reach out and zip the fly, then zip the door again. HOWEVER, this is a backpacking tent and it needs to be streamlined. Used it once solo car camping and it's roomy and nice but that's when the fly design and low profile is a pain (get a different tent if you will be using it mostly for car camping).
A couple of pockets on the inside are convenient as is the little "attic" space up top. On a hot summer night when privacy is not an issue it would be nice to sleep with out the fly and get a good amount of ventilation as well as the ability to see the stars as most of the upper part of the tent is a quality screen material. With the fly on ventilation is moderate as expected, and it can be a little claustrophobic as the only way to see out is the small blurry window.
Quality material, no rips or leaks after being used almost exclusively in the back country.
Sleeps: 3
Ease of Setup: very easy
Weight: 7-8lbs
Price Paid: $240

I used this on a camping weekend with my son's scout troop. It set up in a flash, fly and all. We were pounded with heavy rains and hail for most of the weekend. While most of the boys woke up in puddles, I had barely a touch of condensation in my tent. Even my gear stayed dry in the vestibule. The tent is cozy for two with gear but if you like elbow room, I would not attempt three people in it. For just me, it's like a five-star hotel.
It's light enough for short backpacking trips (just over 7 lbs) but it packs up a little long (21 inches). It fit in my pack with the rest of my gear, but only after a little maneuvering. The full coverage rain fly can be combined with the footprint for an ultralight option.
It comes with three mesh pockets down low and more storage over the door. I purchased the gear loft with it and found I didn't really need it.
There is no privacy without the fly which may prove difficult during summer campouts with the boys. However, with lots of mesh, I expect to stay very cool this summer.
All in all, I'm impressed with it and am going to buy the two man version for my Mom for Mother's day.
Design: three season, freestanding
Sleeps: 3
Ease of Setup: A snap, even for one person
Weight: 7lb 4oz
Price Paid: $240

I just returned from a 6 day backpacking trip at Glacier National Park where I used the tent for the first time (replaced a three man Sierra Design that I had for 6 years). The tent setup is great with very little effort. We had a number of extremely windy nights during which the tent held up well. The tent is roomy for two, but would be a tight squeeze for three. The weight was no problem (tent, fly, and footprint); although we did split it between two people (would be heavy if just one person was carrying it). I would recommend the tent.
Ease of Setup: Very easy
Weight: 6.5 (tent, fly, footprint, poles and stakes
Price Paid: $175

I just used this tent for the first time and I was pleased and most of the previous reviews pretty much mention all of the good things that I noticed about the tent. I will add that with the rainfly and foot print option, the inside of the rainfly attracted tons of bugs when I was in North Carolina. Also I couldn't figure out how to attach the curved brow pole when using the fast pitch option but I think that was my fault for not reading the instructions. Finally, I wouldn't sleep 3 people in here unless it was absolutely necessary.
Design: three season freestanding
Sleeps: 2
Ease of Setup: moderate
Price Paid: $199

This tent is great. Sets up fast. Seems strong, we've had it in some pretty wicked wind.
It should hold up fine in most mild winter conditions but not in anything extreme. In the summer it has good ventilation. It has kept the rain out on numerous occasions.
Really it's a good tent for a little bit of everything and should hold up for a long ass time. However, there are a lot of tents boasting the same features for $50-75 less.
Sleeps: 3
Ease of Setup: easy
Weight: 7.2

Used this tent on Mt Hood in Oregon in early May. Held up well, especially for the light weight. Does not have a door that will close so it got a little cold with the wind blowing off the ice. You have to depend on the fly to keep the wind out.
Quality is superb, but not a winter tent. I think it would hold a snow load easily. I will use it next time and put my sleeping bag in a bivy for extra warmth.
The tent could easily sleep 3. But it is a dream for 2, and at just over 6 lbs you can't beat it.
Design: three season free standing, two poles plus a brow pole
Ease of Setup: extra easy
Weight: 6.5 lbs
Price Paid: $250

Great tent so far. Have only owned since May '01, spent one weekend and two overnights in tent. 30 mph winds and pouring rain first night out. light rain on another trip.
No leaks, although I neglected to seam seal, and the tent walls never budged in the wind. Great space inside, 11 sf. vestibule is a little tight for a pair of packs and boots. I don't know if i'd wanna cram three adults in it, but i have a 4-year-old who's going to join us later this year. Last weekend temps dropped into low 40s at night. You notice the lack of a hard door as all that great breathable mesh lets the heat out. All in all I love this tent and would recommend it.
Design: three season
Sleeps: 3
Ease of Setup: Simple, Clip system and nubs on pole ends make for fast easy setup
Weight: <7LBS
Price Paid: $240 on sale

This tent has met and exceeded all of my expectations. The first night out it withstood 40 mph winds and a driving rain. The tension shelf and gear loft are handy. The UVX window on the fly is very durable.
Design: 3 Season
Sleeps: 3
Ease of Setup: Set up is easy with two main poles and a brow pole. Can be set up in less than 5 minutes.
Weight: 6 lbs.
Price Paid: $245

Your Review
You May Like
Recently on Trailspace