Mountain Hardwear Lightpath 3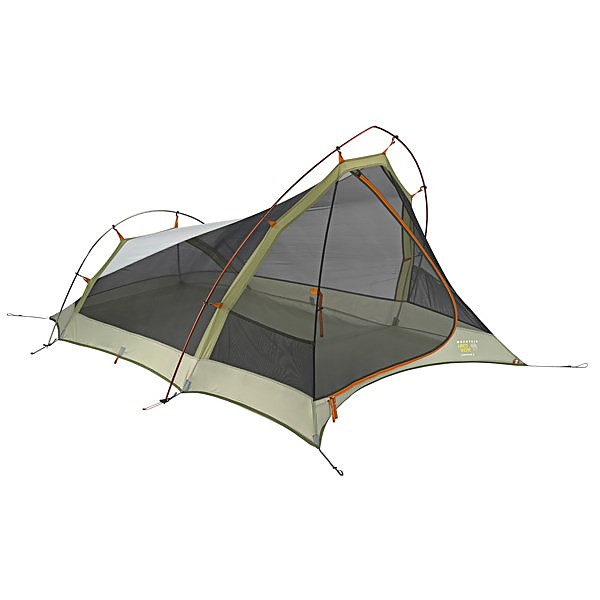 I have used this tent for about a year now so a review is in order. This tent has seen Dolly Sods, Seneca Rocks, Mount Whitney, Shenandoah, and Spruce knob, among others. I have about 40 nights in the tent, mostly with my wife. Our longest trip with the tent was a week. This was my fist non-freestanding tent and I was initially apprehensive about the sturdiness of the tent.
An overnight on a knob with winds gusting 30+ miles an hour quickly allayed those apprehensions. The tent is solid when properly staked and guyed out. It holds up like a champ in drenching rain. Condensation is about what you would expect with any well ventilated tent. It is there, but you won't wake up to find a soaked sleeping bag from drips. Camping without the rain fly is refreshing with great views due to all the mesh. It holds up well and was surprisingly warm at 12,000 feet with high winds and below freezing temperatures.
The vestibule design allows you to keep packs and boots on one side still allowing a quick exit for those middle of the night calls of nature. It has held up well and shows no signs of wear or tear.
It is NOT a 3 person tent, maybe 3 very small people. I am 6'2" 225lbs and my wife is 5'4" and just over a buck. We are comfortable but if you added a 3rd, even a child, it would be very cramped quarters. IMO this is the perfect size for 2.
The tent goes up in a snap with one person. It took me a few times because I was used to setting up dome style tents. Once you figure out to stake the corners first and clip the tent to the poles second, its a breeze for one person to set up.
I have no negative comments on this tent however, keep in mind it is not free standing so is not going to work in all scenarios. The footprint is a little larger than a similar sized free standing would be so allow for some additional space for set up. Mt Whitney was a challenge because trail camp is at 12,000 feet on top of a rock. not much soil and no trees to tie your guy-lines to. We improvised with stones and made it work.
This tent is our workhorse and will be on my back until it gives out. I might come back when that happens and give an update here.
(note on price paid, this was purchased at an attic sale from a well known retailer. The original customer returned the tent because they did not know it was not freestanding. Because it was missing its original packaging it was sold for pennies on the $)
Design: 3 person bivy style end entry 2 pole tunel
Sleeps: 2
Ease of Setup: cake
Weight: 5 pounds 12 ounces with rainfly
Price Paid: $75

Too small for three, roomy for two, good space-to-weight ratio, reasonable quality. A good choice if the price is right and you don't mind a little extra weight in exchange for some extra space.
Pros
Plenty of space for two
Good space-to-weight ratio
Easy pitch
Cons
Too small for three
Marginal in wind and cold
Poor ventilation
We've had this tent for three years and used it a lot for summer camping. It has held up well, including over a two-month long car camping trip.
It's a simple design and easy to pitch, requires pegs at the four corners, two for the vestibule, and two more to hold the fly out from the walls. I don't mind a non-freestanding tent because of the weight advantage. 
It has plenty of space for two and good headroom at the door end. The vestibule has enough space for a couple of backpacks or a big dog, with room to get out for a midnight pee.
There is no proper roof vent, so we have to leave the vestibule open or crack the zippers when it's not raining, and just seal it up and let it sweat when it rains.
Extra clips on the inside of the fly make it possible to guy the tent out in wind, but we haven't used it much in high wind. The canopy is almost 100% netting, which is nice and light but I think it could get drafty and cold in the shoulder seasons.
We weathered a 30 minute intense hailstorm in the Sierras in this tent — it almost seemed as if water was spraying right through the fly, but I think it was condensation being knocked off by the impact of the hail — much longer and we would have been good and wet: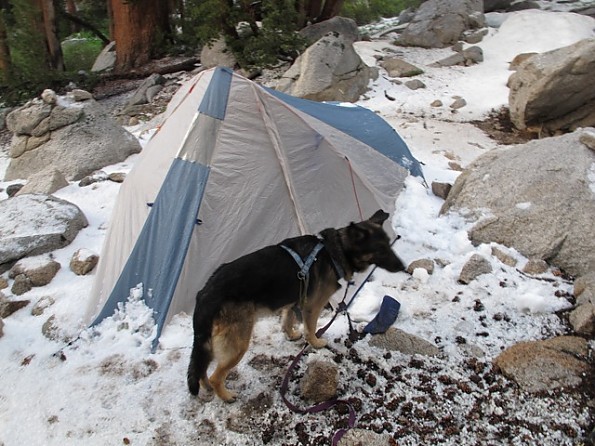 Source: bought it new
Price Paid: Don't remember, on sale.

Easy to set-up, great tent for the money.
Pros
Easy to set up
Well ventilated
Cons
Some condensation
Not free-standing
We bought this tent when we went on a casual car camping trips and ended up at the top of a mountain and two hours from home with no tent poles. This was the biggest/least hardcore tent that the nearest outdoors shop had since they catered to "serious" backpackers and not idiot car campers who leave their tent poles at home. :)
Despite my apprehension that this would be way too much fancy tent for casual campers like us, I LOVE LOVE LOVE this tent.
It's incredibly light, it's SO easy to set up — one person can manage it easily — it's very well-ventilated (we usually take the fly off during the day to let air circulate too), it's got handy pockets and loops inside for lamps and gear. It's also pretty roomy considering it's a super-lightweight backpacking tent. My husband is a big guy and we're comfortable with the two if us and our two 60lb dogs inside. The vestibule also truly does help you keep the tent dry.
As previous commentors noted you will get a little condensation because of the great ventilation, but no soaked sleeping bags, and I have spent the night in this in a windy downpour.
I was very apprehensive about it not being free-standing, but honestly, I haven't had any issues or even thought about it since we bought it.
Highly recommend this tent. It's excellent quality and a great product, especially considering the price and reputation of MH.
Source: bought it new
Price Paid: $199

Love the ease of set up, and light weight. Only drawback has been condensation issues, so I have not figured out how to ventilate it properly.
Pros
Ease of setup
Light weight
Cons
Ventilation — condensation on inside
Have owned this tent for 2+ years. Have used mine for scout camping 3.5 season in TN. It has been tested in very bad weather and held up fine.
Last two outings the rain fly was soaked inside as if a garden hose had been used on it (both outings had experience heavy rain so the ground was saturated - but used the footprint ground cloth.) If the top zippers of the door are opened to vent during a storm, rain would get through. Overnight condensation has actually dripped in to puddle on floor.
I have the 3-person version and use it for myself and one other person (spouse or teenager). Plenty of room for gear inside or in vestibule.
Like the color matching system between the poles-attachment points-rain fly and tent. Helped the first few times setting up, now it is second nature. I am set up before anyone else in troop and enjoy challenging the boys!
Wish it had more reflective strings in the tie downs instead of just the tabs. Have seen this on Coleman tents and it is super easy to find your tent in the dark.
When asked, I recommended it to new scout leader, so he bought the exact same tent! Only difference is the window shape. 
Source: bought it new
Price Paid: $240

This tent is awesome! It does exactly what it's supposed to do. It's lightweight, keeps you dry, and is not too expensive. I don't think there's another tent out there that will give you more bang for your buck.
Pros
Lightweight
Keeps you dry
Inexpensive
Easy to set up
Good design
Cons
Would be a little tight with 3 people
Condensation
This tent is great. I've used it twice now on weekend long backpacking trips. Both times it rained on me and the girlfriend but we stayed dry in the tent!
It's the perfect size for 2 people plus a dog. Fitting 3 in there is definitely possible but it would be a tight squeeze. The tent has 2 storage pockets on the inside which came in handy. The vestibule is pretty big which makes it easy to keep mud out of the tent. It's an easy set up and take down. It packs a little big but it's still light.
Overall, a great tent. The only issue I've had is a little bit of condensation on the inside mesh in the mornings, but it wasn't a huge problem for us.
Source: bought it new
Price Paid: $150

I have owned this tent for two months and have only used it once. Practice pitches in the yard reveal this tent to be fairly easy to pitch solo.
The tent weighs just under six pounds with poles stakes and footprint.
Very roomy for two and adequate for three. I used this tent on a sweltering summer night with my wife, daughter and three small dogs. Ventilation was adequate, though not stellar, however in all fairness, the weather was oppressively hot. The ample mesh was a most appreciated feature.
Large vestibule has two sides and provides easy entry for bivy style tent.
When pitched correctly the structure provides an excellent wind shedding profile, while remaining roomy enough at the front for two people to sit upright.
All in all a great backpacking tent when extra space for two, or accommodations for three people are needed.
Design: Three person bivy style two pole tunnel
Sleeps: 3
Ease of Setup: Easy enough for one person
Weight: around 6 lbs tent, fly, poles, stakes, footprint
Price Paid: $195

We took this tent with us on an 8-day trip to Glacier National Park. Two of those nights were spent in the backcountry.
First, Mountain Hardwear makes great products, but I will have to be honest, I absolutely hated this tent. It's not freestanding. You need to perform acrobatics to get out of the tent and it was terrible that it only had one door and one vestibule.
The worst part is that you can barely sit up straight without elbowing your tentmates -- there were 3 women using this tent on this trip and we all had to coordinate getting out of the tent because there was no way two people can get ready at the same time, even something simple like putting on your shoes had to be a coordinated effort.
On the last day of our trip, I just couldn't stand being inside of this tent anymore that I decided to sleep in the car. Compared to the tent, I felt like I was in a 5 star hotel.
If you need a good backpacking tent, don't buy this. Get a tent that is free standing, that you can sit-up in, with two doors and two vestibules. The tiny difference in weight is worth it, especially if you need to get up at night to pee. This tent is like a zipped up Pita bread for bears and we were the stuffing.
The only plus, it kept us dry.
Design: 3 season, not freestanding, one door, one vestibule
Sleeps: 3
Price Paid: NA

This is my second season with the tent...also bought footprint through Moosejaw for it as well instead of trying to make a tarp work and folding to fit it correctly under tent like before. Tent has been in snow, freezing rain, winds up to 40mph on beach, stifling heat at 98*F with over 80% humidity and everything in between. Great tent, easy setup, holding up well.
This last trip had two to three hours of steady rain and noticed about a tablespoon of water dripping from screen seam above me. Not sure where it came from but going to lay it out and clean and search for any holes and reseal if needed.
I am 6'3" so I am about the limit to lay down center of tent without worrying about touching walls...but is comfortable, light and well ventilated.
Price Paid: $200

Have used it in Maine and New Hampshire so far this summer with no problems at all. Very roomy for two, and really light thanks to the sloping design. In days of pouring rain, not one drop in the tent, no condensation.
It's not freestanding, but this is not so important to me at all. I don't think there is a bigger, lighter, three-season tent on the market at this price with the quality of Mountain Hardwear.

Sleeps: 3
Ease of Setup: easy
Weight: 4.5 lbs
Price Paid: $188

Love this tent! We stayed very dry during a few big storms. It's easy to set up, even for just one person. Vestibule is large enough for boots and packs.
Would have given 5 stars, but a gear loft does not fit it. Otherwise it is a great, light tent. The wife, me, and the dog all fit in it with plenty of room to move.
Design: three-season
Sleeps: 3
Ease of Setup: easy for one person
Weight: 5lbs. 8oz.

Your Review
Where to Buy
Help support this site by making your next gear purchase through one of the links above. Click a link, buy what you need, and the seller will contribute a portion of the purchase price to support Trailspace's independent gear reviews.
You May Like
Specs
Price
MSRP: $200.00
Historic Range: $109.97-$240.00
Reviewers Paid: $150.00-$240.00

Capacity
3

Minimum Weight
5 lb 2 oz / 2.32 kg

Packed Weight
5 lb 11 oz / 2.56 kg

Floor Area
44 sq ft / 4.1 sq m

Number of Doors
1

Number of Poles
2

Number of Vestibules
1

Interior Height
48 in / 122 cm

Packed Diameter
6 in / 15 cm

Packed Length
23 in / 58 cm

Pitch Light Weight
3 lb 15 oz / 1.77 kg