The Mountain Jet 2 has been discontinued. If you're looking for something new, check out the best three-season tents for 2020.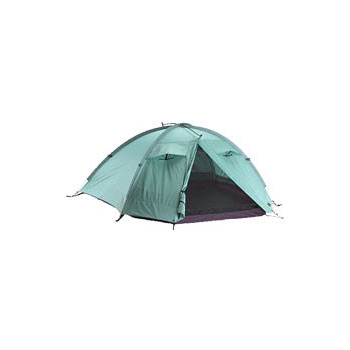 Specs
Price
Historic Range: $143.95-$230.00
Reviewers Paid: $150.00-$300.00

Reviews
Most seams are glued, zero stitching in the areas like the entire tub of the tent. The tent has absolutely fallen apart at the seams. Poor construction, terrible POS. I will never purchase another item from Mountain Hardwear!
Cons
Glued seams not stitched. Poor construction, horrible!
Source: bought it new
Price Paid: $300 or so

Best tent I've ever had. Not too heavy, easy to set up, roomy. Well engineered inside.
I live in Hilo, Hawaii, where it rains a ton. The first night, camping in heavy rain I was nervous about having to spend the next day drying out everything. NOT ONE LEAK! This was HEAVY rain, and after ten minutes of checking out every stitch and corner from the inside with my flashlight, I just sat back and enjoyed the sound of the rain pounding on my AWESOME new tent!
Have been in a few more storms since and still watertight! I love this tent more than any other I've ever had, by far!
Design: two pole, plus mini pole,
Sleeps: 2
Ease of Setup: very easy
Weight: 5 lbs
Price Paid: $215

Used it three weekends (one this winter 2006 in the White Mountains). Easy to set up, wind resistant (in very windy conditions). Not suitable for winter, because there's too much ventilation.
I wonder why they used two different kinds of door zipping system. Condensation is fair for a single wall.
Design: three-season freestanding dome, single wall
Sleeps: 2
Ease of Setup: sleeves, very easy
Weight: 6 pounds

I bought this tent about 4 years ago and have used it under varied conditions: wind, snow, sleet, rain and like it a lot recognizing its limitations. It is well ventilated so when it gets to about freezing it gets a bit chilly.
I camped at Vedawoo in a snowstorm with temps around 20 and it was not a pleasure. It tends to freeze up pretty good even with the ventilation if it is cold. Use should probably be 30 or above. It has stayed dry during hard rain, is easy to set up and really a good tent.
I have the footprint and think it is essential. It has served me well in high winds, which surprised me. It is pretty roomy with ample room for my dog, me and my gear.
Price Paid: I don't remember, I got it from MH

I just got back from a 10-day trip in the Ozark Mtns, and it got very cold at night. My Jet froze very heavy and leaked a lot. Do I need to treat my tent with something?
Sleeps: 2
Price Paid: $150

This has to be the best design for a single wall tent ever! I have been looking for one for a while, but haven't had a good feeling about any in my price range until this baby came out. Two doors, one side fully mesh (vestibule side) the other has a roll back panel for over the V-shaped mesh door, about 3-4" full perimeter mesh along the bottom, roomy vestibule with (useless) window, plenty of pockets inside, awesome head room and incredible floor space for a two-man. I'm 6'3" and sleep/sit comfortably.
I bought this tent in early spring, used it about 15 times in all kinds of weather from 40 degrees to about 87, in the rain, foggy nights, hot and humid and sunny days, mostly in NY/NJ. Condensation wasn't that much of a problem (for a single wall). It did get hot inside when trying to get away from the bugs and take a nap inside during the sunny days.
Set up isn't that bad at all, and keep in mind it's not 100% freestanding, you need to stake out the rear door side (2 pegs), the vestibule (of course) and panels along the perimeter. I wish they used clips instead of sleeves, but it's still all good. But I still get it up quickly in the rain with minimal/no wetness inside.
The window seems to never be clear unfortunately, so trying to see out is a bit foggy, but serves well during lightning storms.
The rear door is a two-zipper design, one would be better. Not closing it correctly/fully caused me to wake up with a few centipedes and such in the tent.
With its odd shape, I'd say the fitted footprint is essential.
Overall, I love this tent. Have been through quite a few other types in the past few years with most being sold, traded or returned, but this one is a definite keeper and the one I always bring out with me these days. It's usually for just myself and my 65-pound dog, with the occasional second person, and there's still plenty of room for me, dog, another person and gear inside or out. Also has been the tent that 3-4 people hang in (comfortably sitting) until the rain stops and they can set up their tent and fly.
I would have liked to use it some more before writing a review, but there aren't any out there on this tent and I wanted to give people a better working idea of it.
I highly recommend this tent to anyone who has considered a single wall but has been skeptical, and/or for people who like being out in the rain.
Design: Semi freestanding, single wall, 3 season odd shaped dome.
Sleeps: 2
Weight: A bit under 6 pounds.
Price Paid: $187

You May Like