Mountain Hardwear Nilas Jacket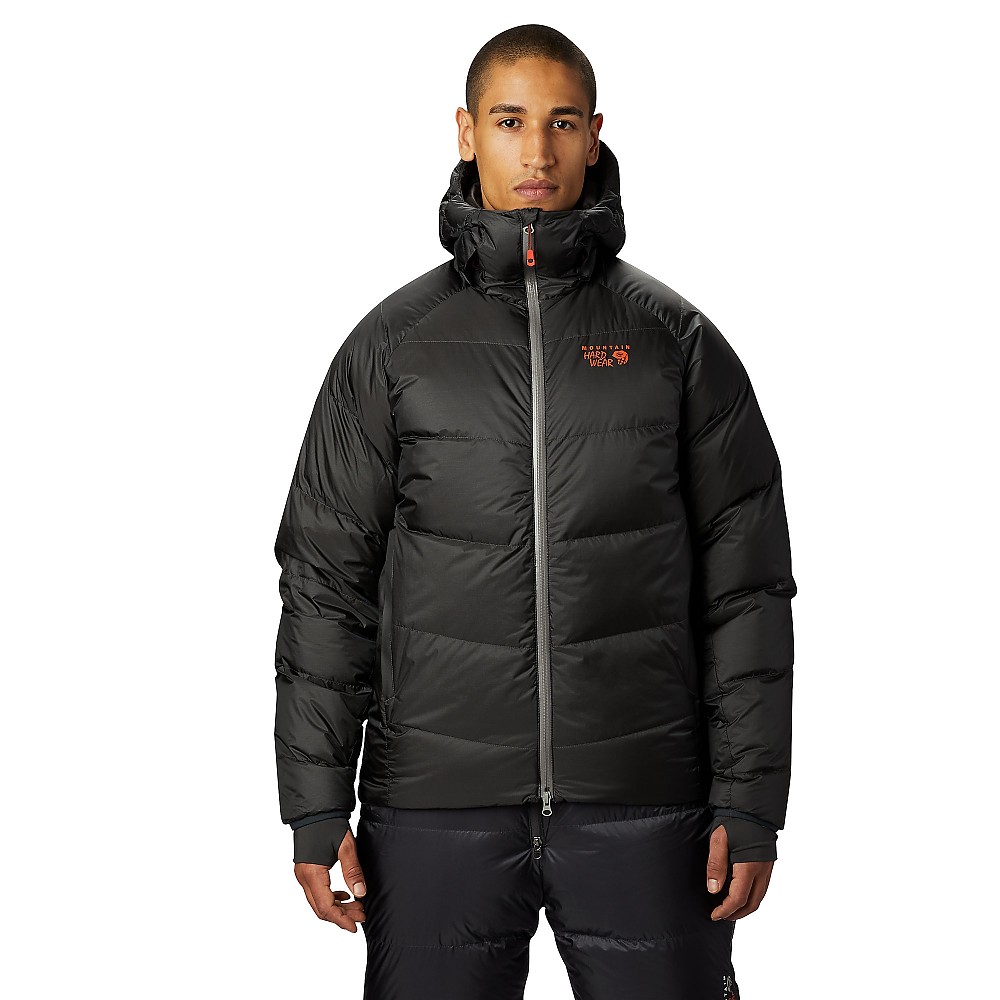 Very warm Douvet for use as a belay layer in the winter or as a high altitude layer on super cold peaks. Some great features that are mostly well thought out, and a few that could use some revamping.
Pros
Warm
Baffled
Great fit
Superlight for the category
Cons
Draw cord issues
Hood is difficult to adjust
Mountain Hardwear Nilas Jacket Review
Almost everybody in the climbing community (and most in the general outdoor community) have heard about Ueli Steck.  His speed free solos of the Matterhorn, the Grand Jorasses, and most notably, the north face of the Eiger, have brought him super stardom around the world, but especially in the climbing community. Few people have become more enamored with Ueli and his climbing than I have. I often check his websites to hear about his latest feats and goals and I can't count how many times I have watched the video of him free-soloing the Eiger.
So, when Mountain Hardwear announced that they were making an alpine climbing line of apparel, designed specifically for Ueli and mostly by Ueli, I perked up. To be honest, I used to be a big Mountain Hardwear fan, but in recent years I was less psyched on their gear.  It seemed to me that their quality and core commitment was a little lacking in the last few years.
While I was at the Outdoor Retailer show this past January, I stopped by the Mountain Hardwear booth to take a close look at the new, Ueli-inspired line of alpine climbing apparel. I checked it over throughly and was pleasantly surprised at what I found. While talking to the Mountain Hardwear rep for Utah, he admitted that the last few years had been a little stagnant for MHW; that they hadn't been as innovative as they used to be.  He assured me that those stagnant days were over and that MHW would be at the forefront of apparel and equipment innovation, starting with the Ueli line.
I love jackets, so when I saw MHW's 22oz Nilas Down Jacket (the same weight as my Rab Neutrino) that apparently is part of Ueli's Himalayan system, I had to see it for myself. It didn't make sense to me that a 22oz down jacket could be warm enough for 8000 meter peaks.  So, I ordered one. $500 retail price tag. . . Ouch!  I also tried to order a Quasar Pullover, but they were out of stock in my size.

The Features and Stats I'll be comparing this jacket to the Rab Neutrino Endurance.  I'm doing this because I have already done an in-depth review of the Neutrino and they're the same weight, so it gives us a good baseline.  I'm also comparing these two because I believe that the Neutrino is one of the best midweight down jackets on the market.
The Nilas Jacket weighs 22oz, according to the catalog and my scale.  This is the same weight as the Neutrino. 
Nilas has two external zippered handwarmer pockets, not fleece-lined; same as Neutrino.
Nilas has two internal mesh stash pockets, not zippered.  Neutrino has one internal zippered pocket.
Nilas has windproof, highly water-resistant 15denier shell (Airshield Elite).  Interior fabric feels the same as the Neutrino's interior (quatum-like, 15 denier-ish fabric, super soft).  Neutrino is also windproof, highly water-resistant, but a 30denier shell.
Nilas has one-way zipper, Neutrino has two-way zipper. 
Nilas has adjustable hem (one adjustment, kinda difficult to use), Neutrino has adjustable hem (two adjustments, much easier to use)
Nilas has two-way adjustable hood, Neutrino does too.  Nilas is more difficult to adjust.
Nilas has butter-jersey internal cuffs (love them!), Neutrino has adjustable velcro cuffs
Nilas has a baffled body, sewn-through sleeves.  Neutrino is totally sewn-through.
Nilas has about 3.5 inches of loft in the body.  Neutrino has about 3 inches.

- I'm 6'2", 185lbs.  This jacket is a Large.  Plenty big to put over all other layers, but it doesn't feel too big to wear over a t-shirt.  The ideal size for me, I think.  The Neutrino is a little slimmer fit.
- The hood with a helmet.  The front of the jacket zips up quite high.  The hood fits nicely over a helmet.  I can turn my head from side to side without restriction. 
- Hood still fits nice without a helmet.  This is not cinched.  Two hood adjustments: one bungy around the opening of the hood and one that pulls from the back of the head. 
- Neutrino, for comparison.  Hood is loftier but doesn't zip up quite as high in front.  Also has two hood adjustments. 
-Pull-cord is small diameter, the cord pull is on the interior of the jacket (have to unzip the jacket to adjust, but cords won't whip you in the face in high winds), and the cordlock is in between the layers of the jacket.  Difficult to adjust, especially with gloves. 
- Neutrino hood, for comparison.  Adjustments on exterior, easy to adjust with gloves.  Cord tubes keep cord from whacking you in the face in high winds. 
- Nilas is loftier.  There is about 3.5 inches of loft in the body of the Nilas, about 3 inches in the neutrino.  Also, Nilas is baffled in the body, which means no cold spots. 
- Two-way zipper on Neutrino, not on Nilas 
- Two internal mesh stash pockets (no zippers) large enough for nalgene bottles.  One zip pocket on Neutrino.  Hem drawcord on Nilas is the same skinny cord as on hood.  There is only one small adjustment on the hem.  This, combined with the small diameter of the cord, make it difficult to adjust the hem, especially with gloves.  If the hem is cinched, there is a lot of extra cord hanging out.  Two adjustments would make cinching much easier and would help divide the extra cord between two sides.  Two adjusments and thicker cord on the Neutrino make it easier to adjust. 
- The cuffs on the Nilas are simple but very effective; no adjustment, but it keeps snow out with gloves on.  They are comfortable and add a little hand warmth.  I think MHW nailed the cuffs.  The Neutrino cuffs are effective and easy to adjust, but not as comfortable.  Don't mind my foot in the bottom corner.

To Sum Things Up 
The Nilas is a sweet jacket!  Better than the Neutrino?  I'm not sure.  I think it will definitely be warmer than the Neutrino, it is just as light as the Neutrino, and I do like some of the features better than the Neutrino (cuffs and internal mesh pocket). The Neutrino is more easily adjusted with gloves, but with a little more effort the Nilas has an equal amount of adjustments. 
The Nilas is probably the superior jacket because of the warmth, but if I were deciding between one or the other, I'd probably still go with the Neutrino. The main reason for this is the Neutrino retails for $325, the Nilas for $500. I don't think the Nilas is almost $200 more of a jacket than the Neutrino.  I have not, however, climbed in the Nilas.  I haven't done more with it than walk outside in the cold a little bit.  My mind could change after using it.  I'll update this review once I've used it quite a bit. 
I think the Nilas is a great option if you have lots of money or you are the type that wants the warmest for the absolute least amount of weight and cost doesn't matter or a big Ueli fan and you just have to have his stuff.  I wouldn't hesitate to take the Nilas up to Denali as my warmest layer. I would be a little more hesitant with the Neutrino (because it's sewn-through).
If you want a less-expensive option that will be similar in warmth with the Nilas but still light weight, the Neutrino Plus is a baffled version with slightly more down than the Neutrino Endurance.  It is 5 ounces heavier (27oz) than the Nilas and sewn-through Neutrino.  The Neutrino Plus retails for $400. 
After a Couple Months of Use 
I have now been able to use the Nilas for a couple months, including most recently a week in the Wind Rivers, Wyoming. The more I use the jacket, the more I like it. Here are a few things that have stood out to me after some use:
This jacket is WARM! For the weight, I would guess that this is probably the warmest (or at least top three) jacket on the market. I would compare this to the MHW Sub Zero SL Hooded Jacket for warmth, even though it's about 14oz lighter. Though I haven't been in extreme cold with it yet (colder than 0 degrees F), I even start to overheat while sitting in camp when it's 15 or 20 degrees F and the jacket is zipped up.
As I had guessed, this jacket is difficult to adjust with gloves on. The hem was not as difficult as I thought it would be, but the hood is a pain. I know it looks clean, but I hate having to unzip the jacket to pull the hood drawcords tight. Once unzipped, I couldn't find the pull cord with gloves on because it's too small. 
Loosening the cord is equally difficult. In the weather I had it in, it wasn't too big of a deal to slip my gloves off to make adjustments. But, if you were on Denali, taking off gloves and unzipping the jacket could be a major discomfort. I definitely think the Neutrino's design is better in this regard.
I love the two internal mesh pockets. They are deep enough that I have never had anything fall out of them, even small things like batteries. The stretchy binding at the top of the pocket helps to keep things in. I wouldn't mind an internal zip pocket as well as the mesh pockets for a little more security, but I'd rather have the mesh pockets and no zippered pocket than the other way around.  These pockets easily swallow a liter Nalgene, gloves, propane canister, beanie, wallet, GPS, all at the same time.  Very useful.
The cuffs are great, but I find that I don't like using the thumbholes much.  At first I always had my thumbs through the holes, but I notices that when I reach for things, the sleeves feel a little short and there is a lot of pulling on the thumb.  This got to be uncomfortable after a little while.  So, I stopped using the thumbholes and the cuffs are still great.  They seal out cold well and are very comfortable.  I think somebody with slightly shorter arms than me would have no problem using the thumbholes.
I love the fit as a belay jacket.  This jacket is slightly boxier than the Neutrino, but I feel that it is the ideal size for use as a belay jacket.  When I layer is over other layers, it feels trim but not too tight.  No loft in the jacket is compromised.  But even wearing it alone over a t-shirt didn't feel to baggy.  The Neutrino fits ideally as a stand alone jacket, but feels just a tad tight when layered over other layers.  It's not really uncomfortable, but it does compress the down a little.  The Nilas is just slightly roomier, which I think is the better fit as a belay jacket.
Finally, I really like the face fabric and liner material.  The liner is so soft and supple; it really feels good next to the skin.  The face fabric, though it sounds a little crinkly, it is very light and so far very weather resistant.  I haven't had it in really wet conditions other than about five minutes of rain, but the DWR worked very well and a few hours of blowing snow couldn't touch it. 
If you're using the jacket for what it's designed to do (keep you warm in extra cold temps), you shouldn't have a problem with the fabric wetting out.  The shell fabric was surprisingly robust, as well.  I haven't climbed rock in it, but I have brushed it against granite faces and the face fabric didn't seem to mind.  But, just as a precaution, I try not to avoid touching rocks with it.
All in all, I'm starting to feel that this jacket is more worth the $500 price tag than when I first got it, but I still think the Neutrino Plus, though slightly heavier, is the better value all around.
Source: bought it new
Price Paid: $500

Your Review
Where to Buy
Help support this site by making your next gear purchase through one of the links above. Click a link, buy what you need, and the seller will contribute a portion of the purchase price to support Trailspace's independent gear reviews.
You May Like
Specs
Men's
Price
Current Retail: $550.00
Historic Range: $119.96-$550.00
Reviewers Paid: $500.00

Women's
Price
Historic Range: $165.05-$549.95

Recently on Trailspace