Mountain Hardwear Phantom 15F/-9C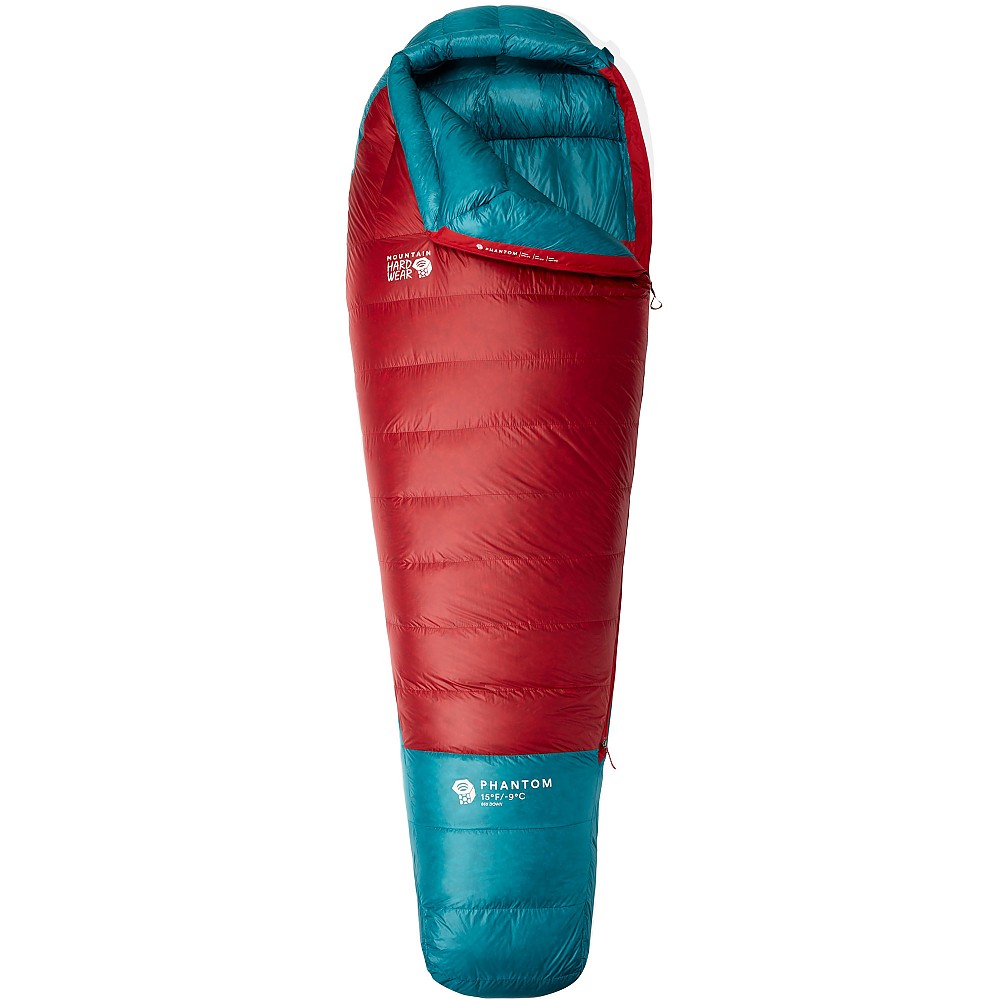 This is a very warm yet lightweight down sleeping bag. Good for every season except middle of summer.
Pros
Lightweight
Compressible
Warm
This sleeping bag is rated to 15 degrees and I've definitely had it down that low. I'm a cold sleeper so I need to add more layers when it gets that cold but I've still been comfortable in this bag. The draft collar and hood also help in keeping warm air in the bag.
I usually used it with a silk liner, to keep the bag cleaner and less smelly. I have not had to wash it yet, just aired it out occasionally and it's still in great shape, despite being used almost constantly on a thru hike, including being compressed into a 13L stuff suck every day.
MH uses Q-Shield Down: "Q.Shield DOWN is a giant leap forward in down performance. Down fibers are infused with a permanent water repellency that helps maintain insulating performance even when exposed to moisture."
My bag got pretty damp several times on the trail but I never noticed any difference in warmth, even if I didn't have a chance to dry it out and it was stuck damp in my waterproof stuff sack all day.
I used a men's regular and I am 5'10". I used it for most of my Appalachian Trail thru hike, just switching it out during the hottest part of summer.

Source: bought it used
Price Paid: $242

The number one advantage of this bag to me is the weight-to-warmth ratio. Of all the bags that I looked at for a trip in February to Alabama's Pinhoti Trail I found the weight of this one to be the best. I have a problem paying $300 or more for a bag that is over 2lbs.
The women's version of this bag is touted as 1lb 14oz (my scale says 1lb 15oz). It packs down incredibly small. Even though it is a woman's bag, I do not feel constricted at all (I am 5'8" tall, around 150lbs). I was comfortable in the bag to a temp of 17* with a mid weight base layer on and a silk liner.
The things I don't like about this bag are that the material it is made of is very thin. This hasn't caused a problem, but I can see how it would need very careful handling. Also, I have noticed that every time I use it several feathers get out in the tent. This is to be expected to a degree, but I would prefer that fewer got out. I use my bags often, I can see how this could lead to a reduced insulating ability sooner than I would like.
All in all, I am happy with the bag. Its light weight is excellent for its ability to insulate. It compacts well. It requires careful handling to minimize feather loss and prevent damage to the light weight fabric.
Design: Mummy
Fill: 800 fill down
Temperature Rating: +15 degrees Farenheight
Weight: 1lb 15oz
Price Paid: $343

I have taken out this bag on about 8 trips, the coldest was 18 to 20 degrees in Yosemite, and I was as toasty as could be just in my Patagonia Capilene baselayer. It's warmth to weight ratio is awesome. On the warmer nights I just leave the zipper down a bit and it keeps me comfortable.
Even when you have the bag fully zipped, and everything all cinched down for the coldest of temperatures, you have just enough room to move your arms, shoulders, and legs without feeling claustrophobic. I added a down pillow into the hood and cinched everything down and slept soundly all night in the bag every time. (Well unless the wind is blowing so hard that the tent roof is hitting me in the face! Well thats not the bags fault...)
I agree with the other reviewer that the zipper does snag, and is not a smooth of an action as I would like. I would definitely like to see a much smoother zipper action on the bag. It takes me a couple tries to get it fully zipped up.
All in all I fully recommend the bag because of its warmth to weight ratio, and comfort it provides.
Design: Mummy
Fill: 800 Fill Down
Temperature Rating: 15
Weight: 2 lbs
Price Paid: $285

This bag's best feature is its warmth-to-weight ratio, although the 15 degree F rating is quite optimistic. I have experimented with all kinds of sleeping pads, layering, etc. and found this bag's rating to be more accurate at 20 degree F. If you are a cold sleeper, you MAY be able to stay warm with minimal layers at 15F, but for the average sleeper expect to be wearing long underwear and a fleece to stay cozy at 20F. With a weight under 2 lbs, it's hard to expect more from this bag!
Don't pay full retail for this bag as it's not worth it. Like posted before, if you have the money go with Western Mountaineering who can actually stand behind their degree ratings guaranteed.
This is a great 3-season bag that is superlight, but is overpriced and doesn't stand up to its degree rating.
Design: Mummy
Fill: 800 fill down
Temperature Rating: 15 degrees F
Weight: 1 pound, 15oz
Price Paid: $200

The bag construction is great. Materials are great. It's light, stuffs down small, the hood is awesome and it's cozy. But I'm skeptical about the temperature rating.

Pros
Great construction
Great hood
Comfortable and compressible
Cons
Optimistic temperature rating
I really like this bag. However I bought the long and should have gone for the regular. I owned another MH bag that was long and it fit great. So when I reordered it i just went with the long without realizing that the sizes were changed.
I went on a trip to the Sierras and it got down to about 30 degrees at night. My core and head were warm, but i had so much extra space that my legs were cold. If I had the regular size I'm sure I would have been warmer.
However the reason I don't give it a 5 star rating is that even with the right size I'm not sure I would have been warm at 26 degrees which is the EN comfort rating, let alone 15 degrees.
The bag construction is great. Materials are great. It's light, stuffs down small, the hood is awesome and it's cozy.
I am a little skeptical about the temperature rating. As I have been researching more, I'm learning that it seems that only Feathered Friends and Western Mountaineering rate their temperatures realistically for comfort.
Source: bought it new

I had originally purchased the Phantom 32 but it proved to be a little marginal for high elevation in the fall. It kept me warm at freezing temps but no lower. Sleeping in fleece and a down sweater worked just fine but I was looking for a little more 3-season versatility in the Western Mountains after Labor Day. I turned the bag in and exchanged it for the Phantom 15.
Ten more oz of down is a world of difference and this bag was toasty at 20 degrees. The neck collar makes a big difference and would certainly benefit the Phantom 32 as well. I have been using Gore-tex and Dryloft shelled bags for the past ten years and was a little worried about the 15D of the Phantom. As I looked back over those past ten years I couldn't think of one time that I actually needed the extra weatherproof shell and in my new found mantra of "going light" I have shed over a pound off of my previous all around bag -- an early Feathered Friends SnowBunting with dryloft shell and 700 fill down.
The Phantom has been put together well and I really like the tuck stitching they use. The collar is a little on the spartan side (Feathered Friends and Western Mountaineering have more elegant solutions) but it is light and does the job. The internal pocket is a nice addition but I don't know what I would use it for since I wear my watch and don't wear contacts. Maybe it would be a great spot for night meds.
All in all a very good lightweight bag for 3-season plus.
Design: Mummy
Fill: 800 fill down
Temperature Rating: 15 farenheight
Weight: 1 lb 15 ounces

For this bag's latest test, I just came back from a trip to the Big Sur area of California. During Thanksgiving night the temperature dropped to the mid 30s and I was nice and warm. Next day, it rained till noon and while tentbound the sky blue color of this bag really cheered things up.
Zipper did snag a bit, but overall it was a great bag. 3/4 zipper was easy getting used to since it allowed for much quicker exit than half-lengh zippers. Amazingly, this bag fit me incredibly well. It was perfect at the upper body, but most importantly for such a "narrow cut" bag, the leg area was very roomy, allowing my knees and legs to freely move around.
My only complaints are that the actual weight was 3oz heavier than stated (2lbs 2oz) and bag does not seem as warm as my Marmot Pinnacle, though it is 9oz heavier. Also, this bag's loft WASN'T 6 inches as stated by MH, but 5 inches in most areas and higher in the footbox.
All in all, great bag, but for the price I would try looking for a Western Mountaineering sleeping bag. Would have purchased the Megalite if I knew WM existed before buying this bag 1.5 years ago.
Design: Mummy
Fill: 800 Fill Down
Temperature Rating: 15 Farenheight
Weight: 2lbs 2oz
Price Paid: $330

Your Review
Where to Buy
Help support this site by making your next gear purchase through one of the links above. Click a link, buy what you need, and the seller will contribute a portion of the purchase price to support Trailspace's independent gear reviews.
You May Like
Specs
Men's
Regular
Long
Price
MSRP: $400.00
Current Retail: $540.00-$610.00
Historic Range: $214.98-$610.00
Reviewers Paid: $200.00-$330.00

Weight
2 lb 1 oz / 940 g
2 lb 4 oz / 1020 g
Fill Weight
1 lb 4 oz / 567 g
1 lb 6 oz / 624 g
Loft
6 in / 15 cm
6 in / 15 cm
Temperature Rating
15 F / -9 C
15 F / -9 C
EN Comfort
26 F / -3 C
26 F / -3 C
EN Lower Limit
15 F / -9 C
15 F / -9 C
Fill
800 Fill-Power Down
800 Fill-Power Down
Shape
Mummy
Mummy
Max User Height
6 ft 0 in / 180 cm
6 ft 6 in / 200 cm
Shoulder Girth
60 in / 152 cm
62 in / 157 cm
Hip Girth
56 in / 142 cm
58 in / 147 cm
Foot Girth
38 in / 97 cm
40 in / 102 cm
Price
$400.00 USD
$415.00 USD
Women's
Regular
Long
Price
MSRP: $400.00
Historic Range: $214.98-$529.95
Reviewers Paid: $343.00

Weight
2 lb 0 oz / 910 g
2 lb 3 oz / 990 g
Fill Weight
1 lb 4 oz / 567 g
1 lb 6 oz / 624 g
Loft
6 in / 15 cm
6 in / 15 cm
Temperature Rating
15 F / -9 C
15 F / -9 C
EN Comfort
25 F / -4 C
25 F / -4 C
EN Lower Limit
14 F / -10 C
14 F / -10 C
Fill
800 Fill-Power Down
800 Fill-Power Down
Shape
Mummy
Mummy
Max User Height
5 ft 5 in / 165 cm
5 ft 10 in / 178 cm
Shoulder Girth
56 in / 142 cm
58 in / 147 cm
Hip Girth
56 in / 142 cm
58 in / 147 cm
Foot Girth
36 in / 91 cm
38 in / 97 cm
Price
$400.00 USD
$415.00 USD
Recently on Trailspace