Mountain Hardwear Phantom Down Hoody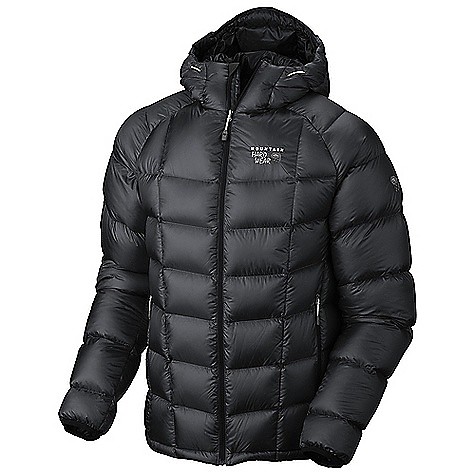 A puffy heater of a jacket. This is a very warm, very light down jacket with just enough functionality to make it supremely useful for cold weather backpacking and other sports. The extremely light shell fabric has been great so far but isn't bushwhacking material. To get this much warmth with this little weight is almost unfair; I love it.
Pros
Warmth-to-weight is ridiculous
Thoughtful features
Great fit for a warm jacket — room to layer
Super-puffy sleeves
Outer shell can handle a drizzle
Nicely designed and fitted hood
Cons
Some might find forearms a little confining
This jacket lives somewhere between where my down sweater ceases to keep me warm and where my expedition-weight parka becomes necessary in relentless sub-zero weather. It fills that gap tremendously well.
IN GENERAL
This is a size XL that weighs 16 ounces on my digital hand scale.  roughly 6.5 ounces of 850 fill power down are packed into a very light shell fabric, including an integral hood (not removable).   first and foremost, this is a really warm jacket.  forget about walking around in this for any length of time; it's a wear-in-camp, put on when you are stopped and chilly solution.  
Note the way the shell is stitched down to keep the insulation from shifting around.  the only thing i have found after a couple of months is that you occasionally have to work some down back around to the front of the sleeves - after a fair bit of wear, down tends to slide away from the inside of your elbow, like with most jackets.  Note, this jacket is not 'baffled,' it does not have separate pieces of fabric between the inner and outer shell.  thicker and puffier jackets tend to be baffled.  
One concern i had is that with all this stitching, a stern cold wind would make this feel like a chilly sieve.  not so...more on that later.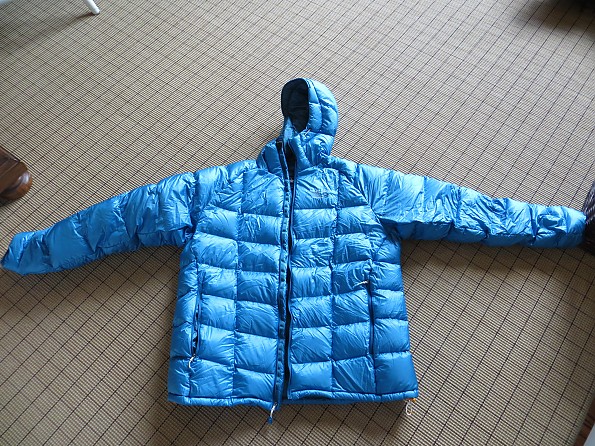 Though the back has a slightly different stitched pattern, the result is the same.  no obvious cold spots, and the down stays where it is supposed to be.  even the hood does that well.  another thing these photos kind of show is how light the outer shell is.  it has a DWR coating, which i'll talk about below when I talk about how I have worn it.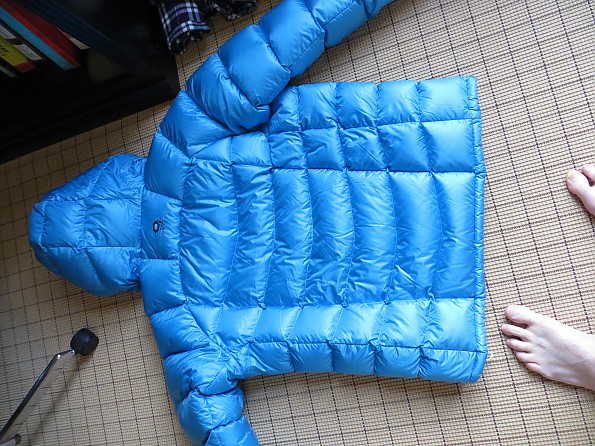 How much loft does this jacket have? here is a comparison with a patagonia down sweater.  it's a much thicker, warmer jacket, yet it weighs only 4 ounces more.  i'm not the most artful photographer, but this is a shoulder-to-shoulder comparison with the sleeves sticking out.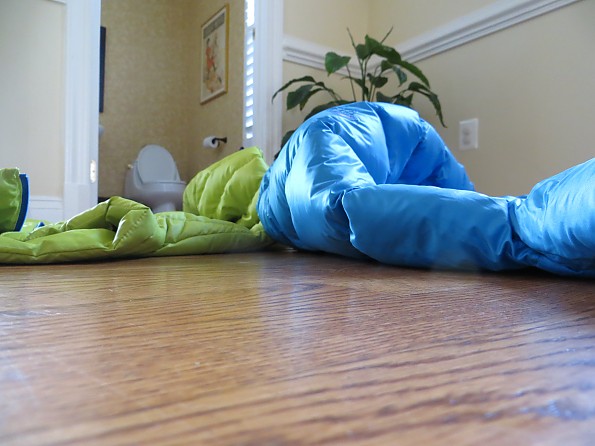 FEATURES
This is not a jacket full of bells and whistles, but it's worth talking about some of the things that make it great.  the zippers are all very lightweight, and the pulls all look the one below.  that one is on one of the handwarmer pockets.  the zippers run very smoothly, and the pulls are easy to use with gloves on.  a plus.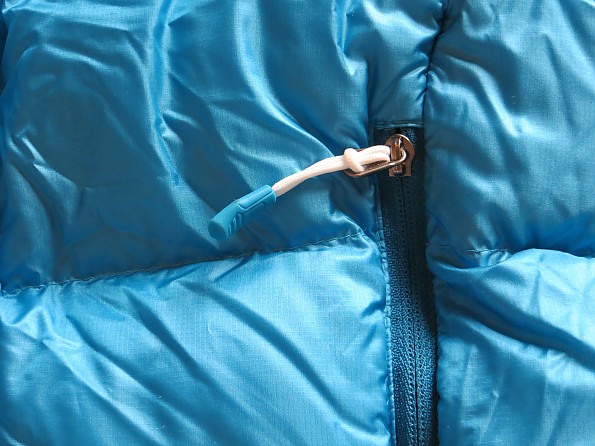 In keeping with the streamlined design, the only hood adjustments are the two side pulls.  now how the pulls are channeled to the inside of the jacket - they won't flap in your face.  better yet, the part of the jacket that fronts your face is lined with a soft, fleecy material, which is excellent.  the toggles for the hood pulls are interesting; i couldn't photograph them because they are inside the jacket; you can feel them with your hand and squeeze them to use the side hood pulls, but they are fully hidden.  i like that; they won't ice up or flap in the wind.  otherwise, i didn't miss other hood adjustments but love that hood; it's a great shape, it is very warm, and it does not block my side vision.  the brim is a little stiffened to keep it out of your eyes.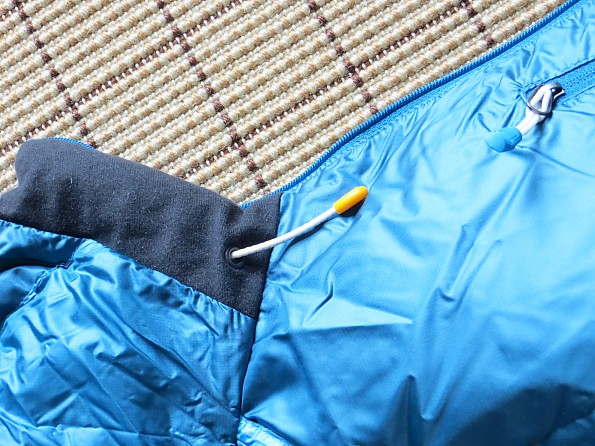 The hem has an elastic cord with toggles on either side.  they do the job.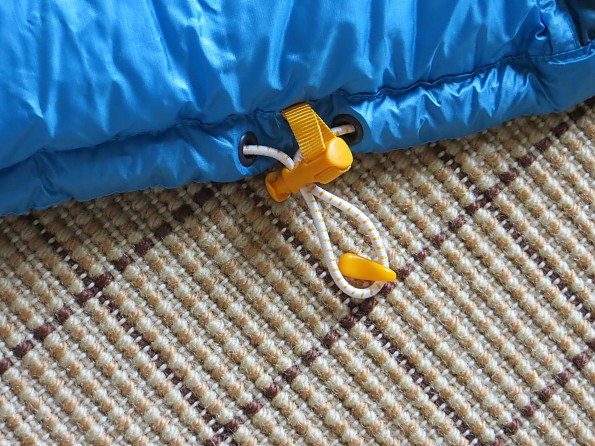 Cuffs are minimalist - just a little elastic, no velcro or tabs.  they keep the weather out.  the sleeves are well-sized but feel just a hair tight on my forearms, mostly because they are so fluffy.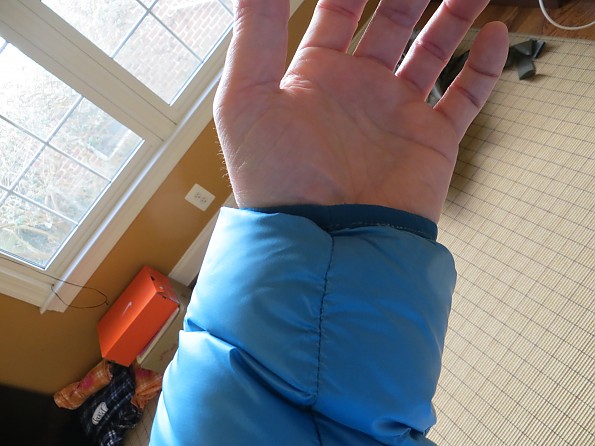 The two handwarmer pockets are large - i can put my hands in while wearing gloves, but not heavy mitts.  you could put a lot of stuff in those pockets if needed.  the jacket has one zippered interior pocket that's smaller, good for a wallet, a folded map, a compass, things of that size.  the other inside pocket is pictured below - stretchy mesh that can hold a water bottle, with a top edge that's more elastic to keep the bottle from falling out.  that's a one-liter camelbak bottle.  
FIT
I wear a 46 jacket and usually wear an extra large.  I think this runs true to size.  it is sized to layer underneath, particularly the torso area; i can wear a very puffy down vest underneath it without feeling confined.  as you can see, the hem is right around my hips (i'm 5 foot 10).  not a waist-length jacket but not a full thigh-length parka, either.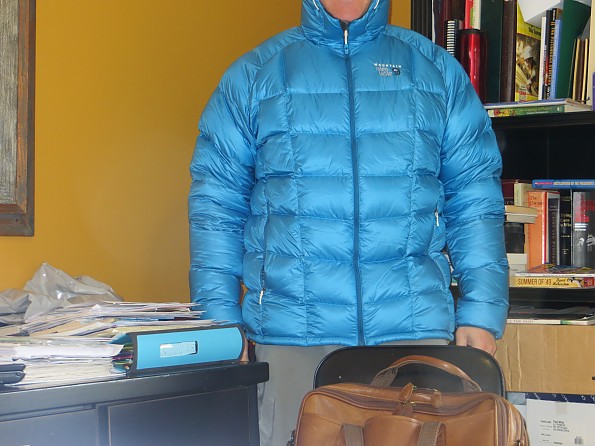 This shows how the hood fits - the pulls are drawn in quite a bit in this photo.  I'm confident the hood can accommodate all but the largest helmets, if that is an issue.  note how puffy that hood is; it contributes a lot to the warmth of the jacket.  note, the hood is not removable and doesn't have any way to make it disappear, so if you want the ability to remove or hide the hood, this probably isn't your jacket.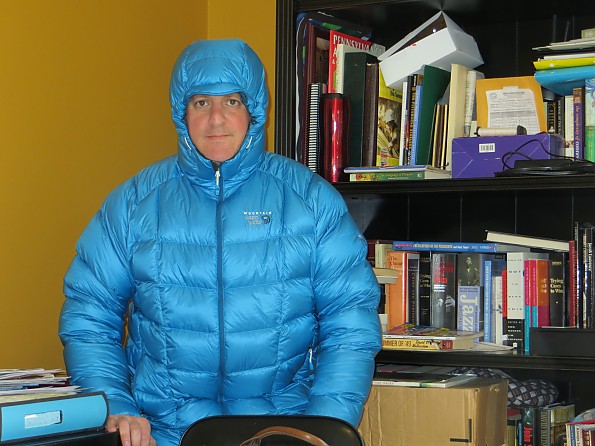 ACTUALLY WEARING IT
I haven't had an opportunity to photograph myself wearing the jacket.  on a number of cold hikes, i put the jacket on when i stopped for lunch or a break.  some of those days, it was pretty windy, and on two lovely afternoons, freezing drizzle.  i have also put the jacket on for some evenings stargazing.  
Because the jacket is so puffy, you really can't feel the wind, even with all that stitching.  the outer shell does a very nice job with light rain; water beads up and runs off.  it isn't waterproof, so i wouldn't wear it in a steady/hard rain unless under a shell.  
The hood is great. it doesn't block your peripheral vision, it fits well, and it is very, very warm.  so is the jacket, by the way.  can't believe how warm and light this is.  you want one? go buy your own, i'll fight for this.  it's awesome.
Source: bought it new
Price Paid: $164

Like wearing a cloud of warmth, the Phantom Hooded Jacket keeps you toasty in the coldest temperatures and packs down small enough to bring on every trip. Highly recommended for anyone pursuing outdoor fun in very cold environments.
Pros
Very warm
Bulky to keep you insulated but very packable
Water resistant down
Helmet Compatible Hood
Cons
Thumb hole in cuff is a little small.
I received the Mountain Hardwear Phantom Hooded Jacket for testing towards the end of Fall 2014 and tested it from that point through Mid-February 2015 in the White Mountains of New Hampshire. This time period saw temperatures ranging from 40 degrees above 0 to 30 degrees below 0 and everything from wind, snow, and rain.
Fit & Comfort:
I found the overall fit to be outstanding. The jacket has ample length in the arms and body which kept me covered even when reaching and lifting my arms. The extra length in the body extends below the hip belt of a pack preventing the jacket from riding up while climbing.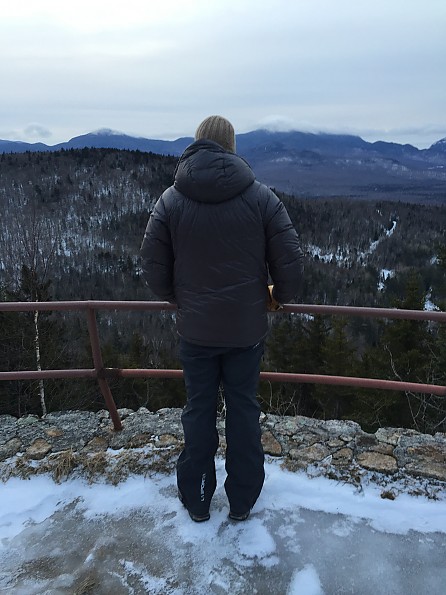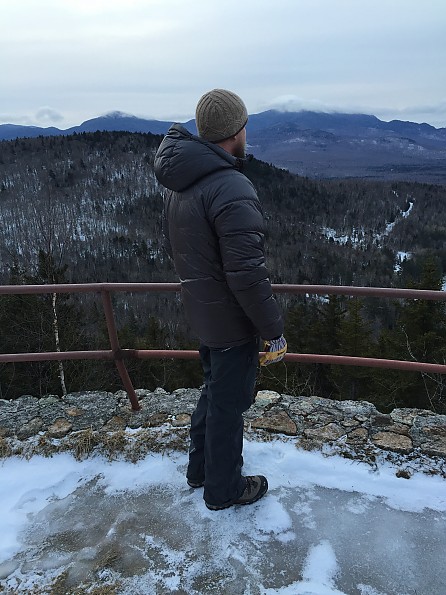 The cuffs have a comfortably snug fit and seal out the cold very well. They fit well against a bare wrist as well as have enough stretch to fit over gloves.
There are also small thumb holes in the cuffs which can be used to hold the arms in place. While I typically like this as a feature, I found that the openings were a little too small and I was not comfortable using them for long periods of time.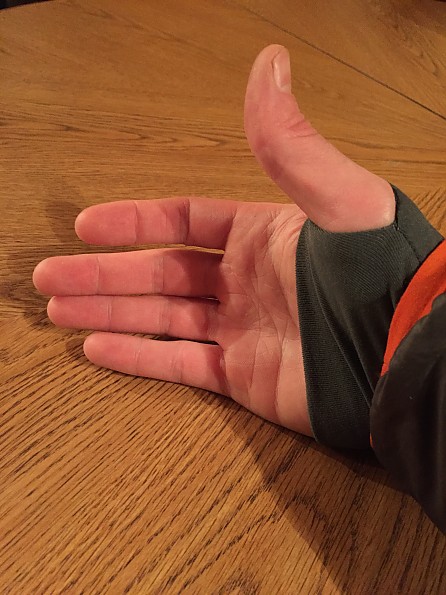 The hood is incredibly large and provides more than enough room for a helmet yet it is able to cinch tight around the head when only wearing a knit hat.
The tightening of the hood is accomplished by pulling a draw cord on either side of the hood. When the hood is fully expanded, the draw cords fit nicely back into the hem of the hood. There are two small push button style tabs inside the hem that lock the cords in place.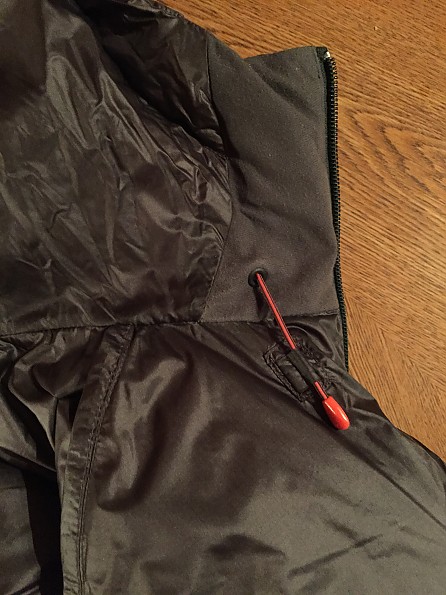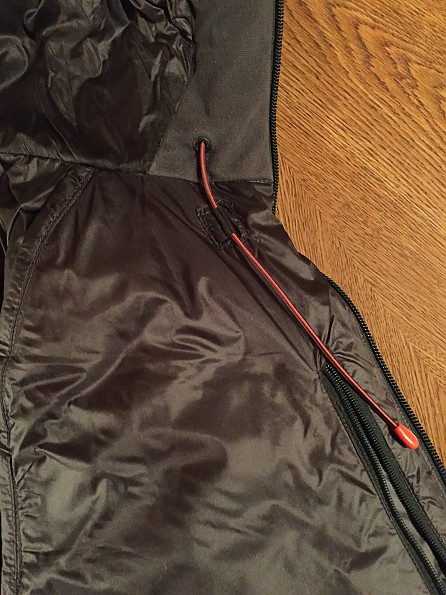 The bottom hem of the jacket contains a set of adjustable cords which allowed me to cinch the bottom tight against my hips when needed to prevent unwelcome blasts of cold air during heavy winds.
This jacket was designed for use in the cold and I found that I was able to make all the adjustments with the tabs, cords, and zipper pulls while wearing winter gloves.
Overall, this jacket was extremely comfortable to wear.
Adjustability:
As mentioned previously, the Mountain Hardwear Phantom Hooded jacket provides a nice level of adjustability to suit a variety of conditions. The bottom hem can be cinched tight to prevent cold air finding its way in and the hood is large enough for a helmet but able to tighten down around the head when only wearing a knit cap. The cuffs are snug against the wrist with enough stretch to fit around winter gloves.
Breathability:
The only way to vent this jacket was to completely open the front. With that being said, this is an incredibly warm jacket by design and it performed in that function exceedingly well. I have a tendency to run hot so I rarely wore this jacket during the active climbing portion of a trip knowing I would be too hot.
Warmth:
I tested this jacket in conditions that reached close to -30 degrees Fahrenheit because of wind-chill and it is by far the warmest jacket I have ever used. The 850 fill down provides a large amount of insulating power. It was always nice to have this jacket in my pack for when I reached the end of a long windy backcountry ski tour and wanted to relax in warmth during the transition.
Layering:
I found that under most conditions this jacket worked well with a combination of a base layer and a light weight mid-layer. This was more than enough to keep me comfortably warm in temperatures between -10 and 15 to 20 degrees Fahrenheit. When temperatures dipped below the -10 mark I added a slightly bulkier mid-layer but never needed anything more than that even when the winds created temperatures in the -30 range. On warm days above 20 degrees I shed the mid-layer and on occasion would switch over to a short sleeve base layer.
This jacket is too bulky to be worn under anything. However, it is designed to be an outer layer and stands up well against heavy winds and falling snow so I never felt like I was missing anything not being able to put a hardshell over this puffy.
Features:
To solve the age old problem of down becoming useless when wet, the Mountain Hardwear Phantom Hooded Jacket utilized Q.Shield 850 fill down. Mountain Hardwear claims that Q.Shield down is coated with a permanent water repellent solution. This allows the down to maintain its loft and insulating abilities even when damp. I like that Mountain Hardwear took the approach of treating the down as their solution. I love the natural feel and comfort provided by a down jacket. By treating the down, Mountain Hardwear did not compromise that comfortable feeling.
During my testing I found that the jacket maintained loft and warmth even after being exposed to melting snow and perspiration. I have had traditional down jackets fail under similar conditions.
There is an internal napoleon style pocket on the left hand side which is perfect for sunglasses or a cell phone. Being on the inside of the jacket allows for a cell phone kept there to stay warm and functional.
In addition to the napoleon style pocket there are two long mesh pockets on either side of the inside of the jacket. I used these pockets for maps and gloves as well as my 16 ounce Klean Kanteen which fit perfectly allowing my water to keep from freezing.
The entire jacket stuffs into one of the external pockets. The zipper of the stowing pocket has an internal pull labeled "STOW" which allows for fool proof storage even when tired. I was incredibly impressed by how well this big puffy packed down though I found that I rarely used the stow pocket and just stuffed the jacket into my pack.
Construction & Durability:
I found that the Phantom Hooded Jacket held up well under the conditions I tested it. During backcountry ski tours I am frequently adjusting and taking off and putting on my pack, changing layers, stuffing and pulling jackets in and out of my pack and this jacket held up well against those consistently changing conditions and rough use. Northeastern backcountry skiing is mostly through tight tree glades as well as over icy conditions. I have yet to see any evidence of wear even though I have been whipped and scratched by branches as well as the occasional tumble on the icy slopes.
The down is held in place through horizontal baffles that keep everything well distributed and in place. The stitching does not allow any air to pass into the jacket which is great on windy days. I have not noticed any issues in the stitching as of yet but I am going to keep an eye on it after more use as this can be an area of weakness.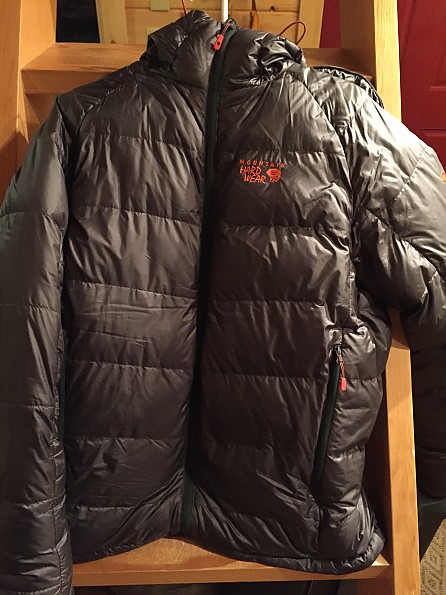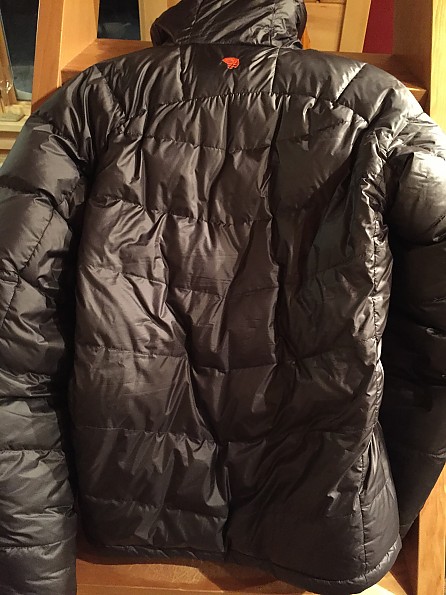 Conditions:
As I have mentioned, the winter of 2014-2015 has been extremely cold, windy, and snowy in Northern New Hampshire. While some may not like these conditions, they provided a great opportunity to test this jacket.
During my testing period, I found that this jacket is too warm to wear in temperatures above 35 degrees. This means that I found it to be too hot when conditions would lead to rain. However, I was able to verify the benefits of the Q.Shield down through snow accumulation while out in snowfall as well as perspiration during active hikes. Under both circumstances the down maintained its loft and warming abilities.
I have used this jacket while snowshoeing and hiking, as well as Nordic and Alpine skiing (both in the front country and backcountry).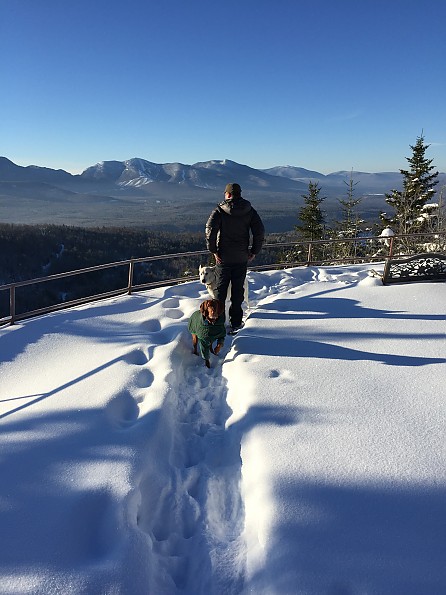 For me, this jacket is at its best while I am skiing. At lift serve areas I was able to stay warm on the ride up the lift as well as on the runs down the hill because wind never penetrated the seams even under the most trying conditions. During backcountry tours this jacket is perfect for when you take a break or during transitions after a long time spent in a skin track.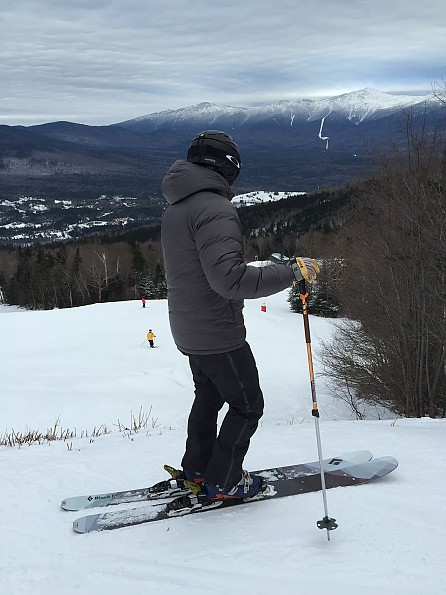 Due to the packability of this jacket I never hesitated throwing it in my pack anytime I went out in the cold. For a pound of weight and very little real estate I liked having the insurance of an incredibly warm jacket.
Summary:
The testing period for this jacket coincided with some of the coldest temperatures the Northeast has seen in many years. The Phantom Hooded Jacket held up well against these conditions keeping me warm even when the wind caused the temperatures to drop to around 30 below 0. Whether I was snowshoeing, hiking, or skiing, the Phantom Hooded Jacket kept me warm and comfortable allowing me to stay out longer and have more fun. I highly recommend this jacket for anyone pursuing outdoor activities in the coldest of temperatures.
Source: received for testing via the Trailspace Review Corps (Sample provided by Mountain Hardwear for testing and review)

I had mixed emotions with this coat.
Pros
Warm
Lightweight for size
Great color
Cons
Can feel air through stitching
I bought the Blue in a Large. I'm 5'10" 180 lbs. 42" chest. The fit was good for me. I could fit layers under it no problem.
I bought this to replace a TNF that doesn't have a hood. I found that I didn't find the coat to be any warmer, actually less. I felt like I was feeling air go through a little more in the stitching then my old coat. I decided that I just need to get a more burley coat for below zero temps. I returned it, but if I didn't already have that TNF, I probably would have kept it. 
The blue color is nice and not too bright IMO. The forearms are sort of tight, like I had read before, but nothing to cause concern.
Source: bought it new
Price Paid: $260

Your Review
Where to Buy
Help support this site by making your next gear purchase through one of the links above. Click a link, buy what you need, and the seller will contribute a portion of the purchase price to support Trailspace's independent gear reviews.
You May Like
Specs
Men's
Price
Historic Range: $104.83-$400.00
Reviewers Paid: $164.00-$260.00

Women's
Price
Historic Range: $119.98-$400.00

Recently on Trailspace