Mountain Hardwear Refugium Jacket

The Refugium Jacket has been discontinued. If you're looking for something new, check out the best synthetic insulated jackets for 2023.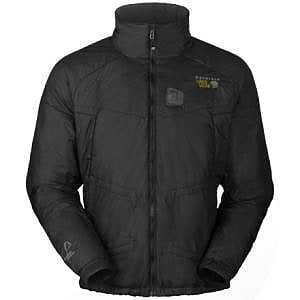 This jacket is the bomb! Now that I've had it for a few weeks, I seriously wonder how I ever got by without it. The light weight, warmth and fit are as good if not better than any similar mid layer style piece I've ever worn, but it's what's inside that really rocks!
Mountain Hardwear has apparently hitched up with a new company that I've never heard of called Ardica. You've got to see and try it to believe it!
Ardica makes a system which is built into the jacket that provides power, heat and charging capability all in one. It's a component system and the jacket and battery are sold separately. With the battery inserted into the jacket and properly charged, this jacket is like none you've ever worn! The system's three heat panels keep you toasty warm, and there's a USB outlet in the pocket so that you can simultaneously charge your cell or Ipod.
I've used it ice fishing, hiking, snowmobiling and sitting watching the local high school hockey team. It kept me toast while fishing for 5 hours and allowed me to rock out to some Motorhead while doing so. Pretty darn cool if you ask this Golden Gopher!!!

Price Paid: $240

I'll keep this short as I'm beyond irate after exchanging emails with Ardica due to the manual for this battery system not being correct, the dongle charger was defective, the system never reached a full charge in under 5 hours, the cable came unplugged from the battery because the glue they use on the little lame flap covering the plug came unstuck.
The unit does NOT last 3 hours on full, in fact in the manual is says 2.8 hours on high heat yet in emails tonight with a particular individual at Ardica, he advised me that they've changed the design due to requirements by the battery manufacturer... so get this folks.... no longer 3 hours, no longer 2.8 hours... the max is now 2 hours heat on high setting (and even less if you have anything plugged in the USB port during that time) and no, they're not telling the public, their website and all their partners (REI, Mountain Hardwear, Ardica etc) are all still saying 3 hours on high...when they know it's not true.
Almost $500 for a jacket that fits terribly, is cheaply built (the switch is sewn on at an angle and pulls on the collar), is sized terrible, (I had to buy the men's to half way my arm length and now it's puffy everywhere) and now the company is continuing to advertise 3 hours when it's 2... plus after emailing both Ardica and Mountain Hardwear, I did not receive an email for over a week...
Never again will I purchase Mountain Hardwear and it's very unlikely I'll purchase Ardica till they start being honest with their specifications.
Now it's too late to take this piece of junk back as I had to drive 140 miles to Seattle to get it as none of their sellers in Vancouver, BC stock them... sounds like it's going on Craigslist.
$230 for a cheap synthetic jacket simply to use as a carrier for an additional $150 battery with multiple technical issues, poor quality control, doesn't charge properly, limited life... hell no.

Price Paid: $230 jacket + $150 battery

Your Review
You May Like
Specs
Price
Historic Range: $179.95-$251.25
Reviewers Paid: $230.00-$240.00

Recently on Trailspace