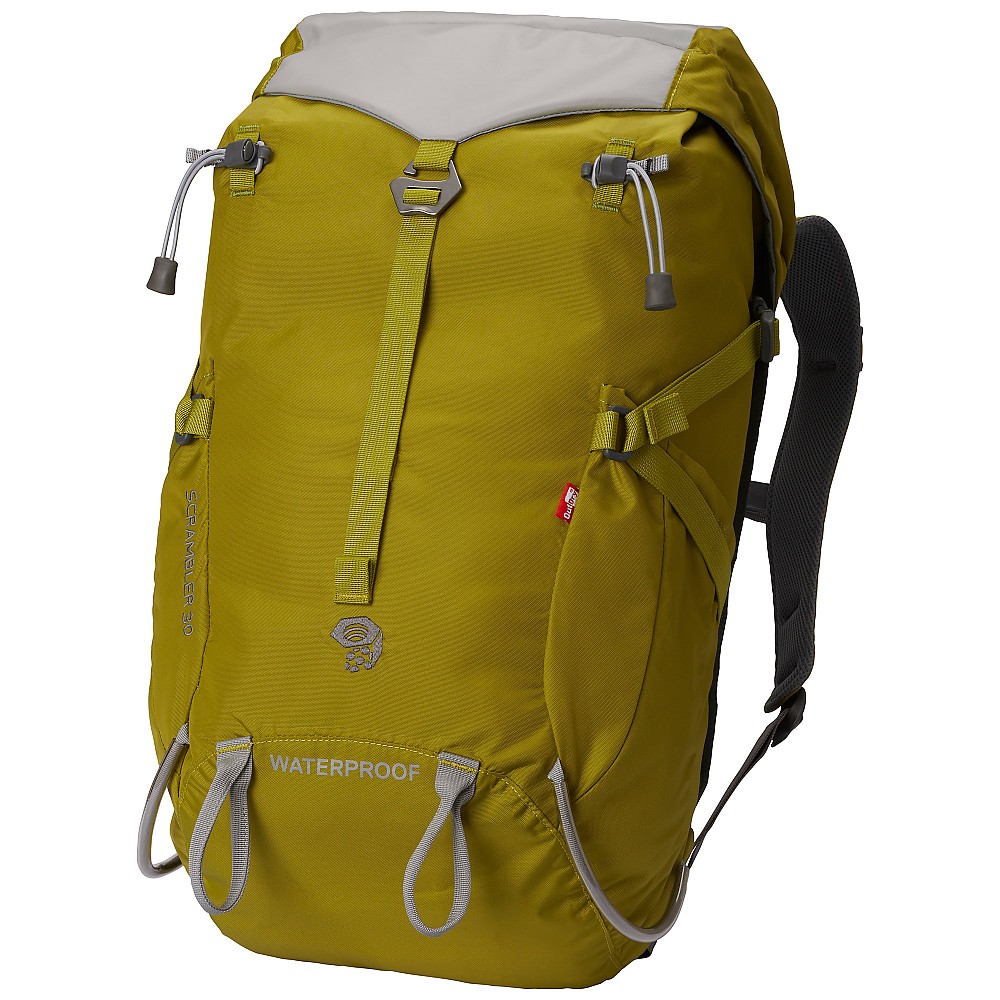 Specs
Price
MSRP: $130.00
Historic Range: $64.73-$130.00
Reviewers Paid: $125.00

Weight
1 lb 11 oz

Capacity
1805 cu in / 30L

Torso
16-22 in

Body
400D HD Nylon

Reviews
5

reviews

5-star:

0

4-star:

2

3-star:

2

2-star:

1

1-star:

0
This backpack wasn't bad. It wasn't my favourite, but I also didn't hate it either. Great pack for wet hiking conditions, a winter snowshoe hike, or an all weather commuter.
Pros
Waterproof
Backpanel for reservoir
Swallows gear
Cons
Top cap without seam sealed zipper
Shoulder harness not well contoured for ladies
Few pockets
As I mentioned in the summary, I don't dislike this pack. But I was also happy to return to use my old faithful. Though the waterproofing is great, and I wish my other pack was waterproof.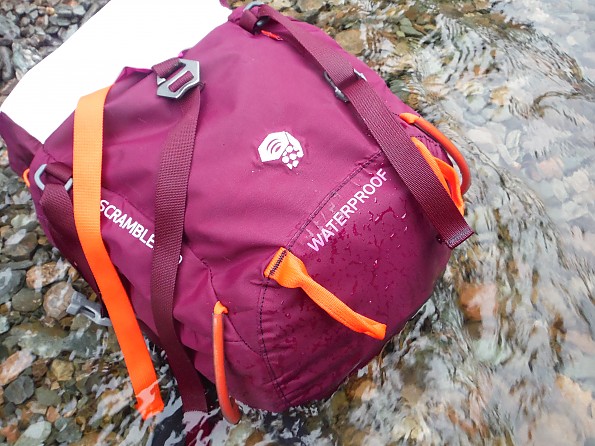 I took this bag on two solid day hikes of waterfalling and a canoe trip and one thing is for sure — the main compartment is definitely waterproof. I was also very impressed with the durability of the pack since I deliberately put it through the wringer, intentionally sliding along rocks and tossing it onto beaches.
Mountain Hardwear advertises that the Outdry membrane does increase durability. I also left it in a river at the foot of a falls for about 8 minutes and everything in the main compartment was bone dry. Check.
This pack made me realize that I love having organization in my life while on the trail. Unfortunately for me, there are only a few compartments on this bag to organize with. Especially all the little things that can easy be lost in larger pockets. I ended up putting most of the smaller stuff into the top compartment (not the sides) which lead to things shifting around (because that top pocket is huge!) There are no pockets on the harness, nor is there a padded hip belt to have pockets on. This does contribute to the weight of the pack. 
The pack itself was quite light, being that the fabric is quite burly and the vinyl top cover would add a bit of weight, so not having a substantial harness was okay. There is no frame in this either, just the "Hardwave Frame Sheet" so it is fairly packable even as a backup pack to have in your multi-day bag.
I did take it along with me as a secondary bag on my rainy kayak overnighter and it worked nicely just stowed in my hatch and holding gear on the exposed beach. 
One of the hikes we did was an 8-hour hike in +30 Celsius with approximately 80% humidity. I was thankful that the pack itself was quite light, and that the vented mesh backpanel was quite breathable. I stayed fairly comfortable during the majority of the hike, temp wise.
I did notice that as I was hiking I was getting some chafing points near my inner biceps because the shoulder harness could have been a little bit more contoured or the yolk could have been narrower (but I am also small, and I believe this is a one size pack). There was a good amount of adjustment on the harness straps but I couldn't seem to get rid of the chaffing.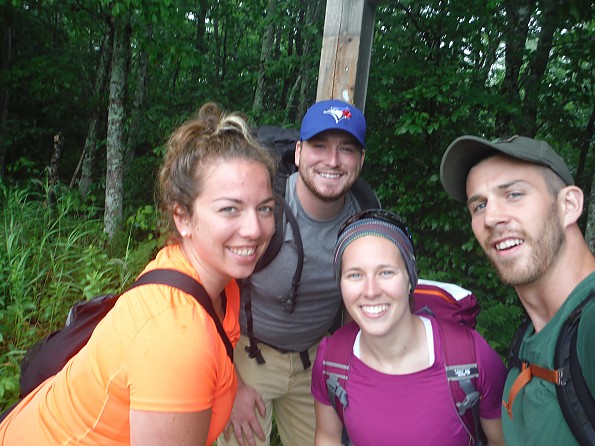 Otherwise, while hiking this pack was decently solid on my back. Call me a nerd, but I love Z-strap compression. It saves on weight, and it also is less to frig with. When compressed, this pack was like a rock on my back — with the exception of the small items shifting around in the top compartment.
One drawback I had was that the compression straps were also intended to keep whatever is in the side compartments secure; my Nalgene bottle slid out a few times, so I just clipped it securely to the strap. I lost some snacks. Demerit.
Lack of small pockets aside, this bag really surprised me at how much it could hold. The 30L volume is just the main compartment. It doesn't take into account the deep side pockets and the huge lid. Plus, the back panel for a reservoir was a little bonus area. I took almost as much stuff as my hiking partner did and he had a 50L bag. So that is a big bonus. Even on my second trip, where my bag wasn't as full, the body compressed well.
Some nice points in functionality was the closure system on the main compartment. This is common on most MH bags. This is nice and easy — grey to close, red to open toggles. There is a nice MH branded buckle to close the lid with varied points of attachment which I liked as well. The sternum strap was solid too and connects at a shoulder strap instead of the middle to avoid buckle rub, while still being able to access the whistle. It also has very solid gear loops to attach tools or slide in trekking poles. Nice touch.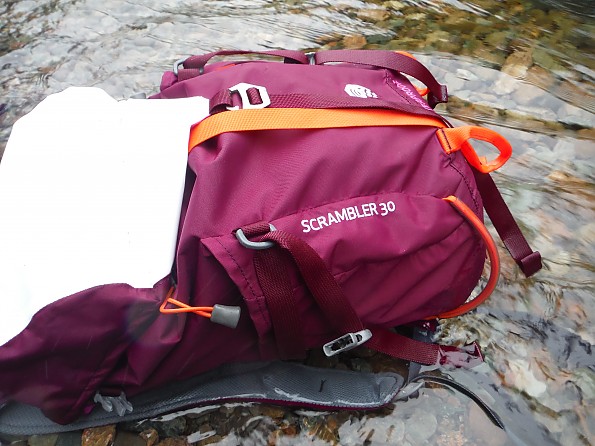 One thing I noticed was that the lid didn't have a waterproof zipper, though they note that it is also waterproof. This may be valuable in commuting, but not so much if you happen to throw it into a wet bottomed canoe. (Love/hate relationship with that lid...)
Overall, I think with a touch more contouring in the shoulder harness for smaller ladies and a small pocket within the lid or something for smaller items, this pack would probably have gotten 5 stars from me; but it doesn't mean it won't get 5 stars from you.
I think this pack would be ideal for the person who is a serious commuter since the reservoir slot would also work for a laptop or documents (and it is also protected). The construction also seems rugged enough for the weekend warrior scaling some waterfalls or a winter snowshoe hike. I did end up giving it away to a co-worker — but I am keeping a close eye on it to see how it wears as time goes on. 
A waterproof pack at this price and with that durability — I'd give it a go!
Disclosure: The reviewer received a sample of this product from the brand or its representatives in exchange for a review.
Source: tested or reviewed it for the manufacturer (I decided to spread the love and pass it to a coworker.)

Disclosure: The author of this review received a sample of the product from the brand or its representative in exchange for a review.
The Mountain Hardwear Scrambler 30 OutDry is a great little backpack that is 100% waterproof.
Pros
Waterproof
Comfortable
Durable
Cons
A bit too big for me (I'd prefer a 20 liter size)
Not enough smaller 'pockets'
I do a lot of canoeing and try to keep the number of packs to a minimum, so I usually take one large canoe pack and a food barrel. However I also like to take a smaller 'day-pack' along for side hikes and so I can access smaller items without opening up the big canoe pack.
Up until now I have not been able to find a good waterproof daypack, but recently I came across the Mountain Hardwear SCRAMBLER 30 (for its 30 liter size) with OutDry technology. They claim the backpack is 100% waterproof.  In my testing on several rainy canoe trips I can say it is indeed waterproof, however it is not submersible as the 'lid' is only secured with a simple latch, but it does keep the water out when worn on your back or tossed in the bottom of the boat.
This backpack has the main large storage area, two water bottle sleeves on the outside, an inner sleeve for a hydration bladder, and a smaller zippered pouch under the lid flap.  It all works for me, however I'd prefer a few smaller pockets or sleeves on the inside for those smaller items. 
So far I've only used this pack this summer, but I think it'll be the perfect backpack for my winter camping treks also.  I've put together a short video review, please have a look:  
  Thanks
     Wayne
Source: tested or reviewed it for the manufacturer (I kept the product after testing.)

Disclosure: The author of this review received a sample of the product from the brand or its representative in exchange for a review.
This backpack is a great day hike bag, for use in wet or dry climates, keeping your stuff dry. No frills design looks clean and is super functional.

Pros
Waterproof
Lightweight
Multi-use (ice tools, rope strap)
I got this bag a few weeks ago and have taken it sea kayaking, hiking, running, and climbing. 
The waterproofness worked great while it was stowed in my sea kayak and kept all my stuff dry. My dry bags that I normally use for kayaking were back in the States, but I didn't need them with this backpack! 
Taking this bag hiking is a nice no-frills, cleanly designed way to carry the essentials. I find it quite comfortable, though with any serious weight, I am skeptical about the minimalist waist belt they've incorporated. But for day hikes with just food, water, and a layer or two, it's very comfy. 
Taking this bag climbing is where it really shines! Enough space to hold all my gear, and a rope, kept in place by the rope straps, all nicely centered and secure made the approach quite enjoyable. The waist belt didn't do much to help with the weight but definitely helped with the stability and balance. 
I've also been using this bag trail running as I run rain or shine and it's nice to keep all of my gear dry. Once again the waist belt comes in handy keeping the bag nice and tight against my back. The belt also stows away pretty nicely when you don't need it, so its not swinging around hitting you. 
I'm excited to take this bag ice climbing soon to see how it holds up, but the ice tool straps on the back and the storage capacity are leading me to believe it'll work great. And not get soggy from being left in snow. 
All in all the pack feels great, looks great, is durable, waterproof! and great for a wide variety of uses. Definitely would recommend! 
Source: bought it new
Price Paid: $125

Solid build, but the waterproofing is a gimick.
Pros
Super durable
Water RESISTANT
Good size
Cons
Narrow Hipbelt
Fragile membrane
Overall I think this is a decent day pack for scrambles and hiking. I tested this out. 
The side pockets are adequate, the material is very solid, and I found the fit to be adequate, but not superb. The lack of a decent hipbelt was off-putting, especially for a 30L pack. For me that rules it out of being useful as a crag pack, or for heavier hauls, which the burely material suggests it can handle well. 
The pack is advertised as waterproof. An OutDry membrane runs through the pack and the seams are sealed. Sadly the lid when closed would provide protection from direct water, there is nothing to stop humidity, and the movement of the pack to pull moisture in. On a wet day I found liquid on my topmost layers in the pack. I had not expected to be waterproof so I had taken precautions for my camera luckily.
The other issue I ran into is that the sharp edges of the zippers after one use abraded against the interior membrane. The material didn't get a chance to soak through, but I imagine another rainshower would have done it. I can't see this pack being waterproof for very long.
But that's fine. Just treat it as you would any hiking pack. I still think it is a very capable scrambling and hiking pack, and possibly a decent multipitch climbing pack. 
Source: borrowed it

Lightweight nice pack, very simple, but a little bit fragile. And not so comfortable.
Cons
Fragile
Not so comfortable
I bought this backpack because I was crazy about all the daypacks on the market now which are very heavy and with tons of pockets and steel structure. 30L pack does not need steel structures!
So the Scrambler is very good, simple, light, and functional.
It is not so comfortable on the back (I had a Deuter of the same weight/volume more comfortable).
I expected it to be bombproof from the reputation of MH. But it is not. The waxed fabric of the upper part (yellow) is having some holes and torns. and I did not used it so intensely.
It will last a few more years, and the design is intelligent to be durable (no main zippers, few pockets...) but the bad quality of the fabric does not help.
With a few tweaks it would be a great bag.
Experience
A few years.
Source: bought it new

You May Like
Recently on Trailspace