Mountain Hardwear Skyview 3

#4 in 3-4 Season Convertible Tents
The Skyview 3 has been discontinued. If you're looking for something new, check out the best 3-4 season convertible tents for 2021.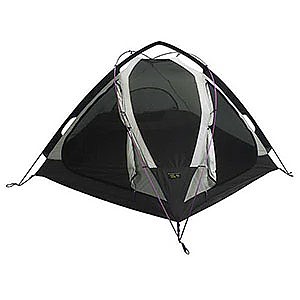 Specs
Price
Historic Range: $384.95-$385.00
Reviewers Paid: $289.00-$440.00

Reviews
12

reviews

5-star:

11

4-star:

1

3-star:

0

2-star:

0

1-star:

0
Best tent by far I've owned. I bought this 20 years ago and still use it. I recently had it on my last weeklong camp trip and I was the only one who stayed bone dry. It's been in 80 mph wind, 18 inches of snow in 12 hours, torrential rain for 3 days straight, and anything else you can throw at it.
Pros
Durable
Strength
Dependable
You can't beat this tent. Zip it up tight for winter or zip out the ceiling for summer. I can't say enough good about it.
Source: bought it new
Price Paid: $400

This tent has been to Yosemite, Adirondacks, Zion, Catskills, Colorado Rockies, the Utah desert, Canada, everywhere. Four seasons for sure.
I've carried it on my own for every trip and haven't had a complaint. It's been with me since I was 8, and although I've replaced every other piece of gear I've owned, this has never gone out of date.
It's repelled rain, sand, snow, and a bear. It may also be resistant to small arms fire, I just can't bring myself to test the theory. 
Source: received it as a personal gift

I purchased this tent in 1996, and I still use it. It has been with me through several backpacking and car-camping trips around the United States. It has been phenomenal in the wind, rain and cold. It's incredibly versatile and durable.

The only repair I've made in the last (nearly) 20 years has been fixing some mesh that I accidentally ripped on one of the doors. It has been worth every penny of the $400 I spent.
Pros
Durable
Versatile
Easy assembly
Cons
Slightly heavy for backpacking.
This has been the single best outdoor gear purchase for me — ever. I've never owned an outdoor product that has been consistently reliable for over 15 years. It's been on about 50 trips, so maybe 200-300 nights in the outdoors, and it's not showing a whole lot of wear.
The poles are still fine, although the elastic cords inside are a little looser than before. I'm sure that I will get another tent eventually for backpacking, but I will certainly buy a Mountain Hardwear. Very impressive product.
Source: bought it new
Price Paid: About $400 with footprint

This is an awesome family car camping tent. It is very roomy with lots of ventilation and two doors. The only negatives are: It is heavy. Not something you would want to carry by yourself. I supose a group of say, three backpackers could easily carry a portion. The tent stakes that came with the tent suck. I got some Moss groundhog stakes on closeout at REI when I got the Skyview. These are good, sturdy, stakes. Lots of room, especially for two people. Also like the large vestibule for our Golden retriever.
Price Paid: $350

Awesome tent. I found it a little heavy, but it did well (dry and stable) in rain/snow/ice storms. Roomy, functional, and cool looking. Best tent I've ever had.
Sleeps: 3
Ease of Setup: Easy
Weight: ~12lbs.
Price Paid: $289

I have had my Skyview 3 for several years now and have found it to be an excellent value. I have spent a few nights in some heavy storm conditions, and found it to be very water tight as well as stable in cross winds. Plenty of room for three people, and the vestibule provides roomy storage for packs and supplies. The convertible nature of this tent allows you to use it in hot weather, or roof panel zipped in for colder weather. I popped for the MH pre-cut footprint, and nice easton pegs and they have worked like a charm! This tent is no lightweight, but parts distributed between 2-3 people make it more than liveable. I have been told that you can actually use the fly and footprint without the tent itself for a lightweight shelter option.
Sleeps: 3

I've owned them all, and this is the best tent by far, hands down. Plenty of room, large vestibule area for gear, ease of setup, ventilation is incredible. lots of "bells and whistles." If you want the best, Mountain Hardwear IS IT. Try it and you will never go back. These guys know how to make functional gear.Thank you Mountain Hardwear. "Never Change."
Design: Convertable
Sleeps: 3
Ease of Setup: after 1 practice round it was a breeze
Weight: 9 lb's
Price Paid: $400 w/10% discount

Absolutely the finest tent I have ever used. Tough as nails, creative use of space, extremely versatile tent. 60 sq. ft, super ventilation options, huge 24 sq. ft. vestibule. I don't enjoy being overcrowded and too close to my hiking buddies. I feel about 20 sq. ft. per person is comfortable. Less than this and it better be my wife. Vestibule is big enough for plenty of gear or cooking.
This tent has been extremely storm worthy as all Mountain Hardwear tents are. This tent is palatial for two and quite comfortable for three. I laugh when I see the sq. footage of some "3 person tents." There are only so many ways to make a tent light and tough at the same time. For the sq. footage, this isn't really a heavy tent. Obviously, this isn't a solo tent. When divided between two people this tent is about 1 pound heavier per person than other 3 person tents with smaller vestibules and about 15 less sq. feet of sleeping area. Just absolutely the most versatile and fun to use tent I have ever tried.
Design: 3-4 season convertible
Sleeps: 3
Ease of Setup: easy after 1 practice round
Weight: 10 lbs. complete
Price Paid: $440 US

I researched extensively before buying this tent on sale at Mountain Hideout in Dallas (nice folks.) I'm 6'5", which precludes 90 percent of quality tents, so I really like the space the pentagonal shape provides. I can sleep in the middle with my wife and son on either side. I mostly canoe trip so the weight is not a problem, but it packs short (21") which makes it easy to stow in a dry bag. I recently spent a long, rainy night (and day) in it and found zero moisture in the tent, although condensation under the fly was heavy. I like the zip-out panels that allow variable ventilation. I set this tent up and took it down for 10 days straight on vacation in Oregon and never dreaded the task, although it is significantly easier with two people. Excellent purchase.
Design: Convertible
Sleeps: 3
Ease of Setup: not bad with one, easy with two
Weight: 10-11 lbs.
Price Paid: $385

Awesome tent. In the summer it has great ventilation and makes star watching a dream. With the fly on it is snug, stable and warm. I saw many other tents rock and blow over in high winds when mine didn't budge at all. The vestibule is really nice and I love the clear window. This tent is awesome and ignore the price, saving a few bucks can make your outings miserable.
Design: Convertible
Sleeps: 3
Ease of Setup: 5 minutes by myself/ 30 minutes if my wife and 3 yr old try to help
Weight: 10 lbs
Price Paid: $440

This tent is plagued with quality. I've recently discovered the Mtn. H'wear product line and am developing faith in the gear. Plenty of room for 2 or 3 with ALL backpacking gear. The zip out roof panels make clear nights dreamy with plenty of ventilation. Multiple entrances so you or your partner don't get disturbed during late nite bladder attacks. The vestibule has adequate room with a window but is tricky to set up. Haven't had the opportunity to test hurricane proofness, but it seems solid. So far...I LIKE IT!!
Design: 4 season zip out roof
Sleeps: 3+
Ease of Setup: easy w/1 piece o' cake w/2 ('bout 5 min)
Weight: around 10 lbs.
Price Paid: $425

A superb tent for a max of three people. Weight is alot, but divides up easy. 60 sq ft plus a 21 sq ft vestibule allow for plenty of room. Get the footprint and tent can set up with just the foorprint, fly, and poles. A pricey, but well worth-it buy
Design: 3-4 season convertible
Sleeps: 3-4
Ease of Setup: Sets up by one person in an easy 5 to 10 minutes
Weight: 9lbs 7oz
Price Paid: $424.99

You May Like
Recently on Trailspace