Mountain Hardwear Sub Zero SL Parka

The Sub Zero SL Parka has been discontinued. If you're looking for something new, check out the best down insulated jackets for 2020.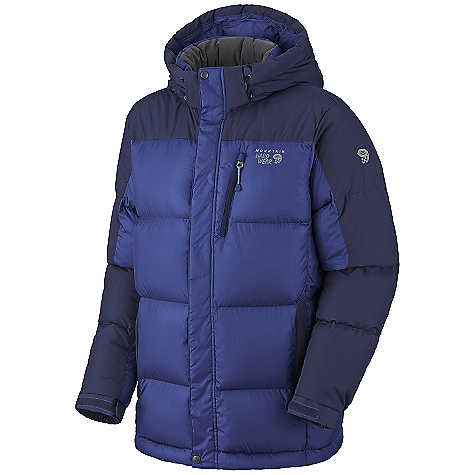 Specs
Price
Historic Range: $109.96-$300.00
Reviewers Paid: $100.00-$275.00

Reviews
8

reviews

5-star:

3

4-star:

4

3-star:

1

2-star:

0

1-star:

0
Excellent parka for European mountains till 6000ms.
Cons
Not for serious expedition
I wear this parka from the start when MH make first, my wife also.
It's the best parka for camping and tours in summer for high Europa mountains include Elbrus on Kavkaz.
Fits excellent and fits in other sizes long hands, hips, back COOL!
In down sleeping bag for -37° till -40° like CAMP ARCTIC maybe too hot even in winter except altitude higher than 4000m.s.l. We tested 3 years ago on Monte Rosa and Mount Blanch camp near last mountain shelter.
If it's more than TOP model fore any mountaineer or camper in winter!
All The Best with MH Parkas
Source: bought it new
Price Paid: 225 USD x2

A verry light and good looking jacket, one of the warmest and best I have had.
Will buy MH the next time also, that's for sure.
Have had this jacket for a couple of years and it's my absolute favorite. My North Face and Timberland is in the closet when it's really cold outside ... we often have -20 celcius and colder.
Source: received it as a personal gift

a few preliminary statements about philosophy. i try to assess gear for its intended purpose, and how well it fulfills that purpose. if i were looking for a parka for my next trip to Antarctica, above 8000 meters, or to cut the chill after a cold night with a dog team in the Iditarod, i would spend more money and buy one of the big boys - marmot 8000 meter, mountain hardwear absolute zero, or one of the feathered friends parkas. this isn't that parka.

in my view, this parka is intended to take a person down to -30 or -40 in bad weather. Also, temperature and breathability reviews are inherently subjective. Some people just run warmer and sweatier than others.

i found this parka after a gusty (over 80 mph) -30 cold snap in the white mountains was a little too much for my previous down jacket. though i haven't seen that level of cold in this coat yet, i think that this will fit the bill. it is really warm - on a windy 15 degree day, it was so warm that i had to unzip it, wearing only a t-shirt underneath. it's too warm to wear during any moderate exertion, unless it's really cold out, like closing in on zero.

it also does better than most down jackets with moisture - the shell is really, really resistant to moisture, if not totally waterproof. i spent a few hours outside in a freezing drizzle, around 35 degrees, and the down was totally intact. i was basically standing still and perfectly warm. the shell is reinforced with heavier nylon in abrasion-prone areas, the shoulders and outsides of the sleeves.

it is long enough to provide good coverage. in terms of fit, i'm a size 46 suit jacket and XL works for me, affords enough room to some layering underneath.

a few features to think about...the main zipper is a double zipper, meaning it has two pulls and can open from the bottom as well as the top. that can make it slightly harder to engage and zip in bulky gear, but it hasn't troubled me. the main zipper has a strip of thicker nylon beneath it, sewn to the down-filled draft tube under the main zipper, to avoid snags. what a great, thoughtful design point. i hate main zipper snags.

the pockets are great, designed to carry a lot both inside and out, including a good-sized water bottle in an internal mesh pocket if you want. the hood is puffy and well-designed. fully sealed, the hood keeps almost every inkling of cold out. mine is a snap-on hood, so in really big gusts, i could imagine some air leaking through the neckline. the snaps seem secure enough to stay attached in strong wind, though. the parka seems well-baffled, though i haven't scrunched or abused it enough to say whether shifting feathers will be a problem. the sleeves aren't as prone to shifting down as my previous jacket. at the same time, the sleeves are designed with a slight bend, and they are fluffy but not massive.

this parka does not have a full powder skirt. it does have dual elastic shock cords, a full one around the hem and a half-cord around the waist. they have been more than adequate for my purposes, but if you need the full powder skirt, this isn't your parka.

great parka. anyone who says they look forward to that next -30 gale is a little crazy, but they should bring one of these along.
Fabric: nylon/conduit
Fill: down
Price Paid: $210

I bought this jacket on a pro-deal as my second down jacket. I had previously owned the Eastern Mountain Sports Rover Down jacket but realized that I needed a more technical package.
Currently I primarily I use it for late night photography at the beaches in Maine during the winter. So far, absolutely awesome.
Pros:
The jacket is very warm and adequate for the -3 and up temps that I have been in with it. The Conduit SL is indeed waterproof and I do not hesitate to take it out during icy snow/rain if it is cold enough. The hood on this thing is easily the best hood I have used on any jacket. It wraps nicely around my head, gives me enough visibility but it also protrudes far enough off of my face that I don't get random wind gusts in my face from the side.
The Rover Down jacket from EMS basically covered my head and then tapered right to my face which blocked almost nothing. Of course, this thing comes with a water bottle holder and adequate pockets. The right hand pocket also has a key holder which I have found handy numerous times. It also comes with its own stuff sack.
Cons:
I would have appreciated it if MH had designed the back part to cover your rear end a little better. When bending over, the jacket definitely rides up and exposes your lower back to the elements which I find frustrating to have to adjust all the time. Also, it does seem as though a few of the baffles are not completely filled with down which will be bad during very cold temps.
Overall, an excellent purchase. I plan on having this jacket by my side for a very long time.
I am 5'7, 155lbs and use a Medium in MH clothes.
Fabric: Conduit SL
Fill: 650 fill goose down
Price Paid: $100

I am 5'11", 185 lbs, and the large size fits me perfectly.
Positives:
* Lightweight.
* Stuffs down to football size.
* Multiple-weight shell fabrics put reinforcement on shoulders and outside arms, lighter weight fabric on chest and inner arms. This thing is very well thought out.
* Pockets are fleece-lined and *behind* the insulated baffles - very warm.
* Larger than average hood.
* Wearing only a thin t-shirt, tested warm down to -5/-25 degree wind chill weather, kept me warm for 6 hours sleep in -10/-35 degree wind chill (legs in bag, upper body in jacket.)
Negatives:
* Zipper on removable hood is not locking and may partially unzip on its own. I would have preferred that the hood was sewn-on to save weight/bulk.
* Hood impairs side visibility due to bulk.
* No interior baffle at the waist. There is a cinch to tighten the parka around the waist, but there is no additional baffle, which means that wind that makes it under the bottom of the parka is free to shoot straight up into the top of the jacket. Kind of a strange oversight in my opinion.
Final conclusion: Not 100% perfect, but this jacket looks great and is the warmest water-resistant down jacket for the money.
Competitors: Patagonia Down Parka, Feathered Friends Hooded Icefall, Western Mountaineering Down Parka.
Fabric: Conduit SL (two deniers)
Fill: 650 fill power down.
Price Paid: $275

At 6'1" and 185 lbs. the X-Lrg size fits me just right. The parka gives you great coverage in the back. Great reinforcement in areas of high wear.
I researched many different down jackets and this one has better reinforcements, more fill weight, bigger pockets and a longer cut in back for total coverage. For the price, I couldn't find anything close. The Conduit SL shell is very wind and water resistant.
This coat is too warm for me when I am hiking or skiing. I was very warm with a T-shirt on beneath and the temp was -10 F with 25-35 mph wind. It is perfect for high camp in the winter and I have no doubt it will keep me warm anywhere I go.
Fabric: Conduit SL
Fill: 650
Price Paid: $275

I purchased this parka for a mid-summer climb of Mt. Rainier. While it does have a lot of good features it didn't quite meet my needs. I agree with most of what the reviewer before me pointed out: great fit with room to layer, durable and functional shell materials, pockets are excellent, the hood has a good shape to it, and it appears to be very well constructed.
Perhaps I got a lemon but my parka seems to be horribly under-filled for something that is meant to be worn in very cold temperatures. The down seems to be of low quality and the loft is less than an inch even at the thickest parks. Because there isn't enough down in the parka to fill the baffles there are many large areas (between baffles, seams, etc) where there is no loft at all, only shell material between me and the outside world. This is very surprising to me because I have other Mountain Hardwear products that I am VERY impressed with, including two of the Phantom series 800+ fill down sleeping bags that have tons of loft as advertised.
I used this parka on the Rainier trip and ended up doing the I'm-freezing-dance at every rest stop in pretty mild temps (in the 20s with light wind while it was still dark in the early morning). I have also used it while resort skiing on stormy days and while winter backpacking/climbing in the High Sierra. Skiing with the parka works well because my activity level stays high and it has just enough loft to hold my warmth on the chair lift.
Using this parka around camp in the Sierra in January has been disappointing... it's like a windproof/water resistant shell with a thin layer of down behind it, definitely not an expedition parka, even a 'light' one. It's too heavy to justify bringing it on spring/summer/fall trips where my Voodoo belay parka works fine. I just ordered an Ice Fall parka from Feathered Friends so my Sub Zero SL Parka might find its way to eBay soon.
My recommendation if you need a light expedition parka is to stick with something that has 800+ down fill and check out the Ice Fall (which actually weighs less). If you need a 3-season parka/jacket, check out something with synthetic fill so you won't have gaps in your loft or one of the much lighter 800+ down filled options on the market. Don't believe the hype about synthetic being warm when wet... it just absorbs less total water so it may dry faster under ideal drying conditions. Everything sucks when wet and if you put 1 oz of water on down or synthetic it will evaporate in the same amount of time.
Fabric: Conduit SL/Taslan Reinforcements
Fill: 650 down
Price Paid: $230 on sale

The Mountain Hardwear SL Hooded Parka is a fantastic insulating layer. The parka is three inches longer than the jacket model, but it weighs just 1 oz. more. The extra length provides excellent protection against wind gusts and the feel of the parka is comparable to wearing a sleeping bag. It is comfortable, VERY warm, and windproof and water resistant.
The hood has a lower face flap, which covers the mouth and nose against nasty cold gusts of wind, and the lower external pockets are true handwarmer pockets (i.e., there is down between your hands and the outside cold), which have a nice fleece interior. In addition, Taslan re-enforcement is added not just to the arms and shoulders, but also to the rear end, where one would sit upon given the extra length of the parka.
All things considered, if warmth is your primary concern, the parka is the way to go. For just 20 dollars more and 1 oz. of added weight, you get a parka that can take you into below-zero temps.
Fabric: conduit sl
Fill: 650-fill down
Price Paid: $236

You May Like
Recently on Trailspace