Mountain Hardwear Synchro Jacket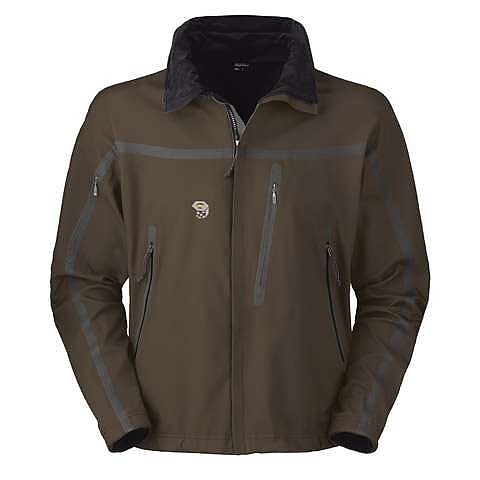 Great durability and design with some serious limitations.
Pros
Durability
Zippers
In and Out breast pockets
Neck closures
Water repellent
Comfortable liner
Versatility
Cons
Velcro cuffs
Breathability
I got this jacket at a super special sale and am still happy with it for the most part, though I had a great discussion about the design with a gear-head at EMS and I think he may be right. 
The issue is: Do you want a jacket that's waterproof or that's breathable? This doesn't breathe mostly because it's essentially a WP membrane wrapped in a softshell jacket, so the air has to go through the difficulty of a softshell and then through the "breathable" filter of the membrane.  His point is that it's the worst of both worlds. You get the water repellency of a shell with the weight of a 3-layer jacket. You also don't get the flex and feel of a true softshell because it has a plastic liner inside it.  
My point is that you get the protection of a shell with the durability of a softshell on top, which will hold a DWR retreatment better than basic shells and also doesn't feel like a plastic bag to put on.  
I need to retreat it now and need to wash it more often, but it's held up for 2 years of solid use and except for the exceptionally stupid cuff velcro, it's all still there.  
Let me complain again about how stupid the cuff velcro is. They make these cute little oval cutouts on the cuff for the soft side of the velcro to peek through, but this provides about 1/3 the surface area of any traditional velcro cuff, so they keep popping off. EMS and MH have both offered to fix it by sewing on a strip of regular velcro backing so there is greater contact area, but it's disappointing to have to give up the jacket when I use it almost every day.  I guess I won't use it for the next couple months so now is the time. 
Source: bought it new
Price Paid: $85

i waited 2 get this sucker on sale and glad i did. very waterproof jacket love the color and fit. it's a lightweight jacket so im not xpecting much in freezing snow storm but in temps in the 40 with a light fleece pullover underneath id say im pretty good.
Price Paid: around a 100

For three years I've been looking for a replacement for a throughly worn-out Marmot 'Magic Shirt' that was the first breathable softshell with all the usual great Marmot features, and it was a nice electric blue. I've found the Marmots of the current design are either too short in back or in the arms (I'm 6'4", 200 lbs.), or too expensive.
The Synchro has proven itself as advertised: Breathable, water resistant, windproof, lightweight, stretchy, and it fits my long arms well. What could be better? I've used it ski mountaineering in windy, snowy conditions; alpine skiing in high wind; skate skiing at 20 degrees; snowshoeing near zero; running; hanging out in town.
The downside is minimal: It's not as warm as expected, so a thicker baselayer solves that problem. Conversely, it has more comfort in a greater temp. range. The Synchro has become my take-it-with-me-everywhere jacket of choice. Oh, I couldn't find the purty blue on sale, and the black works just fine. Enjoy!
Price Paid: $90

I bought this jacket for my boyfriend last Christmas. He back country skis in WP, CO. It's a beautifully designed jacket, with extremely durable material and a great look. My boyfriend didn't want a hood - and this works so well because of the drawstring that tightens around the neck - it completely keeps out the wind. He only wears the jacket along with a Patagonia baselayer, and his Spider vest. It keeps him warm even in weather below 0.
Our only problem - just yesterday he was zipping up his left pocket and the zipper completely unraveled! Everything else seems so well made, so it's disappointing to see this happen. We're calling Mountain Hardwear to see if they can replace the jacket because of the default. This is the only reason I give the jacket 4 stars, otherwise it's definitely a 5!!
Worth the price - a great jacket to ski in!
Fabric: Tiger Orange
Fill: none
Price Paid: $175

This is my all around jacket. Lightweight- waterproof-hooded-warm but many vents- great pockets to carry goodies- fantastic zippers. I liked it so much I bought two for my spouse (one hooded- one without on sale for $90!!).
Folds up and fits in small spaces so no bulk- fits very well- blocks wind well but still have my under layers if needed. Jacket was well thought out. On top all this they are great looking!! One of my favorite pieces.
Price Paid: $149

Recently purchased the Women's Synchro because I have been looking for a decent softshell (but as a grad student been hesitant to pay $200) and a local store had a 50% off sale on it. I just couldn't pass that up.
I wore it running this morning, it was chilly outside (around 32 degrees), and it kept me nice and toasty - I was sweating but never would have known it, the material wicks away moisture and "breathes" well. The inside is nice and soft against the skin, and the construction seems to be solid (I guess I have yet to find this out).
I also have yet to find out how truly water resistant it is, since all I've worn it in has been a light drizzle (it did just fine). The cut is pretty slim, and I found it to be a bit snug at the hip, but it moves nicely.
I can't wait to take it out backpacking!!!
Fabric: Nylonpoly
Fill: n/a
Price Paid: $95

This is my go-to jacket. It is waterproof, breathable, flexible, windproof, and able to leap tall buildings. I've worn this jacket; rock climbing, ice climbing, kayaking, backpacking, hiking, camping, mountaineering, skiing, snowshoeing, mountain biking, as well as to a wake, a funeral and a wedding. Versatile and has never let me down.
Fabric: Synchro SBT outer, Conduit membrane, brushed interior

Fantastic stylish soft shell! I bought this jacket on ebay, they guy only used it once and didn't fit him right. Fits me perfectly. I used it up at 10,000 feet in the Sierra's just out of Lone Pine, CA, it performed superbly! It has huge venting zips on the front that work great when hiking.
I must say it's very breathable though. At night it got very windy and chilly. I had on a wicking base layer, a fleece sweater and the Synchro Jacket, and I was completely warm. I do wish I would have bought the jacket with the hood though, but I brought my Mountain Hardwear beanie so I was ok.
All in all it's very functional, lots of storage zippers, and it's very versatile. You can use it on almost any trip you go on, just have to layer under it accordingly.
Price Paid: $96

For on-piste skiing, The Mountain Hardwear Synchro jacket is the best shell that I have ever used. I also own the North Face Mountain Light (2-layer Gore-Tex, circa '90s) and Paclite (Gore-Tex Paclite) shell jackets, and a few DWR-coated "water-repellent" shell jackets.
Aesthetically, the MH Synchro is a very good-looking jacket and flatters the wearer. One part of this is the fact that the stretchy softshell material allows the jacket to be cut to a more fitted profile without restricting range-of-motion. Another part of this is the matte and somewhat neoprene-ish nature of the "sharkskin" fabric, which isn't anywhere as crinkly on the wearer as the nylon-faced Gore-Tex. (The look of hardshell "crinklyness" is inherent due to the motion-permissive cut of the non-stretch fabric, and sometimes exacerbated by shiny nylon face fabrics.)
Waterwise, the MH Synchro's Conduit membrane is indeed windproof and waterproof. That said, the matte "sharkskin" face fabric seems less water-repellent than the shiny nylon face fabrics of Gore-Tex shells, so treatment with water-repellent (Nikwax TX.Direct) is more important. I personally treat mine upon every washing.
The MH Synchro's Conduit membrane does not seem to be quite as breathable overall as Gore-Tex, but that works quite fine for the cold and dry environments that the Synchro was designed for. (FYI, the Synchro jacket and pants were conceived as an ice-climbing outfit, hence the lack of a hood in the original jacket. Ice climbers wear helmets, making a hood much less critical.) Even when aerobic exertion (uphill skiing) produced overheating, any dampness was quickly dispersed from the interior. The Synchro Jacket is also equipped with two front-facing vent pockets that are very easy to use single-handedly, even with a pack on. That said, large items (like a balaclava) in the vent pockets will defeat the venting.
Performance-wise (on-piste skiing), the more fitted profile cuts cleaner through the wind with less fabric movement (flapping, waving). This fitted profile also keeps me warmer than the looser-cut hardshells, since there is less "pumping" of the trapped air between the shell and the insulating layer as I move. That said, your mileage may vary on this, since I'm a regular rock climber (pretty close to the Synchro's target audience/physique) and use fitted/semi-fitted layers. The Synchro is warm for me because it fits me perfectly.
Aside from the large vent pockets, the MH Synchro jacket has a small Napolean pocket that's perfect for a cellphone, and a smaller bicep pocket that's difficult to access, for which I store cash and a few cards (won't fit anything but the most minimal of wallets).
The MH Synchro jacket has a non-elastic collar-cinch and a thin, elastic hem-cinch. I can understand the non-elastic collar-cinch from an ice-climbing perspective (a just-right fit at the expense of comfort for maximal shielding from the constant fall of ice chips), but if there was anything I would improve on this jacket, it'd be a burlier elastic hem-cinch.
I positively love my MH Synchro Jacket for skiing (and it probably works very well for ice climbing, not that I've done that yet). Whether you might love a Synchro Jacket will probably depend upon how close you are to Mountain Hardwear's original conceived usage and target audience. For more aerobic activities and/or in more humid conditions and/or in temperatures that might vary away from cold/snowy/icy, I would probably opt to use one of my Gore-Tex hardshells.
Update: September 27, 2007
This is a follow-up to a prior review for the same item. The 3-star rating is intended to offset the prior 5-star rating down to an average of 4-stars.
I'm downgrading my review of the Synchro because I'm noticing that the face fabric is not as durable as I would like. It is pilling on the torso under my arms from the shoulder straps of a hydration pack that I use when skiing. There is no obvious abrasive material on the shoulder straps of the Camelbak SnoBlast, so I'm a little disappointed.
It could very well be a case of the jacket manifesting its original design intention (ice climbing), as people generally don't wear packs of any kind when ice climbing.
Nonetheless, all the positive attributes of the jacket remain as said in my first review.
Fabric: Conduit Softshell

Got mine on sale from REI. Not as warm as I would like, should have gone with the REI One Jacket, but oh well. Not bad overall. Kept me dry so far, and is plenty warm with a wicking under layer.
Price Paid: $125

Have had the Synchro Jacket for one week...and also the Synchro Trousers. Have worked well...until today.
Today, here in Gothenburg/Sweden, it started to rain. I was biking home from an indoor climbing session. Have 10 km to my home and it normally takes 25 minutes. Today it was raining all the way. A typical, normal Swedish rain.
As the labels etc on the jacket and trousers tell you that it will keep you dry and that it´s waterproof....you belive in it!!
Got really dissapointed. Didn't keep me dry at all!!!
When I came home after this short time I was wet inside. And it started to get wet in 10 minutes in the rain!
The seams on the trousers that are not made with water-resistant seams is leaking fast in the rain (the seems on the inner side of the trousers' legs). The lower pockets on the jacket leaks...got water on the inside!!! But the zips are supposed to be water-resistant!?
My arms got wet and my legs and my back...
This MH "set" didn´t keep me dry in a normal Swedish rain. And that's not good. Really dissapointed. Especially when I work in a shop that soon will start to sell Mountain Hardwear clothing.
This set and any other set with the CONDUIT Softshell material I wouldn't recommend to anyone that lives in a place were it rains!
If it don't manage to keep me dry in this short time in a normal rain I would never take this "set" of clothes on a trip etc were I can expect a rain shower.
This set is for dry weather and some moisture, light drizzle...Then it works well. But then they shouldn´t write that it will keep you dry...and that it is waterproof...it's NOT!
Fabric: CONDUIT SOFTSHELL

Pros: lightweight, waterproof, windproof, stylish, dries quickly, adjustable, absolutely love the jacket.
Cons: you still need a rain jacket if any significant rain showers. I would have been better served buying one with a hood, the neck drawstring gives you a choking sensation when cinching the neck cord, and it's really not that warm, but it works great for what I'm using it for.
This is probably the most stylish jacket you can get with waterproof/breathable softshell material. Gore-Tex softshell jackets look like crap next to this thing, which has all its zippers/seams welded/taped and cinch pulls in both pockets and for the 3-position lined collar. It's now also available in a $20-more-expensive version with an integral (non-detachable) hood, but the thinking was that's what hardshells are for.
Fabric: Conduit 3L Softshell
Fill: Poly Fleece Backing
Price Paid: $86

This is the most versatile jacket I've ever worn. It IS waterproof, wicks very well, is very tear-resistant, moves with you beautifully, and blocks wind. With a wicking T-shirt and a light fleece underneath, I've kept it on while huffing uphill in the trees, walking across windswept, sub-zero ridges, and then climbing wet ice all on the same trip with no clothing changes, just some zipping and unzipping.
One of the nicest things was that I could drop my pack
in the snow up high after a warm hike w/o freezing my back in the wind, have a snack or whatever, and start again feeling dry and warm the whole time.
I didn't know there was a hooded model when I bought mine, the sale I caught was too good to be true anyway, but I'd like a hood.
Fabric: softshell
Price Paid: $129

Your Review
Where to Buy
Help support this site by making your next gear purchase through one of the links above. Click a link, buy what you need, and the seller will contribute a portion of the purchase price to support Trailspace's independent gear reviews.
You May Like
Specs
Men's
Price
Current Retail: $61.25
Historic Range: $56.00-$219.99
Reviewers Paid: $85.00-$175.00

Women's
Price
Historic Range: $29.96-$299.00
Reviewers Paid: $95.00

Recently on Trailspace