Mountain Hardwear Talisman Glove

The Talisman Glove has been discontinued. If you're looking for something new, check out the best soft shell gloves and mittens for 2023.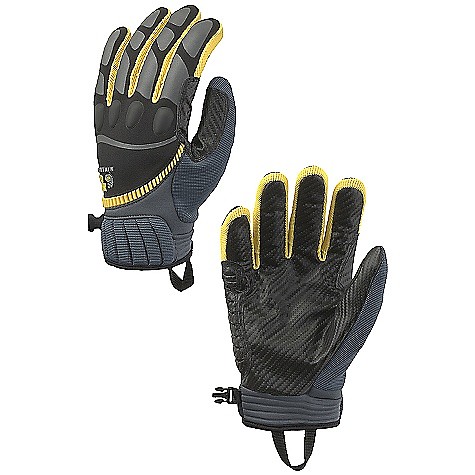 I bought this glove as a leashless Ice Climbing glove. I wanted a single glove which was warm, but didn't sacrifice dexterity - I originally planned on purchasing the Torsion, but thought that a glove "Designed for Leashless Competitions" would be more down my alley.
So far I have not been impressed by the Talisman. First of all, the fit is INCREDIBLY tight. My palm has a circumference of about 7.5 inches - according to MH sizing chart I should have a size SMALL glove. I purchased the MEDIUM (which says it's for 8-8.5") and could barely get my hand in! It was so tight that when I pulled on the retaining loop to force my hand inside it snapped - on BOTH gloves.
Furthermore unlike all other MH size M gloves my fingers can't reach the tips of the glove! this is vital for dexterity. The pads on the knuckles are too far forward for my hand! If anything my size S-M hand should have the pads too far back!
Unlike MH's other softshell gloves, this is barely water resistant. I always test my gloves by briefly running it under the faucet. The Torsion has never failed this test, the Talisman let the water rush right in. I know it's not necessarily designed for it, but I have come to expect a lot of MH gear - and this glove really let me down.
Right out of the box, some of the stitching on the yellow plastic band which stretched across the back of the glove had come undone. The plastic piece was pulling away before I ever tried to get my hand into the glove.
I normally wait until I have thoroughly tested a glove to review it, however I don't want to waste any more time with this piece of sh!t. If it isn't waterproof, has limited dexterity, and is coming apart straight out of the box...how can I expect it to hold up on the ice?
Bottom Line: This glove was a waste of money. I'm horribly dissatisfied with it (at least I didn't pay a lot) and am looking to get rid of it fast. Go with the tried and true Torsion glove instead - it's 15 bucks cheaper and a much better glove.
Price Paid: Pro deal

Your Review
You May Like