Mountain Hardwear Trango 2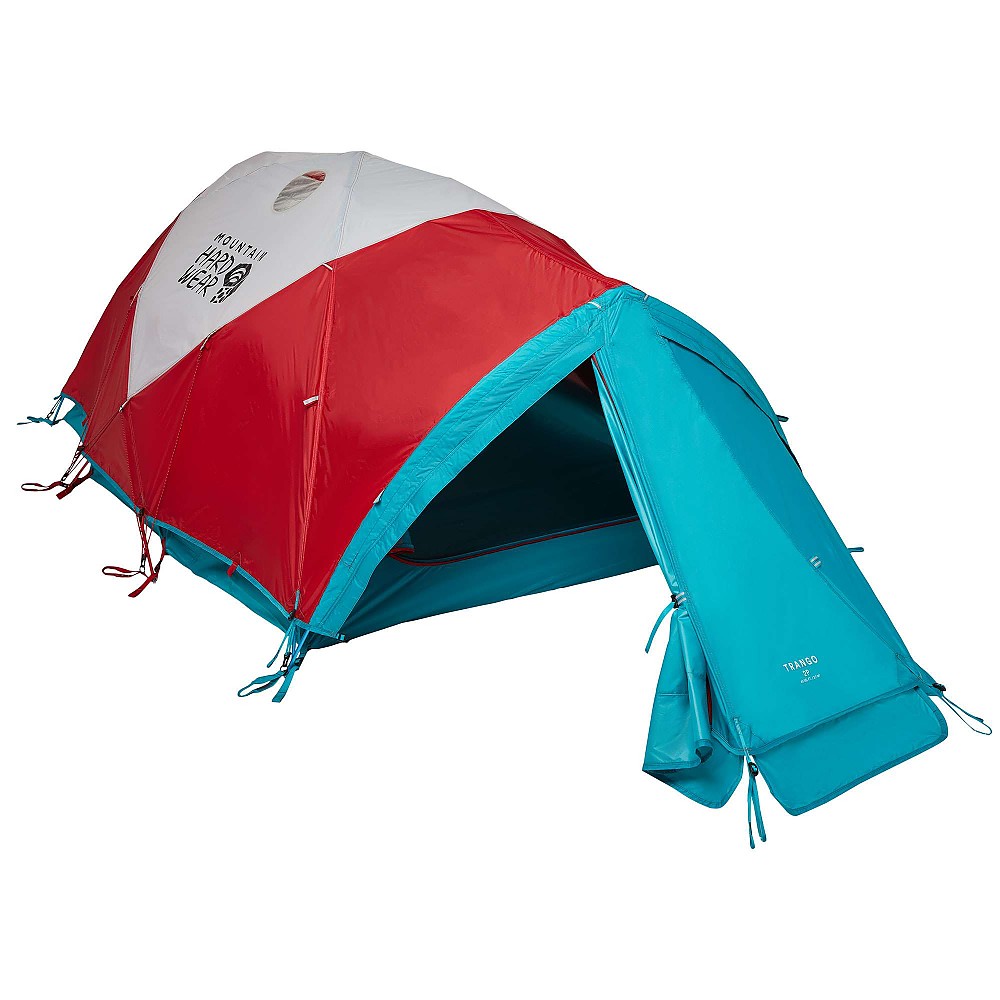 Excellent winter tent. Waterproof, bombproof, roomy, lots of pockets, big vestibules, heavy.
Pros
Weatherproof
Spacious
Lots of storage space
Big vestibules
Durable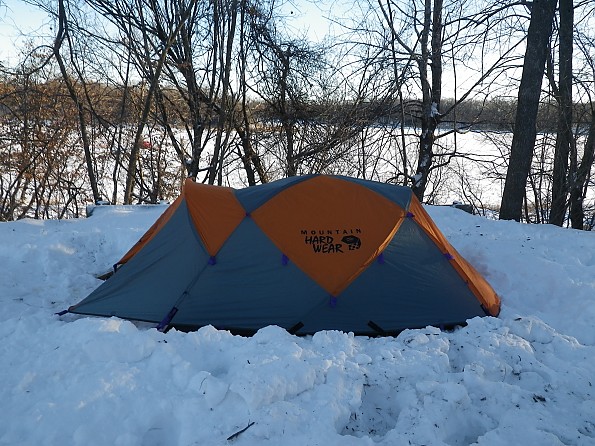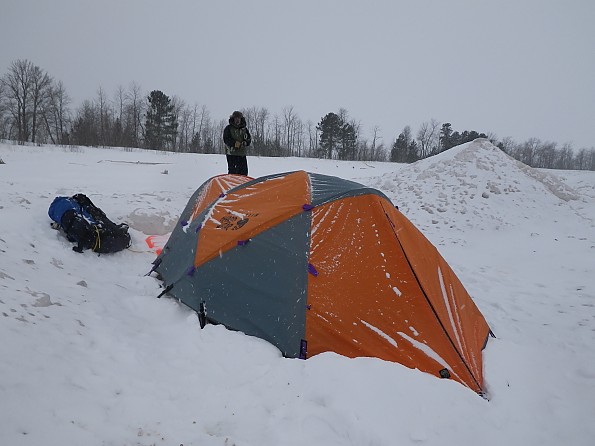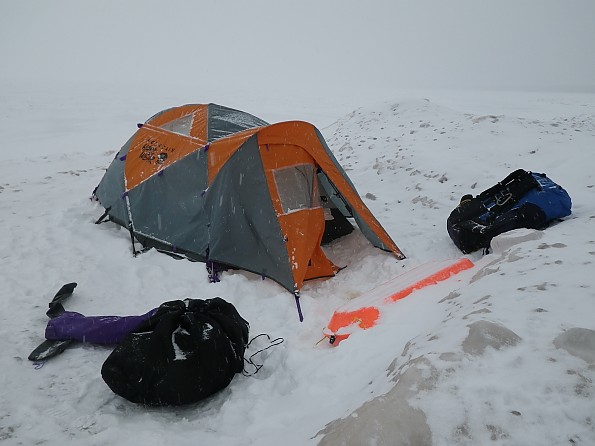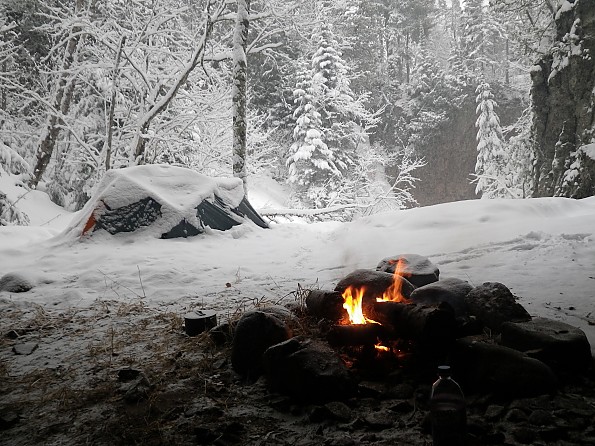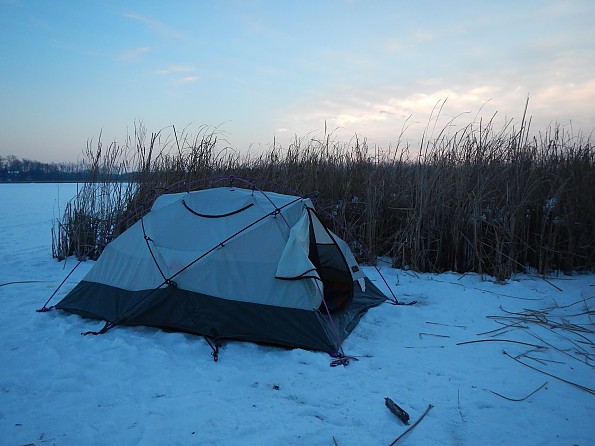 This is the tent with no fly. The vent is visible on the top of the tent. 
The Trango 2 is a very durable and reliable tent. If I know I'm going to be in for nasty weather, I bring this titan. It stays warm inside. It vents pretty well. You can cook in the vestibule. On really cold nights when your body is flushing out excess fluid, you can actually urinate in the vestibule and exit on the other side in the morning. Sounds gross but the alternative at -30° is even worse.
I've pitched it on frozen Lake Superior with sustained 30+ mph winds and it held its ground. I slept very well that night. 
I've also slept in it with large amounts of snowfall and it holds well. 
It's a tank to pack in at 9lb 13oz (I have the older model) but well worth it if you're in for bad or really cold weather.
Set up: 5 pole design takes a while and chills the hands in really cold weather.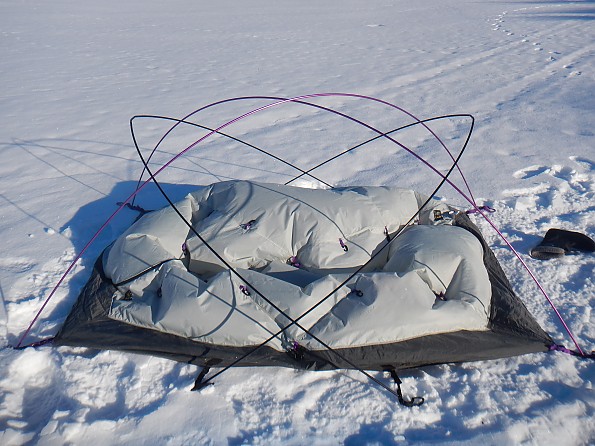 4 poles shown here. 5th pole is for the fly.
The fly attaches by plastic squeeze clips similar to the one in the pic.  These are tougher to manipulate in really cold weather but they are very durable. They go through metal ring loops on the webbing (rings are visible in the pic with the corner webbing)
Stability: Holds very well. Pitch it with point to the oncoming wind, guy it out and you'll be in business.
Weather Resistance: Great. Really keeps the wind out and the warmth in. No water has ever entered my Trango unless it was me that brought it in. 
Ventilation: Can have condensation on the inside of the fly on really cold nights. If you keep the tent shut, this is inevitable so no prob. Vents well if you unzip the tops of the fly doors and the ceiling flap. The ceiling vent can be screened or opened all the way.
Room and storage: Tons of pockets (8). Very spacious for a 2P. You and another can fit yourselves and all of your gear inside. Each vestibule is large enough for 2 packs.
Packability: A bit big and heavy for 2P but the extra weight is justified if you are going into a situation where really cold or bad weather is a possibility.
Ease of use: On the old model, the vestibule pole is super hard to get fitted into the interior of fly's grommets. I actually took a pipe cutter and shortened one of my poles by about a 1/2 inch; now it's a great fit. The new model has the exterior vestibule pole (problem solved).
I would guess that the fly would be a nightmare to get the poles into under windy conditions. It would most likely blow away like a leaf on the wind before you could get the first corner in. I attached the fly to the tent with paracord into one of the grommet holes on the fly and tent. Now I can pitch the whole thing in one felled swoop.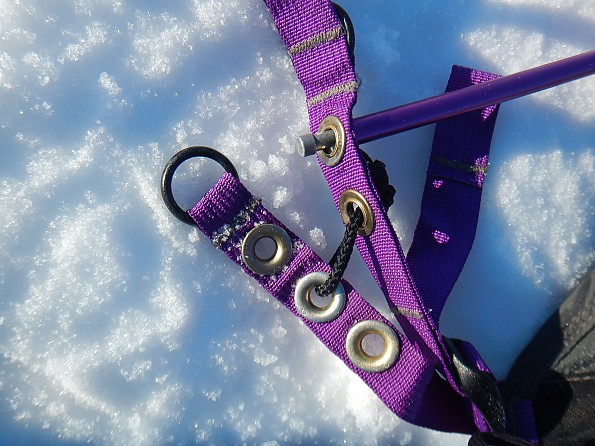 pre-attach the fly to the tent to avoid the fly blowing away
Construction and durability: Very sturdy materials and stitching. The seams are still all fine after a decade.
Conditions: Bought it used and have used it a dozen times in temperatures down to -45°F WC. Always performs well. Sometimes if you get snow on your poles, they can freeze together at the joints and you have to slow heat them or tap them to get them back apart to collapse them. 
Source: bought it used
Price Paid: $125

This is a really well built tent, very sturdy, but really not lightweight as it's not intended to be for backpacking and much less for expedition. I use as a basecamp shelter once it's very really roomy and has two vestibules.
Pros
Sturdy
Easy to set
Roomy
Full of pockets
Storm proof
Transparent windows
Huge vestibule
Warm inside
Cons
Heavy as hell
Some condesation if all doors closed (normal)
For the purpose it has been designed this tent is amazingly perfect. It's really not meant to be a carry around tent so it's really heavy and bulky. I am a rock climber and geologist so I spend a lot of time outside. I use the Trango as a home shelter on long trips where I will be living on a camping and bivouacking during climbing and geological mapping missions.
It's good for winter once it keeps the cold outside, good for summer once the front and back doors allow air to flow through it, besides it has a top window that one can use to control temperature and condensation. It has behaved really well on strong winds once the frame structure makes it really stable and the huge vestibule allows to cook inside when the storm is outside.
It's a heavy tent because the materials and structure are meant to be good for a home shelter and to last long, really not for a backpacking and much less for an expedition. I sometimes use a lighter tent for these purposes or do bivacs with a goretex bivy sac.
Once set the floor is a few inches higher at the extremities so that no water gets inside. It's 100% waterproof (thanks to the heavy materials). If you set it right its really easy to make it very well stretched (a good tip for a well set tent is to stretch it well).
I like very, very much the many mesh pockets inside. It keeps home organised. And it's sooo roomy it can fit me, all my trad climbing gear and a gilrfriend ;) very comfortably even being a 2-person tent.
I really recommend this tent for those wanting a home base shelter.
Source: bought it new
Price Paid: $580

I have owned this tent for a year and a half and have been very happy with it. I have had the tent on three mountains, including winter ascents of Mt. Rainier and Washington. The tent is easy to set up with two people in high winds and very easy for one person to set up in mild conditions. The features and well thought out design seperate it from other mountain tents.
First, the interior of the tent is easy to keep organized with pockets around the long sides of the perimeter. The tent will comfortably sleep two people with some gear or three people without gear. The two doors on the tent are easy to use and do a good job of ventilation. The two exits in the fly are also good. The rear door provides an easy exit when the weather is nasty and the front/main door is being occupied by equipment or cooking. The vestibule on the front provides ample space for organization and easy cooking. The clear uvx window is still soft even at -20f but it fogs up so quickly that it really does not provide much utility aside from the increased light it lets in. The fly on this tent is superb. There are more than enough guy lines on the fly and each guy point is backed by a clip to secure it to the main tent body.
I have had this tent in extreme weather conditions and it performed flawlessly without the need to set multiple guys. One very useful and appreciated feature of this tent is the way the fly clips to the tent body at the pole bases. On Rainier I had the misfortune to break a plastic clip with my axe only to realize that the strap can be fed through the clip attachment point and then routed back into the fastex slider. This secondary attachment method will provide me with a lot of piece of mind on future trips. One feature that I would have appreciated in the tent would be interior guy line attachments on the tent's floor. So far guying in the tent horizontally has worked, but I would appreciate the extra safety in horrific conditions.
Generally this is a superb climbing tent. It would be hard to do better by any other manufacturer.
Design: 4 season
Sleeps: 3
Ease of Setup: very easy
Weight: 9lbs6oz
Price Paid: $420

Lifetime warranty is a lie. Mountain Hardwear refused to do anything about a lightly-used Trango 2 fly with massive delamination.
Cons
Delaminates
Zero warranty support
 The tent itself performed well early on, seeing use high on Longs Peak and Mount Whitney. It's very heavy for what it is, the stakes are of poor quality, and the guy lines are easily tangled. However, it's a sturdy, very roomy 4-season tent.
Unfortunately, Mountain Hardwear does not honor their warranty. I recently noticed that the fly was flaking laminate everywhere off all the seams—think epic "tent dandruff." I sent in the fly at my expense ($20), only to have it show back up on my doorstep a few weeks later.
The only communication I ever received from Mountain Hardwear was my return tracking number—that's it. No discussion of a repair, no offer to replace the fly, no discount on a new fly. Nothing. They stated only that the product was beyond its useful life. My tent was used a grand total of perhaps 15 nights out. Zero long-term sun exposure. Always stored dry and indoors.
If you charge a premium price for serious mountaineering gear, your warranty should mean something. Potential customers should know Mountain Hardwear does not honor theirs.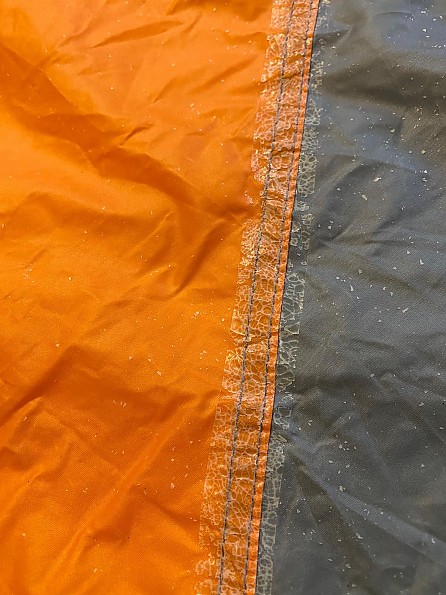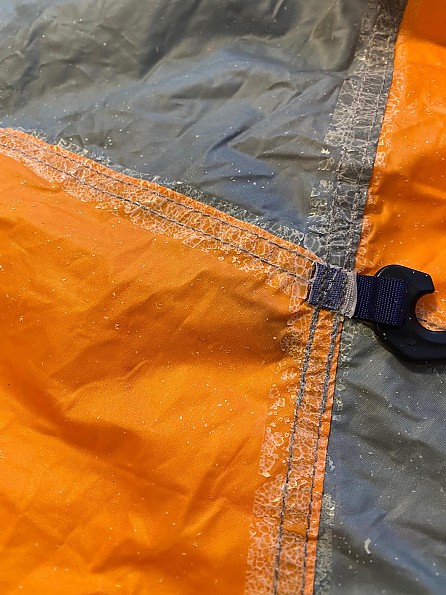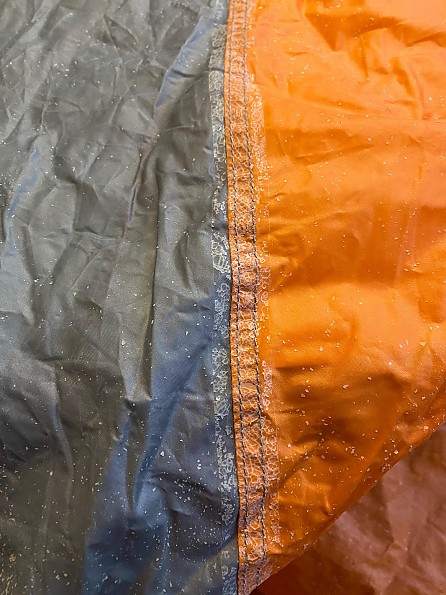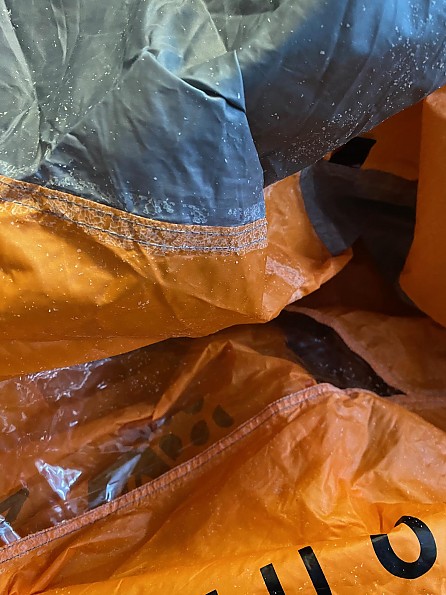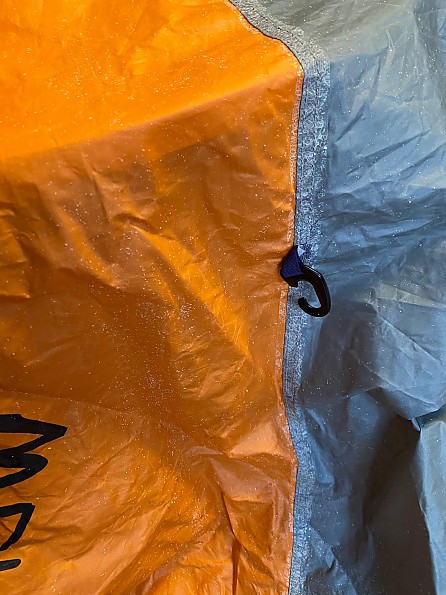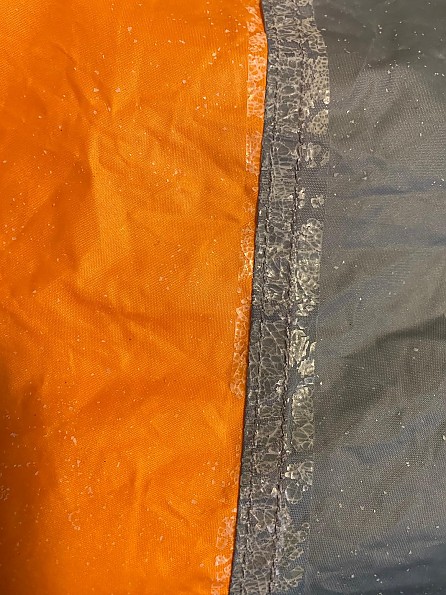 Experience
Mountaineering use—Longs Peak, Mount Whitney, New Hampshire
Source: bought it new
Price Paid: $350

Cons
It will break every time you use it
You will need to carry tools to repair it with
It cannot be left unnattended
Weak poles
Incredibly shrinking flysheet
Worst tent I ever owned... And to put this into context I go camping 6 weeks a year every year for the last 20 years.
Every time I put this tent up the poles break and they will break repeatedly and every day so you will need to carry a hacksaw, a file, and some electrical tape.
This problem is mainly derived from two key fundamental design flaws:
Point loading—As the inner tent hooks onto the frame made by the poles (as opposed to using sleeves) it applies the load at stress points which can become strained if there is any sort of wind at all. Furthermore the way the poles connect together is also suspect as they are not tight fitting, so again point loading where they make contact and rub. The pole ends are not reinforced so are susceptible to cracking and splitting where they meet. 
The second design flaw is the fly sheet which whilst being incredibly strong (which it needs to be to cope with shattered metal poles) has a severe shrinkage problem. The flysheet responds to temperature and moisture by shrinking up to 6 inches. This effectively means that you cannot leave the tent unattended for any length of time. If you leave it sufficiently loose it will flap around and break and could get even looser if it rains. if you leave it taut the flysheet shinks and WILL shatter the poles. If you leave it anywhere in between you can guarantee that one of the above will happen, you just don't know which unless you can foresee the future weather with acute accuracy.
You're much better off buying a Terra Nova Quasar, which this tent is a rip-off of.
Experience
Terrible... Massive pain, completely impractical
Source: bought it new
Price Paid: £550+

Sweet tent. I have used it climbing Mt. Shasta a dozen times, peak bagging in the Sierras, and just backpacking through the Sierras as well. Every aspect of this tent far surpasses all other tents, less the weight. If it weren't so damn heavy it would be perfect.
The fix for this is to leave the tent body at home and only bring the footprint, fly, and poles. If you have set up this tent a dozen times with the tent body then setting it up without the tent body isn't much harder. It cuts the weight of the tent in half and still provides a great shelter. I have sat out days worth of rain with the tent in this form without any leaks. Granted, you have to have the forthought not to pitch the tent in a future little stream, but with some common sense, it works out great.
The only con to this is that it is a little colder, and during the summer there is no way to keep out the vampires. But this feature is far overlooked and makes this tent extremely versatile.
I bring the body when I am going to set up a base camp to peak bag or ski out of, or when I am going on a trip with friends where we won't be going too far too fast and I don't mind bringing along some luxury items.
I leave the body at home when I want to go light because we are going far fast or I am going with a psycho group of friends that are in better shape than I am and I need all the help I can get.
Anyway, to sum it up, this tent rocks.
Design: four season
Sleeps: 2
Ease of Setup: easy
Weight: 9lbs
Price Paid: $300 USD

A great roomy, 2-person tent that stays warm and dry. It's lightweight enough that it could be taken on shorter backpacking trips yet it has plenty of space to kept your gear in. This tent has kept me very warm in 10 degree weather. It's also very easy to assemble.
Pros
Stays very warm
Lightweight
Plenty of space for gear
Cons
Too hot in warmer weather
Not enough ventilation
This is a great cold weather tent that is easy to put up and take down. It's fairly lightweight and would be good to bring on moderate backpacking trips if you can split the weight with a partner. I took it into the Grand Canyon, left the stakes and fly, and split the weight with my partner. 
I like that it comes with a tarp to put underneath but the rain fly confuses me so I've never used it other than to quickly throw it over top during sudden rain showers which worked great. The tent itself holds up well in light to moderate rain but the rain fly is definitely needed for heavier or extended rain storms. Parts of it leaked. The bottom also got very wet even with the included tarp. I found pools of water during one trip in the Olympics but it was a long rainstorm and I didnt have the fly on. Even though I've never correctly used the fly, I ALWAYS bring it. It's giant so I can use it as an extra tarp underneath (the tent comes with a thinner tarp) or to cover my gear or firewood at night. Very versatile.
It was much too hot for the Grand Canyon and even the direct morning sun in the Pacific Northwest caused me to wake up early in a sweat! Aside from the two 'doors' on either end, the only other ventilation is a small slit at the top.
Material and design is high quality. It fits two people comfortably with plenty of room for gear. I've even slept 3 people in it in a pinch. It also did fairly well in rain but there were some leaks during long or heavy storms. 
Source: received it as a personal gift

i have used the Trango 2 all over the United States and it has stood up to every weather condition i have ever faced. It has never leaked on me, although i did seem seal it before i ever took it out (just in case). I have used it on mountains in Colorado as well as wilderness areas throughout the west and in areas of West Virginia. It has been subjected to winds of nearly 60mph (in the sand dunes region of CO), it has been through mainy downpours, and has performed without fail every time (no rips, no leaks, always strong).
The tent is relativley heavy (by backpacking standards), but it is well worth the weight in foul weather. I once had a friend laugh at my Mountain Hardwear tent, thinking my heavy tent was overkill. Later that week his tent was blown apart in a storm while backpacking.
I would recommend this tent to anyone looking for a strong 4-season tent. It has enough size to accomodate 2-3 adults comfortably (although it works best with two people), and the vestibules are great for storing gear. Having two doors is a definite plus for ventilation, i used it in Kansas in the summer (wasn't any hotter than my 3-season tent). I must add that at $400 this tent is a bit of an investment, but i feel that it was well worth the price i paid
Design: 4 season (modified dome)
Sleeps: 2-3
Ease of Setup: easy -- did it without instructions the first time (guying out can be time consuming, but generally i have found it is unnessasary as long as the tent is staked out first)
Weight: 8-9 lbs. (approx.)
Price Paid: around $400

I've had the Trango for four months now, and have subjected it to five weekends in various conditions ranging from the Mendocino coast to Mt. Shasta. Initially I was skeptical about the usefullness of this tent as it is largely touted as being a bomber expedition shelter. But it has proved comfortable in temperatures ranging from below freezing to the upper 70s.
True to its hype, the Trango is definitely a tent for those who will appreciate little attributes that become huge assets on trips. You can find cheaper tents, lighter tents, and prettier tents that all do the same job, but you'll be hard pressed to find one as reliable and impervious to gale force winds as this one.
On a winter trip to Mt. Shasta, my group set up camp early due to nasty winds and horrible visibility. While my friends were setting up a North Face Mountain 24 (an admirable tent in its own right) my tent buddy and I had the Trango up before they even finished with one pole. Indeed, an all clips tent is much faster to set up and is just as strong as one with sleeves if it is designed correctly.
In addition to the ease of set up, the Trango stood fast in disgustingly strong and persistent cross winds. On that same trip to Shasta, My buddy and I were getting ready to put up the fly when we noticed a yellow appartition slowly moving by. The Mountain 24 had been blown on its side before it could be staked down and was sliding out of camp while the Trango, also unstaked, held its ground. If the Mountain 24's owner hadn't wisely thrown his pack inside to weigh it down, my Trango would surely have slept four that night.
At close to $400 it's defintitely an investment, but one that you can be sure of. As with any tent, you have to spend some quality time with it first and seam seal the tent body as well as the fly just to be sure.
Design: 4 season
Sleeps: 2
Ease of Setup: easiest I've used, very intuitive
Weight: 7lb.s
Price Paid: $390

Weatherproof, bombproof, waterproof, windproof, two vestibules, many storage options, and adequate ventilation make this tent hard to top. What else could you ask for?
Pros
Stable/sturdy
Completely weatherproof
Two vestibules
Lots of pockets/storage options
Adequate ventilation
There is a reason this is one of the most highly-rated and venerable tents on the market. It is bombproof, weatherproof, and very sturdy (five poles, clip design, fully-taped seams). I have not used it in "extreme" or mountaineering conditions but I have to believe from what I have seen that it is built to persevere (wind and steady rain were not a factor at all).  
There are plenty of storage options with pockets that line both sides of the tent, two "shelves" in the ceiling, and two vestibules (one being larger than the other). Each entrance (two in total) actually has two doors, a mesh screen door and a "normal" nylon door, and the larger vestibule has a clear, plastic window.  There is a vent in the ceiling (allowing winter cooking) and when it is opened (similar with the doors, there is a nylon "flap" and a mesh "flap"), a window in the fly is revealed which allows for stargazing.
My only issue, and I say this with the expectation that bombproof comes with an, albeit minor, concession, is the weight (around ten pounds with a footprint).
While all of these features are awesome on their own, don't forget about the Mountain Hardwear warranty and their stellar customer service.  
Source: bought it new
Price Paid: $500

This is a mountaineering tent, not an ultralight. It is for environments where failure is not an option. It is built to take the beating it will get on windy, cold, and possibly unforgiving terrain. It is large enough to do what you need to do to survive while entirely protected from the elements. It is not a beginner's tent. The fly is adequate.
Pros
Durability
Ability to be pitched in windy environments
Lack of condensation problems
uUse in both tropical and frigid weather
Adequate size for two adults.
Cons
Weight
Skill needed to pitch properly
Taking it down in wind is a learned skill
Use in less than normal environments and terrain is expected. Wind proofing is expected and achieved. The materials are top drawer, but not built to be ultralight.
This is a tent which survives long treks and high altitudes, nasty weather, prolonged rain, driven snow and temperatures well below zero. It does achieve all its tasks at a price of weight. Used on a sixty-mile trek up Kilimanjaro and back with no problems.
Source: rented it

Amazing tent. Not for warm conditions or light backpacking. Perfect for late fall/winter camping.
Pros
Durability
Protection from elements
Easy to set up
This is a great tent for the months when you wouldn't normally see yourself camping. The double layers keep the inside much warmer than you would think.
The only problem can be some condensation on the inside of the tent, but any tent that has this kind of protection is going to have that problem. Fully packed with the footprint it weighs around 10 lbs...so unless you are doing something pretty serious or day hiking in the colder months, you would probably leave it at home.  
There are five poles needed to have it fully set up, but once you do it a couple times, it is quite easy. You can tell it will hold up to SERIOUS weather conditions. It is quite roomy for a 2-person tent...you could probably fit three small to medium sized people in there. The vestibules on the sides of the tent are also quite roomy and you would be able to fit your packs/boots there quite easily (for two people at least).
I would highly recommend this tent for anyone who likes camping in the cold weather.
Source: bought it new
Price Paid: $350

I have used this tent 10-15 times climbing in the Cascades. The tent held up great until I took it to Mt. Rainier where it was pummeled for four nights by 40-70mph winds. Two poles bent and the rain fly tore in three places.
I did find the tent to be exceptional in the rain though and very roomy. It is also very easy to set up. Needless to say I returned the tent to REI (no questios asked) and purchased a Bibler I-Tent (half the weight). Hope it stands up better when it gets REALLY windy.
Design: four season
Sleeps: 2
Ease of Setup: Exceptional
Weight: 10lbs 1oz
Price Paid: $425

I have used this tent in the Minnesota BWCA on two seperate trips. Once in mid-August and once at the end of February. I found it a warm tent and would not recommend it for summer camping. However, for winter camping it was quite nice.
The biggest disadvantage to it: I wish I would have bought the three person. The two person is a little cramped for two large adults (6' plus, 220 plus). On a side note, it is a little heavy but damn tough and holds extremely nice in a strong wind.
Design: 4 season
Sleeps: 2
Ease of Setup: It is very easy to set up. I really enjoy the the color coding of poles and the quick snaps

I bought this tent three years ago in Lincoln, N.H. The shop owner gave me a great deal and I did not refuse it. This tent is very strong and I've been very impressed with it. Certainly the best tent I've ever used in my 12 years of peak bagging.
I've used this tent in 90 mph winds near Mt. Washington, N.H., and it held superbly. It took 18 inches of snow on Feb. night and never sagged. Great tent.
Design: 4 Season Expedition
Sleeps: 2-3
Ease of Setup: Easy
Weight: 9 lbs
Price Paid: $285 on sale!

I had to borrow this tent since the one I purchased from Northern Mountain Supply arrive without a fly. By the way, that was several months ago and they still have my money. Don't buy anything from them or you will get scammed like I did. This may not be the proper place to say this, but this is meant to help you in purchasing your gear.
The "borrowed" Trango 2 is a lightweight bombproof tent, big enough to sleep 2 people and their gear, plus all those night time critters that come out after dark. I used the tent for 6 days on Mt Baker in the Northern Cascades. It held up great. Make sure you seam grip it. The two doors make a big difference in ventilation. As anyone who climbs can tell you, after several days without a shower and wearing double plastic boots, your feet will smell worse than your wife's cooking. The extra door helps keep this to a minimum. The window in the vestibule is a waste though. It's the first place that condensation will gather. The tent has an excellent set up for guying it out. The front vestibule is large enough to store things in and cook. I think this tent is perfect for any party of 2 that is planning to spend some time out and needs a 4 season tent. Just be careful where you buy it so you don't get scammed like me.
Design: 4 season
Sleeps: 2+
Ease of Setup: Super easy and fast
Price Paid: $425

Awesome, bullet proof design (not literally).
Pros
Heavy duty fabrics
Wind resistant
Cons
Putting the fly on is time consuming
A little on the heavy side
The first night I ever used this we got dumped on by rain, since then it has been in snow and desert winds.
Setup is pretty easy. Usually my wife does it on her own. The fly is annoying due to so many hooks, and it requires lots of stakes as well. 
It pitches nice and tight and sheds snow rain and it a great shape for wind. 
The floor is somewhat light and I HIGHLY recommend using a footprint. In sub-freezing temperatures we have woken up frosted on the inside due to frozen condensation. That being said it doesn't breathe all that well. 
Do an image search for Everest base camp and you will spot at least one Trango somewhere in the mix. These have become disposable sleeping quarters (maybe that's why those trips cost so much).
Not too comfortable to sit up in, but it can be done.
Overall, it's a great tent that will be with me forever.  
Source: bought it new
Price Paid: $400

The best tent I've ever seen. I work in Denali National Park, Alaska: monitoring the North Butress of Mt. McKinley. My job is being outdoors 320/days per year -- in a wide variety of weather. This is the best damn tent one can prchase.
Design: 4 season
Sleeps: 2+
Ease of Setup: Easy in high winds. Fairly Quick.
Price Paid: $420

This tent has provided us bombproof shelter for almost a decade. Seam seal the fly, use a ground sheet, and always hang it up to dry thoroughly before storage. Other than being a smidge on the heavy side, it's perfect.
I've owned the tent over 2 years. I have used it car camping, backpacking, backcountry skiing, and mountineering. I have always stayed warm and dry within the tent. I took the time to seam-seal all seams near the ground the first summer that I bought the tent, therefore I cannot state if any additional benifit was gained. I have had the sunshine, moon-shine, star-shine, rain, and snow on my tent while performing flawlessly.
Perhaps other tents exist that weight a ounce or two less, however the security I feel inside at night is worth it. During warmer weather opening both doors can create a pleasent draft through the tent. The biggest drawback with the tent is getting into and out of the tent. You basically have to crawl in on your hands and knees, which is worse in the rain and mud. *TIP* Having two vestibules is handy during winter camping. Dig a large pit (2-3 feet deep) at the back door of your tent slightly smaller in shape than the vestibule. You then can place your packs upright in the hole making easier access and keeping your gear out of the elements.
Design: 4 Season
Sleeps: 2+
Ease of Setup: Each time you set it up it gets easier. Perhaps difficult if you only set it up once a year. Clip on rain fly is super simple.
Weight: approx. 8lbs
Price Paid: $329 US

I've owned this tent for seven years now, and it's still with me. Great for hiking and winter-mountaineering, although it's pretty cramped with two people and their gear in winter conditions.
Setup is very easy, thanks to the clips and it's tornado-proof.
The only big disadvantage is the groundsheet which is a horror. After three weeks it leaked everywhere and it had to be replaced (by a groundsheet from Lowland, a Dutch tent-maker).
Because I buy a tent to be waterproof (if it's dry I can bivy in the open-sky in my sleeping bag) I won't buy the tent again. Maybe I had a mis-production, but I won't take that risk again.
Sleeps: 2
Ease of Setup: very easy
Weight: 4.1
Price Paid: 500 euro

What a tent ...my lovely wife gave it to me for a wedding present 2 wks ago. our wedding trip was to the arctic circle. the trango 2 went up in a flash and we were cozily settled inside before the horde of giant mosquitoes were able to eat us down to the bone. we highly recommend this tent...even with a double size air mattress inside, there was room for clothes and a few other things.
our next trip with our trango will be to denali national park...we're really looking forward to that one. we'll let you know how it goes.
Design: 4 season, freestanding tent
Sleeps: 2
Ease of Setup: up in a flash, down in half a flash
Weight: about 9 pounds
Price Paid: $550

I recently purchased this tent and just tried it out for the first time under less than ideal conditions. I was camped out at approx 10,000' and was snowed/rained on for two days straight. Even with the wet heavy snow, the tent never leaked a drop.
Only complaint is that the instuctions could be a little more in depth, especially in regards to guying the tent. Overall, a fantastic tent that I would recommend to anyone.
P.S. Don't buy the gear loft. It is not needed due to the generous side pockets, and takes up all the headroom.
Design: 4 season
Sleeps: 2
Ease of Setup: Easy after the first time
Weight: 8.5 lbs
Price Paid: $329

This tent is not light by no means and meant for the other three seasons of camping, but if you don't mind the extra weight this tent is for you. The storage inside the tent is great even without the gear loft. I do recommend the Foot Print (sold sep.). This tent would deflect fallen timber of resonable size, not to mention snow. I use this tent for Boy Scout hikes in the southeastern United States and would personally recomend a lighter Mountain Hardware Tent for the other 8 months out of the year.
Design: 4 Season Dome
Sleeps: 2
Ease of Setup: Hard Only the 1st Time (recommend having sales clerk set up in store before purchase)
Weight: 9lb.s
Price Paid: $400

I have owned several (three) so called expedition tents. I have had Halti XPD, and Vaude K2 Space. Those tents were big dissapoints for me.
After those two I try to get Marmot Thor 2P but LUCKILY I did not get that. At the same time I did make an order for this great (I did not known it then) tent. OK Trango has been my friend now for one year in summer and in winter, after all Trango 2 is the best tent I've ever had.
Sleeps: 2
Ease of Setup: very easy
Weight: 4,2 kg
Price Paid: 462 €

I agree with all the positive things that have been said. Absolutely awesome design. I would buy it again and again.
My only one complaint is condensation. Even with all the vents wide open when it only drops to 50-60 deg at night, I still wake with lots of condensation with only 1-2 sleepers. This is something I really didn't expect. This is my first 4-season tent, but I have never had this problem with the other three tents I have owned.
Design: 4-season freestanding
Sleeps: 2
Ease of Setup: VERY simple
Price Paid: $400

It has more space than comparable tents having the same design: TNF Mountain-24, Wild Country Mountain. Absolutely bomber. Stays moderately cool for summer use.
Design: 4 season ledge tent/modified dome
Sleeps: 2
Ease of Setup: very simple
Weight: 7 lbs.
Price Paid: $385

The tent performs well on Alaskan glaciers and in deep snow in the upper U.P. Can handle three climbers and gear nicely.
Design: 4 season dome
Sleeps: 2
Ease of Setup: very simple to put up
Weight: 7lbs
Price Paid: $385

Great tent.
Hopefully you will not need support. I e-mailed Mountain Hardwear for advise on using internal guys but got no reply.
Sleeps: 2
Ease of Setup: Easy

I think tents "Today" could learn from the '70s. This tent was no "Snowflaps" or "Cool/Pee Hole" zippered into floor like the great tents of the '70s. The poles are better today and also the fabric, but the "Outsourced" workmanship is Shotty. One tent is OK but the next is so-so. Tents today do not compare well with the tents of 30 years also...
Your Review
Where to Buy
Help support this site by making your next gear purchase through one of the links above. Click a link, buy what you need, and the seller will contribute a portion of the purchase price to support Trailspace's independent gear reviews.
You May Like
Specs
Price
MSRP: $700.00
Current Retail: $900.00
Historic Range: $11.00-$900.00
Reviewers Paid: $125.00-$580.00

Approx Weight Packed
9 lb 10.2 oz / 4371 g

Approx Weight Minimum
8 lb 9.7 oz / 3905 g

Approx Weight Pitch Light
6 lb 0.7 oz / 2741 g

Tent Capacity
2 Person

Number of Poles
5

Number of Doors
2

Number of Vestibules
2

Height Interior
38 in / 97 cm

Tent Floor Area
40 sq ft / 3.7 sq m

Tent Vestibule 1 Area
12 sq ft / 1.1 sq m

Tent Packed Size
8 x 24 in / 20 x 61 cm