Mountain Hardwear Typhoon Jacket

The Typhoon Jacket has been discontinued. If you're looking for something new, check out the best waterproof jackets for 2023.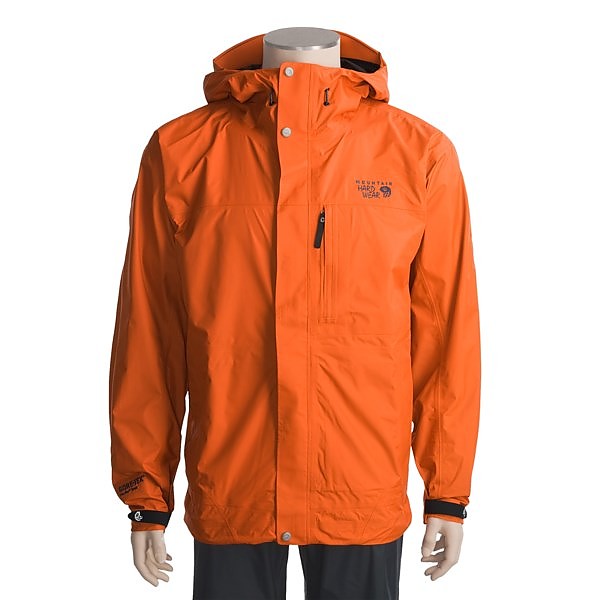 If you can get a hold of the 2009 model for around $100-130 bucks, this is a steal. Otherwise, still a solid yet lightweight jacket with many great and a few not-so great features.
I picked up the Typhoon Jacket and Pants to provide a lightweight and versatile rain shell and I wasn't disappointed. The pants were sized a little off (small), but were hands down a 5-star product, especially for the 90 bucks I paid. As for the jacket, also a bit on the small side (I'm 6'4"/220 and needed an XXL), but a great shell with just a few minor flaws.
First off, Gore-Tex paclite is a great material for this type of shell. Guaranteed waterproof, resilient, and lightweight. This is primo material and what attracted me to the jacket initially.
The Typhoon is generally very comfortable with enough features to put this up at the top of it's class (non-technical rain shell). Standard waterproof pit zips and ventilation pockets are a nice touch, with pocket zippers on the top for access when wearing a backpack. The wrists are secure and easily adjustable velcro closures and overall, the jacket looks really nice.
The breathability is quite good, especially if you layer properly, but can hold moisture if you overdress and/or are using it in warmer conditions. This also makes a perfect shell over fleece or other base layers, so I'd recommend getting a size larger if you are on the high end of your current size. Waterproofing is nearly impeccable, as should be the case with any Gore-tex product.
One of my main complaints is in the hood (-.5 stars). There is a single drawstring that cinches several points back at once. While this is a nice efficiency, the hood is very large and obscures my peripheral vision if cinched too tight. This also means that it can accommodate a low-profile helmet, so that is a bonus for some.
Another somewhat perplexing feature is the front zipper system (-.5 stars). While the pit vents have watertight zips, the designers decided to go with a standard zipper and a double flap with velcro to seal the water out. While the zipper itself is pretty beefy (YKK), I'm not a fan of the extra material and velcro, which also somewhat hinders the zipping process. At the same time, maybe the zipper is a more durable type which could extend the life of the jacket.
Overall this is a great choice aside from the few things mentioned above. Like I said, if you can grab last year's model for around 100 bucks, it is a great bargain.
Happy Hiking,
Aaron
Fabric: Gore-tex paclite
Price Paid: $110

I am somewhat conflicted about this jacket. I bought it 2 years ago (Goretex Paclite shell), and during spring-summer-fall, it has gotten a lot of usage, especially for biking and hiking. During the first 6 months, the waterproofness and breathability were excellent.
The hood isn't perfect, especially when biking, as it somewhat obscures peripheral vision. However while hiking, I do not find it to be a problem. The pockets are also somewhat high-- not useful for placing your hands in.
However! After 6 months of use, I washed it for the first time. I followed all manufacturer's instructions when doing so. However, despite this, the jacket was no longer waterproof. It would leak, even after a moderate rain, over the shoulders and down the arms (especially the cuffs).
In addition, dirt marks from biking remained on the jacket, for reasons unknown to me. I tried reapplying several brands of spray on waterproofing, followed by manual hair drying of all of the seams (I don't have a dryer, which is normal for most people living in Europe). But still! Leaking!
I finally thought I had susccessfully re-waterproofed and brought it with me while trekking in Switzerland. On the second to last day of our trip, it rained! Like 10 hours of rain out of 10.5 hours of hiking. After 30 minutes, I was soaked to the skin. Did I mention that it was only 8C? What a miserable day!
After this trip, I once again rewaterproofed the jacket and this time used an iron to heat the fabric. Since the ironing, the jacket has remained mostly waterproof (still seeps a bit around the cuffs). I have had Goretex jackets in the past and also another Goretex jacket from Mountain Hardwear, and I have never had such problems! Not sure if there is a problem with my fabric or this is common to all Typhoons.
Therefore: if you buy the jacket, wash it very carefully and definitely put it in the dryer afterward!
Price Paid: 120 USD

This jacket is amazing. I purchased this piece a few months ago and it's exactly what I am looking for. Keep in mind that because it is Gore-Tex Paclite it is not as durable. However, it weighs less than a pound.
I found the hand pockets to be great for two reasons. First, they are mesh lined, which means you can vent through the pockets AND the pit zips. They are a little higher than on some jackets. However, this makes it easier to access the pockets' contents when wearing a hip belt, but, kind of awkward when you just want to put your hands in them.
The DWR coating sheds water easily. Little droplets just bead right off. It kept me totally dry during a 24-hour pounding I took in PA's Allegheny National Forest. So far I haven't had any condensation problems, but I will have to wait until next summer to really comment on that.
The hood can fit over a helmet, and the adjustments make it easy to ensure a snug fit and good peripheral vision. The visor is also a nice touch. The whole hood can be rolled up when not in use.
I don't know what to think about the storm flap as opposed to waterproof zippers. The problem with waterproof zippers is that if/when they fail, they cannot be replaced. You can only replace them with regular zippers. So, if there is no flap (which there obviously isn't on jackets with waterproof zippers) then water will come in. But, I haven't really seen too many problems with waterproof zippers in the past. Plus, it could shave even more weight off the jacket. They do use waterproof zippers on the pit zips though.
All-in-all, this is a great jacket at a fraction of the price you would pay for an Arc'teryx jacket. My buddy has a Theta SL and there isn't much difference in performance--just about $100 in price.
Fabric: Gore-Tex Paclite

This jacket retails for $300 Canadian. At that price for a lightweight jacket, I would expect a gamut of high end features.
The biggest problem with this jacket is the double flap front. It seems illogical for a company like MH to sell a high end lightweight jacket without waterproof zippers. At that price, you would certainly expect it. On some old models, MH had a stiff flap over the zipper that was much more convenient than the double flap with velcros that are quickly wearing down.
Secondly, the hood could not be more poorly designed. As a rock climber and cyclist, I would expect a hood that would nicely accommodate a helmet. The problem does not lie in the size of the hood, but the overall design. The single drawcord at the back allows the helmet to be tightened around the face. However, the hood falls so far over you eyes that it is almost impossible to use as you are cycling or belaying without risking serious injuries. Why is there not another drawcord to pull the hood back from your face?
Overall, I was looking at for a solid Gore-tex Paclite jacket and I bought Mountain Hardwear because of MH's supposedly high attention to details and quality craftsmanship. However, for an additional $50, I should have bought Arc'teryx's Paclite jacket and gotten the quality features I would otherwise expect on Mountain Hardwear products.
Fabric: Gore-tex Paclite
Price Paid: $300 Can.

Overall I'm happy with the Typhoon Jacket. The quality and feel of the jacket is really good. The Pit Zips are a really good feature and I have them half open while I'm walking. The breathability of the Paclite is really good, much better than my old Gore- Tex, North Face Jacket.
The two front side pockets are mesh so you can have them open for extra venting. The top front pocket is a bit small as you can't really fit a map in there, this is a waterproof pocket. The hood works well but could fold away a bit better. The weight is really good.
They advertise the weight of jacket to be 439grams but my Large one comes in at 398grams which is a bonus. I wrote to Mountain Hardware about this 10% difference and they said that the weight was on the prototype model. It would be nice if the jacket was an extra inch or so long as some of my fleeces hang out of the bottom a bit.
Overall for the price you get a really good light weight jacket.
Fabric: Gore Tex Paclite

I just receive my new Typhoon jacket (Spring 2010 model), and I love it. I'm 5'8", 185 lbs, and the large fits great with just enough room for layers. I got mine in Cypress/Duffel and it looks even better than the picture. The Cypress color is quite a bit darker than it looks in the picture...which is great. I like the Spring 2010 style a lot better. It has a cbl of 30" giving you a little extra length.
The jacket has 2 comfortable hand pockets which are mesh lined, a big chest pocket and pit zips. There is a dual drawstring on the hem. The hood is very adjustable and comfortable. The hood brim is stiff enough that it doesn't flop in your face. And of course...it looks very stylish.
My only complaint is the lack of an inside pocket, but the big chest pocket makes up for it. I have a Cohesion jacket too, and I give the edge to the Typhoon jacket. Don't hesitate to buy.
Great hard shell -- light, comfortable, waterproof, full-featured ventilation. The Gortex-Pac Lite fabric is very smooth next to the skin and doesn't feel sticky or clammy.
I've had it for a year now and used in all conditions including a 50 mile backpack in Olympic where it rained every day. Love it. 
My only quibbles are the single hood adjustment that, while easy to use, doesn't allow as much micro adjustments as a double. Despite this, it always allows for full vision. While it isn't the fault of the jacket, you're better off with a trekking umbrella in warm weather, because you will sweat if you are moving fast uphill.
Fabric: Gore-tex Pac-Lite
Price Paid: $109

Just about a perfect jacket all except the front hand pockets. They are a little high and awkward to get your hands in them. I have used this jacket in many hikes that has been pouring and has kept me dry all day. The double flap that covers the zipper is nice to keep the rain out. The top portion is soft so it won't rub on your chin and face. I love it and would recommend!
Fabric: Nylon & Polyester
Price Paid: $199.99

I have a new best friend in the back country!!! I just completed a two day winter overnight near Glacier National Park. This jacket never left my body.
This jacket has exceptional breathing ability. I was sweating due to elevation gain and snow conditions. This jacket came through with flying colors. There wasn't a drop of condensation inside the jacket.
Find it and buy it!!!!!
Price Paid: $124

Your Review
You May Like
Specs
Men's
Price
Historic Range: $89.95-$200.00
Reviewers Paid: $110.00-$199.99

Women's
Price
Historic Range: $49.99-$200.00
Reviewers Paid: $109.00-$120.00