Mountain Hardwear Waypoint 2

The Waypoint 2 has been discontinued. If you're looking for something new, check out the best three-season tents for 2021.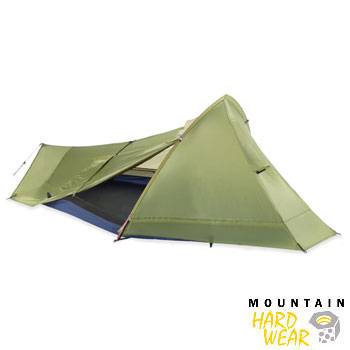 Specs
Price
Historic Range: $112.48-$249.99
Reviewers Paid: $70.00-$250.00

Reviews
9

reviews

5-star:

0

4-star:

2

3-star:

2

2-star:

4

1-star:

1
Learned my lesson here. RAINFLY...'gotta have one. This tent tried to fake the funk and shave a few grams.
There is no rainfly folks, and simple physics has trumped this design. The ventilation is poor, and ventilation is your only friend with this glorified tarp.
Way too complicated, and because so much of its setup is riding on perfect staking, any whackball terrain really hurts the tent's setup.
It is pretty roomy, but the barely ventilated, no rainfly setup is a HUGE drawback. You are better off with a freestanding unit with a rainfly that weighs 6 ounces more overall.
I got the tent off of Craig'slist so it didn't set me back too much, but lesson learned. This tent is perfect to loan your nieces/nephews for sleepovers, not for the trail!
Price Paid: $70

This was a GREAT tent for the two years I had it before it turned into a pile of sh*t. EVERY seam came unglued, and it was only the 3rd time I've used the thing. See the pictures . . .
I always clean and pack my gear after every trip meticulously, and this was a total shock to see this "quality" tent fall apart before my eyes. It started to come undone the minute I set it up, and by the morning the footprint was completely detached from the fly, and all the other seams were all undone.
The glue was just not made to last, I guess.
Sleeps: 2

Super lightweight and packs a few inches shorter than other similar options... BUT definitely not a 2 person, three season tent. Maybe a 3 season, 1 person tent or a 2 person, 2 season tent, but 2 person, 3 season tent just isn't possible.
Every time I use this when the temperature drops below 50 with 2 total people the condensation is unbearable. Regardless of where I camp. I've been all over the country: Myrtle Beach, Georgia, Colorado, California, Washington, doesn't matter. I guess the only "user error" possible was packing the inside of the tent with too much gear. With 2 people's worth of gear the venting around the perimeter gets blocked. Maybe if I kept all our gear outside it might vent enough to prevent condensation from collecting and dripping but I highly doubt it. Down sleeping bags don't work well when wet lol. With another person inside you cannot move in this tent without getting wet.
Now having said all that- it's pretty awesome lightweight tent WHEN the time's right, especially for you and man's best friend during the spring time. It is very light and super easy to setup.
Sleeps: 2
Ease of Setup: Very easy
Weight: Apparently 3 something pounds

It was overall a good tent, but if you're doing hot camping it will break down the tent. I'm working on trading this tent for a better tent. On one of the vents it melted the stuff that seals it and my tent was filled with bugs :(
Sleeps: 1
Ease of Setup: easy
Price Paid: 250 dollars

This tent is a great summer tent. I have used it on many damp Michigan nights in temps from 35 to 60 degrees and only saw moderate condensation on the coldest of nights. If there is a breeze set it up so that the front of the tent is into the wind and have the roof vents open and the tent will stay completely dry. If there are two of you there is not much room for gear. If your dog sleeps inside look elsewhere.
Design: three-season non-freestanding
Sleeps: 2
Ease of Setup: Very easy for two, somewhat easy for 1
Weight: 3 pounds 7 ounces
Price Paid: $150

I STRONGLY RECOMMEND NOT BUYING THIS TENT! The ventilation is horrendous, leaving you with puddles of condensation covering the floor every morning. In below freezing temps it seems to offer almost no protection from the cold. I think this is because of the huge vent in the end of the tent. There also is no place to put your gear and very little room for two people to sleep.
Design: three-season
Sleeps: 2
Ease of Setup: Difficult to set up on snow or in rainy conditions. Only moderately difficult otherwise.
Weight: 4 lbs
Price Paid: $100

This tent is very light, very sturdy even in high winds, but the ventilation is abysmal. Even in Colorado where the humidity rarely makes it to 20% condensation is a serious problem. In particular if you move around at night, your sleeping bag can block off most of the venting space around the floor.
Sleeps: 2
Ease of Setup: Simple and fast with 2 people difficult alone
Weight: 3lbs 1 oz
Price Paid: $250

Ventilation is a problem but I don't camp in summer so it will be perfect for me. Was in huge 14-hour storm with no rain splatter. Light and fast just what I asked for. Wish there was somewhere to store some gear. For two people remember to bring a good friend because you will be close.
Price Paid: $172

I used the Waypoint 2 on a 4 day trip to Isle Royale and on one of the pre-trip overnights. The trip to Isle Royale was in August with nice weather and no rain. I did experience some rain in the morning on the pre-trip overnight.
The tent is very light and is easy for two people to set up. One person can set it up, but it takes about 10 - 12 minutes and requires more adjustments.
The two problems I had with the tent were ventilation and possible rain splatter through the netting on the sides of the tent. The lower 4 inches or so are mosquito netting with short overhangs. If there were wind driven or very hard rain, I believe that there would be some splatter or wind driven rain that would come through the netting. The ventilation is limited and, especially with two people in it, and on humid nights, there was some condensation and clammy gear in the tent. You can maximize the ventilation by placing short sticks under the overhangs to lift them up round the perimeter of the tent. With one person and the propped-up overhangs, the ventilation was fine.
Design: three season lightweight freestanding
Sleeps: 2
Ease of Setup: fairly easy for one, easy for two
Weight: about three lbs with poles, stakes, etc
Price Paid: about $250

You May Like