Mountain Hardwear Windstopper Tech Jacket

The Windstopper Tech Jacket has been discontinued. If you're looking for something new, check out the best fleece jackets for 2023.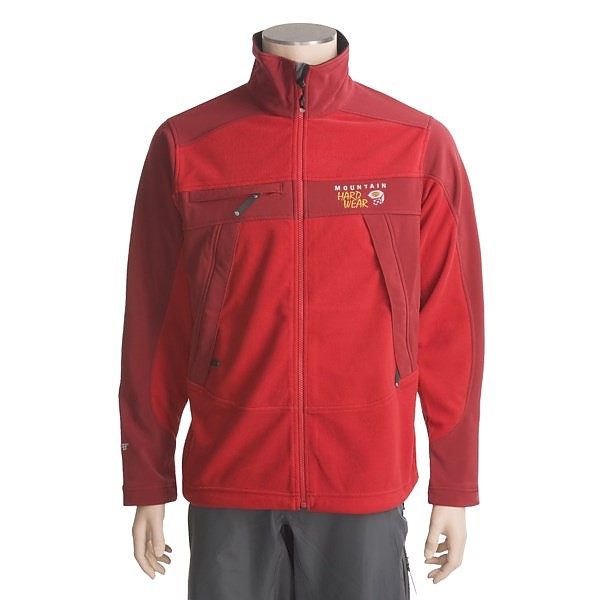 This jacket is fine. It does what it is advertised to do, stop the wind. But I'm writing this from a mountaineering standpoint, where you travel and change/add layers frequently due to constantly changing conditions. This jacket is great if you go out for a clear/dry day and know you won't be needing a waterproof/watershedding shell.

That said, I think most Windstopper 'Fleece' products are highly overrated....there's not much fleecy about this jacket except the micro layer on the outside. Everyone loves regular fleece b/c it traps warmth nearly immediately and warms you up fast. Mesh laminated to a membrane doesn't quite have the same effect.
Think about it, logically it makes no sense to have a water-absorbing water on the outside, and then an essentially non-insulating mesh layer on the inside (not to mention all the uncomfortable seams you feel along your arms, etc.) It is very inefficient when you look at the weight-to-warmth ratio. Yea it's more packable then 200 fleece, but not near as warm once you get into camp and can throw on your shell for the night. At that point the winsdtopping properties of the jacket are no longer needed, and you're sitting there with an uncomfortable, stiff layer that adds hardly any warmth to your layering system. Softshell jackets offer the perfect compromise, and should basically render the first gen WS products obsolete in the future.
I like this jacket b/c it looks nice to go out in around town, and is essentially a more breathable shell for dry windy days. Beyond that, if you're venturing into the mountains for several days, leave this piece at home, and opt for a softshell jacket of some sort that offers virtually the same windproofness, along with a comfy layer of fleecy material on the inside, plus water shedding capabilities at the same weight. This jacket is just too heavy to put in your pack when you dont know what the weather will be like once you consider its overall limited insulating properties. Ideally, all your layers should have a water resistant outer too them, except maybe your t-shirt and your capilene top. Above these items, the perfect system in a moderately cold climate would be: Driclime Windshirt, A Schoeller Softshell jacket, a puffy jacket (synthetic or down), and a Gore-tex or Epic shell.
This just comes from my experience. Don't take this as a 'dont buy this product' review. There's nothing wrong with it, there are simply more versatile, and more efficient jackets out there with better design or technology if you're looking to lighten your load when you take off into the backcountry.
Fabric: Mesh, Windstopper Membrane, Microfleece Outer
Fill: None
Price Paid: $140

The Windstopper Tech Jacket is an amazing piece of gear and essential for any cool-weather outdoor activities. It is of durable, quality construction and looks good, too. A jacket like this shouldn't just be worn on the trail.
Pros
Quality construction
Windproof
Water resistant
Good ventilation
Cons
Could use more pockets/storage
Fit & Comfort: The jacket fits nicely. It is snug, yet allows for maximum movement in any situation.
Adjustability: The waist of the jacket can be adjusted for a tighter or looser fit, depending on the user's preference.  I have adjusted it so it is nicely snug.
Water Resistance: The jacket is water-resistant, but will get soaked in prolonged moisture.  It does dry fairly quickly.
Breathability: This jacket is warm, yet allows for easy ventilation.  The pit zips make it ideal for cooling down while on the trail.
Moisture: I had no issues with internal moisture while in this jacket, even while backpacking in 60 degree weather.
Warmth: The jacket kept me warm--very warm.  It does require some ventilation adjustment while at rest, because of its "Windstopper" feature.
Layering: I have only layered this with a single shirt underneath.  I imagine it would fit just fine with more layers.
Function: All the zippers and drawcords have worked flawlessly and appear to be of solid construction.
Construction & Durability: This jacket is of high quality.  The zippers and seams all appear to be durable, and have not shown any signs of wear.
Conditions: I have used this jacket everywhere from backpacking to the office and places in between, and it has served me well.  It has kept me warm in even wet and cold conditions.  I have even worn it in driving rain for several hours, and only after about hour two did I notice it becoming soaked through.  Even so, it dried quickly once the rain subsided.
Source: bought it new
Price Paid: $75

First let me start off by saying that I love MH; however, I am very disappointed with this product for a number of reasons--the first being warmth. 
I lived in Colorado and now I live in New York so keep that in mind. I have had other MH wind stoppers that I have been very happy with but this one looks a lot cooler than it performs. They skimped on the material to cut back on weight and that was a big mistake. My old MH windstopper could be worn with a t-shirt underneath at freezing temperatures but not this product.
In fact, this product, because of the lack of material, is not a great windstopper either.  I give it a 5 out of 10 for a windstopper.  I would much prefer a hooded sweatshirt and a $20 rain jacket than this. 
My next complaint is the pockets. They are uncomfortable and have no warmth at all. The only useful thing about them are the zippers to stash things.
After wearing this for a while, I'm really puzzled as to what they were thinking when they made this.  It's not really a shell, and it's not really a cozy fleece. I would think that after paying almost $200 dollars for a piece of gear like this that I wouldn't have to buy another piece to keep warm.
I also have a down MH jacket and I tried to wear the windstopper underneath as a base layer, but it is very uncomfortable and doesn't work well. To solve this problem, I am looking for a base layer for this windstopper, either the Cap4 from Patagonia or the hundo by underarmor. 
After this debacle, and another regarding a broken MH tent from a small windstorm, I'm losing faith in this company. I'm 165lbs, 5'9 and am an avid hunter and backpacker.  As a result, save your money for something else. Do not buy this jacket.
Price Paid: $185

Incredibly versatile. The key is to use layers--MH sizes the jacket to allow for triple fleece underneath, even a down sweater for cold casual wear. (If you just want it for fashion in SoCal winter, go down a size.)
For high-exertion activities, this jacket shines with large pit zips that enable no to high venting from the sides. It beats overpriced cycling jackets, and really, the cycling attire cos are always behind the curve, because they just look to the mountain-winter-sports sector for their me-too cold-weather apparel "innovations".
Your underlayers will be a bit damp, but never soaked if you adjust your zips correctly. This jacket blocks the wind but allows good sweat evaporation. If you go out where it rains for a prolonged period like in the Pac NW, you need a waterproof shell. This isn't a rain jacket, although it sheds light, brief showers.
Overall, with proper layered-tailoring, it's a great top cover in windy conditions from well below freezing to 50 F. For example I've ridden down to 19 F with an effective windchill of ca. 5 F, and that was half unzipped in front and fully unzipped under the arms. I was wearing a Patagonia Synchilla pullover, a thin merino undershirt and a polypro undershirt. If I had totally zipped up, I would have gotten overheated.
Pockets are good for stuff, not really for hand-warming.
Price Paid: $129

This jacket is great. It is the most versatile piece of clothing that I own. It is my coat all the way from fall to spring, no matter what activity I'm doing. Its Windstopper membrane keeps you comfortable down to 15 degrees, and the huge pit zips (they strech from the elbow to the armpit) keep you well ventilated even when hiking and mountain biking.
One final thing that I really like about this jacket is the size and convenience of pockets. There are two pockets just above the waist and one security pocket inside the jacket right near your chest. The price is very high, but if you search the internet you can find the jacket for $150-$175.
Finally, my experience was that the sizing chart on the Mountain Hardwear web site ran quite small. I had to go two sizes up from what the sizing chart said I would wear. I would recomend going to a store, finding your size, and then ordering online. As much as I like to support my local outdoor store, the discount on the internet is too large to pass up.
Fabric: Gore Windstopper Fleece
Price Paid: $205

Who does this fit?
Cons
Weird sizing
Uncomfortable collar
This was the first Windstopper jacket I ever got. It was a gift from my parents. The jacket is very thin and isn't suitable for winter wear. It would make a decent layering piece if the collar wasn't incredibly uncomfortable.
The main issue with this coat is that the sizing is strange. I am 5'11" and 180lbs and wear a large in most items. For this coat, I had to get an extra large and the body fit fine in the shoulders and chest but it barely made my waist. The arms were also too short.
I ended up replacing it with a North Face Sentinel that was much better.
As a disclaimer, I am affiliated with Gore for product testing of Gore-tex products for the purpose of product review and recommendation. I do receive items from Gore for these purposes.
Source: received it as a personal gift

Why do I give this jacket such a low score? For one thing, it's too cold. This is due to the very light/thin layer of fleece, which is sandwiched to the windblock laminate. MH wanted to save weight, so they skimped on the fleece, thus the jacket is cold below 45 degrees or so. That's not much use. They should have made this jacket beefier, which would have meant a bit more weight. The sleeve hems are too loose as well - they can't be tightened, and there is no elastic!! Finally, the neck closure at the zipper digs into my neck. It's not a smooth, soft closure. If Patagonia can manage it, why can't Mountain Hardwear? I'd advise that you pay less and buy a warmer windblocking fleece jacket or pay WAY less and get an ordinary fleece jacket and wear a shell over it.
Price Paid: $170

I fell in love with this jacket the minute I took it out of the box. After a week of steady use, I can honestly say that this is without a doubt the best fleece jacket I've ever owned. It's very lightweight, and breathes well. You can wear it indoors without getting too hot, yet it will keep you warm in subzero temperatures. This is the first garmet I've ever owned constructed of Windstopper Fleece and so far I'm very impressed with it.
The only bad thing about this jacket (besides the price) is it's not as comfortable as fleece when up against your skin. Instead of there being fuzzy fabric touching your arms, it's mesh lining. I still give this jacket a 4.5 out of 5 for its superb design, and many other awesome features which I didn't mention.
Fabric: Gore Windstopper
Price Paid: $215

The Windstopper Tech is certainly 100% windproof (and waterproof I might add -- not a single leak while held under the faucet). If the wind is blowing, your core will have no idea. That all being said, the jacket is incredibley thin and lightweight. The pictures of it online make it look about as thick as a North Face Denali, quite misleading.
I would strongly suggest not buying this jacket online without first trying it on or at least feeling it In all honesty, the Windstopper Tech is damn near useless unless there's a wind blowing your body's warmth away. I understand that the jacket is made strictly as a windproof layer, and it accomplishes that goal perfectly, just don't confuse it with a fleece that offers any insulation.
Price Paid: $190

This jacket is all it's advertised to be. I went snowboarding in it as my outer layer (I had on 2 layers underneath) and it kept me warm.
I've also turned away from that other jacket company (initiils being NF) because seems the teens have taken it over. Every where you look some tweenager has one on. So that was another reason I went with MH. This is the second MH jacket I have owned and it's just as satisfying as the first one.
As far as the pockets are concerned, if you're in cold enough weather where the pockets don't keep your hands warm, you should probably be wearing gloves anyways!
Great jacket! Love it!
Price Paid: $129.99

Best jacket of its type. If you can afford it, then buy one. (If you can't afford one, then suggest it would make a good present.)
Keeps out weather nicely; if you must wonder about what jacket to take this one will deal with the broadest range of conditions. Wore it at Lake Tahoe in January: outside was windy, cold, wet, and I was comfortable so long as I kept moving. (While not a raincoat, it was drizzling and this jacket kept it out). Useful pockets, and drawstrings to seal in body heat. Stylish, although the logo/brand is maybe too loud on this particular model. Lots of great colors to pick from.

Fabric: Windstopper Gore
Price Paid: $130 at Mountain Gear

The most flexible and full featured fleece I could find. Extremely breathable (I overheat doing anything more than sitting around.) and more packable than normal fleece (200 wt). Plenty of pockets and good sized pit zips. The reinforcements are well placed on the shoulders and elbows/forearms. The cuffs are very comfortable. I haven't been able to test cold weather limits, but I certainly breaks the wind well. There is enough room in the jacket to layer a med-light wt vest or jacket under the shell for colder wear.
And finally, the construction is outstanding. It looks as if someone actually cared when they put this jacket together, bravo Mt Harwear!
Fabric: Gore WindStopper Fleece
Price Paid: $195

I know everyone seems to love this jacket but, unfortunately it's not very high on my list. Although it fends off the cold winds extremely well it's far from a warm jacket. In fact it seems like it makes you colder due to the fabric which can feel hard at times. Definitely put another warm layer underneath!
Another thing is the pit zips. They are just plain old annoying. I guess the best way to describe the jacket is "stiff, until you've washed it a hundred times, and cold unless you put something underneath it". Either way, that's not what I want in a jacket.
Price Paid: $140

The guy who said this is no good under 45F is wacked. I've cross-country skied with it at -17F, over a wicking T and midweight long-sleeve shirt. Skied downhill in the 30s on a sunny day, but it's better to stick a lightweight gore shell on over it in those conditions, for waterproofing more than warmth.
Fine for winter hiking in the teens, too. Unless you're someone who's really cold all the time, or you're just going to be standing around outside, this is a great winter outer layer for clear days and just needs a single waterproof layer outside for wet ones.
Price Paid: $185

If you have to have one mid-layer garment this is it. I have owned mine for almost nine months, and I have lived in it over the winter.
Best features: The cut. It is so well shaped, short enough to be out of the way, enough room to wear extra underwear if it is cold, and unrestrictive when climbing. Pit Zips to cool off. Windstopper allows me to keep the Gore-Tex in the pack for longer, giving greater comfort. One pull drawcords allow for easy adjustment with gloves or mitts.
I wouldn't wear anything else now.
4.75/5 (there is always room for improvement!!)
Fabric: Gore Windstopper
Price Paid: $450 NZD

This is the first Windstopper item I've ever owned, and it is great. This and just a short sleeve T-shirt do pretty well just below freezing. Any colder, throw on a shell and you're set. Because of the Windstopper I love to use it as my outer layer when I ski. The pit zips are wonderful when the day warms up, and the waist drawcords keep the heat in and the weather out. I got mine half off so the price didn't bother me too much, especially for this great jacket.
Fabric: Gore Windstopper Fabric
Price Paid: $100

Excellent jacket. I like the "athletic" or trim fit rather than bulky or loose. The best fleece jacket I ever owned. Good ventilation from the long pit zips. Layers well under a parka. I like to layer it over Under Armor Cold Gear for really cold temperatures.
I was afraid of spending so much on the jacket, but it is worth every penny. I have had it for over two years, and expect to have it for several more.
Price Paid: $200

This is an amazing jacket...

I use this as my main jacket/coat for any conditions, and I have no complaints. If you are going to be out in some heavy rain, this won't keep you entirely dry, but you can just wear a light rain jacket over it. This jacket has kept me warm in sub-zero conditions easily with just an extra layer underneath.

If you're considering buying it, stop considering, just buy it.
Basically just a time tested and highly reliable jacket. MH quality for sure. Like many other reviewers the key to this purchase is the idea of "layering." It can be worn as an outer layer or an inner layer between a shell and a thermal. Just a great investment that MH will stand behind for all eternity.
Cheers and Happy Trails.
Price Paid: $160

Windstopper fleece delivers. The jacket is bombproof in wind--real Sierra wind on the Carson Pass. The pants are really nice, fit great and are super warm with tights underneath. The vest is one MUST HAVE. It does so many things. My favorite is skiing with the vest and a light fleece, good to 20F with no precip. Light, warm, this stuff really works.
Fabric: gore windstopper fleece
Price Paid: $200, 180, 120.

Great lightweight windproof jacket. Made of microfleece, so it's not bulky. Suprisingly thin but warm, because of the Gore-Windstopper. Articulated arms, long pit-zips for ventilation, lots of pockets, one-handed waist cords, and reinforced shoulders coated with DWR. Keeps you warm down to -10 degrees. Comes in Grey/Black, all Black, or Cobalt Blue/Black.
I highly recommend it. Questions? Email me.
Fabric: Microfleece
Price Paid: $215 Retail

A great jacket as all other reviews have stated. My only issue with this jacket, is the pockets. If your hands are cold, and you got no gloves, the pockets don't do a whole lot. I'm not sure if they have the windstopper in there, either way, the pockets are not gonna be warm.
Price Paid: $179

I have to say that I love this jacket. It is such a great jacket for many temperature conditions. I love the large pit zip that help extremely to vent heat. I have worn this in many temperatures and have been just fine with it with no problems.
Very good jacket. Have not tested in extreme cold situations, but I have been in some pretty extreme wind and the jacket did excellent.
Definitely a great jacket if you can justify the hefty price tag (got mine on sale 1/2 off)
Fabric: Fleece/Gore WindStopper
Price Paid: $150

Great jacket, it is very warm for its weight and the windstopper is amazing. In conditions where i usually have my puffy jacket out i now go around in this. Works great for layering.
Fabric: gore wind stopper
Price Paid: $129

Your Review
You May Like
Specs
Men's
Price
Historic Range: $66.35-$185.00
Reviewers Paid: $75.00-$215.00

Women's
Price
Historic Range: $90.00-$215.00
Reviewers Paid: $200.00

Recently on Trailspace