Mountain House Mexican Style Rice and Chicken

Top 50 in Meat Entrées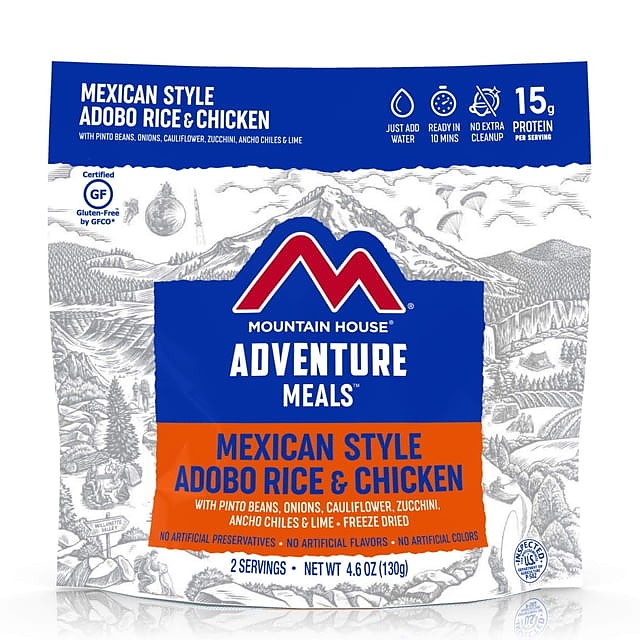 Specs
Price
MSRP: $7.39
Current Retail: $10.99
Historic Range: $5.93-$41.40
Reviewers Paid: $6.00-$8.00

Reviews
2

reviews

5-star:

0

4-star:

0

3-star:

2

2-star:

0

1-star:

0
This Mountain House entrée offers the backcountry backpacker convenience and calories in 8-9 minutes—just add water for a ready-made meal—but its seasoning lacks zest or kick and its significant rice content will make big appetites yearn for more a few hours after eating.
Pros
Ease of use: just add hot water; eat in the pouch
Easy cleanup
Cons
Uninspired seasoning: middle-of-the-road blah
Pouch must be packed out as trash
Left me hungry a few hours later
Note: This is a review of the Mountain House Mexican Style Rice & Chicken, a 5.5 oz/153g meal that comes in a blue plastic and foil pouch familiar to many campers and backpackers.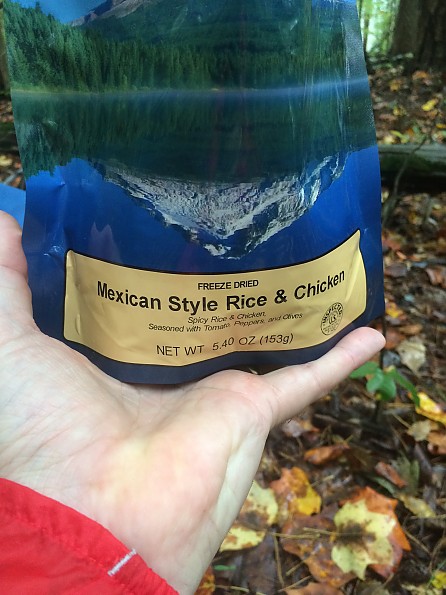 Overview
Oregon Freeze Dry, Inc. produces Mountain House freeze-dried foods, a backcountry staple. Packaged in durable, airtight pouches, these meals offer great convenience. To "cook," one simply tears open the pouch, removes the oxygen absorber, and adds whatever prescribed amount of water is indicated on the pouch.
After stirring the contents, one reseals the zippered pouch and waits—typically 8-9 minutes—for the food to rehydrate. Then unzip, stir, and dig in! The meals come in different helping sizes, so pay attention to the packaging. Many backpackers I know have no problem downing a 2-person meal by themselves; others share quite contentedly.
Background and Test Conditions
I've eaten quite a few of these meals in my day, but somehow I had not managed to sample the Mexican Style Rice & Chicken until recently. Seeking an excuse for a backcountry meal, I set out on a seven-mile trek around a local lake on a rainy Sunday. I threw in a little geocaching along the way, always a great way to see some of the spots off the beaten track, and this off-trail enterprise got me plenty wet from the rain-soaked underbrush and left me dreaming of a rich, spicy hot meal—just what I hoped this Mountain House meal would be.
I should note at this point, too, that I do enjoy spicy foods and I tend to have a reasonably hearty appetite, especially when in the backcountry. It is worth adding, too, that there are some Mountain House meals I really love.
As the miles wore on and the wind picked up, I finally veered off trail again to a wooded knoll with a lake view where I dropped my pack and got out my MSR PocketRocket and my Snow Peak Mini Solo cook set. I'm playing with an Exotac Nanostriker fire steel at present, so that was in my cook set stuff sack along with my TOAKS Titanium Long Handled Spoon (such a spoon, by the way, is a welcome tool when eating out of the deep Mountain House pouches; shorter spoons lead to awkwardness and food on your knuckles if you're trying to eat from the pouch).
In very little time, I had water on to boil, and after a few minutes of rushing flame, I was able to add 2 cups/473 ml of hot water to my Mountain House Mexican Style Rice & Chicken.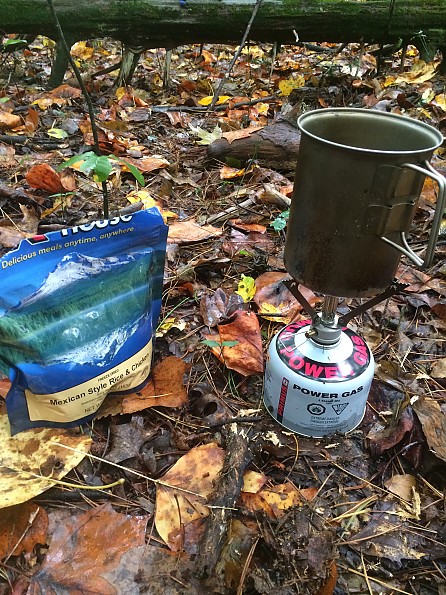 For the next few minutes, I sipped hot coffee—I had boiled extra water for this purpose—and listened to the rain dripping from the trees. A heron was spooked along one of the trails, squawking hoarsely as it rose into the air and glided across the gray lake. My appetite was sharp, my anticipation of food was fierce! My back, sweaty from the pack, was a little too cool in the wind, another factor that added to my expectation for the meal.
I cradled the pouch in my lap, savoring its warmth as the food inside rehydrated. Holding something that emanates warmth on a cold day is one of great simple pleasures of the backcountry. It felt ready, but I tend to give rehydrated meals the full time that is recommended when rehydrating, for I am no fan of biting into half-rehydrated food. When the prescribed 9 minutes were up, I opened the pouch to a gratifying curl of steam and took a look inside.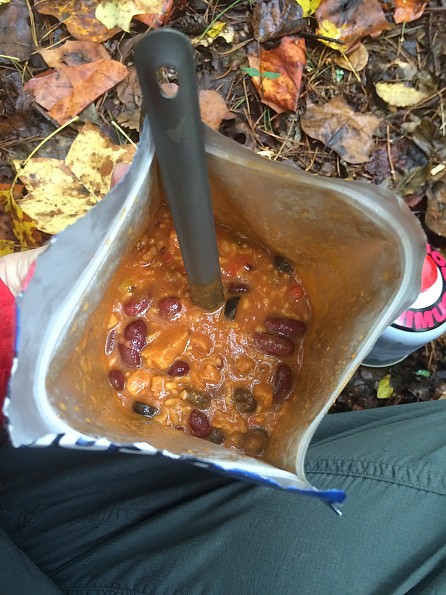 The Test
I was ravenous by now, so this looked like heaven. I took my first spoonful, blowing impatiently on its contents and gobbling it up before it was adequately cooled as hunger hikers are wont to do. Despite the heat, the texture was good: the meal had rehydrated nicely, so that I didn't bite into a dry middle of a kidney bean or a dry piece of chicken, and the sauce was rich in appearance, not thin or watery.
My second spoonful was more deliberate, and this time I attended to the flavors. The front of the packet boasts "spicy rice and chicken seasoned with tomato, peppers, and olives"; it leaves off kidney beans, which are a key ingredient in the mix. But here disappointment began to settle in. I was a bit chilled and craving a mouth-watering experience—the 660 calories the package promised delivered in zesty, warm goodness. Close reading of the package, though, revealed that the final yield would be about 1 cup. Would that fill me up?
The flavor was where my disappointment really set in. There was a touch of heat—the package mentions chili powder, jalapeño pepper powder, and red pepper powder—but nothing potent enough to really get my attention. My mouth was reacting more to the physical warmth of the food than to a heady rush of spicy heat, and I found myself missing the hot sauce packets I usually bring to doctor trail food.
The ingredient list on the back of the pouch mentioned, in addition to the vaguely labeled "spices," black olives, green peppers, beef fat flavor, turmeric extractive, red peppers, dried chicken broth, onions, and more. I had had high hopes, but the reality was a sort of middle-of-the-road, generically "Mexican Style" flavor that was neither particularly flavorful or flavorless, just sort of ho-hum blah. Perhaps my hopes were too high, inflated by the damp, chill conditions.
Not being one to waste or pack out food, I ate it all and was surprised to see how quickly the bottom of the pouch appeared. Just as I wanted more flavor, I also wanted more food.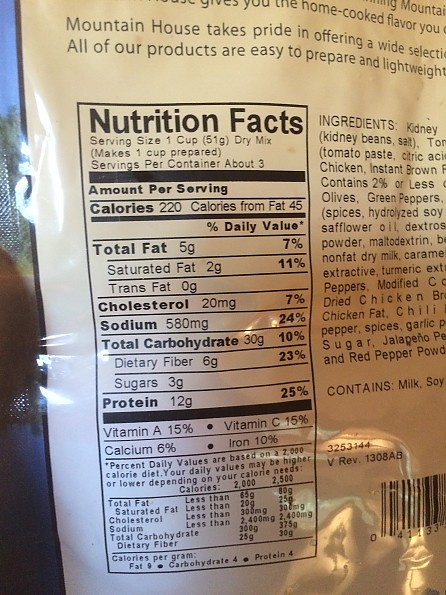 But let's be honest: lots of backcountry cuisine is based more on convenience and calories than gourmet characteristics. Does it deliver in terms of nutrition? By the numbers, this meal packed 660 calories (220 each for the three—three?—servings it claimed to make), 7% (percentage daily value, hereafter pdv) of total fat at 5g , 11% of saturated fat at 2g. You also get 20 mg of cholesterol (7% pdv), a whopping 24% sodium (of course we do sweat on the trail), 30g of total carbs (10% pdv), with 6g of dietary fiber (23% pdv) and 12g of protein (25% pdv).
Mountain House indicates that these data reflect a 2000 calorie diet, but an REI expert advice post cites a NOLS figure of "2,500 and 4,500 calories per day," based on individual needs and the nature of the activities in which a backpacker is engaged. Food science aside, I know I was hungry again within a couple of hours, much sooner than I had imagined I would be.
To be fair, Mountain House terms this an entrée, and one usually supplements an entrée with other sides to round out a meal. I had hoped, though, that this meal would not require a side of cheese cubes of the like.
The Verdict
Each person has his or her own tastes and dietary needs. I personally found this particular meal was a bit lacking on several fronts. The convenience was superb; I love having only to add hot water to a bag and having zero clean-up afterwards. For a day hike such as the one I was on, I have no problem packing out the pouch as trash afterwards, so I'd give this meal an A+ for ease of use.
I had no concerns about food quality, either: another A there. But the quantity of food did not completely satiate my appetite, nor was the flavor as satisfying as I had hoped.
Would I eat it again? Sure, though there are other Mountain House flavors I like more and other meals I find more satisfying. If I did carry it again, I'd doctor it with ingredients from my backcountry seasoning kit (a grandiose name for fast-food condiment packets and a few spices), and I'd also supplement this meal with something else to fill me up.
This is probably a good meal choice for someone who likes just a bit of spice and who requires a moderate amount of food. If you fit that bill, and if the caloric intake meets your needs, you will enjoy the convenience of this meal.
If you like to have zestier seasonings and heat that packs a punch, and if your appetite runs on the heartier end of the spectrum, think of this as one component of a larger meal—a component that may require you to play chef with the seasonings to get it just right.
Source: bought it new
Price Paid: $6

This is a good backpacker's freeze-dried meal — not wonderful, but not bad either.
Pros
Convenient, easy preparation
Light weight
Ah, Mountain House. Brand of bland. Or, if not actually bland, then usually very average apart from a tendency towards over-salted.
This, its Mexican Style Rice and Chicken, does not disappoint.  It is not wonderful. It is very average.  But that just means that it satisfies — it quickly and conveniently fills a backpacker's stomach.
It was not as salty as many of MH's offerings, was decently spicy, and had a pleasant texture. I wouldn't want to dine upon exclusively on a long trip, but it certainly will make up a stable part of my general selection.
Source: bought it new
Price Paid: $8

You May Like
Recently on Trailspace