Mountain House Rice & Chicken

Top 25 in Meat Entrées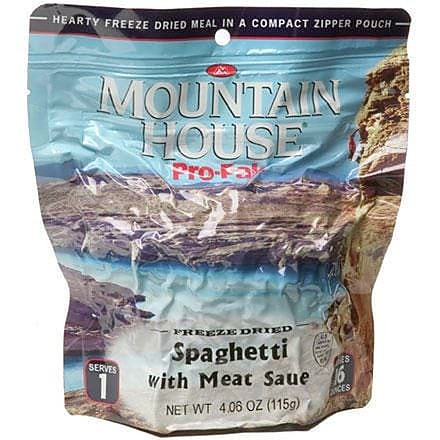 A simple combination of rice, chicken, and pimientos. The strong, bouillon-based chicken seasoning makes the rice consistently flavorful throughout, from the first bite to the last, and pleasant without overpowering the dish. As with most rice-based freeze dried meals, always allow a little more time for rehydration to avoid crunchy rice. The atypical, 3-serving-size pouch makes for a satisfying solo meal.
Pros
Generous, 3-serving-size amount for the money
Savory, well-seasoned chicken flavor
Democratic amount of chicken and pimientos
Rice absorbs chicken flavor throughout the dish
Available in a Pro-Pak size, too
Cons
Pimientos benign in both flavor and texture
Simple ingredients list means simple flavor and texture
Like a bouillon cube, this is a little salty
Sometimes I feel like I'm slowly becoming the food correspondent for Trailspace.
There're few things as satisfying after a good hike than a filling, flavorful meal. While I eat them on the trail, I test them at home sometimes, too. Today I went out for a day hike, came home, and didn't feel like doing much cooking. 
If I try the meal at home, and it's lousy? I never run the risk of bringing a disappointing meal on the trail with me. I've never had a bad meal in the backcountry thanks to at-home testing.
Why are the corners rounded-off?
No, I'm not a ultralighter trying to cut grams.
I've taken to using a pair of scissors and cutting the sharp edges off the corners. The ultralight, sil-ny ditty bags I use are thin, and I wouldn't want these MH meal bags to cause any premature wear on them. Better safe than sorry.
Sure, the meal bags are practically bomb-proof, but I wouldn't want their durability compromising the durability of the rest my gear.
NOTE: This dish is also available as 4.51 oz, 2-serving "Pro-Pak." If you're looking for a little less food and a lighter meal, or you're someone being weight and space-conscious, this is an available option, too. 
NUTRITION FACTS
NET WT: 6.38 oz
CALORIES (PER SERVING): 270 X 3 SERVINGS = 810 TOTAL CALORIES
SODIUM (PER SERVING) 720mg X 3 SERVINGS = 2,160mg or 90% DV
TOTAL FAT (PER SERVING) 10g X 3 SERVINGS = 30g or 45% DV
PROTEIN (PER SERVING) 7g X 3 SERVINGS = 21g or 42% DV
It's a really generous amount of food for the money. I've had some other MH meals that only offer 5 or so ounces of food, and cost more than this meal does. This one's a good bang for both your buck and your appetite.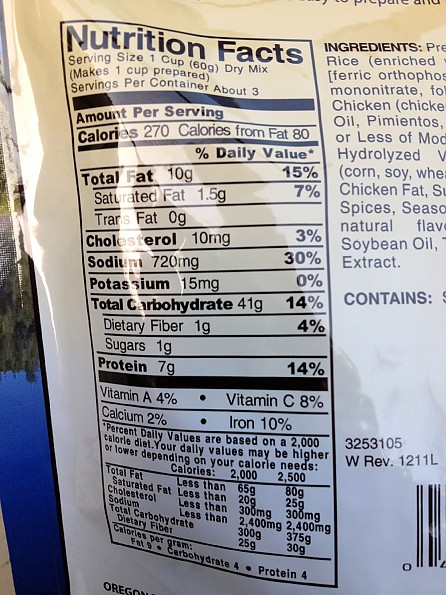 INGREDIENTS
Mountain House does a pretty good job when it comes to naming their dishes, keeping them simple and upfront.
Aside from the namesake rice and chicken, there is a bouillon-like seasoned broth, and red pimientos. Sure, there're more scientifically-named ingredients on that list, but the aforementioned are the key players. 
For those who want to know, here's the full cast list: precooked enriched rice (enriched with niacin, iron [ferric orthophosphate], thiamine mononitrate, folic acid), cooked chicken, corn oil, pimientos, salt, modified corn starch, hydrolyzed corn soy wheat gluten protein, chicken fat, sugar, onion powder, spices, citric acid, soybean oil, turmeric, and spice extract. Allergens: soy, wheat.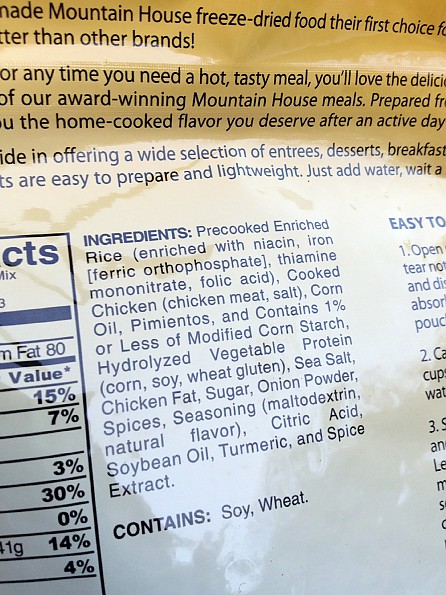 PREP
Stupid simple. Requires only whatever cookware you need to boil water.
Same 'ol, same 'ol for Mountain House meals:
Boil 2 cups or 16 ounces of water.
Pour into the bag, seal shut, and let rehydrate for 8-9 minutes.
BAM. Suppertime!
TIPS
Pre-mix the dry contents of the bag. Things tend to settle and this will allow the food to re-hydrate a little more evenly. This is also a good chance to make darn sure you've removed the iron oxide pouch, too (it's not always in plain sight and floating on the top - learned this lesson once the hard way).

Never use any more than the 16 ounces of water MH suggests...unless you want soup. I actually pour a hair less than the suggested amount because soggy meals aren't appetizing to me.

Let the contents steep for a little longer than the suggested 9 minutes. I usually go 11 at the minimum, and if I'm patient, 15 minutes. This holds especially true for rice meals, the extra time ensuring all the rice grains soak up enough water that they aren't crunchy.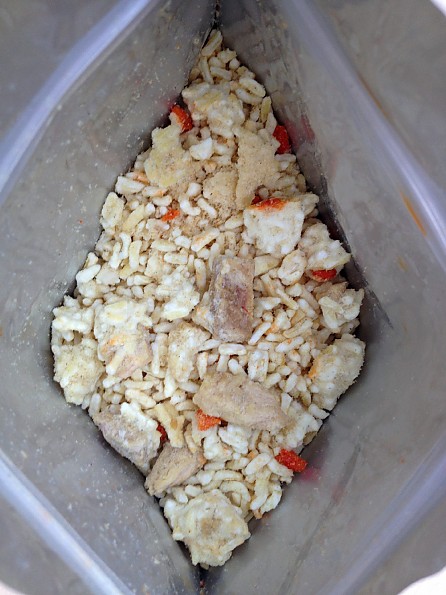 TASTE
It's a simple dish with a simple name.
Honestly, with as few ingredients as it has, I didn't know if I'd like it - it sounded like it could be bland and without any variety in texture. 
As Mountain House tends to do, the dish surprised me.
The element binding the rice, chicken, and pimientos together is a chicken broth that is rich, savory, and well-seasoned. It has a homemade taste to it that reminded me of an autumn meal at the family dinner table.
I really, really enjoyed this dish.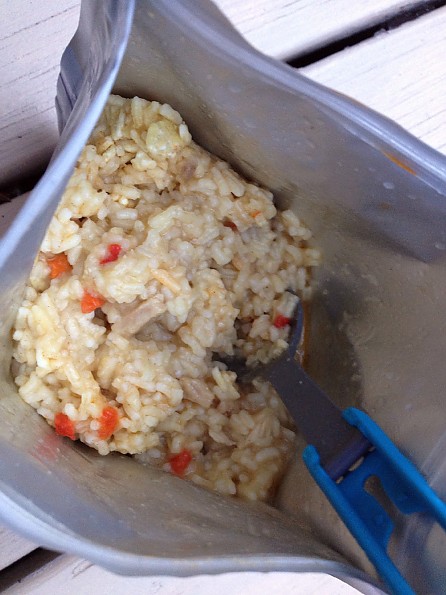 Well, I enjoyed it even more outside of the bag.
Like the cranberry sauce at the Thanksgiving dinner table, this tends to take on the shape of the container it comes in.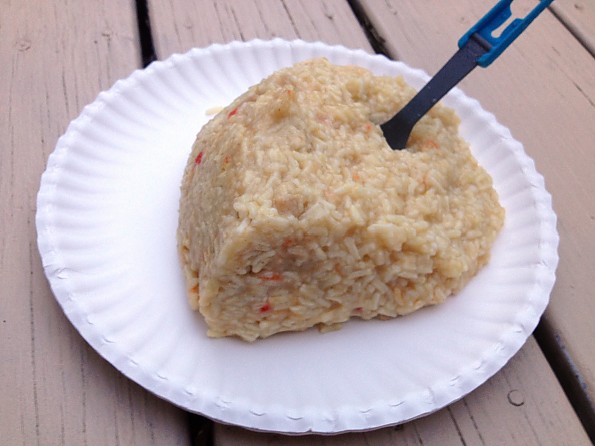 After spreading it evenly over the plate, you can see how much democratic a sampling you'll get of the chicken and pimientos. Like any dish I cook for myself, this one comes with a liberal sprinkling of fresh ground black pepper.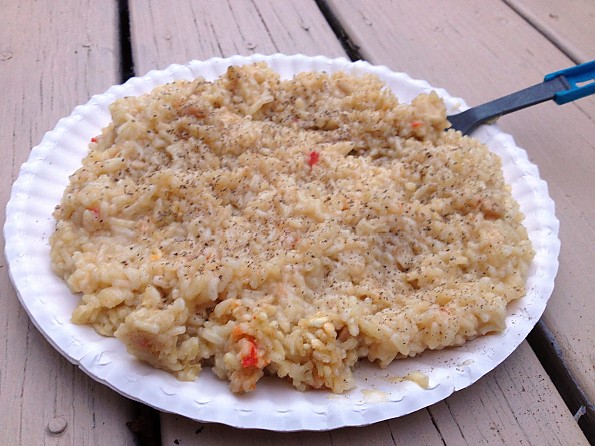 There aren't as many pimientos as you'd expect, but they've a benign taste. You're tasting mostly the chicken and the rice, here. I'm not complaining, but if it doesn't really contribute notable flavor or texture, it probably was something MH could have done without. Honestly, the chicken and rice alone make enough of a meal by themselves. Sure, those red little dots do look pretty, but they don't do much more than that.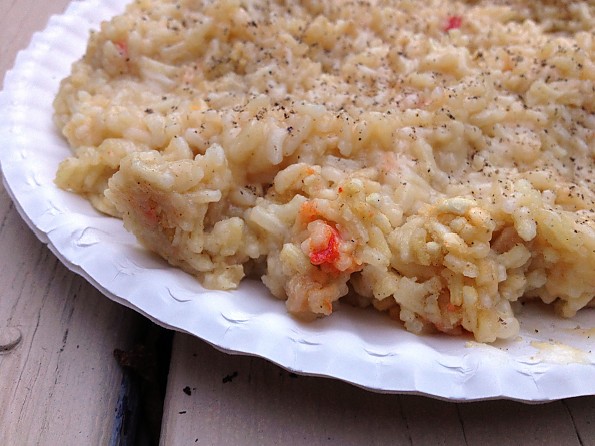 ENERGY/SATIETY
I didn't have breakfast today and didn't have lunch until I'd come home from my day hike. That said, I had a two-meal appetite. This three-serving dish was just what it needed, and was enough food to feel full without feeling uncomfortably so. I'm a thin drink of water, so if you're a bigger-built guy, you may require a little more. But this was just right for me. However, because of the sodium-gut punch this meal is, if you're going to eat anything else with it, make sure you take it easy on the salt.
BEST FOR
Hungry hikers who want a lot of food but don't need complex textures or flavors. This is a lot of food for the money, compared to other MH meals. However, with the only predominant elements being chicken and rice, it is simple. If you're looking for something more texturally interesting, or something with complex and varied flavors, look elsewhere.
There's enough salt in this dish you won't have to add any of your own. The chicken flavor in the broth does have an almost bouillon cube-like flavor to it, and that is where I would guess a lot of that sodium is coming from.
Black pepper is a nice addition to this dish, and gives it the added complexity it lacks.
CLAIMS
Mountain House meals, for me, are remarkably consistent.
They promise nothing more than their names imply, they all have a genuine, almost home-cooked-good flavor, and they're usually stick-to-your-ribs filling (without becoming a gut bomb). 
I've never once been disappointed by MH - and I have been disappointed by other dishes from other brands. 
3.5 stars, because - while above average - MH could've substituted peas, or carrots, or some other vegetable that would've proven a little crunchier and tastier than the pimientos.
Source: bought it new
Price Paid: $7.50

I found it a little plain for my taste. I would only recommend this if you like it plain and basic. Good base, probably less impact to your intestines than a Mexican or chili meal.
Pros
Filling
Chicken and rice flavor
Easy
Cons
Cost
Basic
Not very flavorfull
Plain
I found it a little plain for my taste. I would use a little less water and definitely add either more spices or maybe some dried fruit or veggies. I think I would use instant rice and a pouch of chicken instead and mix up my own version of chicken and rice.
It's easy to make, but I would either try using less water, or let sit longer.  I found it a little too much for one, not enough for two. It's an average meal at best as far as taste. Other than that just as good as other Mountain House meals.
Great for backpacking, and as a camp base type meal.  Keep as an emergency meal, especially if you haven't had much to eat for a while, or may be having sensitive digestive issues. This probably won't be too hard on your system and will give you carbs and protein.
Source: bought it new
Price Paid: $6.50

I have eaten a lot of mountain house, more than any man should. I find the rice and chicken especially good. Their best flavor in my opinion....I could go for one right now...ya know what, I'm gonna do it.
After trying almost every freezed dried food out there, this is one of the better ones. Flavor is a little salty but overall tasty!
Pros
Weight — very light
Flavor
Speed in prep
Cons
Little salty
If feeding two people recommend a side dish
Too much for one person, not enough for two....
This is one of my favorite dinners, it has good flavor and would highly recommend it. I used just slightly less water than recommended and the consistency was good (too many of these look and resemble soup — this one did not).
I would say it was not enough of a meal for two of us, but would have been too much for myself. I would recommend having a side dish with this to provide two people a filling meal. Package was standard for Mount. House, so nothing special.
But for backpacking, it really is one of the few I would recommend trying!  
Source: bought it new
Price Paid: $6

Your Review
Where to Buy
Help support this site by making your next gear purchase through one of the links above. Click a link, buy what you need, and the seller will contribute a portion of the purchase price to support Trailspace's independent gear reviews.
You May Like
Specs
Price
Current Retail: $10.95-$51.25
Historic Range: $4.89-$51.25
Reviewers Paid: $6.00-$7.50

Weight
2.13 lb

Servings
10

Serving Size
1 cup

Recently on Trailspace