Mountain House Scrambled Eggs with Bacon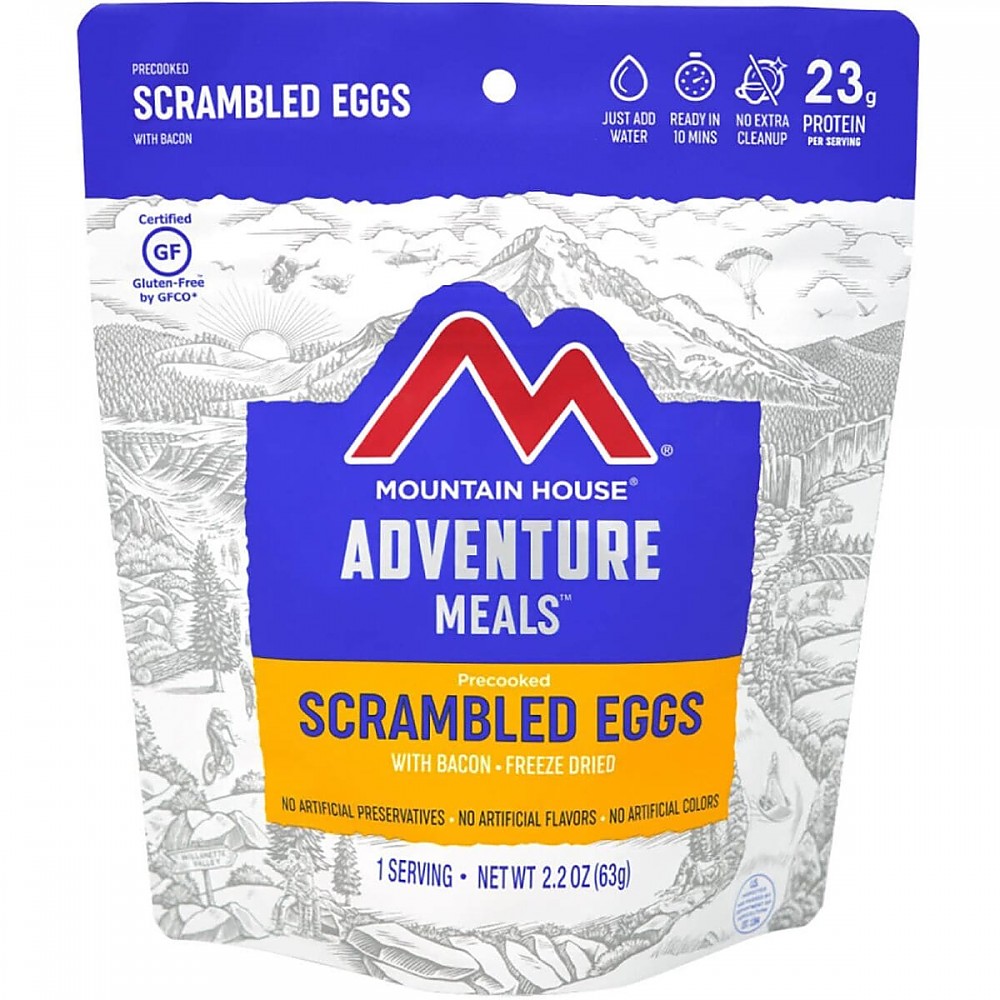 They're dried eggs! They serve the purpose of nutrition.
Pros
Edible
Portable
Two servings
Convenient
Cons
Salty
Can become yellow sponge soup
Life can be iffy. These meals are the Iffy busters. I bought this single serving Mountain House Freeze Dried Scrambled Eggs with Bacon while browsing in my local Walmart, down the camping aisle. Since I was going to be taking a trip up to the mountains, I thought it would be nice to try. I'm not a big fan of powdered eggs and some freeze dried meals, this was my opportunity to sample the eggs with bacon.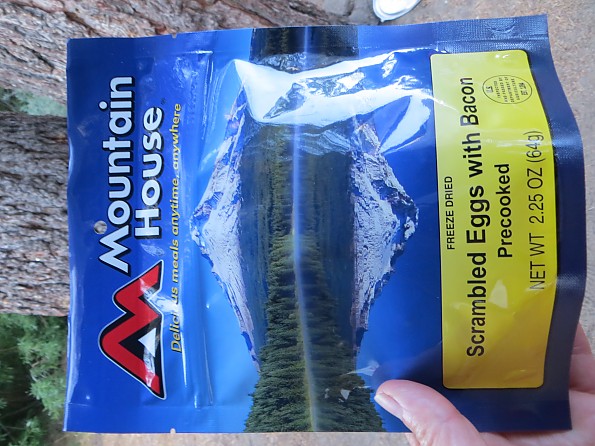 Not Bad. Great for camping or emergencies. The packaging is sealed tight so the dehydrated meal can stay fresh until the expired date. Has a zip lock style seal on the top so you can close after opening. Can pack tightly and store in small places and the package will not puncture or bust open. The weight is only 2.25 oz, so I'm sure a backpacker can carry a few of these to satisfy the caloric output.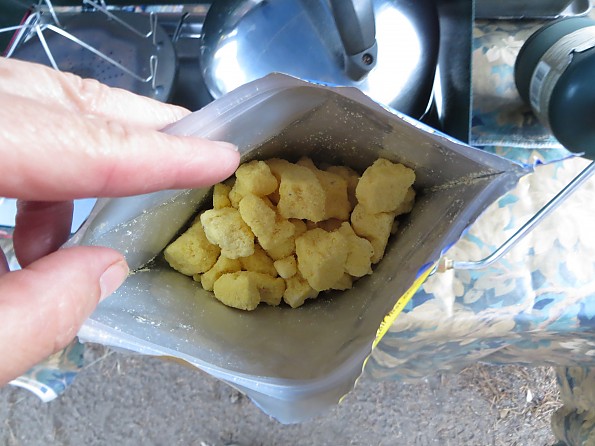 After you open the package, those dehydrated eggs look like yellow sponges. The meal is easy to prepare, just follow the instructions on the back of the package.
The instructions call for 1 1/2 cup boiling water which I used my Coleman stove to heat the water. It took about 10 minutes to prepare hot water. Next, I added the water to the bag which is very durable to keep hot water. I waited another 10 minutes and by this point I opened the sealed pouch to find breakfast soup. I drained all the excess water and the eggs were still mushy.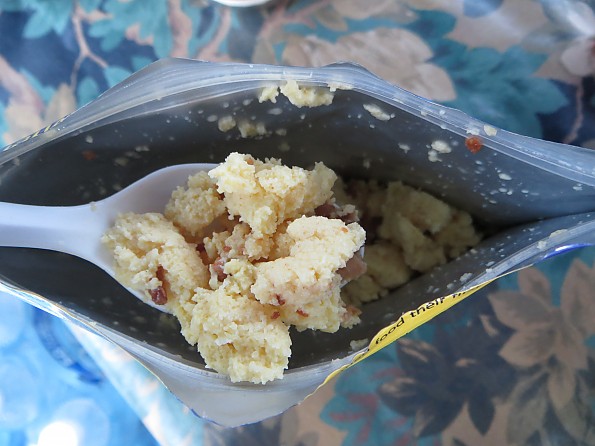 I wish I mixed the eggs with potatoes and sausage to make the texture of the eggs more appealing than just dehydrated eggs alone. Definitely the eggs were unappetizing to look at. I took one or two bites, maybe three bites out of the pouch (I didn't like eating from the pouch) the eggs tasted bland — not bad tasting, not tasteless either but a bit salty. I could taste the flavor of bacon. Tasted OK. While not as good as home cooked eggs, the taste was acceptable with lots of bacon (wished I had salsa and a tortilla, lol).
I guess hunger is the best seasoning. There is quite a bit of food in a small package enough for two serving. Although I was not very hungry I threw away the leftover eggs. The clumps of hydrated food just were not going down the hatch. I thought about giving the camp neighbor's dog my leftovers, but didn't want to spoil. I put the pouch of eggs in the dumpster which was overflowing with trash thinking maybe if the trash isn't collected soon the bears will have something to eat.
This product seems to work both ways with boiling water and cold water. Choose cold water, since it uses less fuel (in an emergency situation it would put your morale back on track).
Source: bought it new
Price Paid: $5.97

I eat this for breakfast 15 to 20 times a year and have found them to be a lot better if you drain the excess water by opening the zip lock enough to form a small hole to let the water drain.  Some of the salt taste goes out with the excess water. 
Price Paid: $4

A significant improvement over previous iterations of this breakfast, now with significantly less sodium.
Pros
easy to prepare
suitable to almost every palate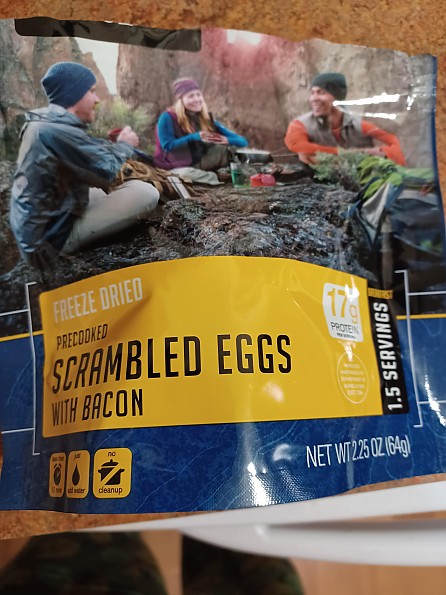 Nutrition and taste:
In the past, this meal has been a salt bomb of epic proportions—no longer!  Sodium content now stands at 1020mg or 42% r.d.a. for the full meal. I could still taste the salt, but it was not overwhelming. I expect this would be thoroughly reasonable for a breakfast to start off a hot, long day of hiking.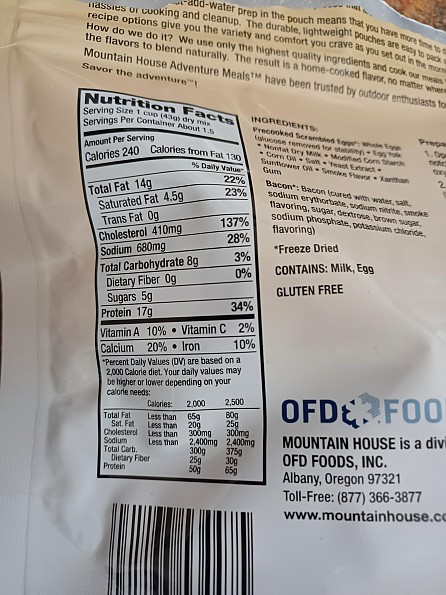 Preparation:
I followed the package instructions exactly: 1 cup of boiling water for 5-6 minutes. All ingredients were fully hydrated and remained indentifiable.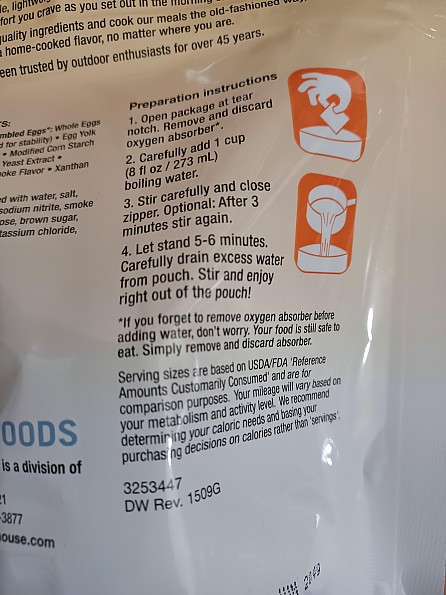 Cons:
This is definitely not a full meal unto itself. It would not satisfy me for very long without a bagel or something similar to fill me up. I also personally need a solid whack of carbs to get me going in the morning. So, this is only half a breakfast to me. Not a big deal, but certainly something I need to plan around. 
The packaging isn't huge, although freeze-dried eggs are hardly un-bulky. Also, for backpackers, the instruction to drain the extra liquid is a bit of a concern, even if one isn't in bear country. That's some tasty-smelling juice being poured off, often full of wee chunks of egg. Practically guaranteed to to draw the attentions of woodland critters. I always just eat (drink) that extra liquid. Again, pretty minor in terms of taste and texture and so on, but rather a big issue if one actually follows the instructions to the letter.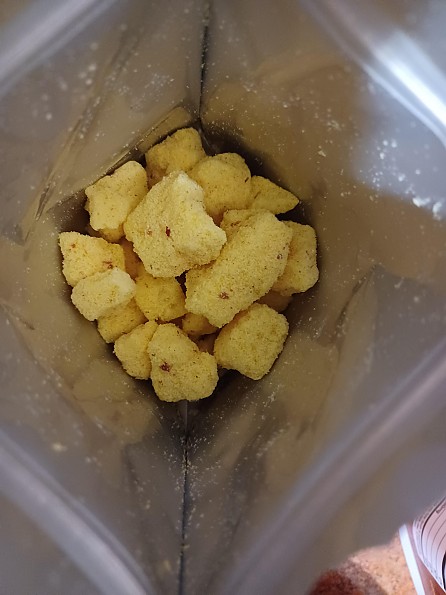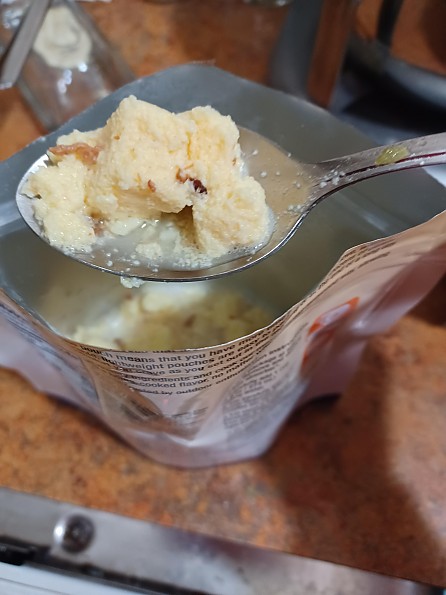 I will also note that I have in the past just eaten these straight out of the package, still dehydrated.  That savory crunch...I almost,
almost
prefer them that way, ha ha.
Source: bought it new
Price Paid: $9.25

Walk, no, run away from these!
Pros
Can be used to stop flooding instead of sandbags
Pack large wounds with these egg sponges then add water to stop bleeding
Spread around camp to repel all living, organic beings
Cons
Salty, check the sodium!
They made powdered eggs worse
You actually have to pay money for these
Do not buy these, do not try these, they are nasty. The only "camping meal" worse then this is the dreaded MRE Veggie omelet.
These taste like shame and regret, which happens to share flavors with cardboard and packing peanuts.
My favorite brands in order are Good To-Go, Pack It Gourmet, Mountain House, Outdoor Herbivore, Hawk VittleS, Backpacker's Pantry, AlpineAire, MRE.
These do not stand up to MH's typical quality. What's weird is that the Breakfast Skillet is really tasty and they have the same eggs. The additional ingredients fix just about everything wrong with these.
Source: bought it new

We followed the instructions to the letter, in a non-rushed environment, with great cooking gear. Yikes, it was pretty bad. Totally edible, but will be skipped when purchasing chow, unless they have some banner on the pack claiming a "New and improved taste!"—even then, I will think twice.
OK, it is not THAT bad, but bad enough in my opinion.
Price Paid: $7

Arguably the least edible food I've ever tasted. Completely nasty. Cooked this on a backpacking trip for my daughter, while I had the eggs with peppers. I made this for my girl and tasted it, absolutely dreadful.
Wanting an honest opinion from her I brought it to the tent and let her try it. Her cry from inside the tent was "oh my god this is DISGUSTING!!". And the arm extended out of the tent with the bowl. It's the artificial bacon flavor that is completely nasty. It got half a star because it might keep you alive if necessary.
The eggs and peppers on the other hand were pretty tasty! But after one bite I made the mistake of reading the nutrition label...which reveals that these products are comprised mainly of cholesterol and salt. While I understand that certain fats and salts are required by backpackers, I am definitely reading labels on all backpacking meals..and many are incredibly non-healthy. Definitely read labels on all Mountain House products, some are very reasonable, others are NOT.
Price Paid: $5

I prepared this over a backpacking trip that turned out to be longer than expected. This was in my emergency pack. It got me though, but I wouldn't restock it.
I think powdered eggs have more flavor. Wow...did I just say that?
Price Paid: $4.95

Your Review
Where to Buy
Help support this site by making your next gear purchase through one of the links above. Click a link, buy what you need, and the seller will contribute a portion of the purchase price to support Trailspace's independent gear reviews.
You May Like
Specs
Price
MSRP: $9.25
Current Retail: $7.95-$69.50
Historic Range: $4.50-$69.50
Reviewers Paid: $4.00-$9.25

Dietary
gluten-free

Recently on Trailspace