Mountainsmith Approach 3.0

The Approach 3.0 has been discontinued. If you're looking for something new, check out the best overnight packs for 2021.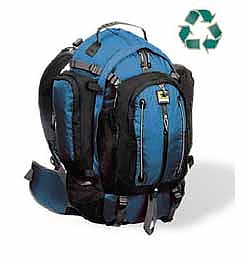 Specs
Price
Historic Range: $49.50-$99.00
Reviewers Paid: $49.99-$85.00

Reviews
4

reviews

5-star:

2

4-star:

1

3-star:

0

2-star:

1

1-star:

0
Great pack, lots of pockets.
Pros
Lots of pockets
Good value
Bought this as my primary winter day hiking pack. It fits the bill. The suspension system is good, plenty of pockets, place to put skis, poles, (or tripod), a big expandable pocket for stuffing layers when I get hot. I used it all winter and had no problems. The side pockets hold both my water bottle (on one side) and small Thermos on the other.
My only complaint is it's not a top loader and the front zipper opens all the way. For some this is great, for me I found all my stuff falling out when I opened it all the way on the trail.
Source: bought via a "pro deal"

Incredibly versatile pack. I ordered this in early spring last year, needing a reliable daypack. I found myself using it for quick runs to the closest local wildernesses and watersheds for weekend outings and hikes.

I couldn't have asked for a better size pack, allowing ample space while preventing unneeded junk, just enough to quench my aspiring ultralight mentality. It is quite comfortable with its solid internal frame and backpanel padding. the two side pockets are great and roomy for any extras you may have forgotten. Also, the compression straps are convenient, and several attachments allow last minute tie-ons.

Only one minor complaint would be the small zipper stability, which I can overlook due to its great value and numerous other commendable assets. I'm currently using the pack to haul all my heavy textbooks to class.

I am overall extremely satisfied with this pack's performance.
Design: internal-frame daypack
Size: 2040 Liters
Number of Pockets: 4
Max. Load Carried: 32
Height of Owner: 6"0
Price Paid: 70$

Great day pack when you need to bring a lot of gear and need quick access to it. I bought this about a year ago and am often found exploring old paths, abandoned trails and bushwhacking.
I also have been spending a lot of time locating flagging and clearing damaged trails in New England. Various tasks require me to include lots of tools: various saws, loper, axe, dangles of marking tape, a lot of maps (for locating lost trails), various electronics, cameras for documenting damage, lots of water, rope, small tools including hammer, changes of work clothes, somewhat larger first aid kit than a typical day hiker, - you get the idea.
The pack is taken off and on a lot to access gear. I wanted a lot of pockets to prevent having things fall out and get lost when accessing gear.
It's large enough to put a small backpacker's rain cover on, which has come in handy since most days are work days of 8 hours or more.
It's very rugged and well-built. No need to spend 2x or 3x the price. Only thing I would change is to add front strap pockets or straps to tether trail marking and documenting tools. Nice hide-away pocket for my wallet and keys which I always fear losing. Side long pockets hold my 32 oz water bottles well.
Behind the long pockets are open vertical slots which would handy for long pole tools or even skis (I tried it once.) The pole velcros are well positioned to keep the poles tethered close without snagging on the trees or banging me. Lots of external loops.
On my "recreational hikes" into rugged areas, it has space plenty of rescue and overnight gear. The straps contract the size of the pack to minimize it on days when you don't need all that space.
Mine is Approach 3.0 model.
I'm still keeping my Jansport daypack for those short little jaunts that only require a sweater, first aid and lunch.

Design: Technical daypack.
Size: 2044 ci
Number of Pockets: lots
Max. Load Carried: 40-40
Height of Owner: 5' 9"
Price Paid: $85 includes S&H

I have enjoyed winter backpacking, hiking and mountaineering for over 20 years and haven't seen such a versatile pack before. This is one versatile little pack!
It's the perfect size for stuffing a couple days supply of clothes and toiletries in when traveling or for overnight get-aways. It has great organization options - lotsa zip-closure pockets both external and internal. The main outside pocket "flap" is connected to the main pack bag at the top with adjustable length straps and connected on the sides by strethy nylon mesh (like a shovel pocket on mountaineering packs). This construction design is perfect for stuffing a light shell jacket or fleece vest in - brilliant! The pockets which are on the sides of the pack are "tunnel" pockets meaning things can be slid between them and the main pack bag - a mark of an experienced pack designer. There are also "sleeping bag" type straps on the bottom which are great for strapping any number of awkward items to.
I am using my Mountainsmith Approach 3.0 primarily as a photography bag. It holds all my standard "walk-around" photography gear with aplomb. There is tons of extra space for a change of clothes or two, toiletries, passport and billfold when i am traveling (which a do a lot of).
OK - my nitpicks are as follow. The bag has too many superfluous straps such as the "load lifter" straps. An otherwise excellent aide in pack suspensions, the Mountainsmith Approach 3.0 does not have adequately padded shoulder straps that would allow the use of load lifters. Such a heavy load to require the use of load lifters straps in this pack would be painful. This brings up the bargain-shelf padding in the shoulder straps. I guess for $49.99 i can't expect too much. The zippers, though quality, would be better if they were slightly larger/"beefier" as the current ones bend/bind too easily when trying to open them. One exception to this is the high-end design water-resistant zipper on the front of the pack - kudos to Mountainsmith!!! Also, since is not intended to be a technical climbing pack, a heavier pack cloth could have been used - I am wondering about longevity with this pack as well.
Aside from having to look REALLY hard to find something negative, I am really pleased with this pack and would unhesitatingly buy another - especially at the price point I bought my first at.
Update: January 1, 2012
I chose to update my review for those who may be buying this item *used* as it's been discontinued.
I should have stuck with my experience — Mountainsmith packs are the bottom of the heap.
OK, as i mentioned in my initial review, the main pack-bag fabric was suspect. Further experience has confirmed my initial impressions - the fabric is too 'flimsy' - not in any way remotely water-resistant. Furthermore, the fabric has zero - 0 - abrasion resistance.
As i mentioned, the shoulder straps offer minimal effective padding, but at least covers the nylon webbing.
Good thing this pack is no longer available.
Design: Rucksack/Daypack
Size: 2,044 cu.in.
Number of Pockets: 6
Max. Load Carried: 30lbs
Height of Owner: 5' 10"
Price Paid: $50

You May Like
Recently on Trailspace