Mountainsmith Day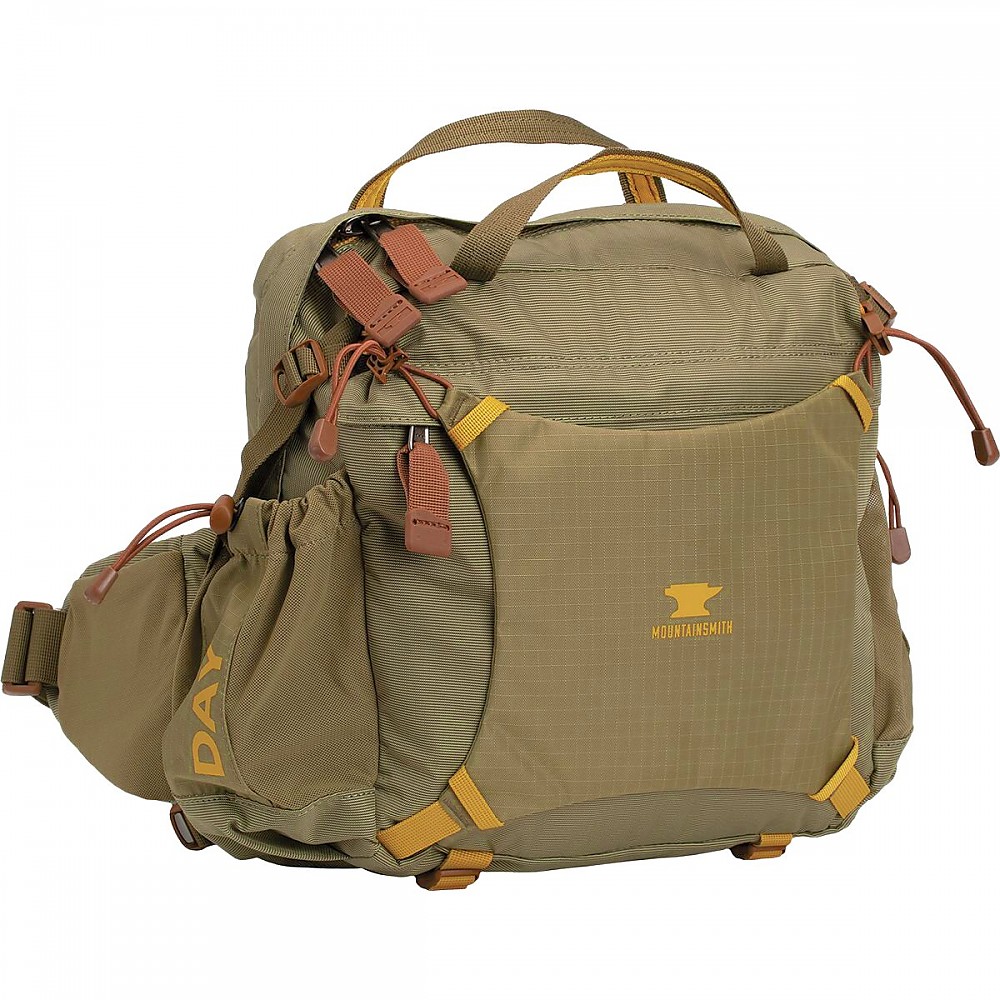 To start with my Mnt. Smith Day pack is probally over 10 yrs. old. It was made in Golden, CO, before they sent all their work offshore. It is not as pretty and came without the bells and whistles of the newer packs but is absolutely bomb proof. You can use it for a school pack as well as a light pack for any outdoor adventure. It is big enough to produce a hot meal, including stove and pot, and still have room for some fleece or a shell.
I was able to carry my wife sitting on top of this pack for about 5 miles in the Great Smoky Mnts when she broke her foot. That is about 110 lbs plus whatever I had in the pack at the time.
The only change I have done to this pack is to put a piece of thicker sleeping pad foam in place of the foam that came with it which makes it carry books and other heavy stuff better. I gave this pack 5 stars because if I'm in the 1000-1200 cubic inch range this pack is with me.
Design: Top loading lumbar
Size: About 1200 Cubic Inches
Number of Pockets: 3
Max. Load Carried: About 120 pounds
Height of Owner: 6 ft. 0 in.
Price Paid: Don't Remember

This pack has become the staple for class-bound college kids looking cool cruising through campus. However, it doesn't mean the pack isn't versatile.
I've carried everything from a full day's gear, including food and water for long day hikes, backcountry ski gear, and even several books and folders on my way to class.
The exterior bungee cord is handy for strapping on a rain jacket or tying down your bike helmet. The huge zipper pulls are easy to find and make the pack more accessible while it's being worn.
Two mesh water bottle holders ride on either side of the pack, which are great for convential bike-style water bottles. Nalgenes don't fit.
The only complaint I've had with this pack is that the waist belt (the only means of attachment) isn't padded. This makes heavy loads seriously painful. There is an accessory shoulder strap that can be used to help offset heavy loads, but it isn't very comfortable either.
The price has come down on these packs as they have become extremely popular... this makes it an even better deal.
Design: Waist pack
Size: 1500?
Number of Pockets: 2 (1 internal, 1 external)
Max. Load Carried: 20lbs
Height of Owner: 6'
Price Paid: $99

I have mixed feelings about the cavernous hip pack. I purchased this specifically for summiting on Colorado's peaks when I needed to hike in--the removable lid on my back pack wasn't large enough. In this application, it will almost carry rain jacket, fleece, gloves, hat, tp, food, and water, it is not comfortable or close to the body when scrambling. When FULLY loaded, it is a bit too tall to cling to your lower back, even after adjusting the straps. It is a bit too tall for a hip belt pack. It does not stay close to the body with movement. It is not only hopeless but stupid to try to carry an ice axe sideways on the top of this pack. In a day long application this thing is not my idea of a pack. It is great for shorter hikes with fair weather loads, touring through city streets, school and many other applications. Construction and features are excellent. Haven't had the comfort problems others have noted regarding the unpadded hipbelt.
Design: top load
Size: 1500+
Number of Pockets: 4+
Max. Load Carried: 15lbs
Height of Owner: 5'9"
Price Paid: $60 on sale

Moutainsmith makes a big line of "lumbar packs" that fit in the small of your back. They are good for carrying lighter loads for active sports because they hug your back and keep the weight close to your center of gravity. The belt goes higher than a regular pack belt, around your waist. This can be inconvinient, especially when hiking with a full bladder ('nuff said).
I have found it to be OK for light loads, but they market it as a daypack and it really can't handle the weight of water, jacket, etc for a day hike. They make a padded belt you can add (for another 20 bucks or so) to make heavier loads a little more comfortable.
I have found that it doubles well for carrying books (the belt hides away and it has a shoulder strap) and especially convinient for carrying a laptop computer through an airport (leaves your hands free for luggage), but for dayhikes I have to stick with a standard daypack (I love my Jandd).
Design: Lumbar Pack
Size: ~1700
Number of Pockets: 3
Max. Load Carried: 13lbs
Height of Owner: 5'11 (torso: 19")
Price Paid: ~$70

I just bought my second day pack. I had my first for about 10 years and had no problems. It went through college as a book bag and many hiking trips, day trips, traveling across the country, and works great as a motorcycle bag.
I thought I had it loaded down when i hiked the Grand Canyon down and up same day, but my buddy got dehydrated, so I wound up carrying all of his stuff. between both of our stuff I had well over a gallon of water, snacks, extra clothing etc. The pack can handle much more than one would think.
I would highly recommend this to anyone. I was riding a motorcycle with my last one and to my own fault it got caught up in the chain and tore a few holes in it. If it weren't for that I would still be using it. Now my friend uses it as a diaper bag. Great product.
Number of Pockets: 3
Max. Load Carried: 30-35 lbs
Height of Owner: 5'9"
Price Paid: $50

A grab-and-go pack good for travelers that want space for minimum safety items, plus all the comfort of a backpack.
Pros
Compact
Rugged
Take anywhere
All types of uses
I've used Mountainsmith products for years and other than sun-damage, these stand the test of time. It fits small and large waists, comfortable and not bulky like other packs. Pulls in tight to the body so one can jump around rocks or chase the kids in the heat of battle. The pack rides so well, it's often forgotten.   
Source: bought it new
Price Paid: $60

I bought this pack in 2003 and have not been without it since. I upgraded the shoulder strap to the back-pack style strapettes and that really increased its utility. I carry it daily on my bike commute, and relied on if while hunting elk in Montana, and lugged it to Europe and Sri Lanka.
The red panel is starting to fade now. The little black plastic things that join the bungee cords ends together broke this year but a quick square not recovered 100% utility. I've been quite impressed with the zippers because they have withstood me cramming stupid-big med school books, lunch, and a change of clothes.
I hope that Mountainsmith is still making them when this one dies, but it's giving no indication of dying in the near future.
My only gripe is that I wish there was a rain cover for it.
Price Paid: $80

Super solid design, with plenty of space for my frisbee, books, and bike tools. I added the extra padded waist belt to make it more stable and comfortable, which I highly recommend.
Pros
Great design, solid construction.
Great warranty!
Cons
Add the padded waistbelt to make it more comfortable!
I've had mine for years — totally bombproof design, and a great warranty, just in case! I bought this bigger bag so I could fit a frisbee, which it does comfortably. They have only continued to improve on the design over the years.
Source: bought it new
Price Paid: $50

I have had this pack for a while now and have never got it to sit right. I used it for school and would always find it giving me a pressure point somewhere around my shoulder blade no matter how I adjusted the straps. It also would never hug my waist, how I feel lumbar packs should, the straps would loosen constantly with each step.
The storage is also integrated very weird, the compression straps run right over where you are supposed to load! I also thought it was a bit weird to have the main strap on the backside of the bag, which allows your load to kind of slump out and drag you down.
I'm not happy with it, I don't recommend it, something from timbuk2 would be a better investment.
Update: February 1, 2011
I redact my earlier comment as far as Mountainsmith making a bad bag. I have since taken the advice of another reviewer and bought the strapettes instead of using it messenger style and I am in love with it!!!
It was never an issue of cargo space, just how it rode, but now with the strapettes it is seriously my comfiest bag! I feel bad that my others won't get used as much anymore. 
So if you are going to invest in this bag awesome! DO NOT use it as a messenger, spend the extra cha-ching and buy the strapettes.
Price Paid: $25 for strapettes

Excellent pack. Used for commuting and then for day hikes. Fits two 32oz Nalgenes nicely, room for flleece jacket, gloves, hat, snacks with room to spare.
If you use it for a day pack often, get the strapettes accessory. It allows this pack to be carried backpack-style for a much more comfortable ride and heavier loads.

Size: 1000 cu in I think, plenty for a day hike
Number of Pockets: 3
Height of Owner: 6'2"
Price Paid: $59

I've used mine daily for 14 years. Bike riding, camping, hiking, hiked the Grand Canyon, graduate school, two kids, I don't leave home without it. It was expensive when I bought it, but has been worth every dollar.
Design: Day Waist Pack
Size: 1150
Number of Pockets: 3
Max. Load Carried: 40 pounds
Height of Owner: 68"
Price Paid: $75

Just too awesome prefect for a day hike. If you need bigger get bigger, but if it fits this is the pack I use.
Size: 1000

Your Review
Where to Buy
Help support this site by making your next gear purchase through one of the links above. Click a link, buy what you need, and the seller will contribute a portion of the purchase price to support Trailspace's independent gear reviews.
You May Like
Specs
Price
MSRP: $80.00
Current Retail: $67.46-$99.95
Historic Range: $33.73-$99.95
Reviewers Paid: $50.00-$99.00

Recently on Trailspace