Mountainsmith Shavano 75

The Shavano 75 has been discontinued. If you're looking for something new, check out the best expedition packs for 2021.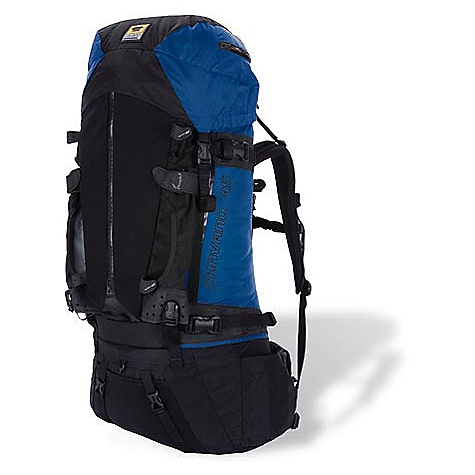 Specs
Price
Historic Range: $144.48-$289.00
Reviewers Paid: $285.00-$300.00

Reviews
3

reviews

5-star:

0

4-star:

1

3-star:

0

2-star:

1

1-star:

1
Very much a disappointment! I bought the pack from C&C Outdoors. That was the first problem. It took 3 weeks to get a response from them. The pack I ordered was a medium, and I received a large. They told me that I was wrong even though I was reading the tag. Then they desided to send me medium straps, and told me that the pack frame was the same size between the med. and the lrg. What a disaster!
I finally got a hold of Mountainsmith, who told me that the pack frames were not the same but would not help! I tried to use it anyway only to find poor construction. It basically fell apart after one trip to Rainier. Never again!!!!
Do not buy from C&C Outdoor or from Mountainsmith. Neither are reliable companies! Gregory, Osprey or Mystery Ranch -- Go there first, it's worth it. If Mountainsmith reads this, please call. I'll send this thing back and you can have it. I'll even pay the freight!
Design: top load - internal
Size: 75
Number of Pockets: ?
Max. Load Carried: 65lbs
Height of Owner: 5.11
Price Paid: $285

After a glowing review in Backpacker magazine, I expected this to be the perfect expedition pack. To date, I haven't seen a single vendor not include the words extended expedition or high alpine or technical somewhere in the description of the Mountainsmith Shavano 75.
Being in the transition of going from military to civilian life, I decided this pack might live up to my rugged expectations. After hearing about its unending list of talents (including a successful trip or two up Mount Everest) from customer service agents at Mountainsmith, I came to the conclusion that this pack was worthy of residing with me in the Rocky Mountains and nothing would prove that better than getting used wearing it on the Appalachian Trail. I am not sure if I am more disappointed in the product or the company.
After reading about easily packing 120 pounds comfortably in the pack, I carried 65-70 pounds for 10 days and 120 miles. My trip went from Mount Katahdin in Baxter State Park, Maine to the first resupply point at Monson, Maine. I properly packed my MSR Simmerlite and 2L titan mini cook pot in my sleeping bag to avoid damaging the inner frame of the pack. Nothing came into direct contact with the inner frame, as even my food was compartmentalized in zip lock bags and further in dry food bags.
Much to my disappointment, the aluminum inner frame wore through its fabric sleeves and left gray aluminum residue on my clothing and gear.
Oops, I have got ahead of myself! Day 1 at the airport I was preparing to check my pack as luggage and one of the buckles on the side compression straps cracked and was ineffective for the rest of the time I had the pack.
Day 2, my first day at Baxter State Park, this was a walk through to shake out all the bugs and the sleeping bag partition inside the bag tore loose in a 2-3 inch section. A few areas with a rubber-like coating showed a little wear by the end of 120 miles, but it was merely cosmetic and in no way impaired the quality or function of the rest of the pack.
The summit pack arrangement (hip belt and pack brain) were an odd combination. The hip belt was overkill and the brain was about 1/2 a liter too small. I really enjoyed the map window in the brain.
My only other complaints about the product are: 1. it is made out of the same material as my rain jacket and the pack got soaked but my jacket kept me dry...I even had a Sea2summit Ultrasil 90L pack liner (do they not make pack covers at least?) and 2. The water bottle holders are of such an angle and placement that they are awkward to access while wearing the pack fully loaded and therefore the pack must be taken off in order to drink.
Mountainsmith and its employees were a bit more of a disappointment than the pack. After searching for a public website, I was reduced to calling an operator to try and track a phone number to Mountainsmith. After playing phone tag for better than a week, I was finally able to speak with a customer rep and I received a claim and reference number giving me permission to send the pack back to the company's warranty department.
This was all nice and fun, but it left me hiking the trail without a pack and 60 pounds of gear to carry. I went to REI and got a house brand to last me until I could get the Shavano back. To my dismay and a month without a good pack, I was informed that Mountainsmith had shipped the pack to my permanent address on the opposite side of our great nation and not anywhere reasonably near me.
Upon the long awaited opening of my Shavano, I discovered that the folks at Mountainsmith had done nothing with the pack. In fact, they had the nerve to tell me that it would cost me $15 in addition to all the postage I had just wasted to fix the poor sew job on the sleeping bag compartment.
In addition, Mountainsmith, had the gall to tell me that I probably didn't know what I was doing, didn't have any experience hiking, used the pack for carrying things not for camping/hiking thusly damaging the aluminum stays etc.
The best part was immediately after this the warranty guy stated that yes, I was right, their packs had gone up and down Everest.....So how does my MSR Hubba Hubba, Simmerlite and pots with 2 weeks' food constitute any kind of abuse or misuse when those guys on Everest had to have had a couple of ice axes, crampons, and lots of other sharp, pointy gear that would be harder on a pack than my gear? Dear Mountainsmith, if you are reading this, I have been hiking the Rocky Mountains for over 25 years and my 5 years in the military saw untold miles with a backpack.
My advice, go with Osprey. They seemed to have the best customer service on the Appalachian Trail and they would even send a fresh pack out in advance of the defective one. This meant either staying in town a few days longer or hiking to the next supply point with the defective pack.
Bottom line is this: the Shavano 75 is overpriced for the quality, people are better off buying from a more hiker friendly company.
Design: top and side loading expedition pack
Size: 75-90 Litres
Number of Pockets: many
Max. Load Carried: 70 lbs/30 Kg
Height of Owner: 5'11"
Price Paid: $300

Almost a 5 star.
Brilliant pack design, with everything you could need but yet doesn't seem fussy. It has seven pockets, including two small waist belt ones, but looks like a trim uncluttered bag. Very adaptable, can be shrunk or expanded easily. An excellent extendable mid-size for backpacking and also mountaineering and winter use. Superb quality.
There are one or two packs out there--such as the Arc'teryx Bora series or Osprey--whose waist belts I find a little more comfortable, and this is the only reason I did not score it a full 5.
Design: top-loading internal
Size: 75 litres
Number of Pockets: 7
Max. Load Carried: 55 pounds
Height of Owner: 6 ft.
Price Paid: $300

You May Like
Recently on Trailspace