MSR Autoflow Gravity Filter

The Autoflow Gravity Filter has been discontinued. It was replaced by the MSR AutoFlow XL Gravity Filter.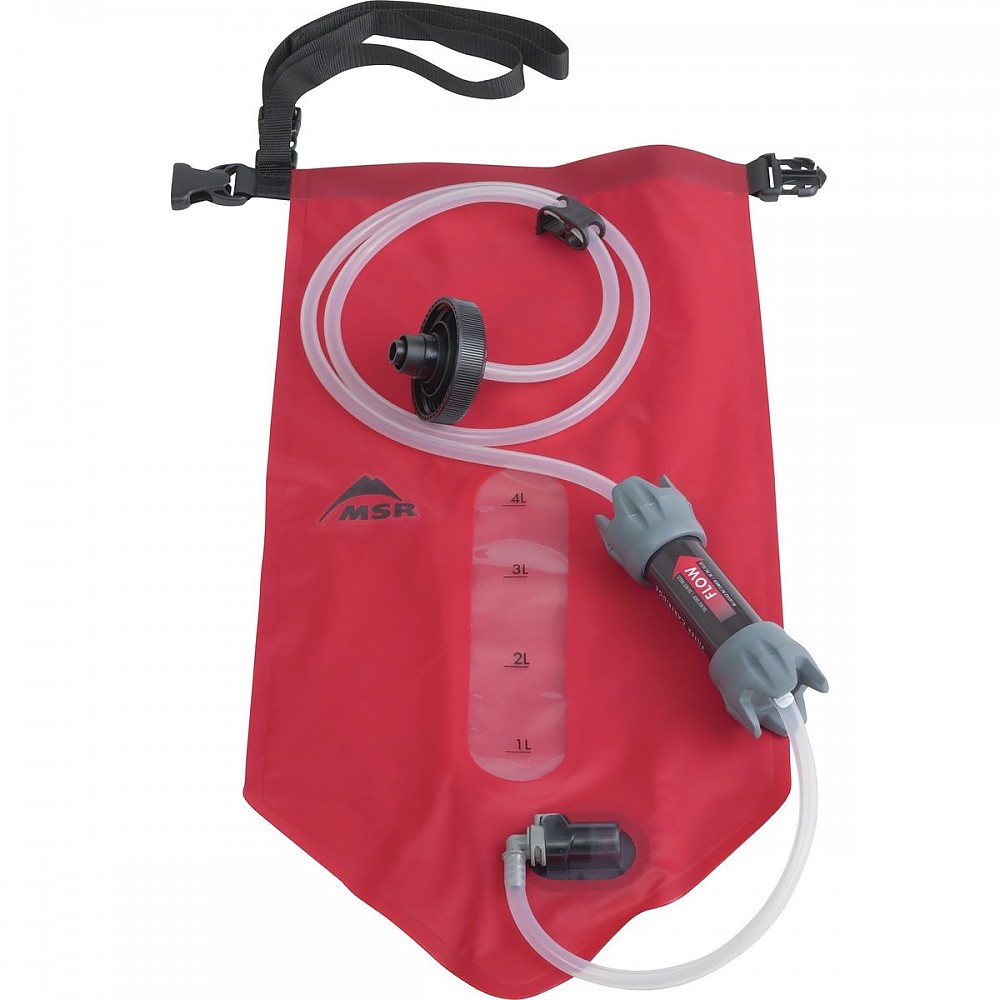 Great filter for large amounts of water with little work.
Pros
Filters quickly
No pumping
Easy to operate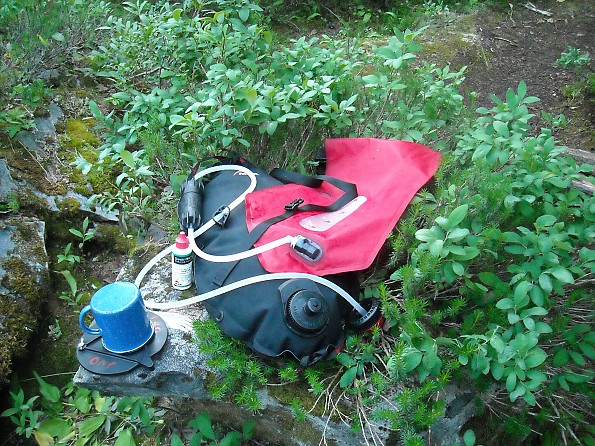 This gravity system is awesome. I purchased this to go along on my recent trip to Olympic Nat'l Park for 5 days with a couple of friends. The $80 was for the bag and filter kit, everything you need minus a drom bag. I was sick of getting into camp and spending my last few hours of daylight pumping water, or spitting silt out while tabbing. I already had a 10L Drom bag from MSR and this attaches right to it or right to wide mouth Nalgene bottles.
Once in camp, I could walk to the nearest water source fill the 4-5L bag, attach to the drom bag and let gravity do the work, while I got my tent and the rest of the camp set up. In about 8 minutes we had 5 liters of filtered water. I would fill it up once more and top off the drom (10L) and had water for dinner, clean up, drinking, and refilling Nalgenes in the morning for 3. The pump or tabs were fine for water on trail, but this is a camp necessity from now on. It is well worth the few ounces it weighs.
I definitely recommend this to all trail weary backpackers at the end of a glorious day. Even got to take a cold swim while water was filtering.
Source: bought it new
Price Paid: $80

Great piece of kit... well worth the money. STOP PUMPING!!!
Pros
Fast
Simple
Lightweight
NO PUMPING!
Cons
Cost
Can be tricky to backflush first time
I purchased this in the spring of 2016 for a 35-mile group hike (12 people) into the South San Juan Wilderness in Colorado. I was unsure if this would be able to keep up with that many people's needs, but after the second day I knew it was well worth the cost.
The Autoflow easily filters water fast and in large amounts. I actually watched some other hikers from not in the group stop pumping their own water and ask to use it! It is so simple. Just backflush like it says and this filter keeps on going! One of my favorite pieces of gear now.
Yes, there are cheaper models out there, but after buying and using this I wouldn't trust or change to any other brand. I still carry another filter or tablets just in case, but this product is pretty much bomb proof!
The only drawback is initial cost and cost of replacement filters down the road. Only reason I am not giving this a 5-star rating is the price of filters. There was a military version of this that came out years ago (I have one) that has a black bag and two filters... one looks like the MSR filter for inline Camelbaks but bigger and a small "fuel" filter. Not sure what the "fuel" filter is for and MSR won't give info since it was a military thing.
Bottom line... buy this and you won't be disappointed!
Source: bought it new
Price Paid: $99 on sale

This is wicked fast! I upgraded for my next thru hike from a Sawyer Mini to this and I love it! It filtered 4 L water in 2 minutes, and it comes with an attachment that fits wide mouth Nalgene bottle to filter right into the bottle.
Pros
Easy to use
Durable
Fast
Lightweight
Comes with pouch to store it in
I bought this for my upcoming hike in California. I knew I would be needing to filter more water and I wanted something that would be quick. Boy, did I choose the right one! This thing is amazing.
It is easy to use and lightweight and the material it is made out of is so durable. It has a see-through window with measurements so you can see how much the water is going down as you filter.
It has a real handy hanging strap that you can use to hang at camp and filter while you do other things. I could not believe how fast this worked when compared to the Sawyer Mini. 
Source: bought it new
Price Paid: $84 on sale!

I have found this filter to be perfect for me. I like the fact that there is no pumping, makes it very convenient. If water is not close to where I am camping for the night I will fill my water bottles at the water source, and then refill reservoir on the filter so that I have water for the morning.
Another noteworthy feature is the fact that it can be backwashed, so the cartridge lasts much longer, and the flow does not diminish as quickly. The only downside is that it needs to be dried completely before it is stored for any length of time.
I cannot see myself purchasing another pump filter after using this.
Price Paid: $60

This water filter is fast and easy to fill. Easy to carry and hang on a tree. Great flow rate.
Pros
Easy to fill
Fast flow rate
Durable material
Easy to carry
Easy to clean
I got this filter for our Boy Scout outings. I had been using a pump and the flow rate was horrible. This is very easy to fill and takes no time to fill our water bottles.
I have not had any issues with the taste of the filtered water. It has a strap which makes it easy to carry and hang from a tree. It is very durable and easy to clean.
I have used it on at least 10 trips and the filter has never failed. The flow rate has been consistently good. 
Source: bought it new
Price Paid: $100

I purchased the MSR Gravity Filter to replace a Pur-Hiker I have had for 15yrs, and I'm glad I did. No pumping! It is very fast, convenient, back flush-able on the trail, and it is light weight and compact too.
I used it for about 6 weeks in the woods last year and just see no downside at all. It never gave me any trouble and performed wonderfully. Definitely recommended... Did I mention No Pumping! lol
Price Paid: @ $90

Your Review
You May Like
Specs
Price
MSRP: $99.95
Historic Range: $62.95-$119.95
Reviewers Paid: $60.00-$100.00